GwaraDaily. Latest News from Kharkiv and Ukraine: October 7
07.10.2022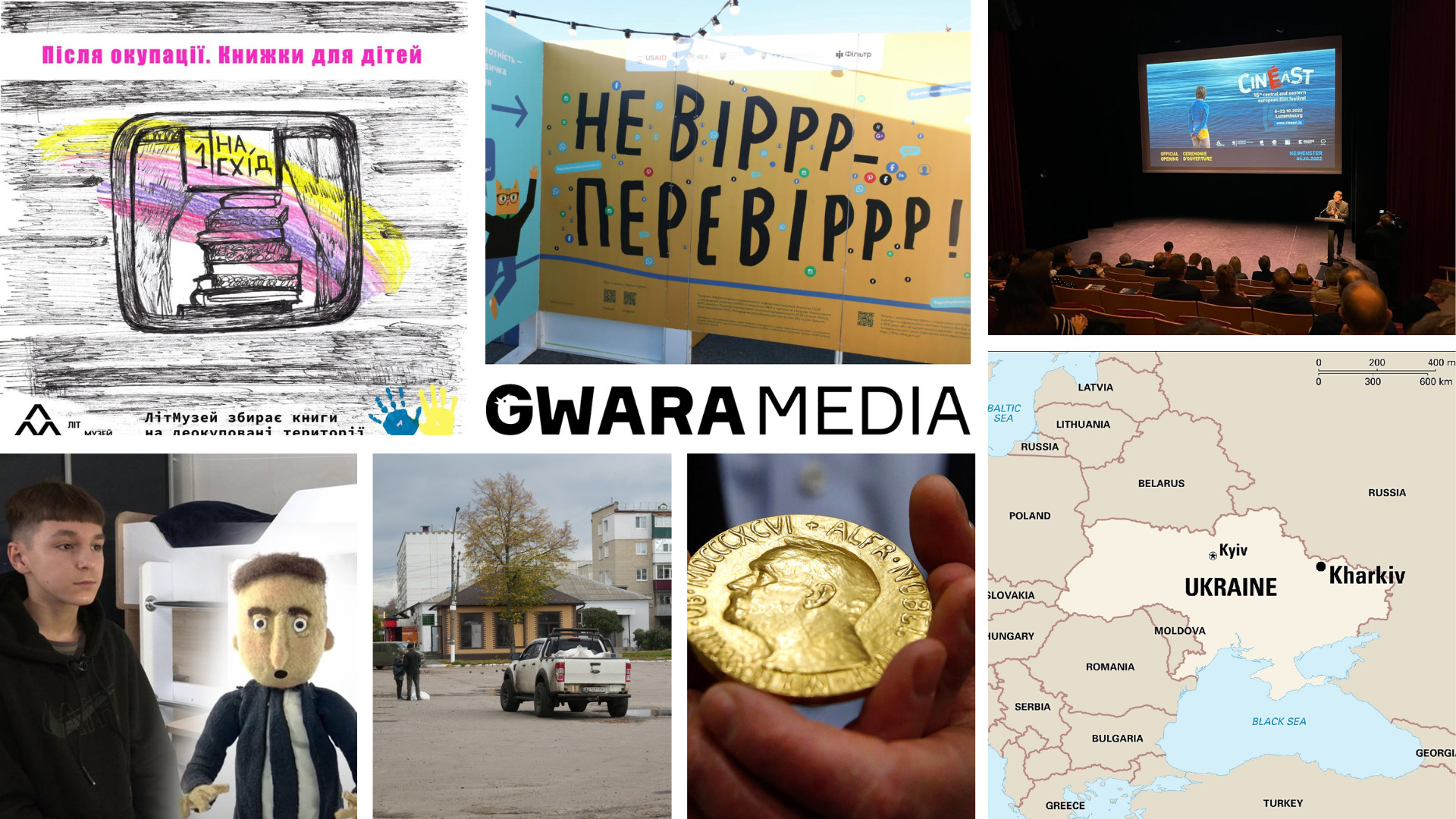 GwaraDaily, October 7
Gwara Media publishes a short digest of major news from Kharkiv and Ukraine on October 7, 2022. To find out more, follow the link. Briefly, clearly and precisely.
Kharkiv Literary Museum Collects Books for Children from Liberated Territories
The "After Occupation: Books for the Children" project aims to collect books for children from the de-occupied settlements of Kharkiv Oblast. Kharkiv Literary Museum invited bookstores and publishing houses, publishers, and readers to join the initiative.
Teenage Boy from Kharkiv Oblast Won Best Animated Film Award
Matviy Glazunov, a 12-year-old boy who used to live near Izium, created a stop-motion short film "Black February" about the war. It became The Best Animated Film at Children KinoFest in 2022.
Radio and TV to Return in Liberated Districts of Kharkiv Oblast
Restoration of Ukrainian broadcasting continues in the de-occupied territories of Kharkiv region. Broadcasting was resumed by joint efforts of representatives of Kharkiv RMA.
Nobel Peace Prize Awarded to Ukrainian Center for Civil Liberties
On Oct. 7, the Ukrainian human rights organization Center for Civil Liberties became one of the three Nobel Peace Prize 2022 laureates. It shared the prize with human rights advocates in Belarus and Russia.
American Online Dictionary Updates Spelling of Ukrainian Place Names
Dictionary.com, an American online dictionary launched in 1995, updates the Ukrainian place names to reflect and prioritize Ukrainian spellings or pronunciations.
CinEast Festival in Luxembourg to Support Ukraine and Its Culture
As a sign of solidarity with the Ukrainian community in Luxembourg, CinEast has prepared a special Ukrainian program to highlight the importance of Ukrainian cinema, as well as to raise awareness about the situation in Ukraine.
Interactive Maze of Media Literacy Opened in Kyiv
On Oct. 6, an interactive maze "Ne virr – perevirr" ("Don`t believe, better check!") opened in the center of Kyiv. The project aims to increase the level of media literacy in Ukraine. The interactive maze is the first project in Ukraine located in different parts of the country aiming to increase media literacy.