Ukraine Presented National Tech-Ecosystem in San Francisco
25.10.2022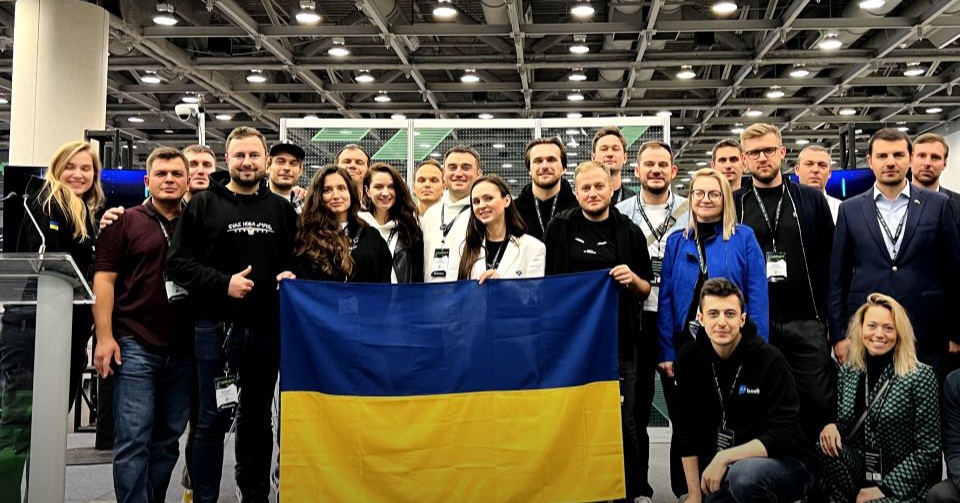 TechCrunch Disrupt / Photo: t.me/mintsyfra
The Ukrainian technological ecosystem was presented at the startup conference TechCrunch Disrupt for the first time.
This was reported by the Ministry of Digital Transformation.
TechCrunch Disrupt is a large-scale conference that annually gathers more than 10,000 participants from 125 countries. Startup founders, developers, investors, and representatives of global technology companies take part in the event.
"It is extremely important to represent the Ukrainian ecosystem of startups at one of the key technical events, especially in wartime. Our task is to demonstrate that, despite all the challenges, the Ukrainian technical scene has retained its stability, efficiency, and investment potential," says Olesya Zaluska, Chief of Party at USAID Competitive Economy Program in Ukraine.
Ukrainian Startup Pavilion presented 10 Ukrainian startups – from Artificial Intelligence (AI) developments to edtech and medtech, in particular:
elKYC – a service for verification and introducing the client to the team;
Nanit Robotics helps to construct and program the robots according to the innovative approach to develop children's creativity and engineering skills;
QAI is a platform that helps to automate game testing with AI;
Harmix is ​​an AI-based service that automatically selects the right music for videos;
Cardiomo is a portable medical technology for online heart monitoring;
Shortage – the international market of humanitarian aid goods for Ukraine;
Howly is a service that helps to get complete individual online consultations from various experts 24/7;
Numo ADHD is an app that helps to cope with tasks with the help of gamification, group support, accountability, and micro-coaching for new skills;
Zeeon is a metauniverse for online communication and coworking;
Vanongo is a logistics platform based on AI now helping to deliver humanitarian aid in Ukraine.
The unique legal and tax system Diia.City, Diia digital ecosystem, and UNITED 24 initiative were also presented at the conference.
The Ukrainian delegation has also met with the US Secretary of State Antony Blinken and the Secretary of State Condoleezza Rice. According to them, Ukraine can count on the full support of the USA not only in the fight against Russian aggression but also in the Ukrainian economy rebuilding.
The presentation of the Ukrainian technological ecosystem at TechCrunch was made possible thanks to the efforts of the Ukrainian Startup Fund and Ukrainian Bridge, as well as the support of the Ministry of Digital Transformation of Ukraine, the Ministry of Economy of Ukraine, and the USAID Competitive Economy Program in Ukraine.
Earlier this month, United24 launched a new large project. The fundraising platform has created an exclusive series of bracelets "Symbol of Fortitude" from the last pre-war batch of Azovstal.