French Ambassador Etienne de Poncins to Visit Izium
22.09.2022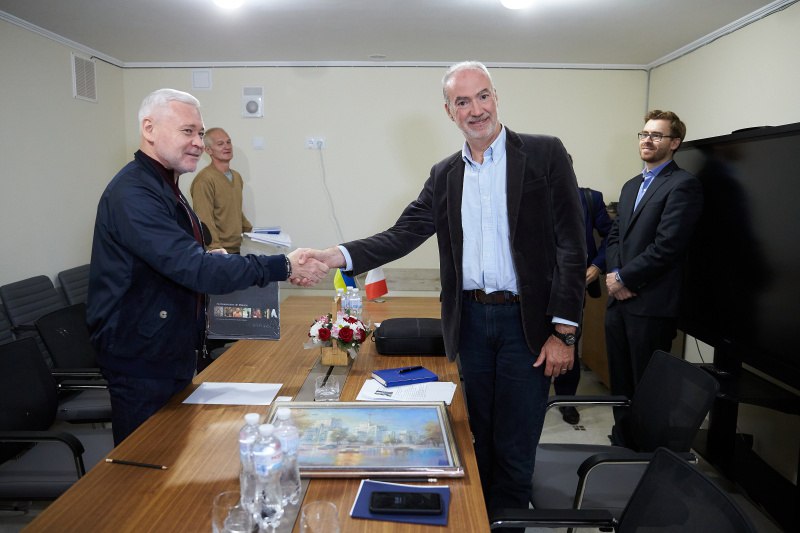 The Ambassador of France to Ukraine Etienne de Poncins meets with Ihor Terekhov, the Kharkiv Mayor / Kharkiv City Council
On Wednesday, Sept. 21, the Ambassador of France to Ukraine Etienne de Poncins met with Ihor Terekhov, the Kharkiv Mayor.
The ambassador shared his plans to visit Izium, the liberated city in Kharkiv Oblast, reports the Kharkiv City Council in official Telegram. Etienne de Poncins is going to attend the laboratory that helps to identify the bodies of the victims. The laboratory was handed over to Ukraine by the French government.
Besides, the ambassador informed that all the needed equipment and building materials for Ukraine had already been loaded on the ship near Marseille. Etienne de Poncin expressed the intention to tell his French colleagues about all the needs of Kharkiv.
Terekhov informed that the main city`s aim was to increase the number of means of transportation. As Kharkiv public transport remains free of charge, the city urgently needs more vehicles.
"We really need transport. Another priority is food – cereals, any basic products. Winter is coming, and there may be problems with electricity. We plan to distribute hot meals to the locals, make "warm places" in the city. I would be grateful for any help," said the Mayor of Kharkiv.
Earlier this week, Prague decided to transfer 20 trams and 2 buses to Ukraine. Most of them will go to Kharkiv to replace those lost as a result of shelling.