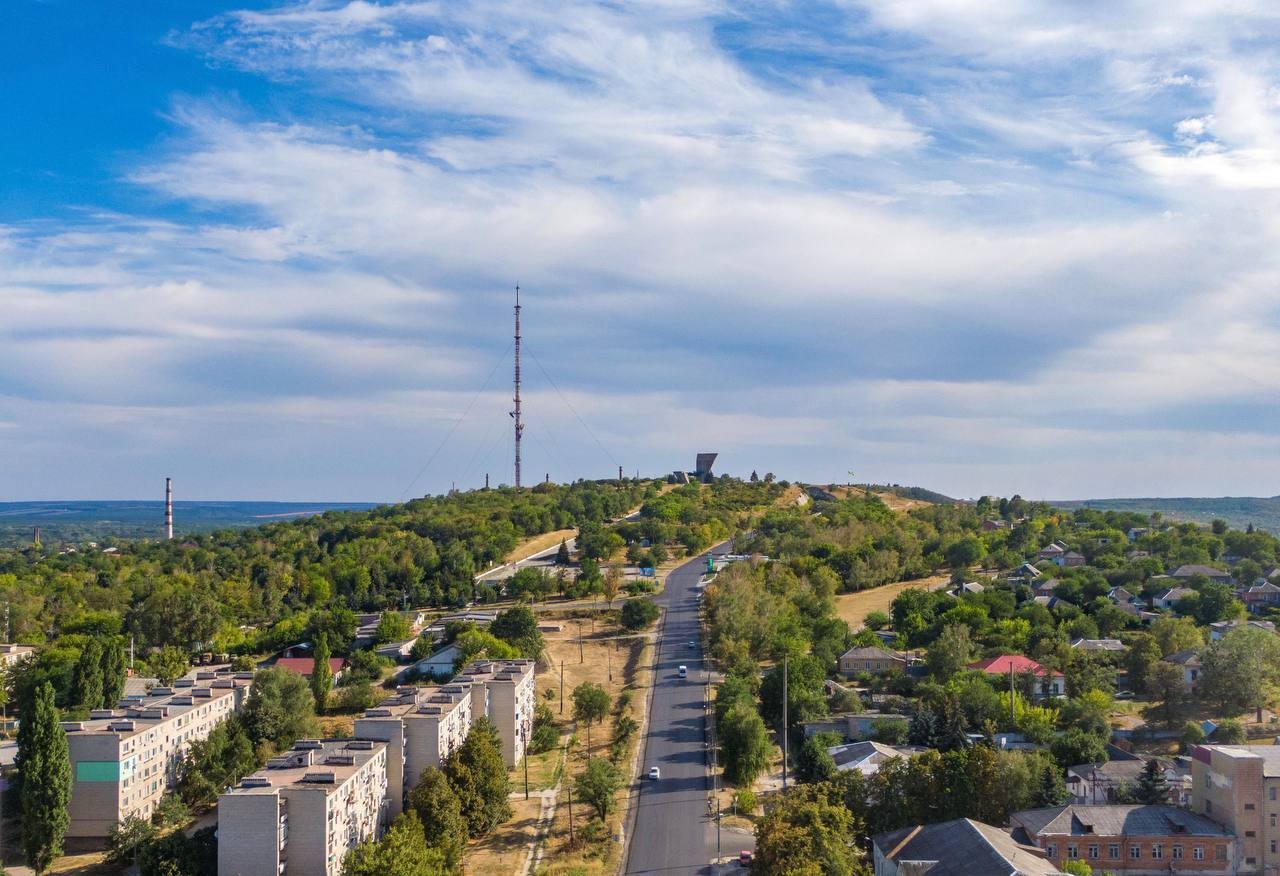 Russians Shot Civilians in the Backs: Story of an Izium Survivor
Main
Having left his father in the car, Pavlo [the name is changed for safety reasons – ed. note] approaches the convoy of Russian vehicles marked with Z letters. He asks the Russian military if they can pass through. Refused, he goes back to the car. Then Russians start shooting at them.
Before the full-out war, life in Izium, a city in Kharkiv Oblast, was calm and stable. There 31-year-old Pavlo, a sales agent in the confectionery company, raised a daughter with his wife.
On March 2, Pavlo first saw the planes in the sky attacking the outskirts of the city. That day he and his close ones moved to live in the basement.
"We were hiding there with my friend, his wife, and their toddler, only two months old at the time. We heard aircraft flying; it seemed it would drop the bombs somewhere around," he says.
After a while, neighbors brought some warm clothes and a microwave to the basement. When the lights went off in the city, Pavlo found a gas burner to cook for the kids.
"We stayed up all night because of the shelling. In the morning, the connection disappeared, but I was lucky to have agreed with my father that he would come to pick us up," he says.
His parents' account is different. Each time the shelling started, they ran to the forest as that was the only shelter they had. Though unreliable it helped to survive. Pavlo's father met his son's family on March 4. There were no Russians in the city yet, so they escaped to the nearby village of Spivakivka safely.
"Some left before February 24, but very few. After the start of a full-scale war, many people were still residing in the city. No one thought things would turn out like this. Me neither," Pavlo said.
Despite managing to escape the war-torn Izium, Pavlo and his father decided to return back on March 8. They wanted to pick up some clothes and groceries in Izium since the shops in Spivakivka were closed. There was no humanitarian aid either.
"We got to the main highway E30. There was the bus stop called 'Pamiatnyk' ["monument" – tr.]. A Russian convoy was there; we saw the letter Z painted on their tanks. I got out of the car and approached them. I asked if they would let us pass," he said.
Two Russians left the armored vehicle and said no. They then ordered Pavlo to turn around and leave. As he approached the car where his father had waited for him, the shooting started.
"My dad got wounded in the back because they aimed at the driver. I got a bullet between the ribs. We went on driving, then stopped in an alley. We heard the gunfire, then the carriers. We decided to leave the car and run away," says Pavlo.
Looking for a shelter, they approached the residential area. Pavlo jumped over the fence of a private house, knocked on the door, and asked for help. "A woman came out. She didn't help much; gave a bottle of hydrogen peroxide. I cleaned my dad's wound, and somehow pulled a T-shirt over my ribs. We hardly reached a nearby forest on foot. I was almost fainting," said Pavlo.
The two had walked about four kilometers when they saw a car heading towards Izium. They persuaded the travellers to stay away from the Russia-occupied city. Instead, they together went to the village, where the men received first aid.
"We didn't lose much blood; it just hurt a lot. The bullet entered the area between the 6th and 7th rib. Fortunately, it went through. I have certificates from forensic experts," said the man.
Despite his experience, Pavlo returned to Izium once again. On March 11, this time with a friend, they managed to bypass Russia-controlled checkpoints and get into the city without attracting unnecessary attention. Thus avoided interrogations: Russians used to strip people naked and look for suspects.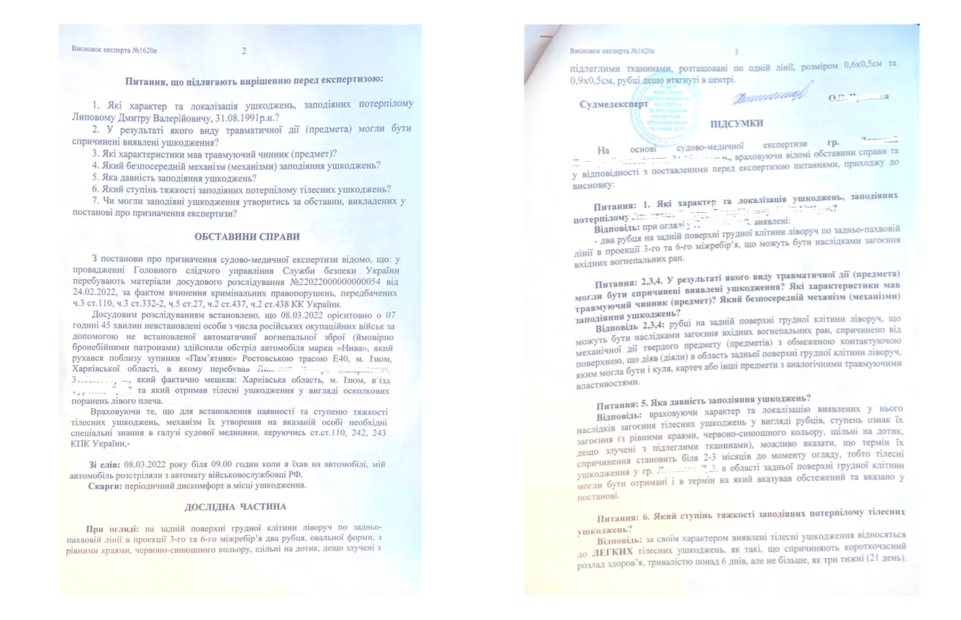 Despite his experience, Pavlo returned to Izium once again. On March 11, this time with a friend, they managed to bypass Russia-controlled checkpoints and get into the city without attracting unnecessary attention. Thus avoided interrogations: Russians used to strip people naked and look for suspects.
"We wanted to evacuate my friend's parents. Also, I had to figure out what to eat. We had no meat, and my five-year-old daughter needed it. So, we took risks and succeeded," he adds.
When Pavlo entered his house, part of the roof was gone following a missile strike. The garage with two cars in it also caught fire. The buildings along the street and the pedestrian bridge were also destroyed.
"We managed to bypass the checkpoints and rescue my friend's parents. Russians detected us at one checkpoint, but we were quite far. I think they didn't care much," says Pavlo.
According to Pavlo, Izium was no better than the infamous of Russian atrocities eastern city of Mariupol. One can see burned cars with bodies of the dead inside and demolished houses all over the city.
"School №1 was completely destroyed. We saw another five-story building, the middle part was absent. As far as I know, there was a tank on the roof firing in all directions. Half a hundred dead people were found under the ruins there," Pavlo told us.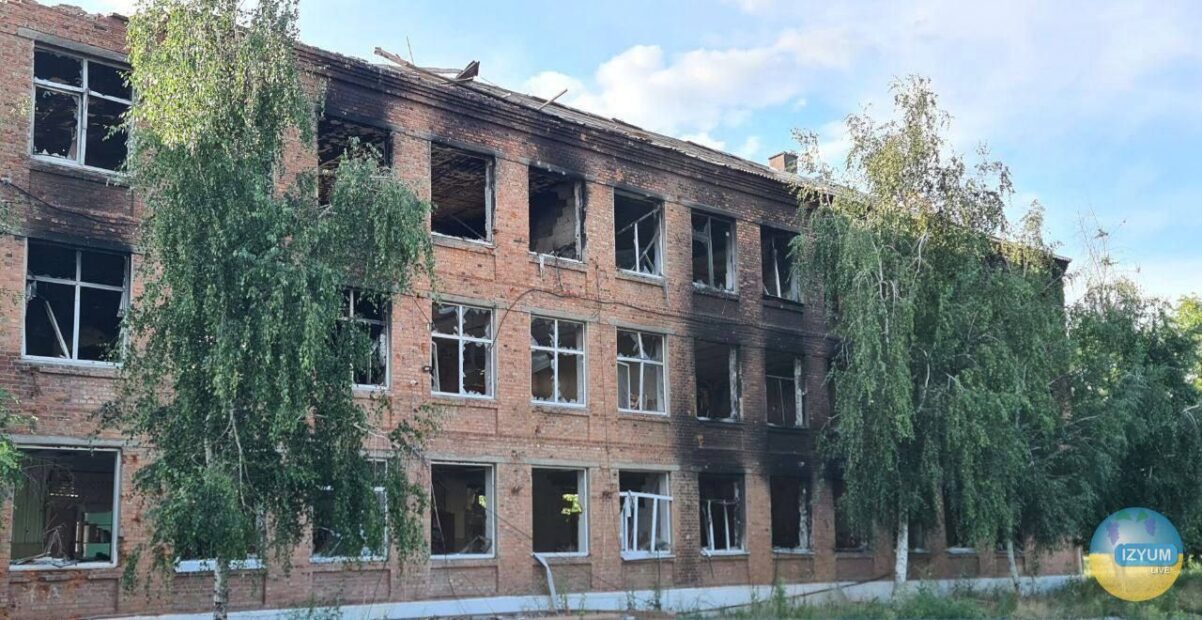 Eventually, Pavlo returned to Spivakivka to his relatives. They settled in an abandoned house. There was a stove there. The neighbors helped with the bedding and also brought some food.
Pavlo was yet to recover. Since there were no doctors, he treated his wounds himself.
"I found antibiotics, but they were expired", Pavlo said.
Once, he and his friend went to a local store. Its owners gave away the leftover food for free.
"We went for this humanitarian aid if you can call it that. On the way back, we saw a plane firing five missiles at a private house. It was so close," the man recalls.
They ran to the basement. Pavlo did not understand why they had fired upon an ordinary house. There was no military or strategic infrustructure in the area.
"Fortunately, no one was hurt; the house burned down. In the neighboring house, there was a family with three kids. After such shelling, they got really scared," he says.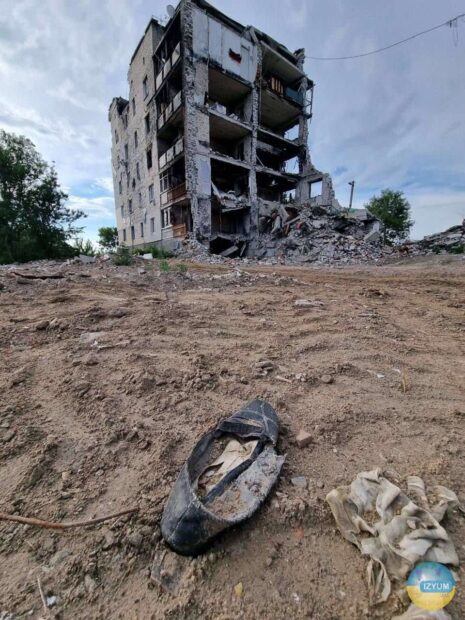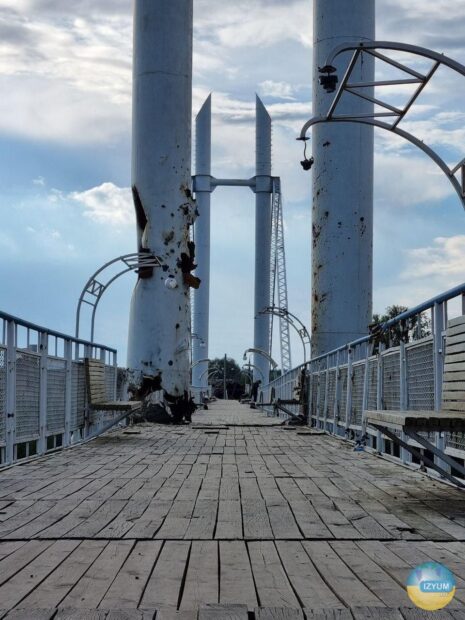 Ukrainian volunteers organized evacuation campaigns from Spivakivka to Dnipro, a Ukraine-controlled city about 250 kilometers South. For them, taking women and children to safety was a priority. Pavlo managed to leave on April 26. Soon, he decided to be a volunteer himself to help rescue people from the territories controlled by Russian proxies.
Menwhile, Pavlo's parents decided to return home. They found out that their house in Izium remained undamaged. They were afraid their home would be looted, so they stayed in the occupied city for about a month. The connection here was weak and at times they would be unreachable for as long as a week.
"We lived in constant fear. I have a younger brother, a military man. The Russian federal security service had lists of those people who had served. Russians searched for such families and shot them. My relatives decided to flee once Russians killed a whole family because their son studied at the Kharkiv National University of Internal Affairs," says Pavlo.
He knew some local volunteers who organized 'undercover evacuations" and helped with medicine and food. They managed to bring his parents to the Ukraine-controlled village of Petrivske.
"They were happy to get over the stress of passing six Russian checkpoints, stripping and answering questions. Russians didn't have those lists at the checkpoints. The Russian federal Security Service was busy looking for soldiers' relatives, law enforcement officers, and territorial defence soldiers. They took some people away. Many did not return," he said.
The Russian military kidnapped Izium residents and tortured them in basements. A friend of Pavlo was among them. The Russains spent three days there forcing him to reveal his contacts in the Security Service of Ukraine, which he eventually did.
The house of Pavlo's parents was then ruined by cluster munitions. Russians looted empty houses, but it didn't prevent them from breaking into the houses as well, paying no attention to the owners.
"Both my father and my friend told me that the occupiers used to bring some water or humanitarian aid stolen from the grocery store and they watched whether people exit the buildings. If no, a second car arrived, and Russians entered the empty houses. They carried everything out, even plates and spoons," says Pavlo.
Pavlo's parents fled to Odessa, a port city in the south of Ukraine. There his mother is undergoing treatment.
"The clinic provided my mother an operation free of charge. Then she was diagnosed with first-stage cancer. They prescribed her several chemotherapy treatments. Also, for free," says Pavlo.
Yet, he still has grandparents living in his homecity Izium. However persuaded, they refuse to leave, even despite the lack of medicine and food.
"I don't understand their motivation. Recently, my mother has managed to call them. There was no time to talk, but they said everything was fine. They stored with firewood and planted the garden," the man said.
He adds that the mobile network is stable only on the top of Mount Kremenets, the highest point in the Kharkiv region. His 86-year-old grandmother climbs there. However, Russians are shelling the top on purpose, he believes, so people try to stay away from that place.
Pavlo was lucky to find an apartment in Dnipro. A friend of his friends let him live there almost for free, paying utility bills only. Dnipro is also shelled with missiles, but Pavlo feels safe. At least his daughter can play again and go to the playground.
"She was scared, especially in Izium. You heard a plane coming, grabbed the child's hand, and ran at least under the ladder. Then you ran to the basement. It wasn't so scary in the village, but there were many Russian planes and missiles," the man said.
His daughter understands that her dad is a volunteer and often cries when he departures for the next mission. His wife asks him to call as often as possible.
"I constantly persuade them to go abroad; it is less stressful there. But they don't want to leave me," Pavlo said.
Pavlo has managed to do six trips as a driver for the "Vilnyi Napriam" ["free direction" – tr.] organization. Mostly, he went to the front-line village of Barvinkovo, 37 km down South from Izium, bringing medicines, provisions, or some goods to the soldiers.
"Unfortunately, evacuation from there is almost impossible. When people crossed the dams, we, of course, took them with us. We also evacuated disabled people from their houses. But now it is more difficult", says Pavlo.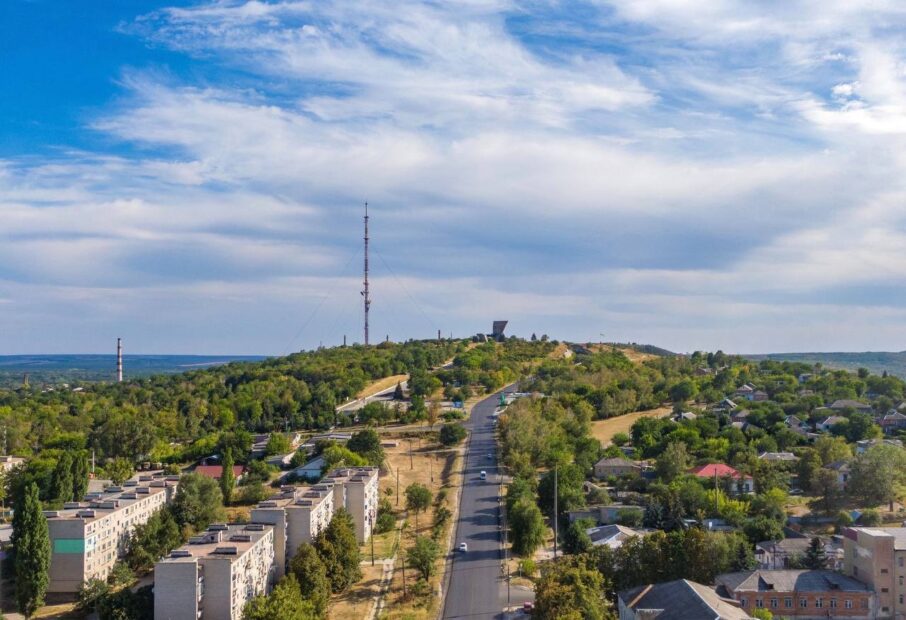 "It was a cool and peaceful city. Everyone had a job, and now we live on 2,200 hryvnia per month per person. I don't work but, fortunately, can use humanitarian aid," Pavlo says.
He admitted that he does not understand how to plan life anymore. He does not want to run away again. However, Pavlo is confident in Ukraine's victory.
"Of course, I believe in it! If I didn't, I wouldn't help. I would just sit and wait for volunteers to come and bring food," the man explains.
Photo of Izium and the forensic's expert conclusion provided by the interviewee.