Kharkiv Stepan the Cat Became Ambassador of Save Ukrainian Culture Project
08.11.2022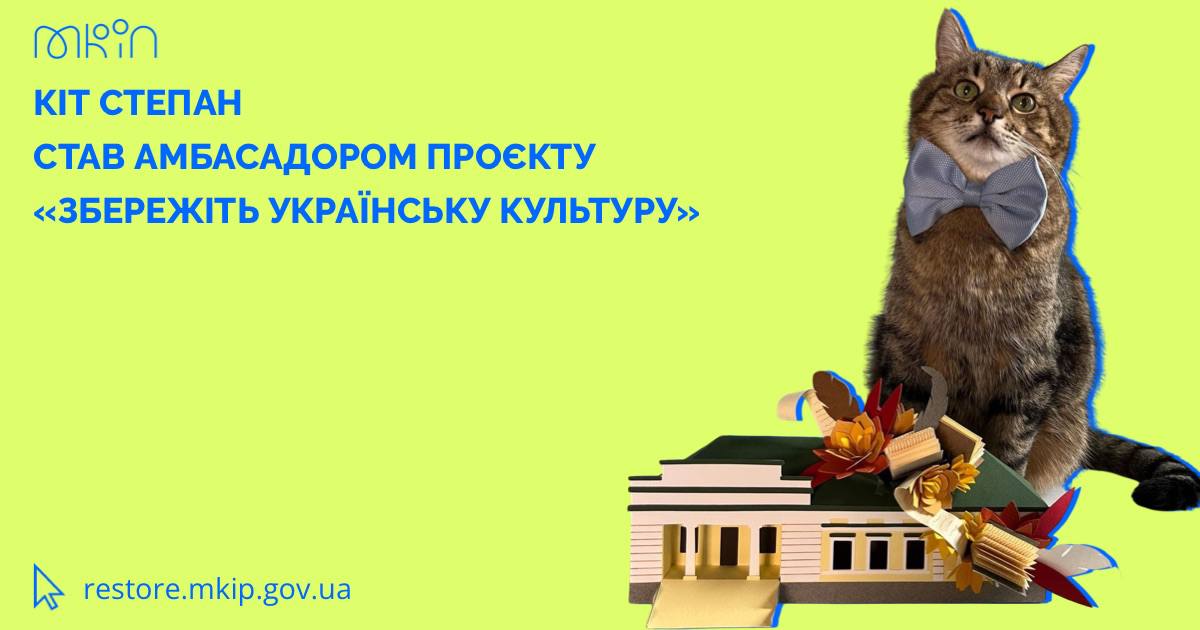 Stepan the cat became the ambassador of Save Ukrainian Culture Project / Image: facebook.com/MCIPUkraine
Instagram and TikTok star Stepan the cat from Kharkiv joined Save Ukrainian Culture, an initiative of the Ministry of Culture and Information Policy of Ukraine.
Stepan will help to restore the National Museum of literature named after Hryhorii Skovoroda, destroyed by Russians in May.
The cat-influencer is already the third celebrity joining the preservation of Ukrainian culture and restoration of monuments destroyed by the Russians.
More than one million people follow Stepan on TikTok, and his Instagram account has more than 1,3 million followers. The cat is famous for staying calm in any situation and is usually photographed at the kitchen table next to a glass of wine or an alcoholic cocktail.
More details
On May 7, 2022, the Russian army destroyed the Skovoroda National Literary and Memorial Museum. Its restoration requires more than UAH112 million/$3.03 million, while only $36 has been collected.
This museum is of historical importance. The park and the adjacent territory have hardly changed since the times of Skovoroda. Before the shelling, there was a well in the garden, the place of the first burial of the philosopher, his grave, a monument, and a sculptural "philosophical alley".
The museum also kept the works of the philosopher and some of his personal belongings. The valuable exhibits were moved to a safer place, but the house suffered significant damage.
Save Ukrainian Culture is a joint project of the Ministry of Culture and Information Policy of Ukraine and Vodafone Ukraine aimed at raising charitable funds for the restoration and preservation of cultural heritage in Ukraine, which has suffered as a result of Russia's full-scale invasion of Ukraine since February 24, 2022.
The first contributor to the memorial house was Ukrainian musician Sviatoslav Vakarchuk. He donated to the restoration of the Skovoroda Museum in Kharkiv Oblast.