Kharkiv Pride March Goes Underground — Photo
26.09.2022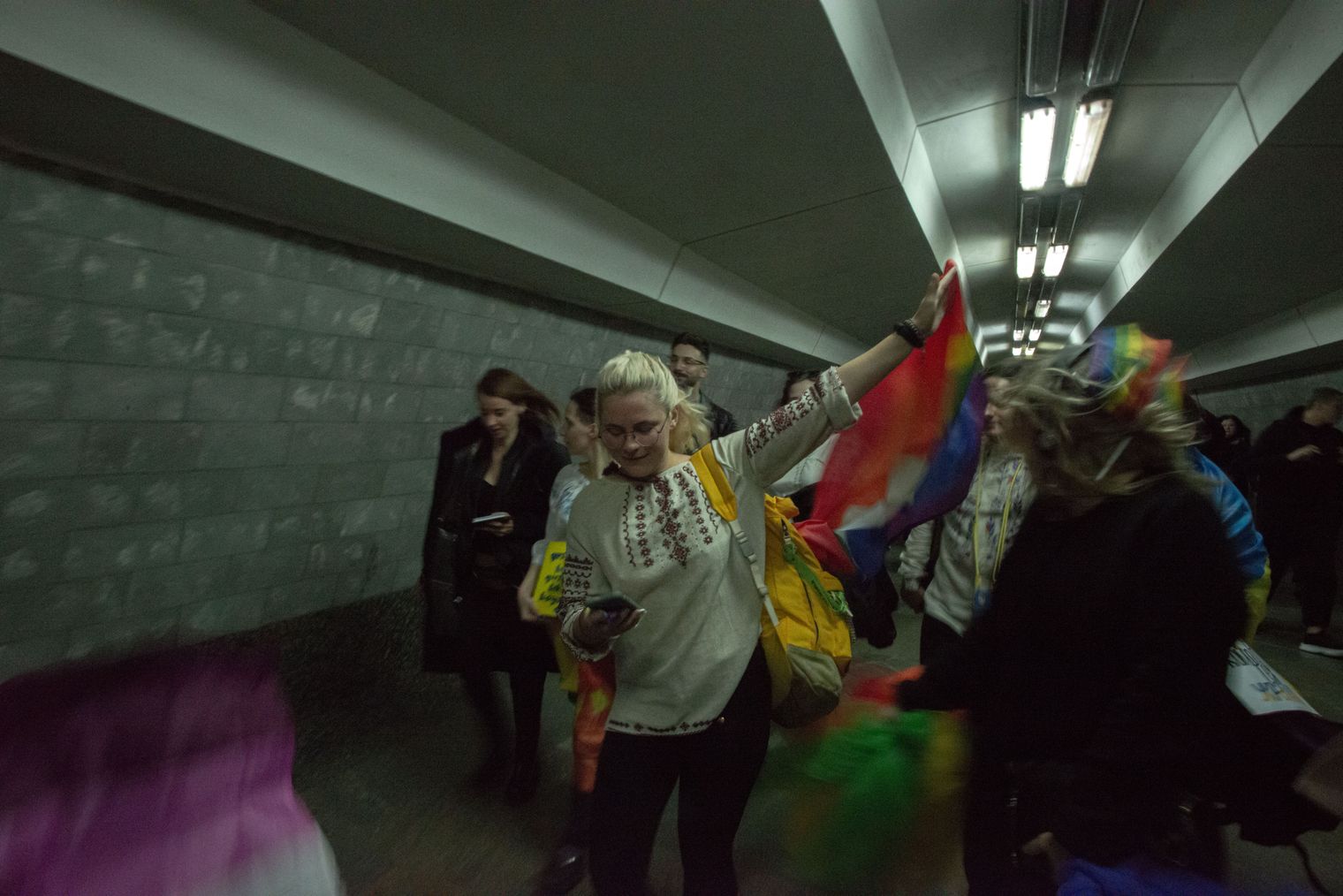 Kharkiv Pride in the undeground / Photo: Oleksandr Magula, Gwara Media
On Sunday, Sept. 25, Kharkiv Pride took place at the underground stations.
The event dedicated to gender and marriage equality was organized in the underground, out of reach of possible Russian attacks. The activists attended all three Kharkiv metro lines unfurling the rainbow flags and calling for the legalization of same-sex marriages.
"The main idea of Kharkiv Pride this year is to legalize the right of the partners to get access to the body of a person killed in the war," says Anna Sharygina, one of the parade organizers.
Currently, LGBT people do not have the opportunity to take the body of their partner from the morgue and bury their loved one; to make a vitally important decision for a partner, if they are in an unconscious state; take care of the partner's child if they join the army, or take care of the children of a dead or wounded partner.
"Pride is not a celebration, and has never been one," added the march participants. The activists of Kharkiv Pride aim to draw the attention of society to human rights, gender, and marriage equality.
"Historically, Kharkiv has been struggling with Russian narratives and propaganda, and homophobia is part of the ideology of the Russian Federation. So we reject stereotypes and inequality and go to victory. Victory over racism, discrimination, and oppression," comment the activists on the official KharkivPride Instagram.
Pride is a peaceful march, but after the event, it became known about an attack on one of the participants, reports Suspilne Media.
"He was wearing an embroidered shirt and was taking photos of a large Ukrainian flag, so the attack could be based on both homophobia and anti-Ukrainism," commented the organizers.
The Kharkiv Pride march was guarded by police. Around 30 activists took part in Kharkiv Pride this year, while last year the march gathered around 3,000 participants.