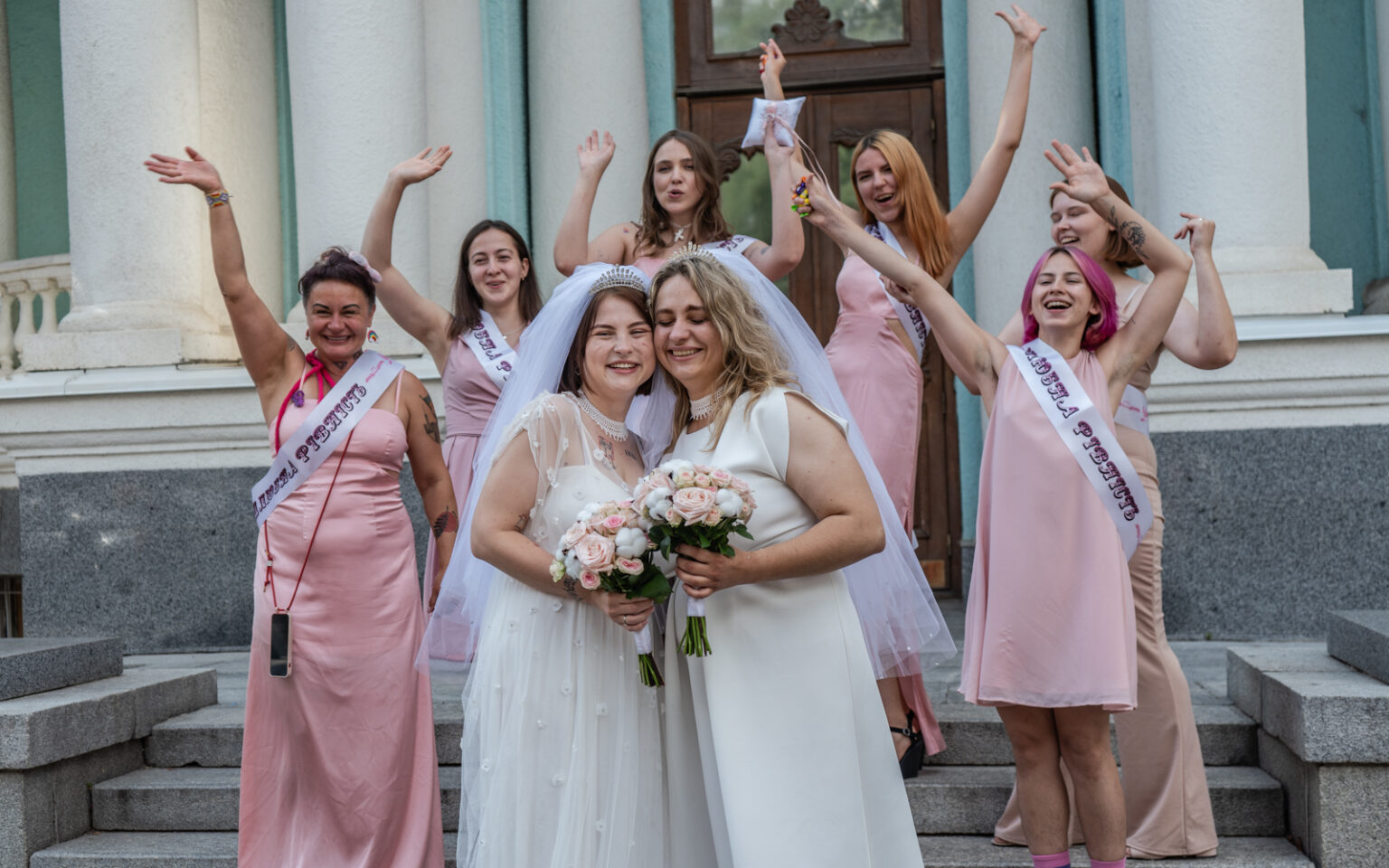 Brides & their friends near the central civil registry office in Kharkiv / Photo: Ivan Samoilov for Gwara Media
On August 25, one of the brightest KharkivPride 2023 events happened: a wedding that's not real.
They really are together: Alina serves in the Armed Forces of Ukraine and Stanislava is a feminist and LGBTIQ+ activist. The wedding isn't real, though. It's a performance called "The Day When Everyone Can Get Married," – and its goal is to draw attention to the fact that Ukraine doesn't recognize same-sex marriages.
One of the aspects of marriage equality is the ability to celebrate the wedding in the open. At first, the fiancées and their friends decorated their car.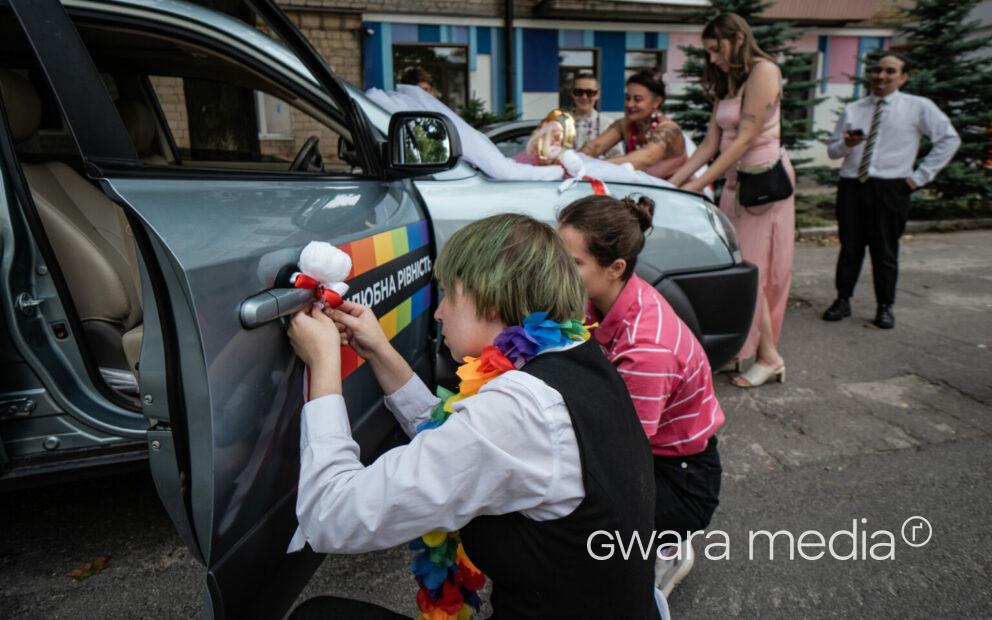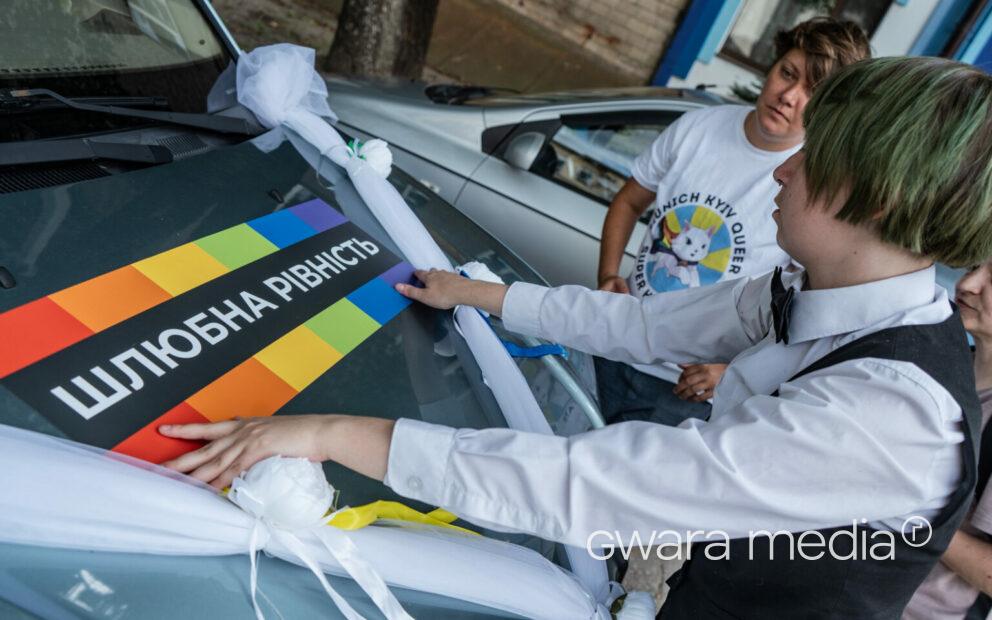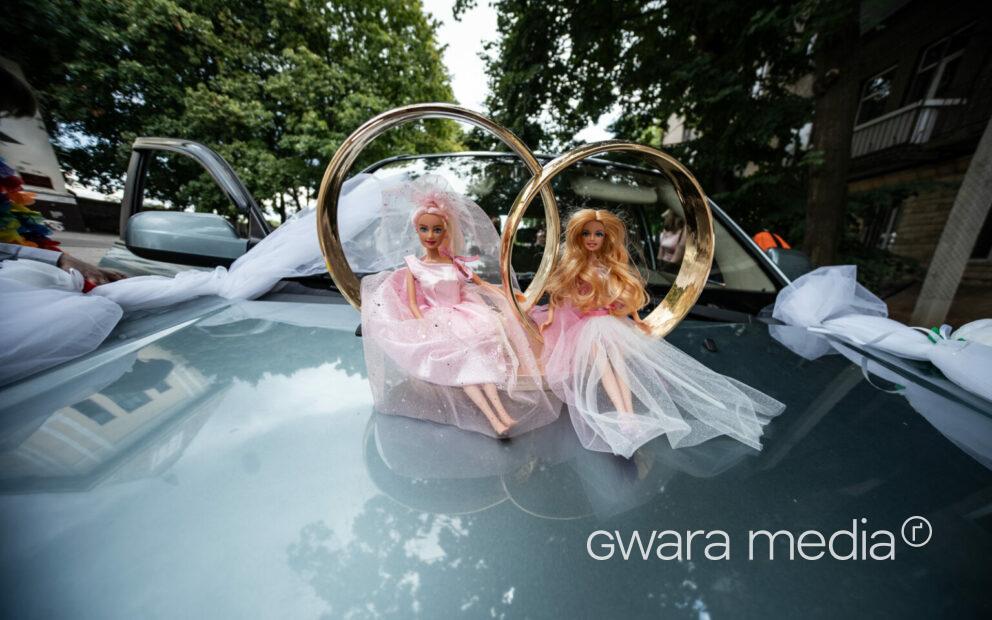 The ceremony started near a facility where people get married, the central civil registry office in Kharkiv's main street, Sumska.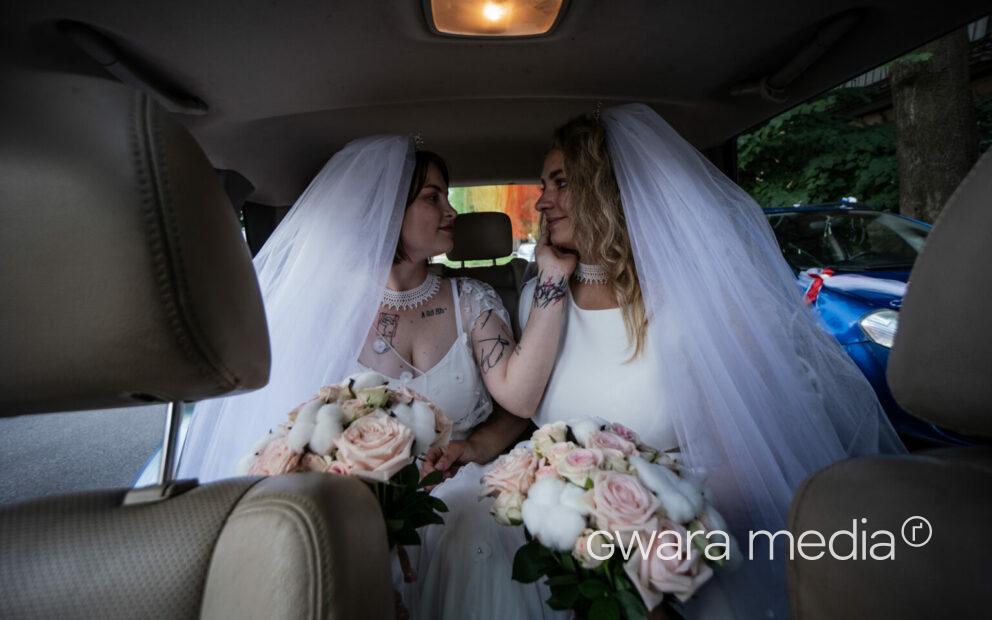 Here, guests "rained" candies, rice, and coins on the brides, as per Ukrainian wedding custom (the interpretations for these vary from region to region, but, in general, rice symbolizes prosperous married life, coins – a wealthy one, candies – a sweet one.)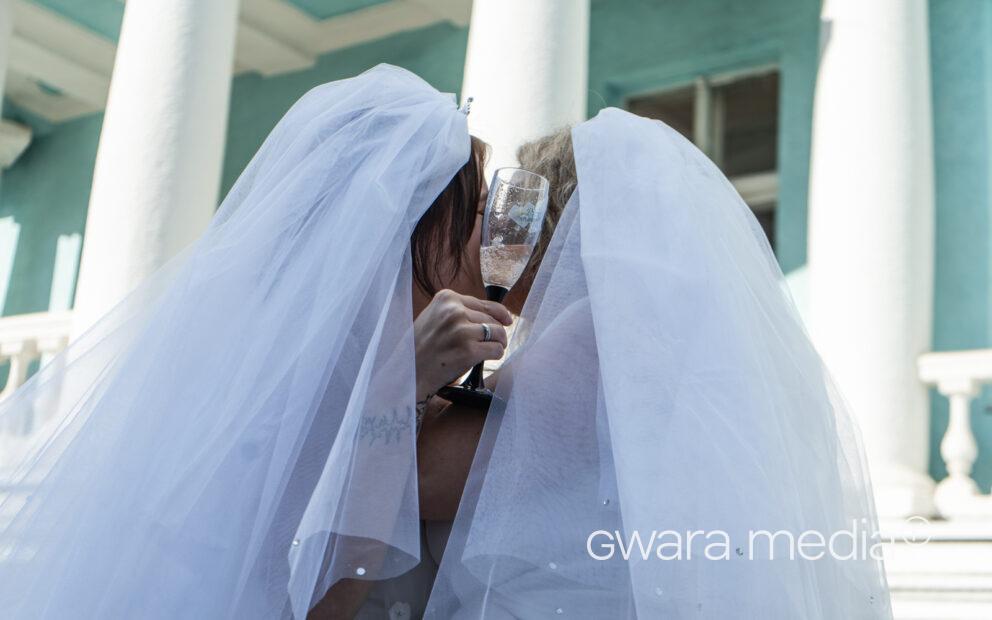 Then, the brides took photos with friends – and went on a walk downtown.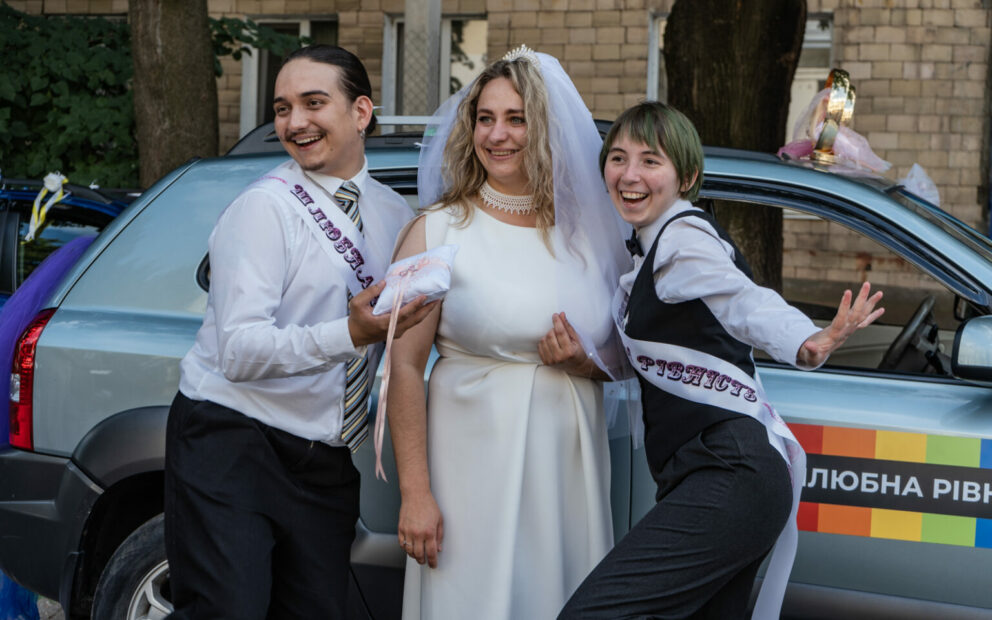 "On one hand, this is a reference to our first LGBT campaign for marriage equality, but back then, we were attacked on Sumska Street. Since we've started doing KharkivPride events, we're trying to do things that would help make a question of marriage equality more visible," says Anna Sharygina, LGBT activist and co-founder of Kharkiv feminist NGO, Women Association Sphere, "Right now, this issue is even more pressing. One of the girls who plays a fiancee serves in the military. They are the couple that should be allowed to marry."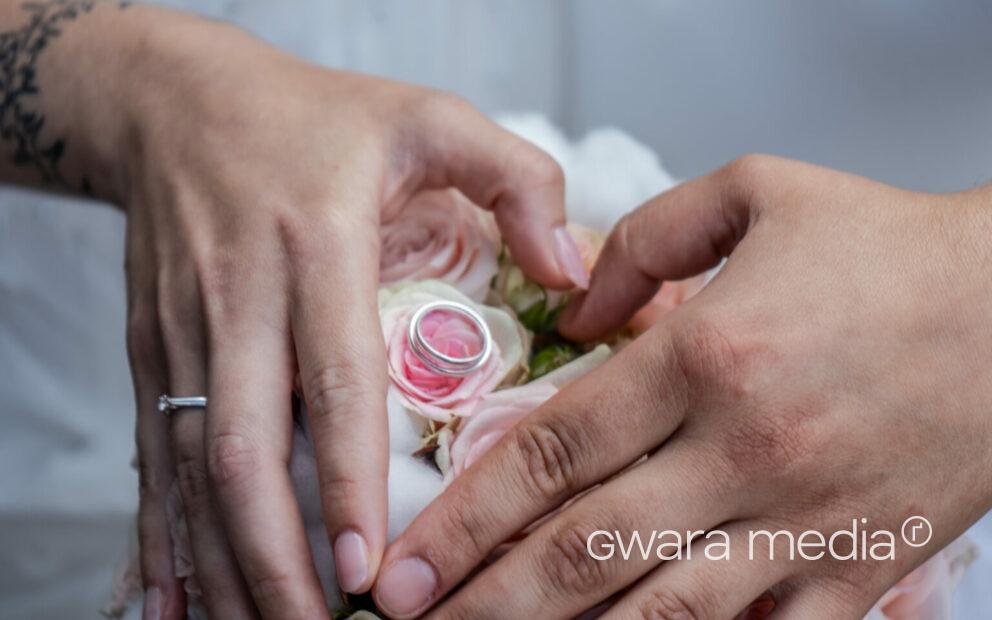 Sharygina says there's no way to help one's partner in a crisis if you're unmarried.
Russian invasion, both in 2014 and, on a larger scale, in 2022, added a sharp perspective to existing issues posed by marriage inequality in Ukraine: e.g., a person wouldn't know if their loved one who serves in the military is wounded, captured, or killed if they aren't married.
Sharygina adds that the LGBT community often faces questions about whether or not it's relevant to talk about marriage equality during the war when everyone's focused on bringing victory closer.
"But LGBT people have to do it [have to talk about marriage inequality], and, apart from that, they join different initiatives that work towards our victory. [This year's] KharkivPride is dedicated to collecting funds for the National Guard of Ukraine; we're collaborating with volunteers," said Anna.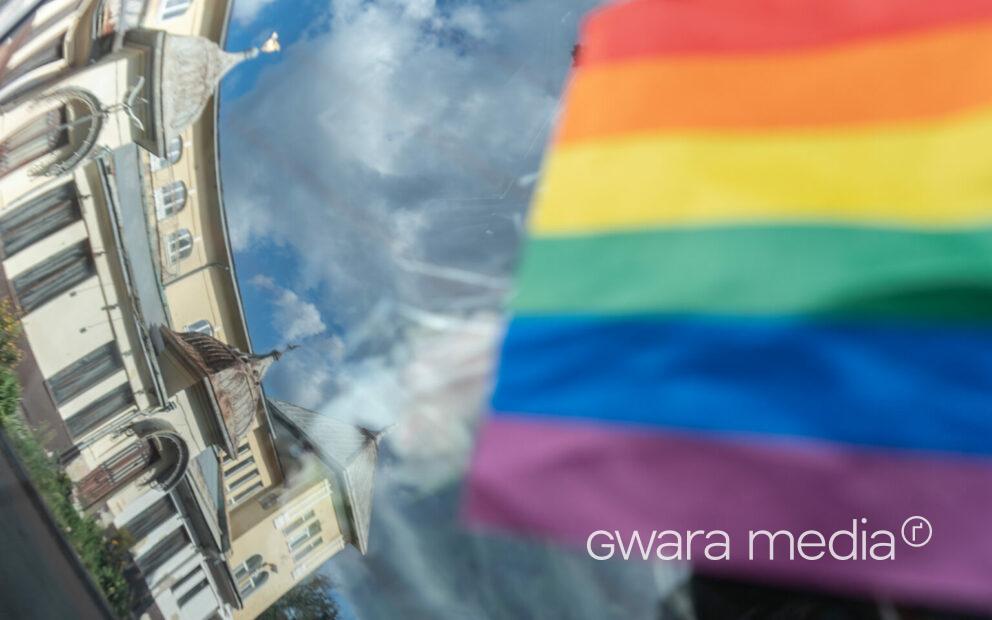 Currently, legislators and activists are developing a law about civil partnerships. A draft law №9103 was registered in the parliament on March 13, 2023. It outlines a mechanism that'll extend judicial options for cohabitation and household management available for all citizens – and it can become a first step towards legalizing same-sex marriages in Ukraine.
Some LGBT+ activists believe civil partnerships are an unnecessary compromise and that there's a need to fight for recognition of same-sex marriages from the start. At the same time, one of the bill's authors, Inna Sovsun, notes that almost all countries go through this transitional state. In our case, she says, martial law can last for a long time, so legalizing civil partnerships is a promising option. (During martial law, the Constitution of Ukraine, which defines marriage as a union of "a woman and a man," cannot be changed.)
*KharkivPride is one of the largest LGBTQ+ events in Ukraine. Its organizers, activists, and volunteers campaign for human rights for people of all sexual orientations and gender identities and against discrimination.

If you have found an error, highlight the necessary fragment and press Shift + Enter.