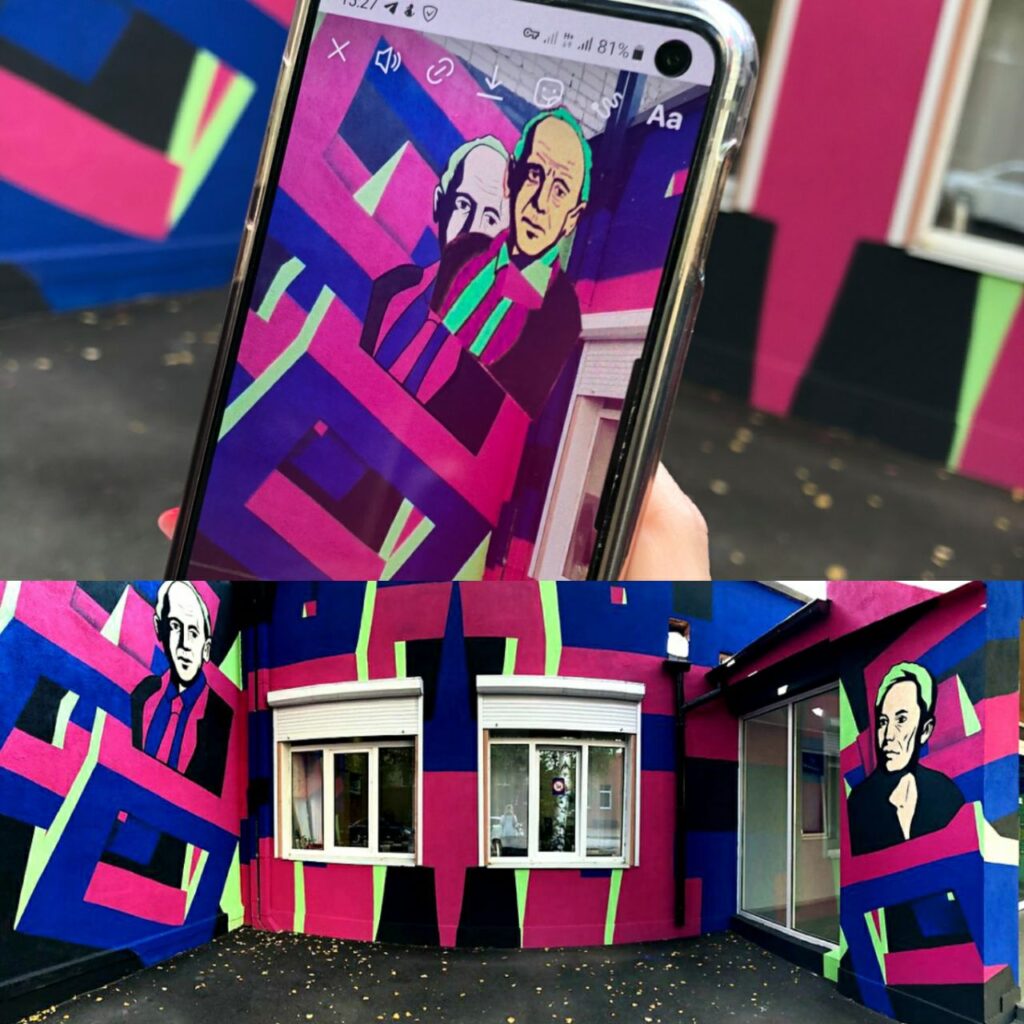 Whales decorate a tall building and Elon Musk embellishes university: what does artist Anastasia Khudiakova do?
Cultural Reality
As for me, the artists need a basic education. The academy teaches one self-knowledge, encourages discovering what you are interested in, and in which direction you should move on after it. Although, during my studies, there was more theory, as the practice we participated in the festivals and competitions. Especially when I had to travel to other cities and countries, it was a moment for me to get out of the comfort zone, to find myself in extreme conditions. This experience has revealed my hidden abilities providing a great result.
I wanted to be an interior designer. When I entered the academy [Kharkiv State Academy of Design and Arts], I was told that monumental painting do associate with the walls. But I did not know it! During my studies, I finally realized that I really like to paint the walls and plunged into it with my head.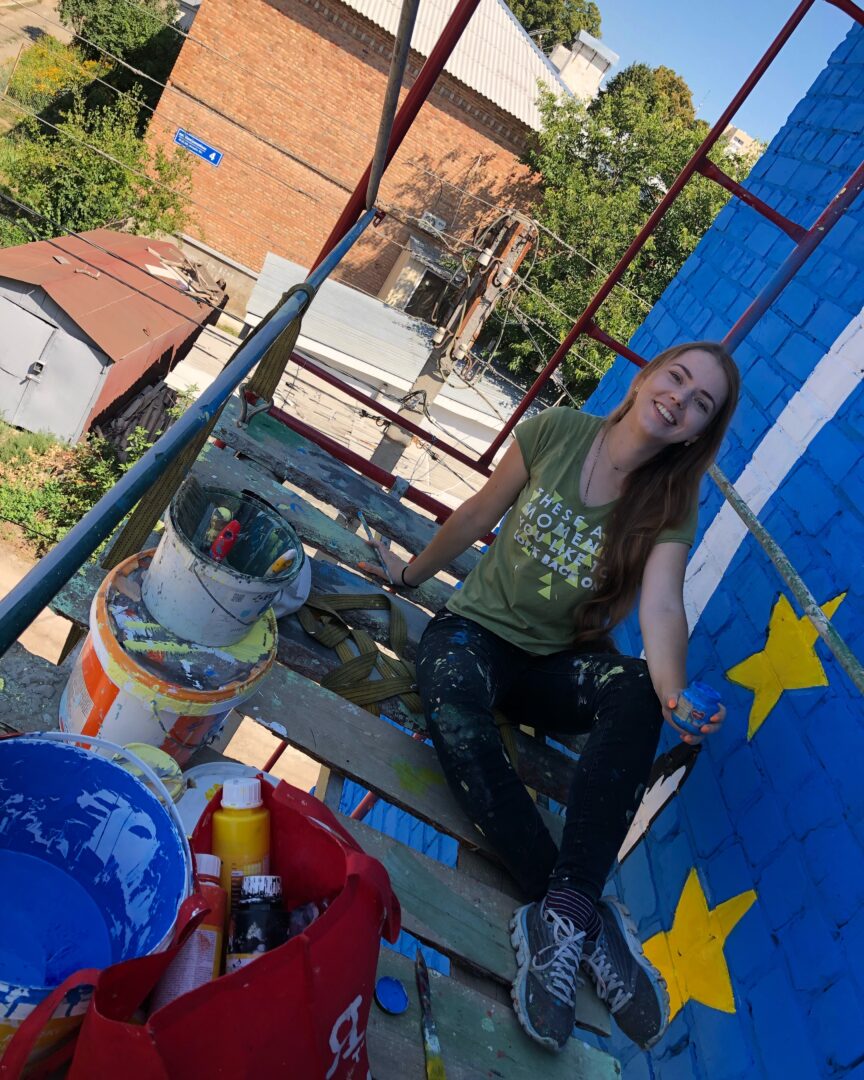 I used to try to count how many walls I had already painted, but then I lost track of it. Not everything can be called a mural or a painting. Moreover, artists often simply decorate the walls, without adding to it any semantic load. I probably have about ten painted walls that can be called murals.
In the beginning, I accepted all the offers when being asked to paint something on the wall because beginners need a practice to learn how to work with the wall, how to organize the whole process step by step: to find a ladder, to order paints, exactly the ones you need and to negotiate on its delivery. You need to be not only a creator but also a manager. I have a big responsibility both for the process and for the result because I should think not only about me, who will see the mural but about all the other people who will pass by it.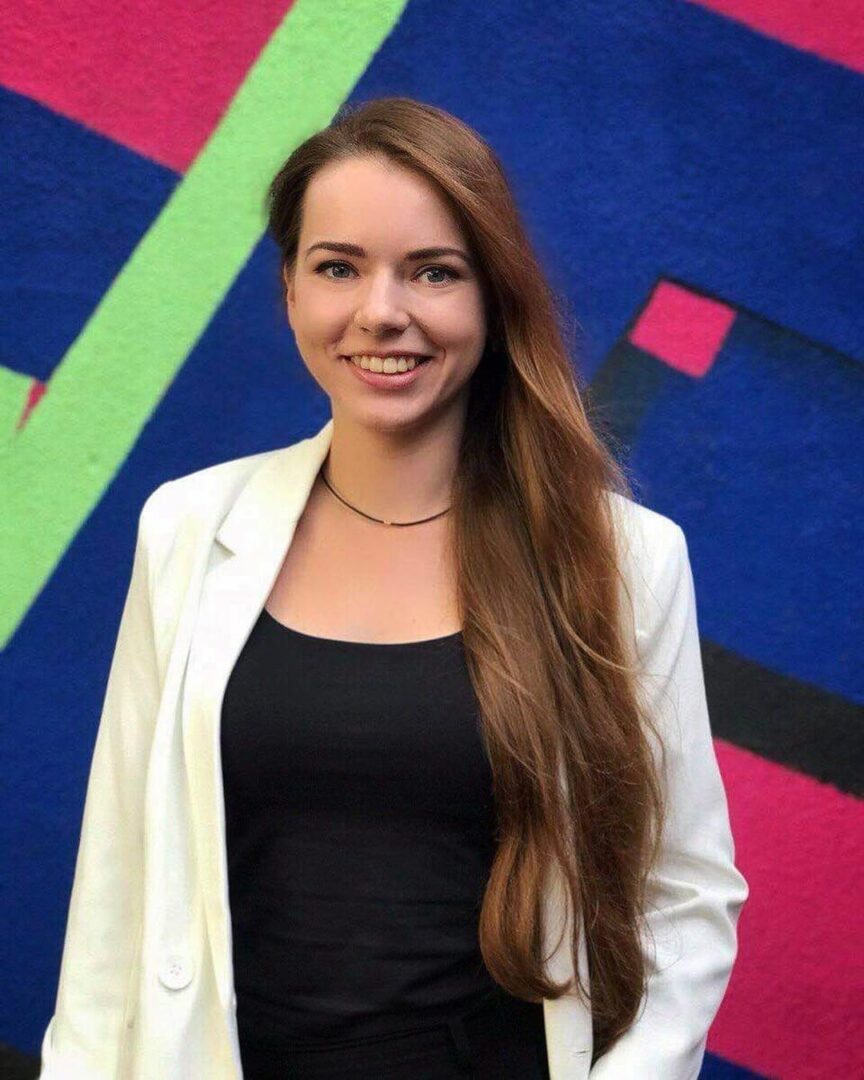 Now it's more interesting for me to work when the sketch is mine, when I choose a wall by myself, when I join a project and look for grants with other artists. Last year we joined the Participation Budget in Kharkiv. It was a city competition among artists in which a chance to vote for our projects was given to citizens. Those who received the most votes, implemented their projects. Among them was a mural of a whale. It's how the perfect conditions actually look like – when a city in which you are supposed to paint is your home town, where you know everything, so you can choose a place, a wall there, make your own sketch and then wait for the feedback.
In 2019, as part of the Public Budget of Kharkiv City Participation program, Nastia, together with artists Serhii and Ksenia Kalmykovy, created a 28-meter-long triptych mural. It depicts 6 orca whales: one large and five small. The address of the house where it is located is Ludwig Svobody Street, 58. It is a 16-storey building in Oleksiшivka. The mural was added to the National Register of Records of Ukraine.
Very Digital Residences are a bit similar to a project with a whale because it is us, the participants, who could make a sketch and choose a wall. Finally, we chose the walls around the fablab of KhNEU. That's cool, when there is movement in the project with no bounds, contrary to a case when you are given a sketch, a wall and you can not go beyond the task or show any creativity, a flight of fantasy. Instead, working with an unknown is much more interesting, because you do not know how it will all end — there is a progression that brings lots of excitement.
https://www.instagram.com/p/CE9w8u9BkXh/
A muralist who has tried at least once what a big wall feels like, then sees it even in his dreams. I had almost no work during quarantine, so when I saw an ad for residences on Facebook (and that was a few hours before registration was complete!), I immediately decided to give it a try. To apply there was so special for me since I have been dreaming for a long of creating a mural with augmented reality.
https://www.instagram.com/p/CE8rZNVJs6b/
The mural we are working on with the residents will be as modern as possible in all senses. We made the contour with the help of digital technologies: at night we aimed the projector at the wall, and then we transferred the lines. There will be several portraits on the mural – Ilon Mask, Simon Kuznets, and also someone else – we are still thinking on it. The main message is that the achievements of Ukrainian scientists such as Simon Kuznets are important. Elon Musk also wrote about it on his Twitter account, basing on the experience of previous generations. There will also be a game moment — augmented reality: how the wall will change is still being decided.