Kharkiv Performance Premiered in the USA
13.03.2023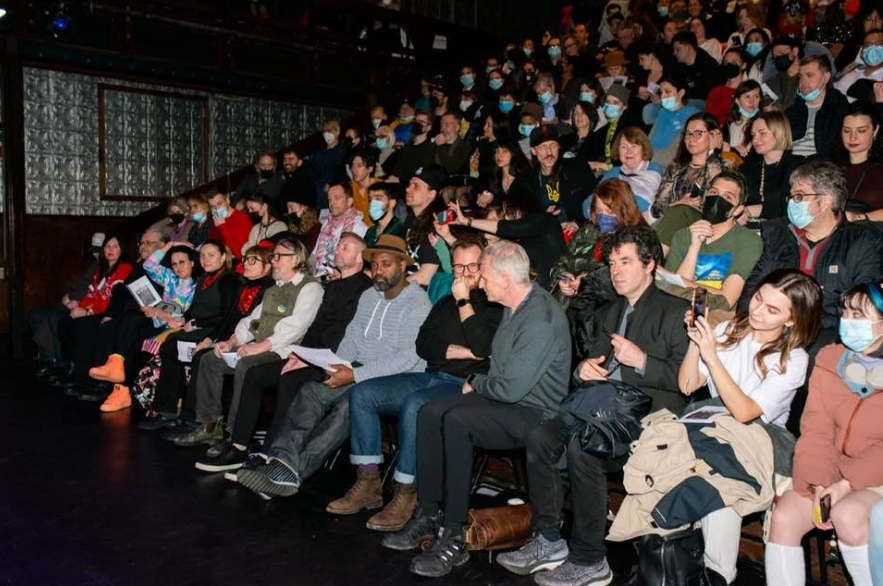 "The photo is notable for the fact that Eugene Hütz, Timothy Snyder, and the great American poet Reginald Dwayne Betts are in one picture," wrote Zhadan on his Facebook page on March 12.
On March 11-12, the avant-garde jazz musical Radio 477, directed by Les Kurbas, was presented in the USA.
This was reported by Kharkiv award-winning author Serhii Zhadan, who has written the texts and lyrics for the performance.
"This is our attempt to reproduce and elaborate the legendary Berezil performance "Hello on the Wave 477″, the jazz music for which was written in 1929 by the father of Ukrainian jazz, Yuliy Meitus, and the libretto by the brilliant Maik Yohansen. Now, almost a hundred years later, no less brilliant Anthony Coleman made his arrangement of the music, and I, as far as I could, rewrote the text," reported Zhadan before the premiere.
The play was to be staged in 2022 in Kharkiv, and rehearsals were planned to begin in March.
Last year, the legendary theater of Les Kurbas "Berezil" turned 100 years old. The premiere of the jazz revue "Hello on the Wave 477!" took place in January 1929 in Kharkiv and became extremely popular. It was performed 46 times during the spring.
The idea to stage this play again came from the American director, writer, and researcher of Les Kurbas' work, Virlana Tkacz.
The vocalist of "Gogol Bordello" band Eugene Hütz, historian Timothy Snyder and American poet Reginald Dwayne Betts attended the performances in the USA.
Колись, кілька років тому, Тімоті Снайдер подарував мені останній (який у нього лишався) примірник своєї біографії Василя Вишиваного. Приємно було знову зустрітись. Домовились про приїзд і виступ у Харкові. Сподіваюсь, ближчим часом так і станеться. Харків чекає) pic.twitter.com/5ufj1oTEGd

— Serhiy Zhadan (@serhiy_zhadan) March 12, 2023
Earlier: On March 10-19, the musical "Radio 477" will premiere at the La MaMa theater in New York, USA.
Please, support our work and help us remain independent.
Follow us on Twitter and LinkedIn for more news, stories, and field reports by Kharkiv journalists.