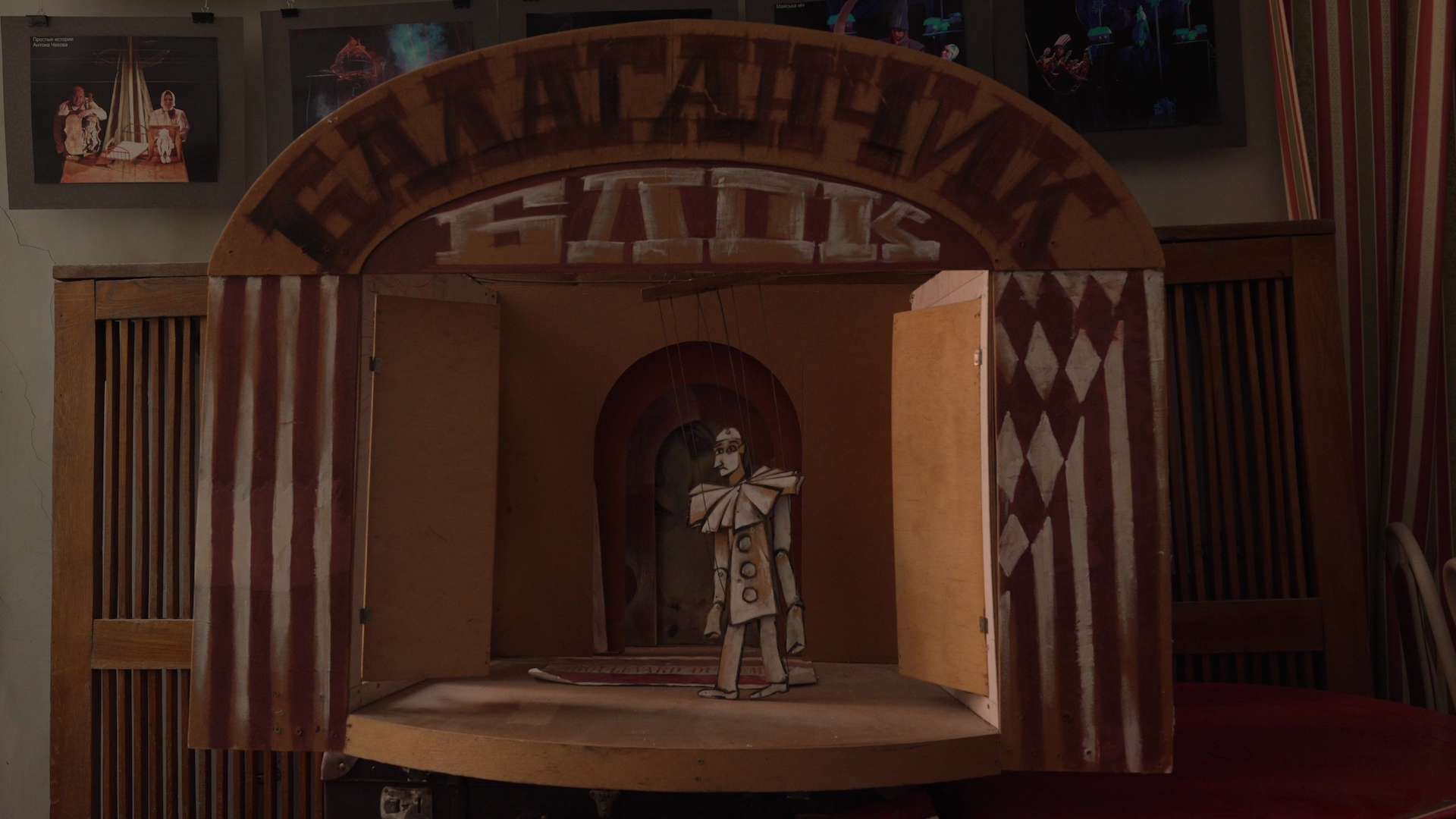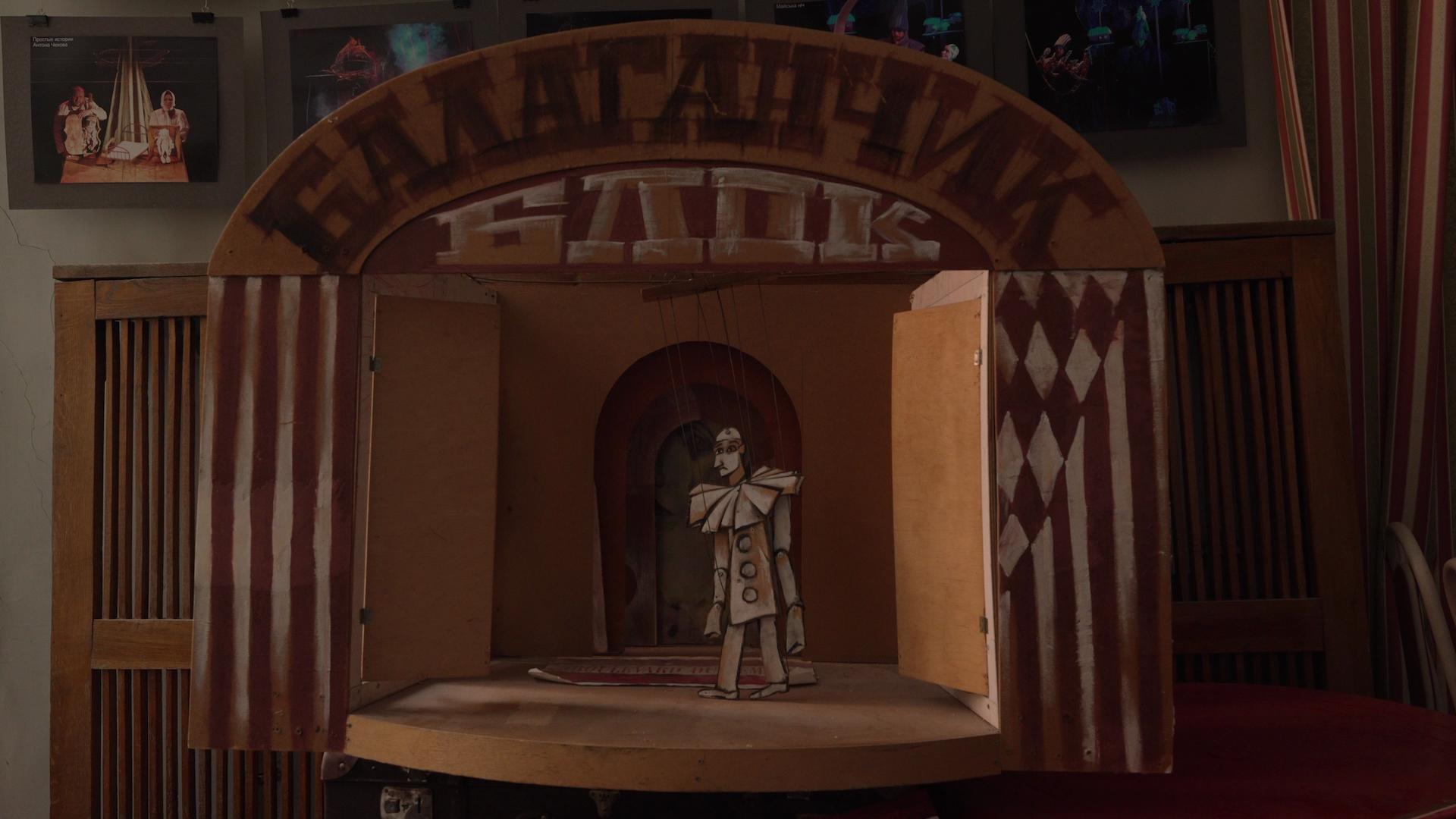 "Kharkiv in April was a tough territory." Oksana Dmitrieva about Kharkiv Puppet Theater Surviving the Year of War
Featured
Scenographic model for the Puppet Theater performance / Oleksii Yeroshenko, Gwara Media
In February 2023, the Kharkiv Puppet Theater opened its stage for regular performances for the first time since the full-scale invasion. On the eve of the full-on war anniversary, accompanied by speculations about a new offensive, fakes about the region capture, and more frequent air alarms, the Kharkiv people crowded the theater building almost as in good old times. The puppets in the glass stand in the lobby had been waiting for them motionless since last February.
This unsteady world of normality, where luxury in the form of art is possible and the luxury of live communication in a subdued, hushed frontline city, is the most valuable thing that theater can and should bring to people, Oksana Dmitrieva believes.
In a conversation with the main director, we talk about how the theater lived and continues to live during the war.
How did the theater survive throughout 2022? What has it become for Kharkiv during this time?
We started working around April when Kharkiv residents were still sheltering in the subway. A lot of people lived there, at some stations, the number reached 1000 people. We met with the theater actors, my graduate students, who remained in the city, and agreed to at least try to launch the work. It was a completely surreal idea, but everyone agreed.
We did not have a single performance that could be so quickly organized and played because most of the troupe was in different parts of Ukraine and Europe. So, we started all from scratch. The actors had their own "home performance", and I asked them to begin with it, saying, let's start, and then we'll catch up. Based on Andersen's fairy tales, we played the first performance at the Maidan Konstytutsii [Constitution Square – ed.] metro station.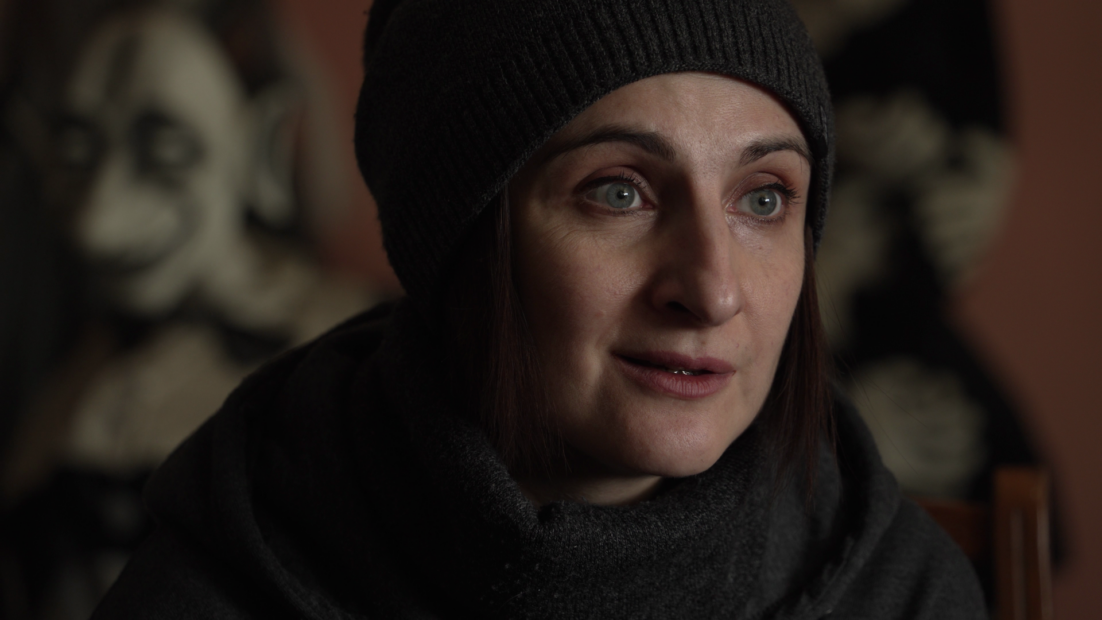 The rehearsal experience was also quite surreal. Kharkiv in April was a tough territory: the curfew started at 4 p.m., so we had to come to the theater, get to work, and quickly return home. The actors of the play "Tsyatochka" (as of April – students), which we resumed, also worked in the territorial defense kitchen. It felt like a quest to overcome a new obstacle every day. Then we met the UNICEF representative in Kharkiv and agreed to make a metro station "tour" with the organization's support. We visited all the metro stations with our performances. It was a painful experience: each station was like a different city with different people and feelings.
The closer you were to Northern Saltivka, the more you felt the tension and horror of what was happening. I constantly asked myself why we needed theater, literature, and music at times like that. It was terrifying to realize that all of it was left behind in a peaceful life. But that gentle, sincere meetings with the audience [in the subway — ed.] allowed us to realize that we could and had to do what we knew how to do.
A bright fairy tale supports and prevents us from forgetting about fragility and childhood. I still don't know who saved whom at these performances.
We hugged and talked a lot – those were very close meetings, authentic. Seeing people, feeling, and being close to them was important.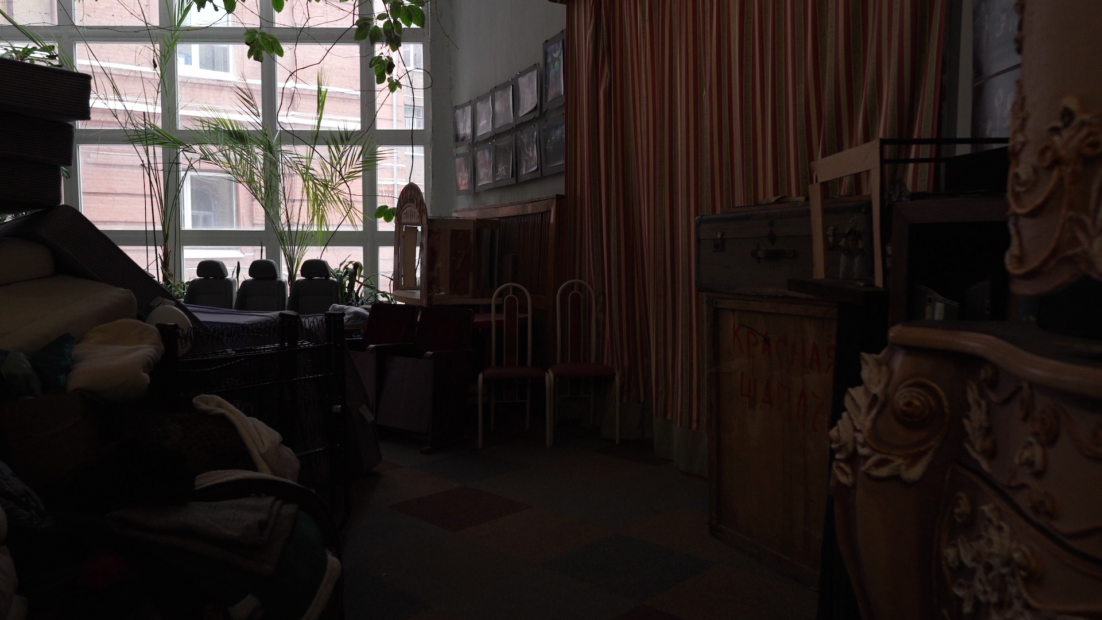 Has this experience changed your troupe?
Yes, this was a new emotional experience for everyone. Our troupe is incredible. I love the actors who stayed in the city and those who are far away – we are constantly in touch, and everyone supports the country and the theater as best they can.
I am proud of actors who are engaged in creative fields, involved in volunteering and joined the army to defend our country.
Tetiana Tumasiants, the star of our theater, an incredible actress, from the first days signed up for territorial defense, then for the army, she was in Kherson and Donetsk oblasts. Mykhailo Ozerov, who currently serves in the territorial defense – I am eternally grateful to them!
Moreover, I want to mention those currently staying abroad: some are already working in European theaters, which is my great pride. I am proud of Katia Liubchenko, who works in a prestigious Polish theater and supports us. She is a great actress, and it is very nice that she did not stop, she goes on. Olenka Hrabina currently lives in Germany and creates performances that have already received good reviews. I want to mention everyone because they do everything they can to support the country and their theater.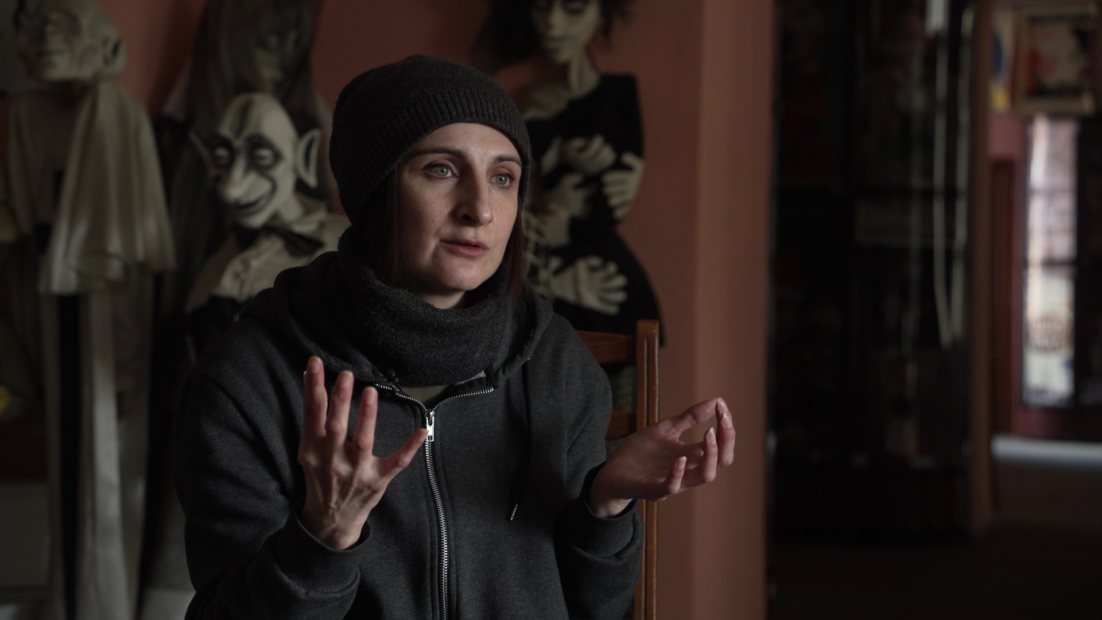 Why did you personally decide to stay in Kharkiv?
On the first day of the war, I went to Poltava. My family is from Kramatorsk, and my older sister and I agreed that if it [the full-scale war – ed.] started, we had to stick together. Honestly, I didn't believe it would happen as it did. It didn't make sense to me. At the time, we were working on a play about war, based on Bertold Brekht's "Mother Courage," in a modern translation by Serhii Zhadan, with great music by Katia Palachova and Oleh Kadanov. I can't say rehearsals were easy because we felt the tension even then. We talked about the war, and our imagination produced terrible images. We let ourselves go with the play's set designer, Natalia Denysova, but the images that came to us, as artists, were really scary.
Returning to the first day – I left then, but I had a strong feeling of guilt. How could I go while others were staying in the city? I lived in Poltava for three weeks, and it was hard every day not to see what was happening. It's scary to be far away. When my family calmed down a bit, I managed to return to Kharkiv.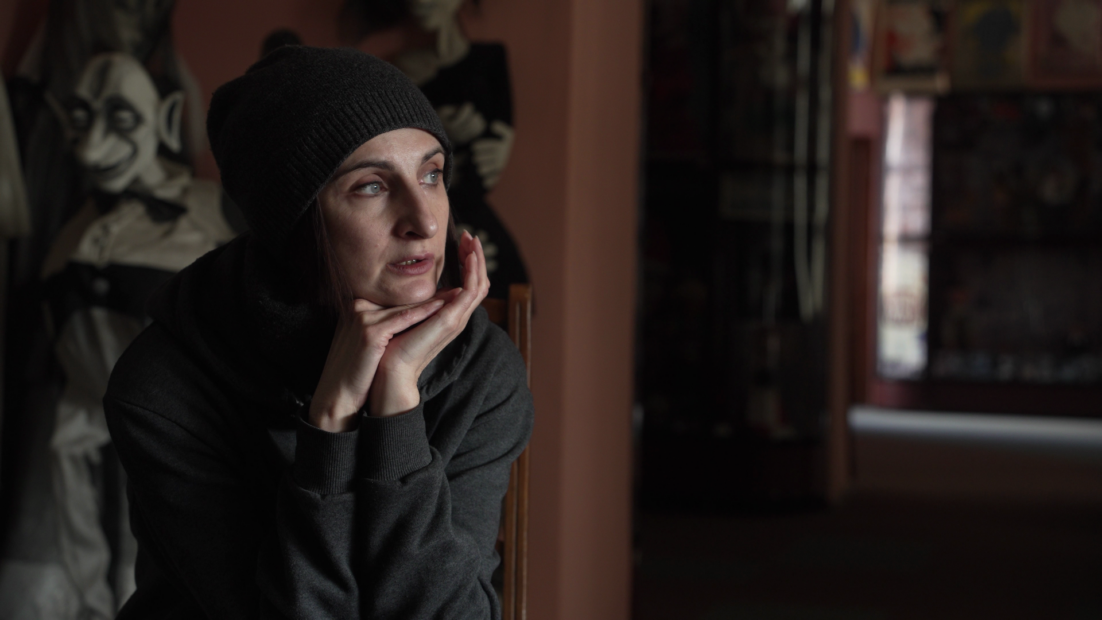 I know that throughout the war, the puppets, a cultural treasure, remained in the Kharkiv theater. What motivated this decision?
You see, it's Kharkiv. February 24. Everything happened lightning-fast. Our employees, a brilliant team, stayed at the theater. During a missile strike on the Palace of Labor, the windows on the first floor were damaged, and they were the ones who cleaned, cared for, repaired, and looked after everything and everyone who was there.
This place is special; it became a shelter, a home, and, as we say, the "Noah`s ark" for people. Everyone was here: children, adults, the elderly, and many animals. This building itself saved and held us all. When we felt terrified, we sang, which helped us not be afraid. By the way, it was our puppeteers and Serhii Zhadan who created the first concert in the subway at the Maidan Konstytutsii station.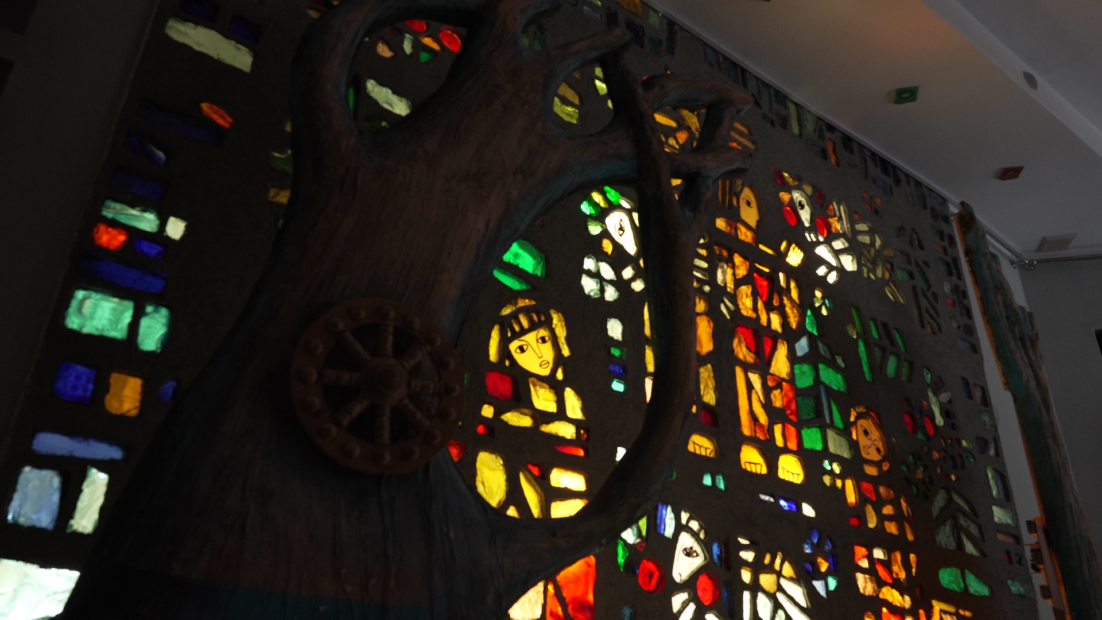 But still, were there any proposals to evacuate the puppets to a safer place? These are priceless things that one would wanna protect at all costs.
Yes, there were. The dean of the theater faculty at the Ivan Kotliarevskyi National University of Arts in Kharkiv, Yana Partola, called me and said that they were evacuating exhibits from the Art Museum, so we should try to evacuate the dolls with them. But honestly, we were so overwhelmed and unbalanced that we just couldn't do it. Veronika Skliarova was in charge of the evacuation in Kharkiv, and I am incredibly grateful to her for this tremendous work. But we didn't do it; we weren't ready.
Now I reflect on it a lot: the war lasted for eight years, and I, personally, did not think, did not predict, did not create a plan.
My hometown is Kramatorsk, and whenever I returned home, I often heard the phrase "At times before the war." They knew what war was like, what it meant to be under fire, and what people felt when hiding in a shelter. They went through all of that. I felt chills down my spine, but I didn't understand what it was like. My mind pushed away the possibility of something similar.
My infantile "nothing will happen" attitude on the one hand, and their realistic "what will you do if it happens?" on the other.
For all eight years, we, as a theater, had to prepare for all the possible scenarios. But so much still needed to be done. I feel guilty and responsible for that.
What do you think is a priority now: talking about Ukraine on the European stage or working here on the ground?
During our interview, we discussed this with Maiia Harbuziuk, and I answered that this was a story about how I didn't keep my word. While in Poltava, I was convinced that art was irrelevant under those circumstances and that something practical had to be done. I went with friends to volunteer in the territorial defense kitchen, and when I was asked, "What are you doing here? You're a director," I replied, "Until the war is over, I'll be here."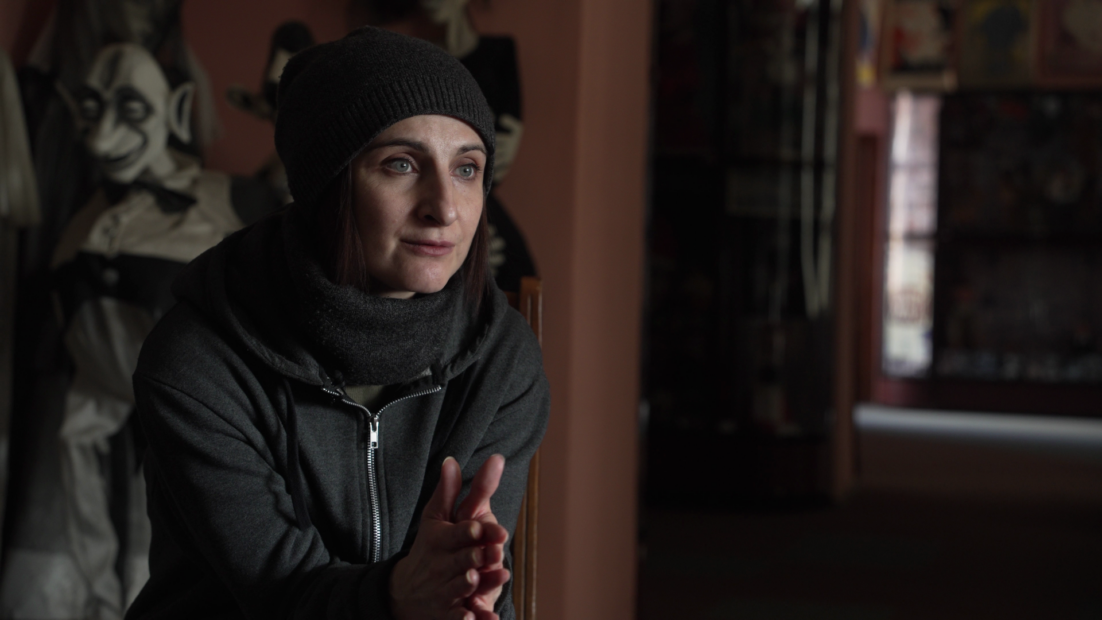 But when I returned to Kharkiv, I didn't keep my word. There was a moment, already here, when I walked through the empty city in these perfect decorations of architecture and caught some "glitch." I don't know how to describe it; I felt the city trembling, I heard some incredible note. I heard this delicate, high note in the air. It pulls you like a marionette doll, and you think, "I'll try." Everyone told me that starting to make some shows was difficult, it required resources, and I understood that myself. They were right; it's really not the time for creativity now; it's not harmonious nowadays. But at the same time, I came to the theater and laid out the dolls, waiting for someone to come and play with them.
My students, who are actors, supported me and did not refuse the opportunity to rehearse. It was very touching, and their support became my backbone. Then, when we all felt the embrace of our audience in the subway, it became clear that it was indispensable. At first, you save one person, and then the circle becomes wider and wider.
Later, I promised myself not to go abroad, and I broke that promise too. We had a fantastic trip organized by Veronika Skliarova. We went to a Croatian camp to participate in rehabilitation and trauma work training. It was a meeting with incredible people who helped us in many ways and gave us advice.
We created the play "I'm Fine" in June in Kharkiv. The play's events take place in Bucha, but the story of Nina Zakhozhenko is very Kharkiv-based. At that time, we did not get off our phones, and the phrase "I'm fine" was our password. So we staged the play and tried to perform it in June.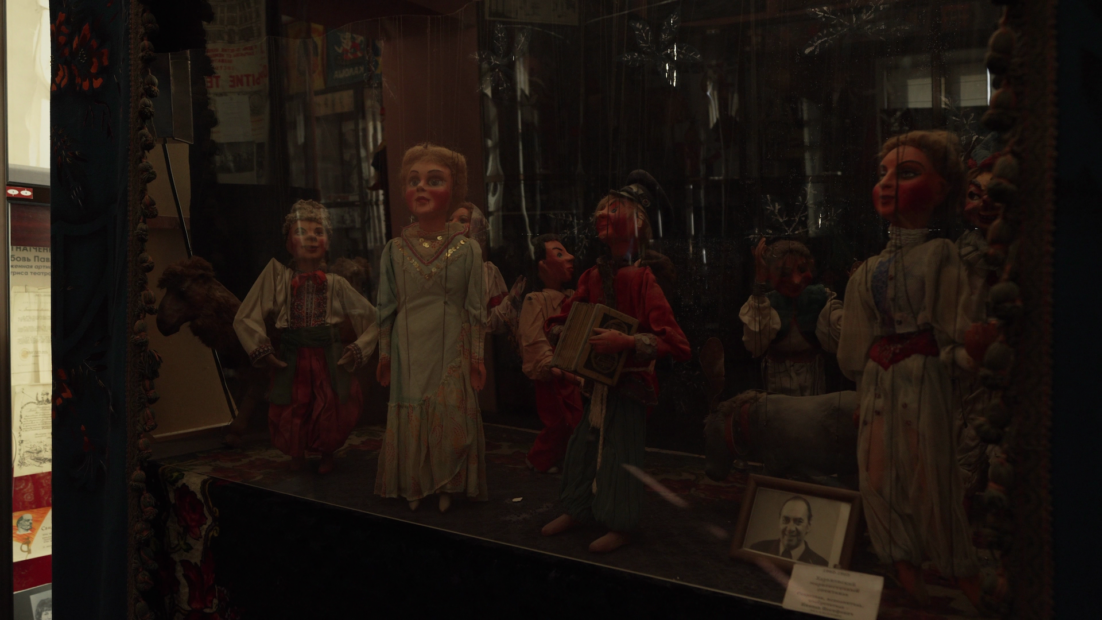 After a while, Katia Liubchenko talked to Roza Sarkisian, and they proposed bringing the play to the Warsaw "Korchak" festival. So the young actors of the play, who had been in Kharkiv the whole time, could breathe and see what was happening outside of their city for the first time.
It was a shock: to see how people could calmly drink coffee, listen to music in the evenings, go to the theater, and walk around at night. At first, it was a joy to experience a peaceful life, but then a severe trauma: to realize that all of this still exists somewhere, but not in our city.
I remember how the actors came to me and said, "That's it, we want to go back to Kharkiv, we want to go home."
Please tell me, how was the work on the play "I'm Fine" carried out?
It is an exceptionally lightsome story about teenagers. But we were all so helpless at that time that we resembled children. The young people pulled us through. They turned out to be stronger and more resilient. The youngest girl in our family, four or five years old, was saving all of us. She seemed to filter out the fear. The vital thing is that children allow us to survive the horror. They hold on tighter. They are stronger than us.
So that's how Nina's play happened. Sometime in March, Nina sent me the material consisting of several novellas. I read it and was especially startled by the "I'm Fine" story. At that time, I could only dream of some performance, so I replied, saying it was a remarkable story, but we couldn't work on it yet. And I put it away.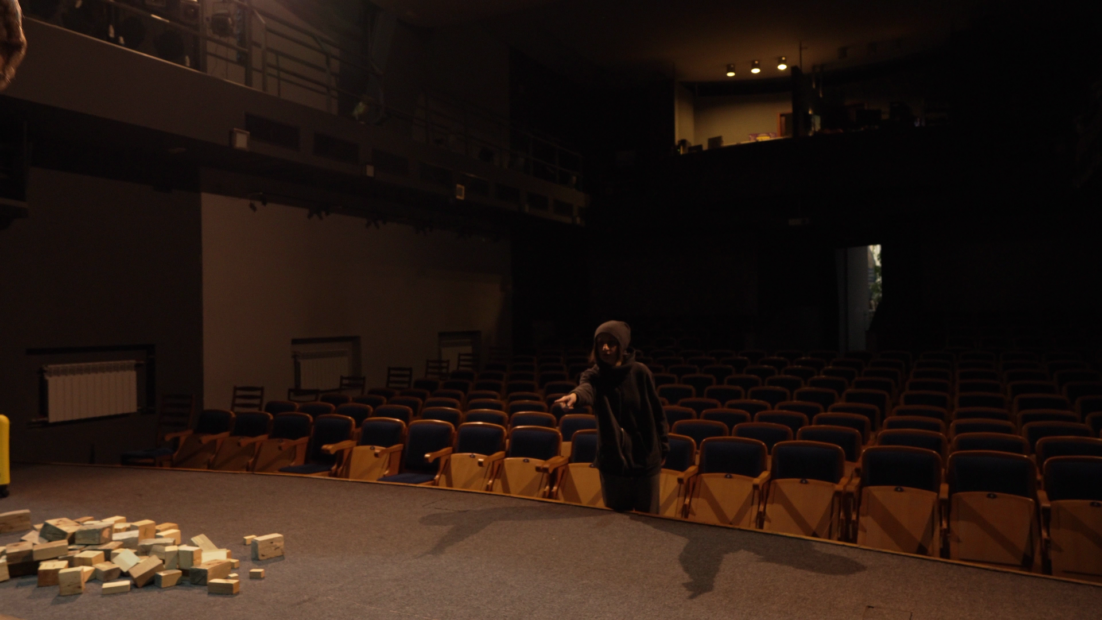 Then our actress, yesterday's student Lilia Osieichuk, wrote a song that would later sound in the play. It was the first music I started listening to during the war without feeling dissonant. As we began staging children's plays, I wanted to start a dialogue with the adult audience. I remembered Nina's story and thought, "It's a shame there's no play." You won't believe it, but I called Nina, and she said, "There is a play. I wrote it."
We made the play in two weeks. We planned to do a reading at first, but the actors came with the text memorized. Our favorite composer Katia Palachova, who is now in Germany and works a lot with us, wrote the music for the play, transforming the song by Lilia.
The first performances took place in the theater. I remember how the audience came and said it was the first play they had seen in Kharkiv's theatrical space, and it was somehow very touching.
It's an attempt to stay together, to start talking. We now have few emotional and moral resources to do anything grand and powerful. We are walking on thin ice, barely touching it, and that is already important – to walk.
We need to hear our audience now: what they can listen to and can't, how they react, where it hurts, and how to be precise but remain delicate.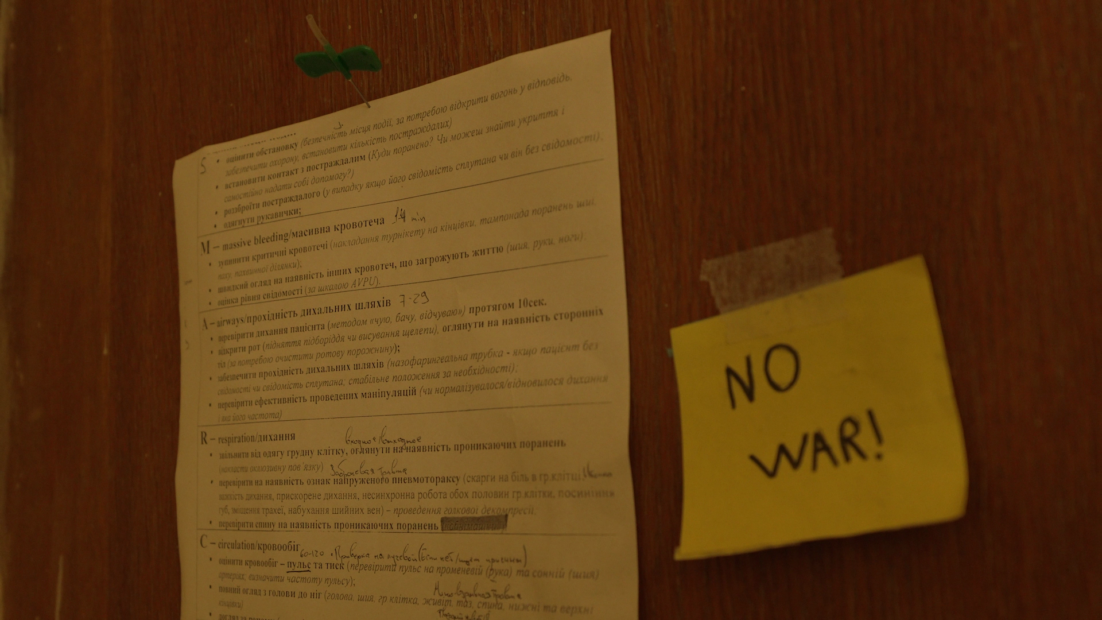 How do you see the future of Ukrainian theater after the ordeal the entire cultural sector is currently going through?
I am confident that it will be a fantastic story, and the city of Kharkiv gives me this confidence.
An example is the fantastic festival created by our Literary Museum team, Tetiana Pylypchuk and Serhii Zhadan, the Fifth Kharkiv. The event gathered crowds, and people listened to lectures by poets, designers, philosophers, and historians. The first festival occurred in the Art Area DK, a small space. It's incredible how people want to hear complex, essential information and have a thirst for new knowledge. Young people currently receiving artistic education in Europe will return and bring something new to us. Something incredible can happen in our country.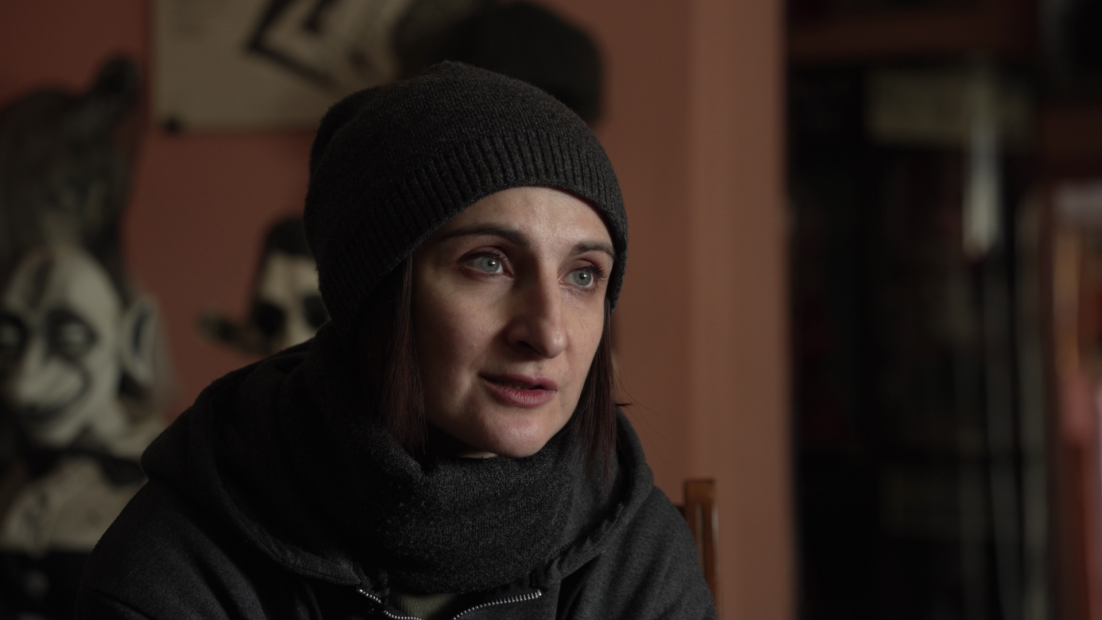 How do you see your future as a director in an almost frontline city? What do you plan to do for the theater?
I will answer with a line from one of our plays. There is a character, Little Bunny. When he dreams, he folds his paws and says, "I would like it so much." Like that little bunny, I would like to be able to change, create, feel, and be inspired. I think it is not the person who makes it; we are all helped to create; we are just mediators.
I would like to hear the space, to feel it. I just want to want.
It has been a year since the start of the full-scale war. What was this year for you? Maybe there are some thoughts you would like to highlight.
Hope. This year is about hope for me. The space around us now is magical and scary at the same time. Something important is happening over our territory, and we must withstand it. We must be.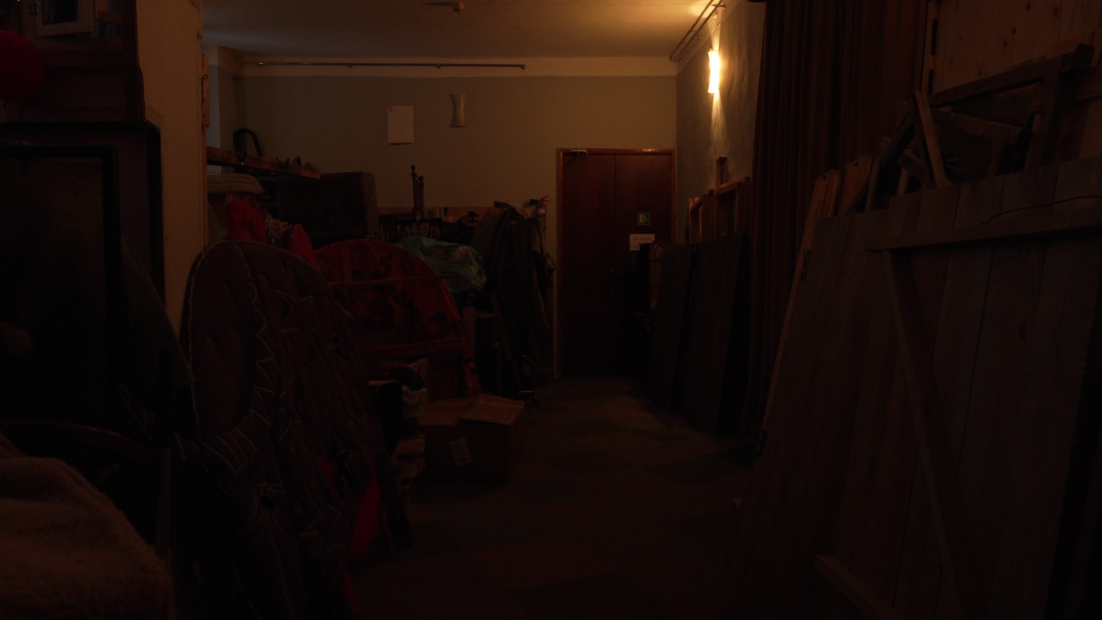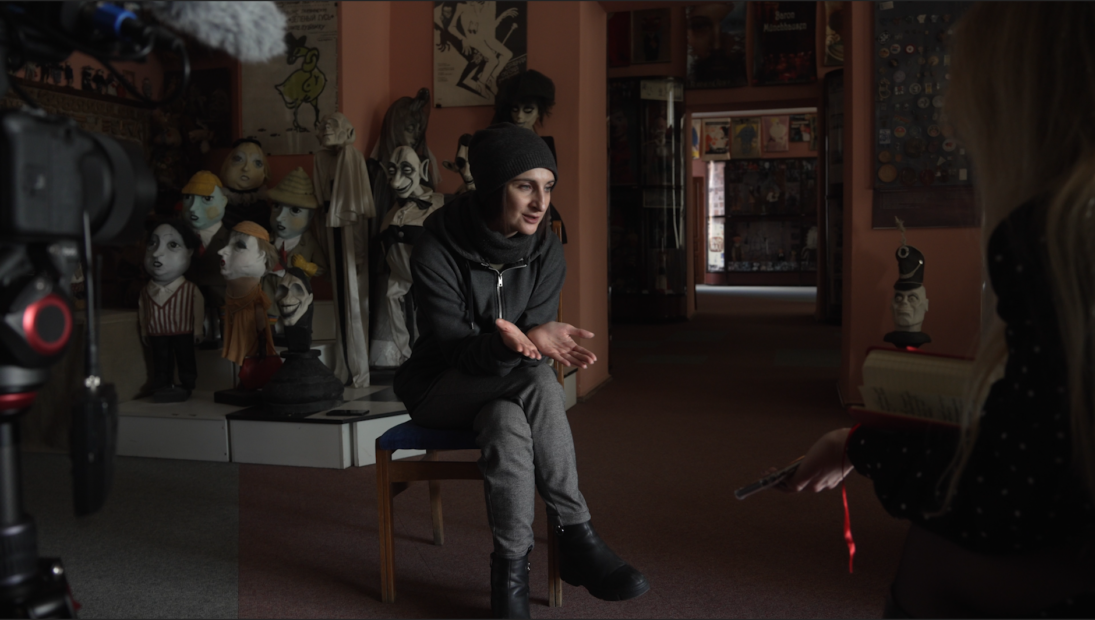 Text and conversation by Iryna Boyko
Translated by Anastasiia Kizyma
Edited by Tetiana Fram
Follow us on Twitter, Instagram and LinkedIn for more news, stories, and field reports by Kharkiv journalists.