The Memories of Kramatorsk
29.09.2022
A Ukrainian novelist and writer Mykola Oliyarnyk depicts the image of the southern Ukrainian city Kramatorsk, captured between two Russian invasions, through his candid conversation with a local.
We met in Lviv. To be precise, at Levandivka neighborhood that has little in common with Lviv mythology, namely all these fife-hundred-year-old stones, Mother Mary, cobbled roads, and coffee culture. If not for the Greek Catholic church on the main street, Levandinka is no different from Ivan's native city – Kramatorsk, situated in Donetsk Oblast.
We got into the first drinkery as the closest cafes remained in the Old Town. Ivan said Lviv was all about coffee and ordered a cup. A noisy group of youngsters was sitting nearby; with their car keys in front of them, they felt like bosses. Other visitors glared at them with a secret prayer for silence, but Ivan looked barely bothered at all.
There seemed to be nothing about him revealing his experience as a front-line city resident if there were such expressive things. He spoke calmly, with no aggressive or anxious intonation, as if of his summer holiday. Unfortunately, we talked about the war, and the word "fear" would reappear every other time.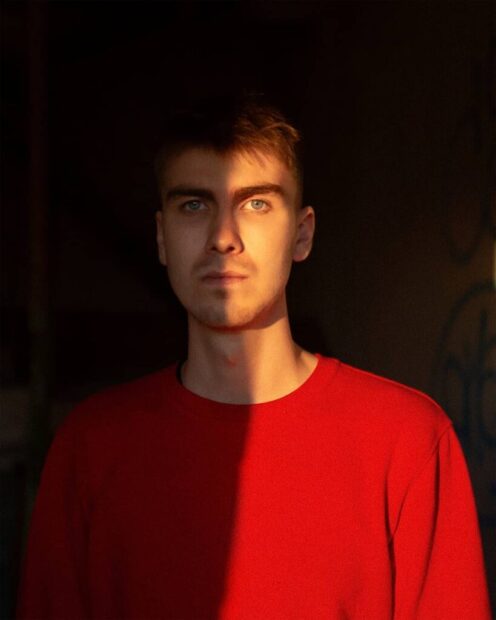 February 10, 2015. "Uragans" [multiple rocket launchers filled with cluster munition – tr. note] shelled Kramatorsk. Some of them stroke residential areas, some – the downtown. Meanwhile, amid the events, Ivan had lunch with his cousin. That day she had a birthday, and they were celebrating it together.
– This probably was the scariest day of my life. I was 15 and had to look after a 6-year-old kid. She was frightened. I persuaded her it was only martial exercises, so she cooled out. Can you imagine that she already knew what "martial exercises" meant? After a while, my uncle ran into the house, ordering us to pack our stuff and leave the city.
The neighboring house was stricken by a missile. It didn't explode, but such a loud noise the kids had heard only in epic movies. Soon the locals would be able to distinguish the sounds of "Grad" [a self-propelled multiple rocket launcher – tr. note] from other weapons, although it would be still hard to determine the direction.
There was a lot of enemy waste metal scattered on the asphalt that day. Locals even kept some as a "souvenir" for military observers, who are still deciding from which side the shots came. But Ivan's family was among those who could tell the west from the east.
Then their Kramatorsk turned from an ordinary city in the heart of Donbas into one on the border of two civilizations. Ivan spent his childhood in the first and grew up in the second.
– Everything has changed since 2014. It's a little difficult to evaluate, though, as I was only 14 when the war started. Kramatorsk was an ordinary, polluted post-Soviet city: many factories and industrial buildings, a hospital, a Culture House, and schools. There was nothing progressive, not even a cafe, old-fashioned parks and an old squire, those omnipresent poplars, and the playground with that squeaking carousel. I can't say it was depressing because, in childhood, we did not realize there was anything else. We didn't go anywhere except for the Azov Sea, Crimea, or the hostel near Sviatohirsk [a city in the northern part of the Donetsk Region, about 50 km from Kramatorsk – tr. note]. My grandma worked at a factory, my granddad and my father worked there too. One grandmother lived in the city, the other in the village. I was either here or there. We constantly played with sticks on the street. That's what my childhood looked like.
Kramatorsk was occupied by the Russian military for almost three months, from April to July 2014. The enemy acted according to the well-known scheme: a rally with dummy "locals," drunkards with rifles, seizure of administrative buildings and police stations, "referendum," threats, robberies, more drunkards with rifles, roadblocks, burning tires. Real locals reacted differently. Some met the so-called "people's militia" with open arms, and some helped the Ukrainian military residing outside the city. Most of the fighting took place north, near the military airport, strategically important to both sides. However, civilian infrastructure was also affected: terrorists shelled residential areas almost daily.
– One night, they shelled the downtown, where my school was, only 500 meters from my house. The city hall was not far away as well. There was a new Shevchenko Square, one of the first renovations in our city. It was a significant event: to build a fountain in the center! There were always so many people in that cozy place with benches, trash cans, and trees. They shelled the park, a nearby hotel, and an airfield. We could hear it all night.
That night Ivan's family fled the war for the first time. To the east, towards Donetsk. Then, no one knew how events would unfold and where the front line would stretch. No one knew they would have to flee the second time. They stayed in the village until the complete liberation of Kramatorsk. It happened on July 5, 2014, when the Donetsk People's Republic forces left the city because of the defeat in the battles for Sloviansk.
At dawn, the blue-yellow flag flew over Kramatorsk again. The city was regaining its colors, especially during the annual "Free People's March," a parade dedicated to the liberation of Kramatorsk, when people dress up in embroidered shirts, play music, and preserve a sense of unity. Ivan admitted getting goosebumps when talking about how the city changed after the occupation. The administration repaired the roads, schools, and hospitals; restored parks and squares; planted trees and flowers. Communal services worked as clockwork, and people maintained cleanliness.
"War changes people," Ivan said. Although, I don't really agree. It seems the war only reminds who is who, or at least highlights the friends or foes.
– Our people are skeptical. We had always been skeptical of the authorities and the city's progress. We were used to treating Kramatorsk as a small village, albeit a cozy one. And then we realized our Kramatorsk was a super city. And I crave to go back there, to go home, but…
He didn't finish the sentence and shrugged his shoulders.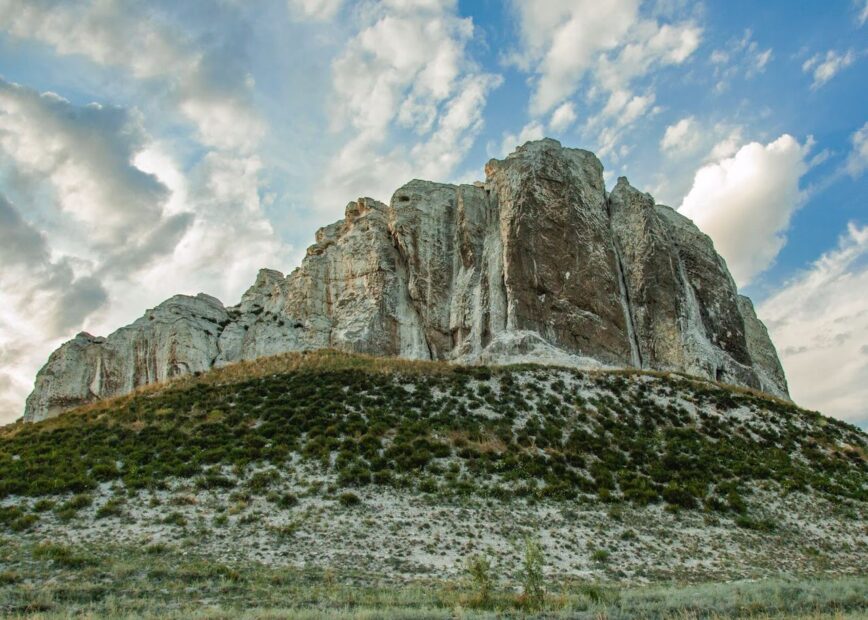 Many residents finally treated Kramatorsk as their home. Although there were still some "vatniks" [archetypical supporters of Russia – tr. note] in the city. The "vatnik" percentage fluctuated within the limits of statistical error but was still present at the level of family relationships.
Then Ivan mentioned his grandmother, who left for the Kuban [a region of Southern Russia – tr. note]. Living in separate realities does not involve a common language, so they don't communicate anymore. Ivan fails to explain to an elderly lady that, for example, Stalin was a bloody dictator. From her point of view, he was the embodiment of well-being for a multinational country.
Ivan himself wasn`t influenced by Russian propaganda; he almost forgot how exactly it was implemented. He said the slogans were hanging in the air. The saboteurs searched for misfits with messianic dreams and put rifles in their hands.
As everywhere in Donbas, elderly people or marginals who had access to a TV were choosing a "vatnik" path. However, pro-Ukrainian rallies took place in Kramatorsk even during the occupation. After its liberation in 2014, the city turned into the heart of the free Donbas. Many people, especially the young, moved there from other Eastern cities.
According to Ivan, a subculture of skaters occurred in Kramatorsk, even though there were enough places to escape the concrete trap. In this photo, Ivan is sitting on a mountain bike. Behind him, the hills are stretching, the sky is shining dazzlingly, and the well-trodden path is leading up. It looks like an Alpine foothill somewhere in the south of France. However, this is the Kramatorsk Landscape Park. Its very existence breaks all the stereotypes about an Eastern-Ukrainian city, according to which Donbas is a faraway land furrowed a thousand times, with coal scattered right under the feet and industrial zones more frequent than churches in Galicia.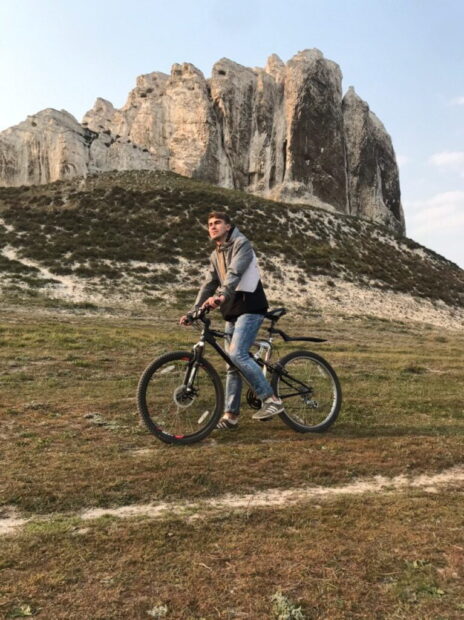 – There are magnificent hills and chalk mountains, quite atypical for our landscape. On the way to Kharkiv, through Sloviansk and Sviatohirsk, you can go fishing, hiking, and swimming. For Kramatorsk, this is really a road of life, a place of spiritual rest. But there is no rest anymore. The area is mined. We won't be able to return there for a long time. If they don't move further, of course…
Ivan clarified that he used the words "they" or "that side" in order not to curse. When it came to speaking about "them," he widened his eyes and smiled rather nervously. So did I. It seemed we had nothing but laughter against the perplexing collective absurdity spreading over one sixth of the earth.
"They" attacked again on February 24, 2022. People went underground. Residents of big cities were the luckiest as they could descend to the metro and start nurturing a new underground culture. "But there is no metro in Kramatorsk; what to do?", Ivan thought at dawn on the 24th, having received a compulsory caring message from a friend.
For the next few minutes, Ivan was trying to deal with the denial of this new reality, overcome fear and persuade himself the worst dreams had really come to life. After the second, more powerful explosion, another thought ignited his mind, "No, this is a nuclear apocalypse." The events suddenly appeared as a 25th frame because the day before, Ivan was listening to the audiobook called "Metro 2033," a post-apocalyptic story about a nuclear war and people living underground. Fortunately, fiction did not synchronize with reality to that extent.
Before the full-scale invasion, Ivan worked as a photographer for a jewelry company. Although, like most locals, he has an engineering degree. He and his girlfriend have just moved to a new flat downtown. It seemed life became better in that new Kramatorsk.
But now the houses shrink to the size of a corridor. The air alarm siren can't stop screaming. Ivan's company closes due to a lack of orders. Going outside turns into a dangerous exercise. If people show up in the streets, they carry a go bag, as anything can happen 50 kilometers from the front line.
The city is almost empty during the day, and at night it fades away: people adhere to blackout rules. The avenues and squares are silent and calm like before a storm.
In March, the evacuation trains were full. Ivan was still thinking about whether to leave the city. He was short of money. In addition, his parents flatly refused to flee because of work. They finally chose to move when the missile landed 300 meters from their house.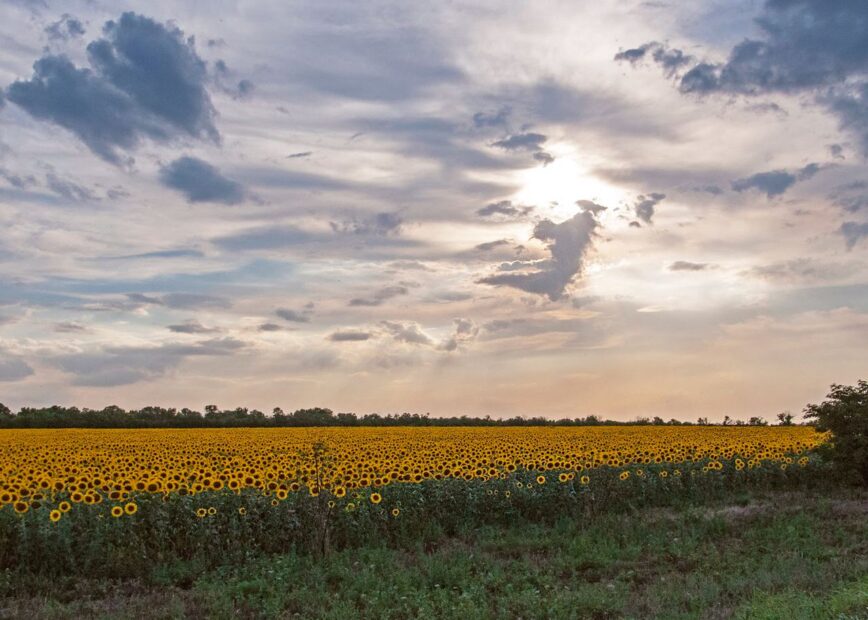 – It was dreadful. We were familiar with the sounds of "Grad." But it was something 300 times more powerful. You feel it with your whole body. That is, when the wave reaches your house, it really shakes. Then they hit the Security Service of Ukraine building and the nearby humanitarian institute. With the second explosion, the windows busted open, the flowers fell from the windowsill, and it seemed we heard the ground falling apart. We were laying on the corridor floor for probably another 10 minutes. That day we decided to leave.
Ivan and his girlfriend left Kramatorsk two days before the shelling of the railway station. At home, they weighed their options of a potential place to live by studying the map of Ukraine and choosing the city. On the road, they contacted the landlords. The further west they went, the more the housing cost increased. Ivan said some of his friends had already moved several times.
The couple decided to take the train to Lviv. There were only two or three people in the compartment as the evacuation wave had declined. They spent about 30 hours on the road, almost the same as in peacetime. However, traveling by train was frightening. The train guard, who had been under fire twice, couldn't stop showing Ivan a photo of a knocked-out colleague and a wagon that looked like a sieve. And then he advised people to keep calm. Meanwhile, the train passed through the most dangerous areas: Barvinkove [a city 50 km from Izium, Kharkiv Oblast – tr. note], a strategic transport hub for both sides, and Kyiv Oblast, partly liberated then. Fortunately, there were no incidents. Soon they were sitting in the kitchen with friends, exhaling the remnants of the anxiety. In Lviv, they finally felt safe.
I wanted to ask Ivan about life in a new city, but the youngsters at the neighboring table burst into loud laughter. Their bottles were already half empty, and the car keys were still on the table. They were having too much fun for some reason.
"I have many friends at the frontline," Ivan suddenly said, "One is in the hospital with a shell shock, another has a leg injury. One more is an artilleryman. I'm scared to call them."
The silence grew between us. Youngsters were still having fun. Ivan suggested having a smoke.
So, we smoked. We talked about life, death, and what was between them. We talked about the feeling of civilian shame and guilt. We talked about the future and the present. Finally, we concluded that life had to go on, whatever happened. Life has no other choice.
During his time in Lviv, Ivan managed to finish his master's degree, volunteer in various organizations, ride roller coasters, loathe the Lviv railway station, go to church, and speak Ukrainian as much as he wanted. We finished smoking, and life still went on.
Within a month in Lviv, Ivan felt in his element. He said he would gladly move here forever because it was an amazing city, even though of different traditions and culture.
– People have another mentality here, that's for sure. They are a bit more conscientious, though did scam us sometimes. It can happen anywhere. But there is some difference. You can see it in small things, for example, in the way of treating religion, the country, and the environment. We have more of a capitalist type of people who pursue personal goals. You can tell the difference by the number of volunteers here and in Kramatorsk…
Ivan praised Lviv but paradoxically added, "I miss my city so much. We will definitely return there."
The first days in Lviv were challenging because Ivan's parents stayed in the East. In Kramatorsk, the air alarm siren is always on, people are short of food and gas, and there are regular outages of power, water supply, and communication. It is hard to buy groceries; not impossible, but there is a limited range of products. Today there may be no meat in the store; tomorrow – no bread; the day after tomorrow – vegetables. Ivan is afraid that one day he will not be able to call his mother. Anything can happen. Often the locals don't even know when to hide, not realizing whether the missiles target the city or are launched from a nearby place.
It is easier in Lviv: the missiles undoubtedly aim at the city. Here, people treat the air threat rather philosophically: if you hear an explosion nearby, then thank God, and if it hits you, then it's late to worry. It's been a long time since Ivan went into the shelter, so I can't help but joke that he's almost a Lviv citizen. He didn't hide even after the shelling near his current home. "If it hits you, who cares anymore?", he said. We agree on that and announce a second smoke break to say goodbyes.
Ivan drops the cigarette. I see he is tired but, at the same time, can't help talking about his friends. So, I am starting to wonder: how long will all these stories survive, passed on from mouth to mouth? A generation, two, three, to the very end? Ivan, as if sensing my absence, said, "My story is not very unusual. But my friend from Izium…"
"All stories are unique," I answered, "We have to remember each of them, that's important."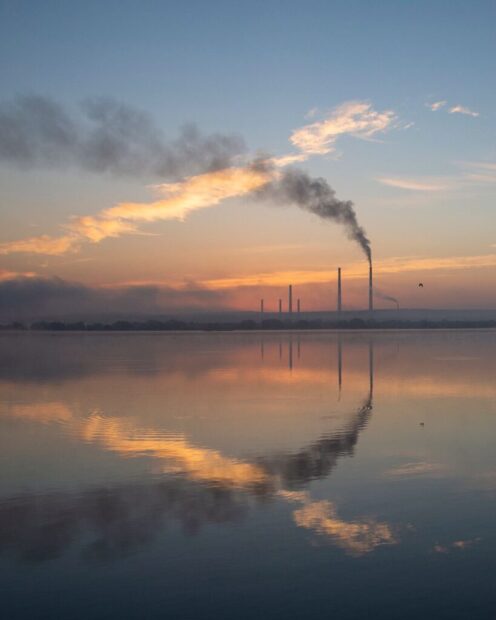 Text by Mykola Oliyarnyk
Photos provided by Ivan Lobko
Translated by Jjulia Kulish