Kharkiv Show to be Performed in New York
06.03.2023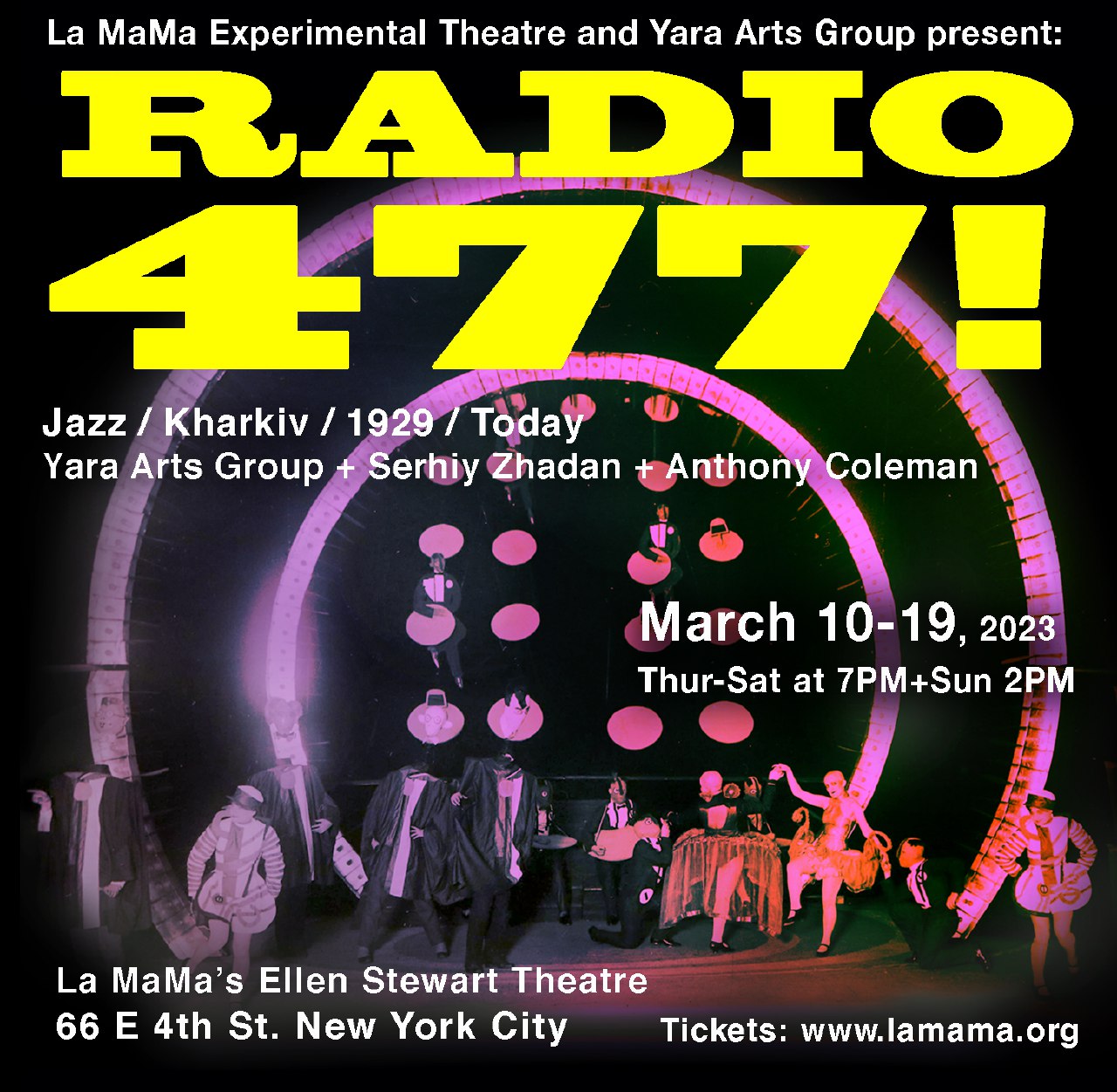 Image: Razom for Ukraine
On March 10-19, the premiere of the musical "Radio 477" will take place at the La MaMa theater in New York, USA.
The show was staged in 1929 in Kharkiv by Les Kurbas Berezil theater.
"Radio 477! is a new show created by Yara Arts Group and Ukrainian artists about the city of Kharkiv, its jazz history, and how it stood up to Putin today. With texts and lyrics by award-winning Ukrainian poet Serhii Zhadan, music by Anthony Coleman, it is directed by Virlana Tkacz," says La MaMa's official website.
According to Zhadan, the show is "an attempt to reproduce and elaborate the legendary Berezil performance "Hello on the Wave 477″, the jazz music for which was written in 1929 by the father of Ukrainian jazz, Yuliy Meitus", and the libretto by the brilliant Maik Yohansen. "Now, almost a hundred years later, no less brilliant Anthony Coleman made his arrangement of the music, and I, as far as I could, rewrote the text," said the writer.
"In 1929, Ukrainians were discovering the joys of jazz and singing the stories of their city of Kharkiv. The audiences loved the show's catchy songs, wild dances, and dazzling sets. The Communist Party bosses did not, so the show and its artists disappeared in Stalin's purges. A few years ago, Virlana Tkacz, Yara's director, discovered the conductor's score hidden in an archive." 
Currently, Zhadan is on a two-week tour in the USA, the funds from which will go to help the defense forces of Ukraine. On March 5, he performed in New York and sold at an improvised auction the battle flags of the voluntary formation "Charter" with the signatures of the fighters and his books with the signatures of the Commander-in-Chief of the Armed Forces of Ukraine Valerii Zaluzhnyi.
Earlier, Kharkiv Theater Berezil, part of Taras Shevchenko Academic Ukrainian Drama Theatre, received Grand Prix at Baghdad Theater Festival for the play "Caligula".
Follow us on Twitter and LinkedIn for more news, stories, and field reports by Kharkiv journalists.
Please, support our work and help us remain independent.