War Diary of 12-year-old Girl from Kharkiv Published in UK and USA
05.10.2022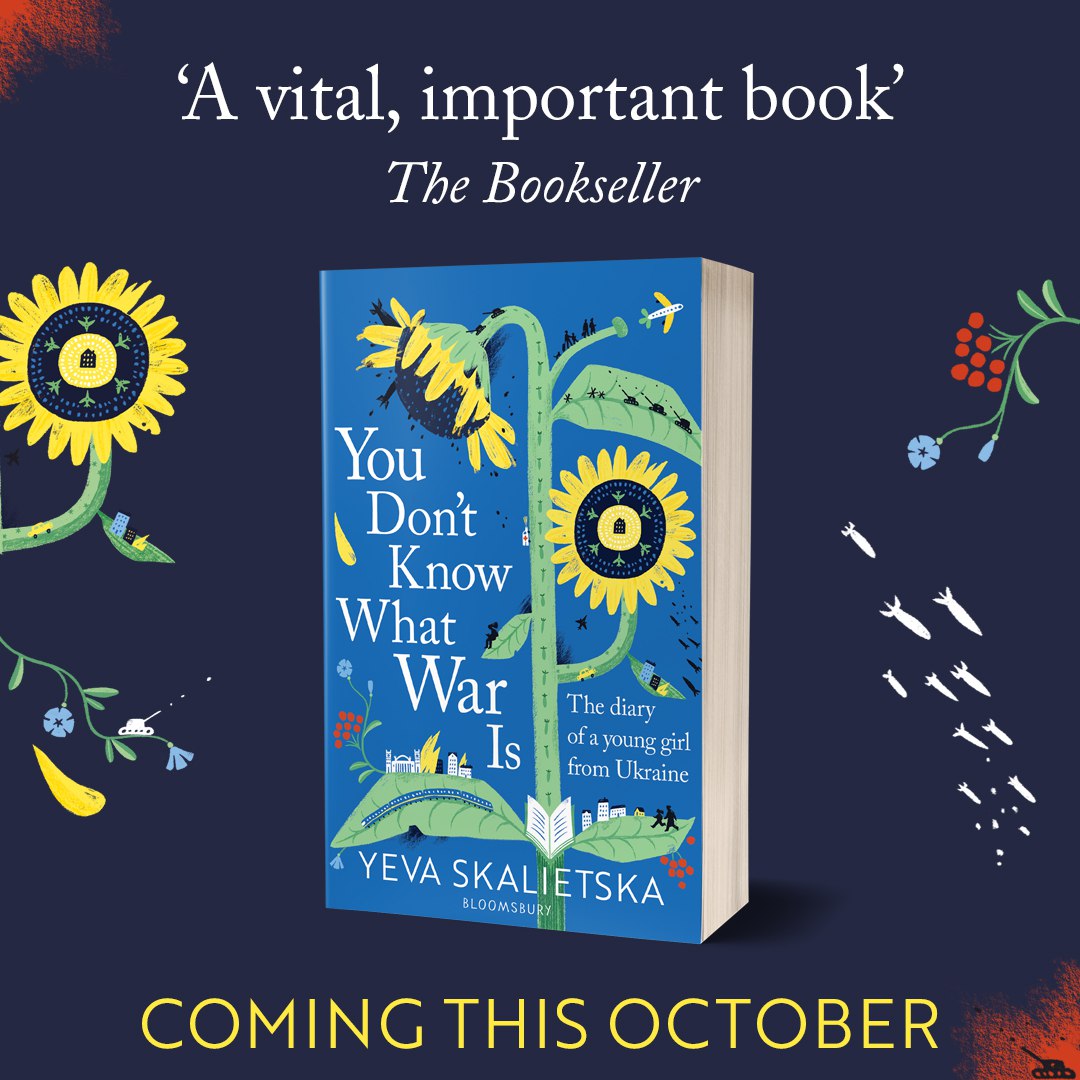 The book is available for pre-order / Image: KidsBloomsbury
The book "You Don't Know What War Is: The Diary of a Young Girl From Ukraine" by Yeva Skalietska is published by Bloomsbury in the UK and by Union Square in the USA. The book will be released on Oct. 25 and is already available for pre-order on Amazon, the publishings` official websites, and in several bookstores.
"This is the gripping, urgent, and moving diary of young Ukrainian refugee Yeva Skalietska. It follows 12 days in Ukraine that changed 12-year-old Yeva's life forever. She was woken in the early hours to the terrifying sounds of shelling. Russia had invaded Ukraine, and her beloved Kharkiv home was no longer the safe haven it should have been. It was while she and her granny were forced to seek shelter in a damp, cramped basement that Yeva decided to write down her story. And it is a story that the world needs to hear," says about the book the Bloomsbury publishing, where Skalietska`s diary is released in association with the UNHCR, the UN Refugee Agency.
The girl's house was damaged by shelling, so she and her grandmother had to hide in the basement in Kharkiv. Then they fled to the west of Ukraine, crossed the Hungarian border, and finally reached Dublin in Ireland.
The diary describes the most difficult times from Feb. 24 to mid-March, when the girl and her grandmother finally reached Dublin and their new home in the family of a school teacher.
"Yeva captured the nation's heart when she was featured on Channel 4 News with her granny as they fled Ukraine for Dublin. In You Don't Know What War Is, Yeva records what is happening hour-by-hour as she seeks safety and travels from Kharkiv to Dublin. Each eye-opening diary entry is supplemented by personal photographs, excerpts of messages between Yeva and her friends, and daily headlines from around the world, while three beautifully detailed maps (by Kharkiv-native Olga Shtonda) help the reader track Yeva and her granny's journey through Europe. You Don't Know What War Is is a powerful insight into what conflict is like through the eyes of a child and an essential read for adults and older children alike".
The girl was interviewed by several TV channels. That's when she mentioned her diary, which at that time consisted of 80 pages. Signing the agreement to publish the book Skalietska thanked all the journalists who helped her.
Earlier this month Serhiy Zhadan, a prominent Ukrainian poet, novelist, and Nobel Prize in Literature nominee published his diary about the war in Kharkiv in German.