Ukrainian Stand Event Program Presented at Frankfurt Book Fair
19.10.2022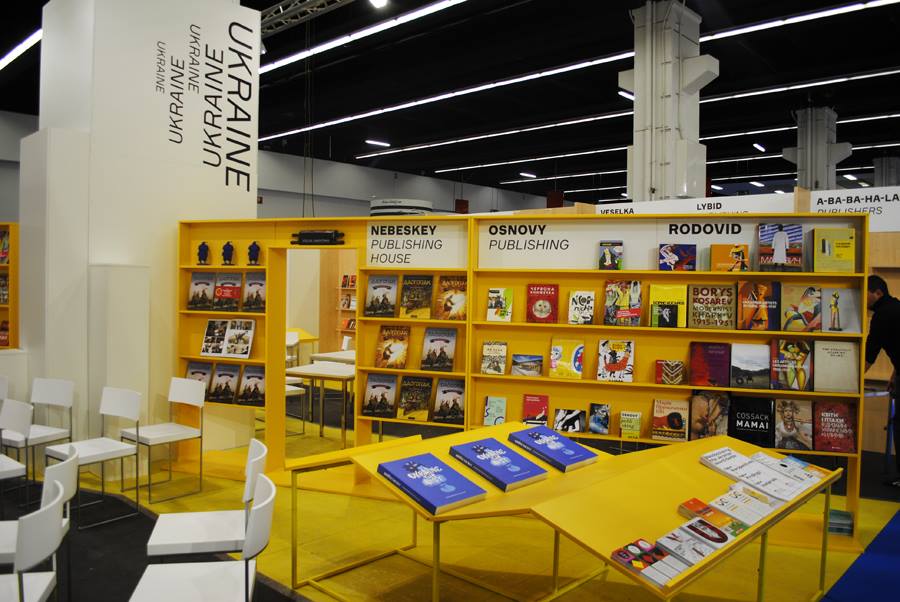 Ukrainian stand / hromadske.ua
The Ukrainian Book Institute and the Goethe-Institut presented the Ukrainian program at the Frankfurt Book Fair.
It includes about 40 events with the participation of more than 70 writers, cultural figures, human rights defenders, artists, and opinion leaders.
This year, the panel discussion of the Ukrainian stand is related to the theme of war.
On Oct. 21 and 22, discussions about the history, culture, and future of Ukraine will be held in the Frankfurt Pavilion with the participation of German and Ukrainian intellectuals, including Kateryna Stetsevych, Kateryna Mishchenko, Oleksandra Matviichuk, Sevgil Musaeva, Serhiy Zhadan, Manfred Zapper, Mykola Riabchuk, Karl Schlögel, Vasyl Cherepanyn;
Human rights activist Oleksandra Matviichuk will talk about the eyewitnesses`  testimonies of war crimes, and about the media and civil society in the Russian-Ukrainian war;
The Ukrainian Book Institute presents the Books from Ukraine collection – a catalog of Ukrainian publications recommended for translation into foreign languages;
On Oct. 21, the First Lady of Ukraine Olena Zelenska will present the Ukrainian Bookshelf and Books without Borders projects, and on Oct. 22 – the Better Time Stories project;
On Oct. 21, at 6:30 p.m., Fokstroty performance about the new understanding of Ukrainian poetry of the 20th century will be presented. Fokstroty is an experimental side-project of the Literary Laboratory of the Mystetskyi Arsenal within the project on Ukrainian futurism, FUTUROMARENNIA, created by Serhiy Zhadan, Yuriy Gurzhy, and Lyuba Yakymchuk, specially adapted for the German audience;
On Oct. 22, a prominent Ukrainian poet, novelist, and Nobel Prize in Literature nominee, Serhiy Zhadan will read his poetry on the main stage of the Frankfurter Buchmesse.
More details
Books from Ukraine collection is presented by the Ukrainian Book Institute, a government entity, part of the Ministry of Culture and Information Policy of Ukraine. Its mission is "to shape state policy in the area of book publishing, promote book reading in Ukraine, support book industry, provide incentives for translations and popularize Ukrainian literature abroad".
The Frankfurter Buchmesse is the largest and most influential book fair in the world, where the Ukrainian Book Institute and the Goethe-Institut in Ukraine will present a national stand from Ukraine and an eventful program. The events are scheduled for October 19-23.