Kharkiv Oblast Under Attack: Ukrainian Troops Repel Invaders' Attacks to the North of Kupyansk
23.05.2023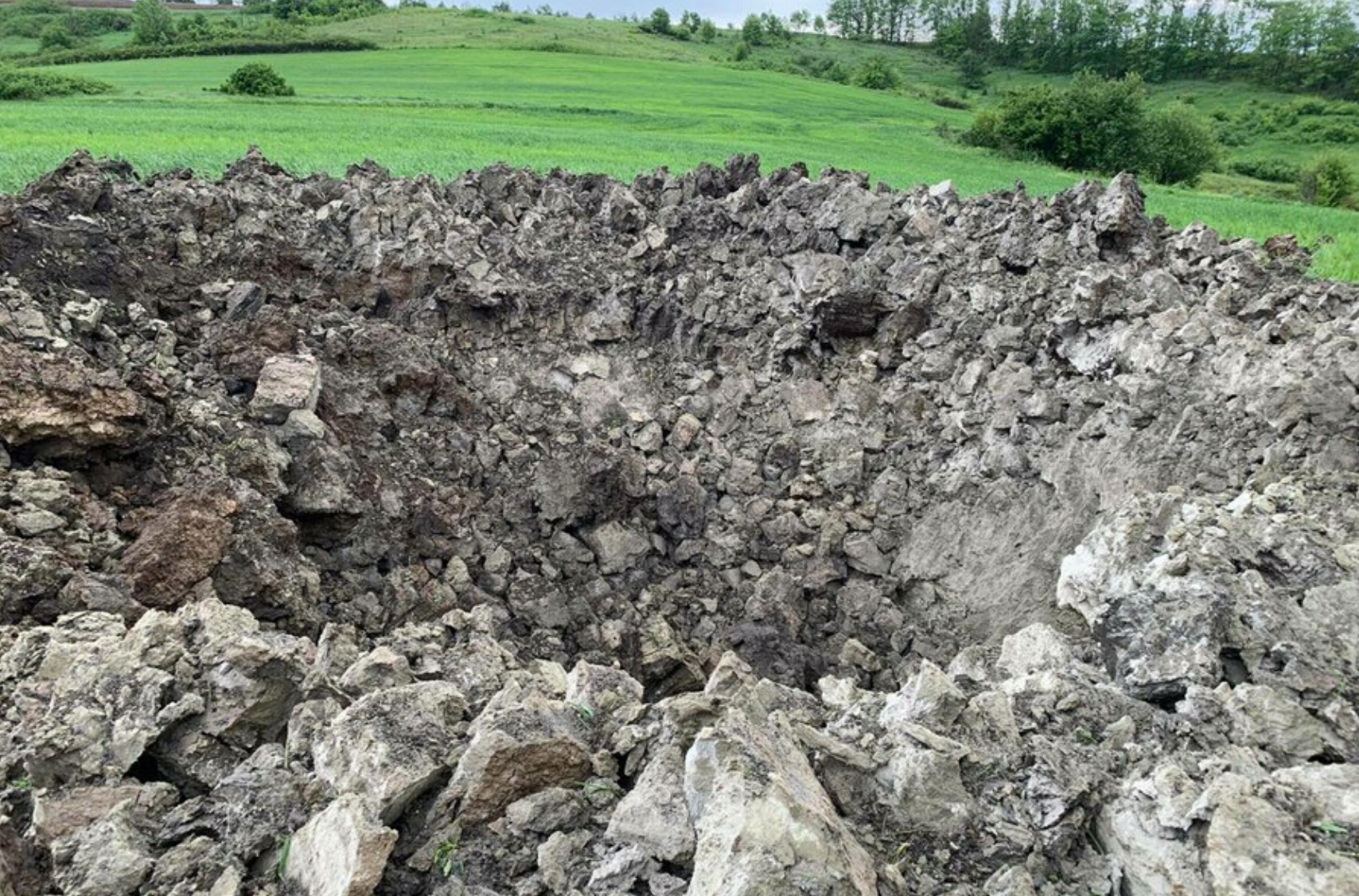 Near Vyazove village, Kharkiv district, the enemy attacked with 2 S-300 missiles. Both hit in an open area in a field / Photo: Kharkiv RMA
Day 454 of the Russian full-scale military aggression against Ukraine has begun. Russia continues to wage war and not stop launching missiles, as it shells military and civilian targets.
Source: General Staff of the Armed Forces of Ukraine
The likelihood of further missile and air strikes across Ukraine remains very high.
The adversary continues to focus its primary efforts on Kupyansk, Lyman, Bakhmut, Avdiivka, and Maryinka axes, with more than 30x combat engagements occurring. Bakhmut and Maryinka in Donetsk Oblast remain at the epicenter of the fighting.
Slobozhanshchyna axis
The invaders continue to maintain a military presence in bordering localities. On May 22, the occupiers fired mortars and artillery at the settlements of Morozova Dolyna, Shevchenka, Kozacha Lopan, Hoptivka, Lukyantsi, Zelene, Starytsya, Hatyshche, Pletenivka, Vovchansk, Varvarivka, Nesterne, Budarky, and Chuhunivka (Kharkiv oblast).
Kupiansk axis
Russian military conducted unsuccessful offensives near Masyutivka village in Kharkiv region. Russians launched air strikes near Orlyanske, Kyslivka, and Tabaivka. The adversary fired artillery and mortars at Kamyanka, Fyholivka, Novomlynsk, Dvorichna, Zapadne, Kupyansk, Husynka, Tabaivka and Berestove in Kharkiv oblast.
Kharkiv RMA
The enemy massively fired at settlements in Kharkiv, Kupyansk, Izium and Chuhuiv districts with cannon artillery, MLRS and rocket launchers yesterday.
The shelling of Kupyansk with multiple rocket launchers damaged at least 14 private residential buildings and caused fires. Two women, aged 76 and 53, and a 35-year-old civilian man were wounded. All the victims were hospitalized.
Near Vyazove village, Kharkiv district, the enemy attacked with 2 S-300 missiles. Both hit in an open area in a field. There were no casualties or damage.
State Emergency Service in Kharkiv Oblast
On May 22, pyrotechnic crews of the State Emergency Service inspected about 9.8 hectares of territory in Kharkiv, Izium, Kupiansk, Bohodukhiv and Chuhuiv districts of the region, including 6,100 square meters with the help of mechanized demining machines, as well as about 14.85 km of power lines. Engineers discovered and neutralized 59 pieces of enemy mines, explosives and ammunition.
See also
Constant missile attacks and empty streets: how Kupiansk lives on the front line. The city was severely damaged at the beginning of the full-scale invasion and during the battle for its liberation in September 2022. Today, it is constantly under fire from Russian MLRS and S-300 systems.
Russian S-300 missiles target village near Kharkiv: one dead. Russian armed forces continued shelling the Kharkiv region: private houses at Tsyrkuny, located in Kharkiv district of Kharkiv region, came under attack.
Destroyed Russian military vehicles to display at Tsyrkuny in Kharkiv Oblast. Damaged Russian equipment and civilian cars, most of which were taken from the community by the occupiers, were collected to record Russian war crimes and exhibited at the village near Kharkiv.