Sri Lankan Citizens Released from Russian Captivity Wait for the Documents Restoration
26.09.2022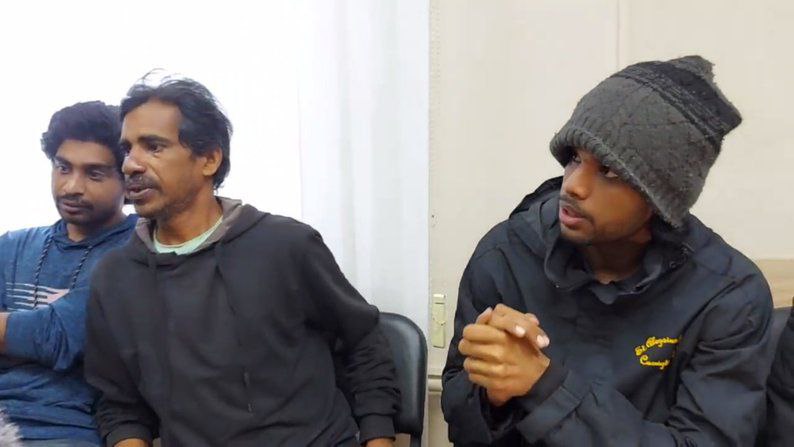 "We are very grateful to the Ukrainian police, so grateful. They gave us clothes, food, and an opportunity to take a shower" / Photo: Suspilne Kharkiv
A group of Sri Lankan citizens is waiting for the restoration of their documents taken by the Russian military during the occupation of Vovchansk.
According to Serhiy Bolvinov, the chief police investigator for Kharkiv Oblast, the people rescued from Russian captivity have no documents or telephones.
"The police are working with the Ministry of Foreign Affairs who are communicating with the Sri Lankan Ministry of Foreign Affairs, we are providing all available information. As far as I know, now the issue of restoring the documents and the future of the Sri Lankan citizens is being resolved," informed Bolviniv.
When the journalists asked the rescued Sri Lankan citizens whether they plan to stay in Ukraine, they said they wanted to remain in the country. They are satisfied with the housing, the food, and the bright room they have now, reports Suspilne Media.
More details:
Six men and one woman had arrived in Ukraine to work and study nearly three weeks before the beginning of the full-scale invasion on Feb. 24. They rented a house in Kupiansk and had been hiding there for the first days of the full-scale war until they decided to flee to Kharkiv on foot. On March 7, on their way to Kharkiv, Sri Lankan citizens were kidnapped by Russians and taken to Vovchansk. The Russian soldiers tortured the foreigners and made them work for free.
After the liberation of Kharkiv Oblast settlements, the seven people tried to get to Kharkiv again. On their way, they met the hotel guard, who sheltered them and informed the Ukrainian police.
"We didn't even think of escaping from captivity. They had a lot of weapons, machine guns. They put rifles to our bodies and hit us with machine guns. They beat us but did not treat us. There was no medicine. We are very grateful to the Ukrainian police, so so grateful. They gave us clothes, food, and an opportunity to take a shower," said one of the rescued Sri Lankan citizens.