Razumkov Centre Poll: Most Ukrainians Believe the Country is Moving in the Right Direction
16.03.2023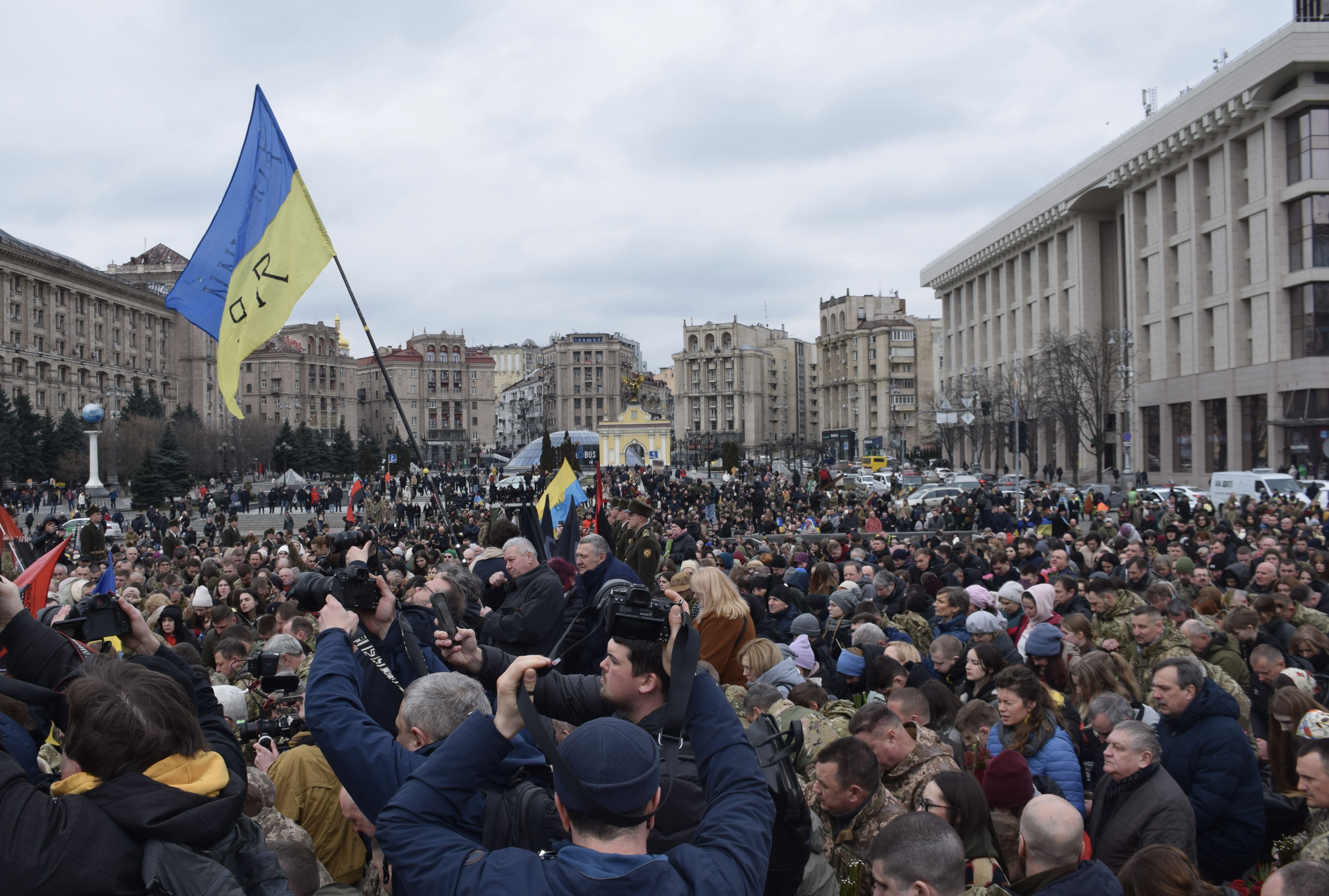 Ukrainians Bid Farewell to Hero Dmytro Kotsiubaylo "Da Vinci". Maidan Nezalezhnosti in Kyiv / Photo: Denys Glushko for Gwara Media
61% of respondents are convinced that the current situation in Ukraine is moving in the right direction. In contrast, according to a new Razumkov Centre poll, every fifth respondent believes the opposite.
This divide fundamentally differs from the one before the Russian full-scale invasion of Ukraine. Back then, opinions were divided by 20% and 65.5%.
Meanwhile, sociologists have recorded an increase in the optimism of Ukrainians.
In particular, 49% believe Ukraine can cope with problems and difficulties in the coming years.
A further 36% think the country will do so, but in the longer term.
Only 3% do not believe that it is capable of doing so. The rest are undecided.
Mental health of Ukrainians
Before the beginning of the Russian full-scale invasion of Ukraine, the average score of respondents was 6.8, where 0 means "maximum level of calm and confidence". Now, the psychological state of Ukrainians has improved significantly to 5.1 points. At the same time, the proportion of those with a high level of panic or uncertainty decreased from 46.5% to 16%.
In particular, the number of those who negatively assessed their own psychological condition is higher among residents of the Eastern (30%) and Southern (23%) regions. Instead, in the Western region the figure is 16%, and in the Central region – 9%. Twice as many women (21%) have a worse mental state as men (11%).
The survey was conducted by the Razumkov Centre in February-March 2023 in all regions of Ukraine, except for the temporarily occupied territories and those affected by the hostilities.
Follow us on Twitter and LinkedIn for more news, stories, and field reports by Kharkiv journalists.