Kharkiv Governor: Exhumation of Bodies from Mass Grave in Izium Continues
19.09.2022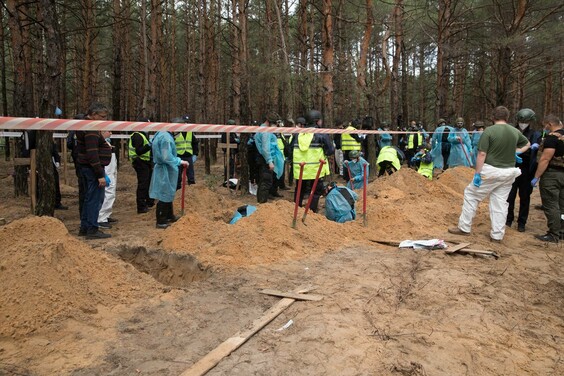 The process of exhuming bodies / kharkivoda.gov.ua
46 bodies have been exhumed, the vast majority of which are civilians, including 2 children.
"Some of the dead have signs of violent death, there are bodies with tied hands and traces of torture. The deceased also had mine-blast injuries, shrapnel, and stab wounds," Kharkiv Regional Military Administration head Oleh Syniehubov said.
He also thanked police officers, prosecutors, rescuers, forensic experts, doctors, journalists, and all those involved in this exhumation for their hard work. All bodies are sent for forensic medical examination to determine the cause of death.
Ukraine's Defense Ministry said at least 440 "unmarked" graves were found in the city in recent days. Most graves at the burial site are individual graves, with wooden crosses placed at the head of the dirt mounds. Some with names and numbers handwritten on them. 
Gwara Media records the life of de-occupied towns and villages in Kharkiv Oblast. In particular, we have prepared a few reports from Hrakove, Balakliia, and Kozacha Lopan. State bodies are recording war crimes committed by the Russian army there.