«I like the wild temp and hard hell on the set» — conversation with a director Lada Sabova
Cultural Reality
Lada Sabova is a commercial director, who considers her profession as a platform of possibility to talk about important issues. There are public-interest spots/videos/social plays among her works about multiple discrimination, social responsibility, L.G.B.T.Q.I.A.+ community, and ageism («Who I am», «Zap/give some back for yourself », «Taimi», «Door»); commercials for «Syngenta» company, the «Snig na golovu» restaurant and others.
For the Kharkiv production development, Lada, together with her friend producer, established a 'Zakadrovka' project, which advances the Kharkiv filmmakers' community and gives an opportunity (chance) to share the knowledge and experience between professionals from the different cities and countries. About constant growing/development, social impact, the film industry in Ukraine, communication between people and her path to the directing read next.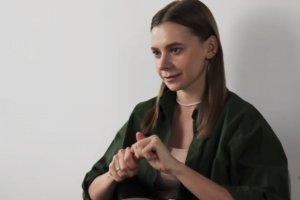 I've studied at the Kharkiv Culture Academy majoring in TV reporting and wanted to be a journalist. I was taught to be a journalist who lives under the baseline conditions, fight for important topics and do everything to accomplish her mission, not just some elegant Tv host who solemnly conducts the weather forecast. In 2014 when the situation in the country changed rapidly, it was hard to stay loyal to your mission and ambitious plans to improve the world while being somewhere safe. It became my breaking point, I didn`t want to talk on easy topics anymore, I wanted to go further. So, I've decided to prepare my diploma project as a director and graduated not as a TV reporter, but as a film and television maker, who can perform directing work.
I like to make things fast, like wild temp and hard hell on the set. We've released our projects steadily at Academia – one or two per term. It was too slow for me. Since I was very active in editing and did it quickly, I`ve got a job as a director of editing. During the first year, I edited almost 300 videos. In other words, I edited 1-2 videos almost every day. Later, this was not enough for me, and I got a job in a production that was looking for a director. So, I`ve worked as an editing director and a production director at the same time.
I`ve tried to do everything as good as possible so that I would be taken on projects again and again. Now I work in the team of the creative agency "Arriba !", I edit less and direct more. Though most of my works I`ve edited by myself.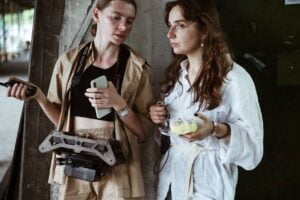 Today, it is important for me to speak loudly about social issues and create videos not only in the commercial sector, but also the social one. I really enjoy doing projects related to important topics, such as discrimination. So, I could improve the lives of vulnerable groups by raising rights issues, for example.
There are topics that are interesting for me, however, when I do not know enough about the details and then I need to understand the pain and problems of those people. I try to immerse myself in this to be able to speak objectively on a certain topic, create ideas and visualizations. Yes, for a project on multiple discrimination, I`ve interviewed various women with disabilities. These were incredible women, with each of whom I talked to for 2-3 hours on the phone and just could not believe that they are so strong and lead such an active lifestyle.
For this project, we`ve chosen the "spoken word" format, when there is a main character who speaks a manifesto in a recitative format. And it was an outspoken rap about the pain of women with disabilities. My team and I made a location in a dark room with a spotlight on top, where women with different types of disabilities were sitting in a circle.
During the shooting, they felt such energy and strength within this circle… I`ve understood that it was not just shooting, but a process that may change lives, because something was happening that has never happened before. At such moments you understand your social impact and why you do all of this.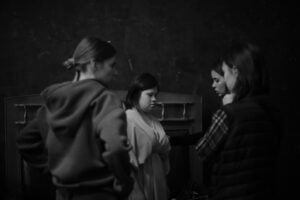 When you have such a powerful tool as your profession, you can contribute to some great good deeds. I think that when you're willing to spend your free time immersing yourself in those people's lives, really understanding and supporting them with what you do is more valuable than just sending money to charity. That's why I like to deal with social issues.
There are two favourite projects among my works. The first one is a large advertising project for Syngenta. This is a very dramatic story for one minute where were used many shots. It is about a farmer who understands that his fields suffer great losses due to bad weather. I let this work to go through me: there were interviews with farmers, a long search for metaphors and images, the first great writing of music for advertising with dramatic points; two cameras were used, including a phantom that captures a thousand shots per second. These were technically interesting solutions.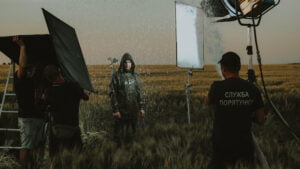 The second project is one of the recent works that was filmed in the summer. This is a social project "Zip for yourself", by which we wanted to encourage young people to vote in elections. This campaign is apolitical, its goal is to make young people more socially active. We`ve developed a very cool concept using the manifesto that was embedded in the lyrics. There are many hidden jokes in this work, more than forty. For example, the car number in this video coincides with the election date. Or the frame number displayed on the screen is also the election date. For this project, we`ve made an expedition to many cities of Ukraine, where we`ve filmed cool young people because we wanted to cover different cultural regions. I am very proud of this work. We have wanted to make it as a whole visual attraction that will be fashionable and understandable for young people.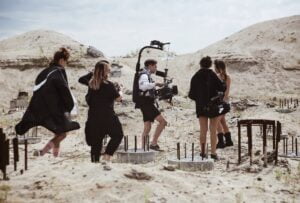 In Ukraine, directors have to be fearless or to have nerves of steel. You have to be bold enough to present your ideas, not be afraid to make the wrong impression and highlight the idea in your own style at the same time. The field of Ukrainian cinema is developing very well because the government supports young Ukrainian directors. This can be seen in the last feature films of the young directors, which are coming out. We have great opportunities since the age of other directors is much older at the moment of their debut, they have longer way to go. And it depends not only on the person that he is so ambitious and breakthrough but also on the fact that the state is finally ready to take risks and experiment. It really happens when young directors get funding and do something cool.
I believe I haven`t used the potential that the Ukrainian environment has to offer. I am in the search of new forms and studying. I don`t think I would like to go and shoot something out there for now. It`s so much better to make things here, at our locations, to show Ukrainian space, its originality and authenticity while creating a story that will be interesting and understandable to any viewer anywhere in the world.
It is often said that Hollywood makes quite primitive stories, although many of them are simply understandable. This helps to spread the story. Even such understandable phenomena as love, friendship or enemies have their subtleties, which may be understandable in one country and incomprehensible in another, because the cultural strata are completely different. And it would be cool to make a story in Ukraine that anyone could understand.
My team and I love Kharkiv very much. However, the field of cinema is not very developed here – it isn`t possible to get a qualification of some specific professions in our city at all, and it is very difficult to communicate with Kyiv specialists in certain positions because it is a matter of synergy and cooperation. For example, we have very few art directors and it is not easy to find them when we want to do something creative, `cause often our ideas are crazy.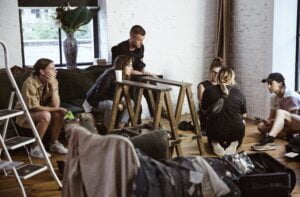 Zakadrovka is a meet-up project of a Kharkiv production, which we started doing together with my friend-producer Maria. These are online or offline meetings of Kharkiv filmmakers who discuss topics that concern them. The purpose of this project is to promote the development of Kharkiv production because we have a problem of one man production (when one person does everything). However, if you want to create cool projects, you can't do it alone, because one person just can't cover the amount of work that needs to be done on their own. It often happens that some people do something cool, but never share it, and if someone needs to do something similar – every time you need to do everything from scratch, although it may be a long-ago experience.
It all stops being a problem when people start communicating with each other. In addition, you get rid of the impostor syndrome when you see that everyone else also does not know many things and you can discuss them. We did one offline meeting, during the lockdown we went live with our friends from different cities and countries: Kyiv, Bali, Los Angeles. We continue to do this and very soon we will have meetings with the art department, the sound department and much more. First of all, it is very interesting for us. We work a lot and we can't go to study with cool professionals for a few months, but we want to develop. We want to understand the trends, techniques, so we just bring here those who we really like.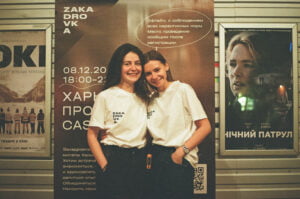 I follow many people from the film industry on Instagram and try to create an info space around me that will promote my development. I am inspired by many Ukrainian directors, including Antonio Lukic, Anya Buryachkova, Nariman Aliyev; editing directors Sasha Chorny and Yura Riznichenko. For me, they are an example of what I am trying to come to as a director of editing. We also really like working with 4Ears Sound Production and Vasya Yavtushenko. It's just one love and I always watch everything related to his work. I learn a lot: every year I set aside several areas in which I want to deepen my knowledge. It doesn't have to be directing. For example, this year I'm going to film lighting courses, and I also want to go to acting school to get to know actors better. I choose what suits my style, my worldview and use it in my work.
I would like to work in the American market: to make a video or an advertisement in Los Angeles, for example. There is a very developed industry and infrastructure. If I want a specific train of the year and production that I need – I will find it. And this is very cool because in Ukraine such requests often become a difficult task and we need to figure out how to implement them in other ways. That is why it would be interesting for me to work in the environment where you can invent everything and it will be realized. But now I'm not ready to work there for a long time. I generally like "small" forms. That's why I experiment with music videos, social advertising, short documentaries, and I like it because these are not long-term projects. I love fast, intense, hardcore, and a feature film is about three years of your life with a long cycle from point A to point B. It's a lifetime and maybe I'm not old enough to spend so much time to dedicate to a certain important topic for me.
I want to do a lot. Since I'm into advertising, I would definitely like to get the Cannes Lion. My team and I first want to take part in the young Cannes Lion, and then send our work to a big festival. This is our goal in terms of advertising. In terms of cinema, I want to make more movies. Before that, we created only experimental works of art, but now we want to make a full-fledged film that "walks" through the festivals. Winning festivals is not our goal, but we, as real "movie maniacs", always want to do more and more cool projects, and festivals are something that allows us to move forward and develop further. So it's not about "walking the red carpet," it's about being able to take the next big steps that are possible.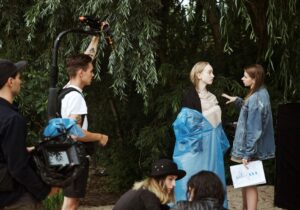 I believe that the role of the artist is how to reflect on things that surround you. It could be very hard since at school we were taught to memorize and told that our knowledge is something very important. In fact, the knowledge already exists, the important thing is how you experience this inside yourself and what new you can create from this. You need to be able to analyze, feel, pass it through yourself, and it`s difficult. You have to learn this by yourself. In the world, where are so many different thoughts, you need to find out what you are thinking about it. That`s the role of the artist- to find it and to reflect it. Then it will be something authorial, something yours.
The interesting part of the director`s work is in the necessity to see in your head if everything will comply with each other. There is a saying: "Director`s work is about restraining the talents of others." `Cause when you have a great team, they all offer great ideas but you can`t agree with everyone as it will be fractional. So, you need to understand when it`s too much and where is a great idea, which will help to tell the story. I take part in every preparational stage and when we`ve decided and arranged everything when everyone knows what to do, that`s when my job starts.
Private and higher educational establishments are about 10% of what you actually need to know about the industry. In order to be versed in the important questions, you need to listen to very contemporary(up-to-date) things like podcasts or professionals in Instagram, who just came from the shooting and can be asked questions during live-stream.
There are two ways which you can follow to work as a director. The first way is to shoot as much as you can. I`ve worked as a freelancer almost since the start and shot a lot of projects. I have both great works and those I don`t show in my portfolio, but even small and very cheap ones I`ve tried to do as great as I could under the conditions that I had.
And the second one`s to do something that is similar to what you are interested in and what you like. This way is suitable for those who already know in which way they would like to promote. If you don`t have a team you can just find someone who may be interested to make a project with you. On this level, you have to solve a lot of regulatory issues to shoot what you like. This is the way when you do not betray yourself. So, when people see that you are very good in that direction, they start to offer similar projects. They say, the projects that come to you are the ones in your portfolio, no one trusts directors who will study on their projects. If you want to shoot in the specific genre, for a start you need to figure out how to work in it by yourself.
Translated by Kateryna Chepiuk in the scope of Gwara Media's volunteer program