Zelenskyy Presented an Award to Fuminori Tsuchiko, a Japanese Who Volunteers in Kharkiv
24.08.2023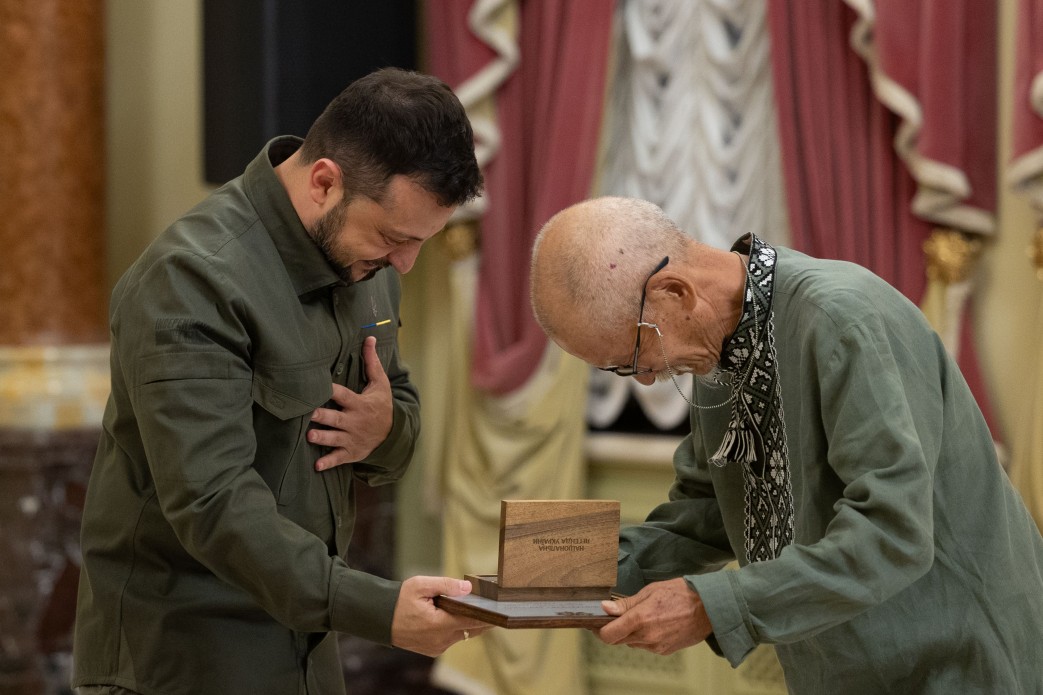 Fuminori Tsuchiko, a volunteer, receives an award from the President of Ukraine, Volodymyr Zelenskyy / Photo: President's press office
Fuminori Tsuchiko from Japan received the award "National Legend of Ukraine." 
The President of Ukraine, Volodymyr Zelenskyy, gave an award to a Japanese volunteer, Fuminori Tsuchiko. Fuminori came to Kharkiv at the beginning of the Russian full-scale invasion and started cooking free meals for people, says Zelenskyy in his telegram channel. 
"There are a lot of prominent figures among our people. I'm very grateful to this year's laureates of the "National Legend of Ukraine" award. We value each of you and are thankful to each."
Background
Fuminori Tsuchiko is a 75-year-old Japanese volunteer who has come to Ukraine since the beginning of the full-scale invasion to help those who had to live in the Kharkiv metro, hiding from shelling and bombs. For some time, he lived with them underground – he's been buying and giving away product packages (e.g., with groceries) and entertaining children. 
Time passed, and Fuminory decided to sell his house in Japan and move to Saltivka, one of the most damaged by Russian attacks neighborhoods in Kharkiv. Here, with the help of Ukrainian and Japanese charities, he opened a volunteer cafe, where, to this day, he has been providing hot meals to locals.
"I like everything in Kharkiv. People here are very kind. I'm staying here forever because I want to help them. Glory to Ukraine!" says Fuminori.
The cafe, FuMi, is located in Saltivka district, too – not far from the underground station. Fuminori rents a place on the local market. FuMi has soups, borshch, porridge, meat, pasta, and various pastries.
Read also
Tetiana Fram, our former English editor, spoke to Fuminori Tsuchiko a lot about his work in Kharkiv. Find out more about his story in Gwara Media's featured text, "A Dream to Feed Every Child Who Needs It. Fuminori Tsuchiko About His Life in Kharkiv."
National Flag Day of Ukraine: flag hoisted on the highest flagpole in Kharkiv. Ukraine annually celebrates National Flag Day on August 23. Ukrainian flags were solemnly raised in Kharkiv and other cities nationwide in honor of the holiday.