War in Ukraine. Gwara Media's diary
12.03.2022
On the 24th February, we met in different cities, at different times, and with different thoughts.
Our only common tie was an intimidating face of unfamiliar so far experience, vibrations induced by shootings and explosions on the streets, and full ignorance of what will happen next.
Gwara has been working in the media since 2018. Our office is located in Kharkiv, in an old house of a nameless architect, overlooking historical streets and the center. For the past 4 years, we have been writing about the culture and 'new reality' which we meant by the combination of tolerance, ethic and ecological values, and the sustainable development goals with innovations. Such an impression our a bit futuristic team was holding about future Ukraine.
On the morning of the 24th December, we all acknowledged that our new reality is the war.
13 days have passed since Russia threw the first missile on Ukraine. During this time occupants violently bombarded Kharkiv's city center, residential areas, and architectural monuments. Completely destroyed private houses and high-rise buildings in the suburbs of Kyiv. Created a humanitarian crisis in Volnovakha, Energodar, Mariupol. And most importantly united the whole Ukraine and its citizens.
Presumably, now everyone whether supporters or opponents of president Zelenskiy, Ukrainian speaking or Russian speaking citizens could clearly see where lies the border of their country and their freedom as well. 
In order to preserve our experience, we created a diary of the Russian-Ukrainian war.
Here we will tell the path each of us made from the beginning of the war, what we felt like and what we observed.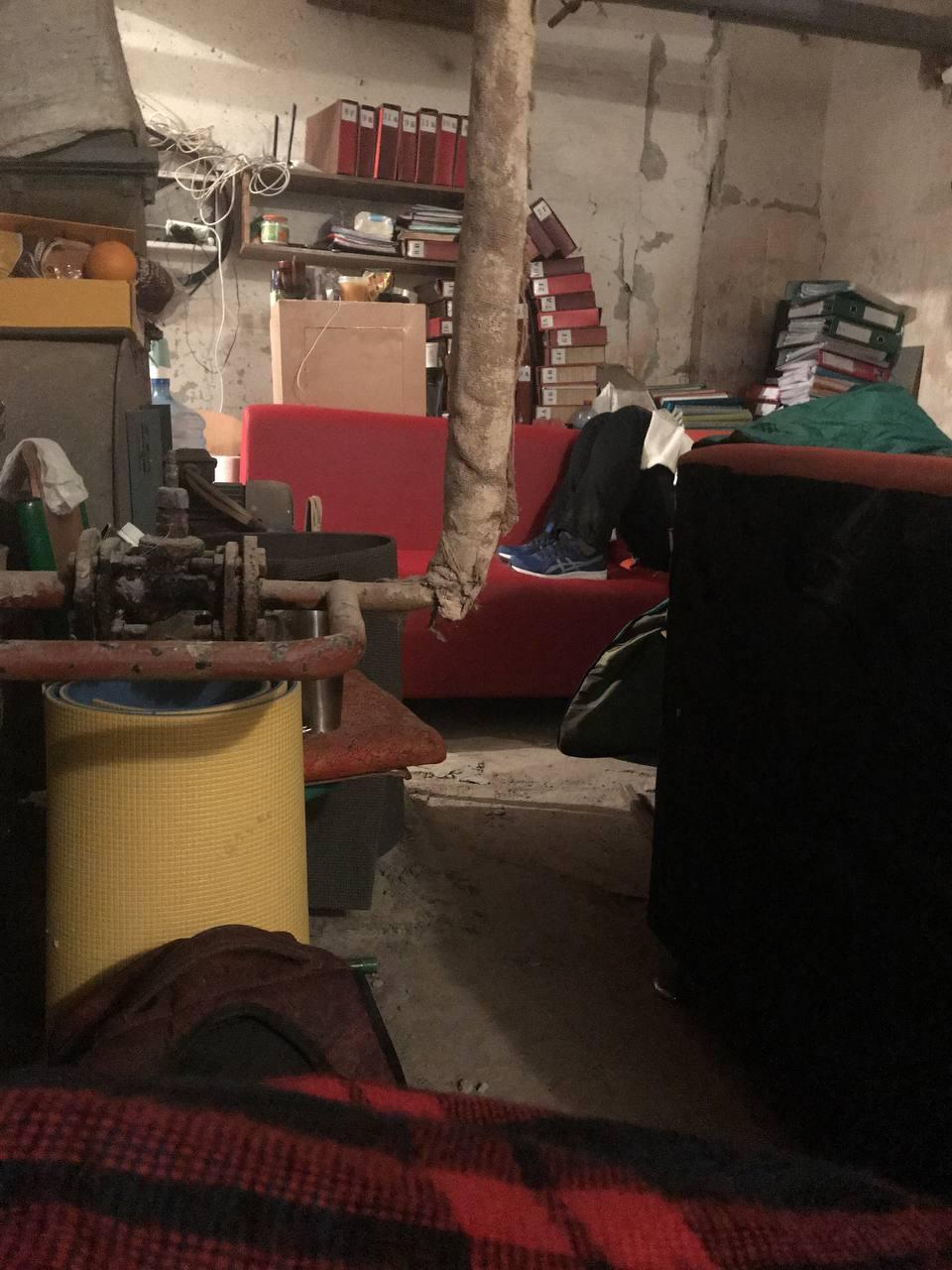 Bomb shelter in a school
Olena, the editor. Stays in Kyiv with her cat and 72 year old father. Sleeps either at home or at a bomb shelter.
On the 24th February, I woke up apparently later than others — at 9 am-ish. My phone has been blowing up. The first thing I saw was my mother's message saying 'Russia attacked Ukraine'. I panically scrolled through the news when a few minutes later I heard the sound of an explosion. A new sound in my life, it was nothing like I had heard before. It's not similar to the noise of the household appliances or the fall of something heavy and definitely not fireworks.
I hastily realized that my father, who suffers with asthma and now is connected to a catheter, stays at home on Revutsky street. If he runs out of medicine and I can't buy more that will be a huge problem. We lack medicine for a go-bag as well. No one knows if shops and pharmacies will continue to work. That reminded me of the beginning of the quarantine when people grabbed all the bread and toilet paper from the store's shelves but this time it's a lot worse. I put on my jacket over my pajamas and set off to the drugstore. One is closed, the other has a 100 meters queue, and the third one is closed too. So I joined the queue. 
People's comments and behavior in this line worth a different story. In general, everyone is trying to figure out what different types of missiles and ammunition sound like. Because while we were standing there we heard a few explosions from the side of Obolon', one was louder than the others. A granny behind me talks on the phone whether with her son or her grandson: says she has diabetes, medicine is enough for 2 days only, therefore if she doesn't get more the only option will be to bury her either with Putin or not.
Before all of this, I had been doing a biographical report for a month on how hard it is to find a free treatment for non-covid diseases during the pandemic, especially in the red zone. Without a clear understanding whom i will hand it in to. I was thinking like we already know the numbers of deaths caused by coronavirus but what about those who died due to the collapse of the medical system. Same we are facing now. Not everyone will be affected by the projectile itself but many will die eventually because of other reasons including lack of medicine. 
I was standing in that line for 3 hours. But I lost track of time. Severe anxiety divided it into tiny parts, each minute you look behind to check if everything is okay, heeding what people talk about. Someone reads a quote 'If men knew how hard it is to give birth they would not start wars'
Finally i've bought everything I needed and came back home. It's hard to pull yourself together and take elaborative actions. So first of all I write a statement on Gwara's behalf on how we are planning to work from now on. Meantime my thoughts are about the difference between clip thinking, when it is challenging for you to get back on track and cope with a big and slow piece of information, and catastrophic-constantly-checking-the-news thinking when your attention is distracted between one new and the other within 5 minutes.
And then chaotic but constructive thoughts start to come up. I live with my boyfriend so we start to fill in our backpacks, seal the windows and make a go-bag for our cat. Here I realized that I'm really worried about the animal. He hasn't got the rabies vaccine, he has a sick liver and I have no clue where to take him or how to take care of him now. The level of absurdity almost makes me laugh. Here is the face of tyranny when you can see how the dictator from the neighboring country basically takes away your cat's life.
I made a decision to stay in Kyiv almost immediately. Firstly because of my parents. Secondly because of Serhii. And thirdly my cat, I don't know exactly if I can take him somewhere with me but I will certainly not place him in an animal shelter or let him out on the street.
And fourthly it is something that remains between the lines but still has an impact. A bizarre inertia, absurd and anger, incomprehension why you have to run away and leave your house or city. This is beyond all limits. At this moment I think of how deeply these invariable rules put down their roots. We follow them like legal mechanisms, human's rights are not conditionality but physical laws. Even now diplomats are using legal levers when complaining about something. I bet this morning everyone's minds were blowing up with thoughts like:
"War Tanks Attack Damn I forgot to wash my hair A missile hit Kyiv oblast I have to clean up my cat's litter box"
Later my friend told me she forgot to put water in her go-bag although she grabbed her cosmetics. 
Later on when we made it to the nearest bomb shelter in a school building, this implicit gene called daily routine elicited the next way: women, kids, old and men brought backpacks, big traveling suitcases but time by they were peacefully walking across panoramic windows as if a projectile is just a bus coming from the corner of the street which you can wait on from here and run in the right direction when you've noticed it. 
I didn't really notice when the first day turned into the second — no one slept. Here is one more weird trait of memory: when you're stressed the details start to vanish. I remember talking to my parents and friends like a dozen times. I even got a few messages from Russians but all of it seemed so distant in my mind. Meanwhile, my body temperature rose to 38 degrees if not more. Whether because of standing in that line for 3 hours with barely any clothes on or because I didn't get any sleep so far. 
On the second day, not sure if it was a deep night or closer to the morning, me and Serhii came down to the shelter. Today these photos are all over the internet but when I first saw a bomb shelter it was definitely something new to my eyes. For the first few hours I was sitting on a chair and didn't even change my position. A family near us was nervously talking about moving out of the city. Not abroad or to the west of the country but just behind the borders of Kyiv. Probably they thought their country house is a safer place and it wouldn't be attacked (of course they were wrong).
People were coming with their children and pets. Talking, planning something and then taking off again. I was watching one mother crying and blaming her daughter, who had Martins on and was scrolling through Tiktok, that she is not devastated enough about the war. It's hard to say who was more rational. Someone was complaining about his colleagues "Do we work today? If so you can fire me, I'm not going". The elders were quiet. 
I've gotten extremely exhausted from randomly taking antipyretics, constantly calling my mom, wearisomely scrolling the feed and chats. But in fact I haven't really done anything. On the third day we slept in the so called "vip zone" of the school's bomb shelter meant for teachers. A narrow, damp, cold but quiet place with pipes which is a ventilation room itself. Teachers of the school №234 brought there all the documents and stacks of papers. Ira, a girl from my former university, who now works at the National Museum of Taras Shevchenko invited me to sleep over here. She told me how her team was anxiously marking and hiding exhibits when the war started. 
This day I felt worse, maybe because of the cold and dampness. Although talking to people truly helped. Suddenly a middle-aged woman says "It's such a strange thing: when you're warm at home you're afraid but sitting here in the basement with people feels calmer indeed".
When the morning came I returned home, during the day I was still listening to the sounds of explosions but closer to the evening I found a composing occupation — I started to write an article for Germans about Ukrainians by the request of Esther Slevogt.
All this time together with Sergiy we slept in turn. It was impossible to sleep normally. The moment, when one person is asleep and another guard is sitting on the floor and suddenly hears an explosion, is the scariest one. Firstly they are paralysed and then discover from the news that the missile landed somewhere far away. And then you start to explore the aftertaste and to imagine your own death. No jokes here. You are sitting on the floor and seriously trying to overcome the feeling that earlier or later you will die. Even if not now, not by missiles. I wonder how often the elder people meet this feeling during regular days? How can you feel, predict, prevent your own death?
There is suspicion that people, for example in russia, as in the other countries, which have a "peaceful" life, simply do not realize it. Something like that could not be realized in any virtual way. You cannot realize this by watching scary videos or triggered pictures, which now are asked to be spread all around. 
People in peaceful countries might think that their wages, currency exchange rates, conditions of life, access to services, and even their culture and art are something important. But in some moment, while sitting on the floor, you can notice how this gradation disappears. There are no bigger or smaller salaries, worse or better conditions, or grades of comfort. There is life and death. 
That is how, sitting on the floor, I recall how in Crimea when I was 14, I read "Plague" by Albert Camus. It seems that the more civilized and peaceful society is, the more ridiculously it cannot believe in catastrophe. 
The refugee center in Moldova
Dasha, the social media's editor. The first day she and her friends left Kharkiv to move to Zakarpattia. Soon she crossed the border and spent some time in the refugee center. Now she is renting a flat in Moldova. 
I woke up at 5 am without any reason. I grab my phone and notice a bunch of new messages in the chat room of the editorial office. After one day I will realize what an important role those messages have played. 
Being half asleep I unlock my phone and read. "Kharkiv is being bombed". This was enough for realization… "It has started…" — this thought appeared. Listen to the silence, and also hear some shots. All subsequent events were as if in a dream. 
I woke up mom and wrote to the boyfriend so he could start collecting stuff. In 10 minutes he informs me back about huge lines on the gas stations. I started to pack a backpack for mom but suddenly realized that she is not in the rush at all. 
"I will not go anywhere. And if so, where? I will not leave grandma alone. If you want to — go". Then all is like in a fog. I keep packing and think if I should go or not? Before, while listening to the first news about probable war I suspected that this could happen. But I did not want to make this choice. 
In a moment, I am all dressed up, standing in the corridor of my house, kissing my mom before saying goodbye. She crosses me, as usual, before I go away from home "God be with you". I hug her and like in some movie tell her "I love you. See you".
In 10 minutes we are on our way to the house of our friends. In Kherson's roads are chaotic, people don't care about driving rules, on the gas stations there are huge lines.
Surprisingly, someone is in a hurry and goes away with staff, but someone calmly stays at the bus station and waits for a bus to work.
When we left the city, we relaxed a bit. 
Fortunately, the traffic on the road is easy. But the tension in the air is visible. Of course, to ride on the road after you hear an explosion just a couple of hours ago is a very dangerous idea. 
I realize that we can expect anything. Being on the way I observe news from cities to which we are having our way. 
"There are shots in Mykolaiv", — my friend wrote to me.
We understood that to turn around would make no sense, and panic could play against the people. At our own risk, we calmly cross the city. 
Driving became more complicated, cause we all didn't sleep the whole night. We drive somewhere to the countryside and lie down to have some rest. Well, what a rest… The driver and the boyfriend are asleep, and I look into the sky and look with doubt at each passer-by car. Who knows, who is riding there? In a moment we understood that we did not know what to do. 
We thought that in a couple of days we could come back. But now we will go to the mountains, where it will be calmer. 
The further away from Kherson Oblast, the calmer we can breathe. But the feeling of anxiety does not disappear. The throat is constantly dry, the body is shaking and the heart is beating so intensively as it will jump out of the chest right the next second. At this moment I realized what this expression actually means. 
After getting some rest, we decided — we are going to the Carpathians. We will wait there for a couple of days and if everything will be alright, we will come back home. 
The way was hard. We slept for an hour at gas stations, drove through the countryside. On the ride periodically we join the lines with other cars, for some reason it is calmer. 
Gas stations are crowded. The gas is sold in limited amounts, people buy it all. At one gas station, the cashier was visibly nervous but kept doing his job. On the road, we get to know that we left the city at the right moment. In the suburban areas of my hometown, Kherson, the russian tanks concentrated and the first fights began. 
The scenery in the Parhomivka village
Oleksii, videographer. Together with his family, he moved to the village Parhomivka, which is famous for Malevich's art situated in the local museum. He stays there. 
Being woken up by explosions I did understand at the same moment what to do. Everything seems unreal, like a dream. 
In the head are spinning excerpts of putin's speech, where he refused the right for the existence of my country, the excerpts of the past peaceful life mixed with the realization that I will never come back to it. 
Probably, the first hours of the war were the most difficult. There is no information, you do not understand what to expect. People around are panicking. 
Our family left the city. I let my camera off my hands for no second, it helps me… or to be more focused or to be distracted from thoughts. We are coming to the village, gradually arranging the house and adjusting to the new circumstances. We are constantly monitoring the news. The tense is amazingly harsh. 
As time passes, we adapt to the sounds of military vehicles. We stop to run into the basement each time we hear explosions. Actually, here it is not so much safer to stay. 
The wish to come back to Kharkiv is strong. It is hard to stay on the sidelines when the history of your country is about to be written. I try to work on the informational front. 
I believe in our victory. 
These days our team also created a bot, which is checking facts, links and texts on reliability. The Bot has got the name PEREVIRKA — it is our small contribution to our victory in the information war. 
Just for the first week of the war, we have received thousands of requests. At the moment the team of volunteers and experienced journalists-fact checkers work with the bot. They help people to understand the sources of the information which is spread on the web. 
You can use this bot if you doubt the news that surrounds you. 
Translated by Olesia Terletska and Iryna Herasymchuk