Free English-Language Course on Ukrainian Culture Launched by Ukrainian Institute and EdEra
17.11.2022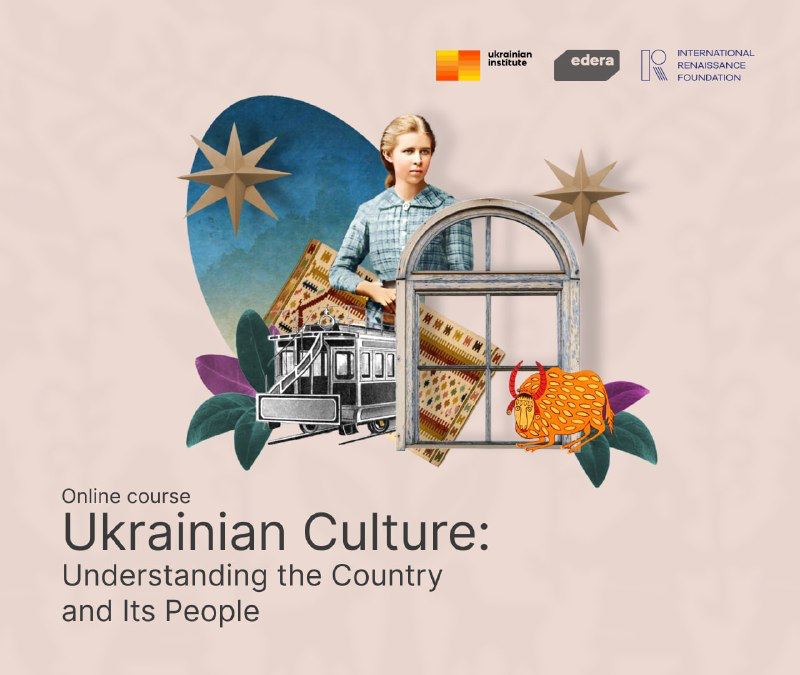 Ukrainian Culture: Understanding the Country and its People
The Ukrainian Institute and online education studio EdEra with the financial support of the International Renaissance Foundation created a free English-language online course "Ukrainian Culture: Understanding the Country and its People".
The course tells about the peculiarities of the formation of Ukrainian culture and society. Lectures are presented by the Swiss-British film director Mark Wilkins, who lives in Kyiv.
The authors of the course say that it will be useful to those who teach disciplines related to Ukraine, in particular the Ukrainian language, or who want to present Ukrainian culture to the world.
"What comes to your mind when you think about Ukrainian culture? Traditional clothes? Maybe, a few artists or writers? But these are only a shadow of what Ukrainian culture truly represents. In this short course, ten scholars from different fields present ten topics, covering the essential aspects of Ukrainian culture. Each devoted to a particular angle, these videos reveal how past events, including external political and cultural domination by imperial powers, have shaped Ukrainian society."
This course includes ten lectures:
The roots of the Ukrainian language and its relation to other Slavic languages
The primary values of Ukrainians and their impact on society
The influence of the Byzantine tradition and the Catholic world on Ukraine's religious practices
The role of Ukrainian women in the country's past and present
The impact of different civilizations, nations, and ethnic groups on the Ukrainian cultural space
The roots of the myths about Ukrainians as a "nation of villagers" and the interconnection between the urban and rural lifestyle in Ukrainian culture
Ukrainian food culture and its exposure to traumatic historical events
The cultural renaissance of the 1920s-1930s and the most prominent avant-garde artists
The influence of the Russian war on Ukrainian culture
Some of the most famous figures of Ukrainian culture on the world stage
The course is available on the Udemy platform.
Earlier this month, Ukrainian philosopher Volodymyr Yermolenko and literary critic Tetyana Ogarkova launched a French-language podcast about Ukraine.