Ukrainian Bandura Player Maryna Crut to Give Charity Concert in Scotland
21.11.2022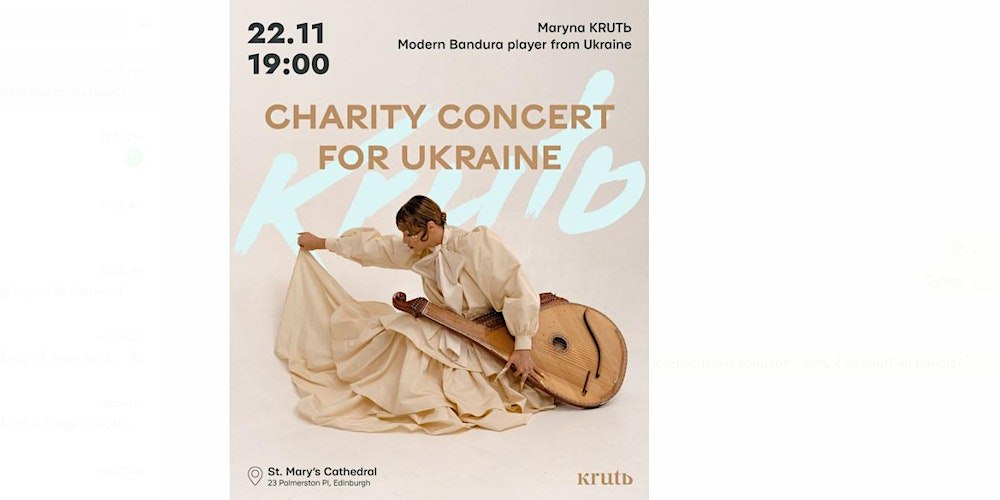 Ukrainian bandura player Maryna Crut to play in Scotland/ Image: Eventbrite
On Nov. 22, a Ukrainian modern bandura player Maryna Crut will perform in St Mary's Cathedral in Edinburgh.
"Please, come and join us for the charity concert, where your soul will sing and listen to the heavenly music – Ukrainian music, Ukrainian songs. Support Ukraine!"
The event will take place in St Mary's Cathedral in Edinburgh, on Nov. 22 at 7 p.m. All of the profit will go to humanitarian aid in Ukraine.
Maryna Krut more famous as KRUTЬ is a renowned Ukrainian singer, songwriter, and bandura Virtuoso, a unique Ukrainian musician. "KRUTЬ was a participant of Edinburgh International Culture Summit, multiple international competitions, and festivals", reports the announcement.
A bandura is a Ukrainian plucked string folk instrument. It combines elements of the zither and lute and was also often referred to by the term kobza.
Earlier this month, Ukrainian DJ Anatoly Tapolsky played a set on the roof of one of the main Kharkiv landmarks, Derzhprom, and fundraised almost $50,000 for the Punisher Strike Drone. The one-hour performance was streamed on Tapolsky`s Youtube channel, and the event was held without an audience. The artist played to the sound of a siren.