Security Service Inspected Russia-affiliated Orthodox Church Facilities in Kharkiv Oblast
12.12.2022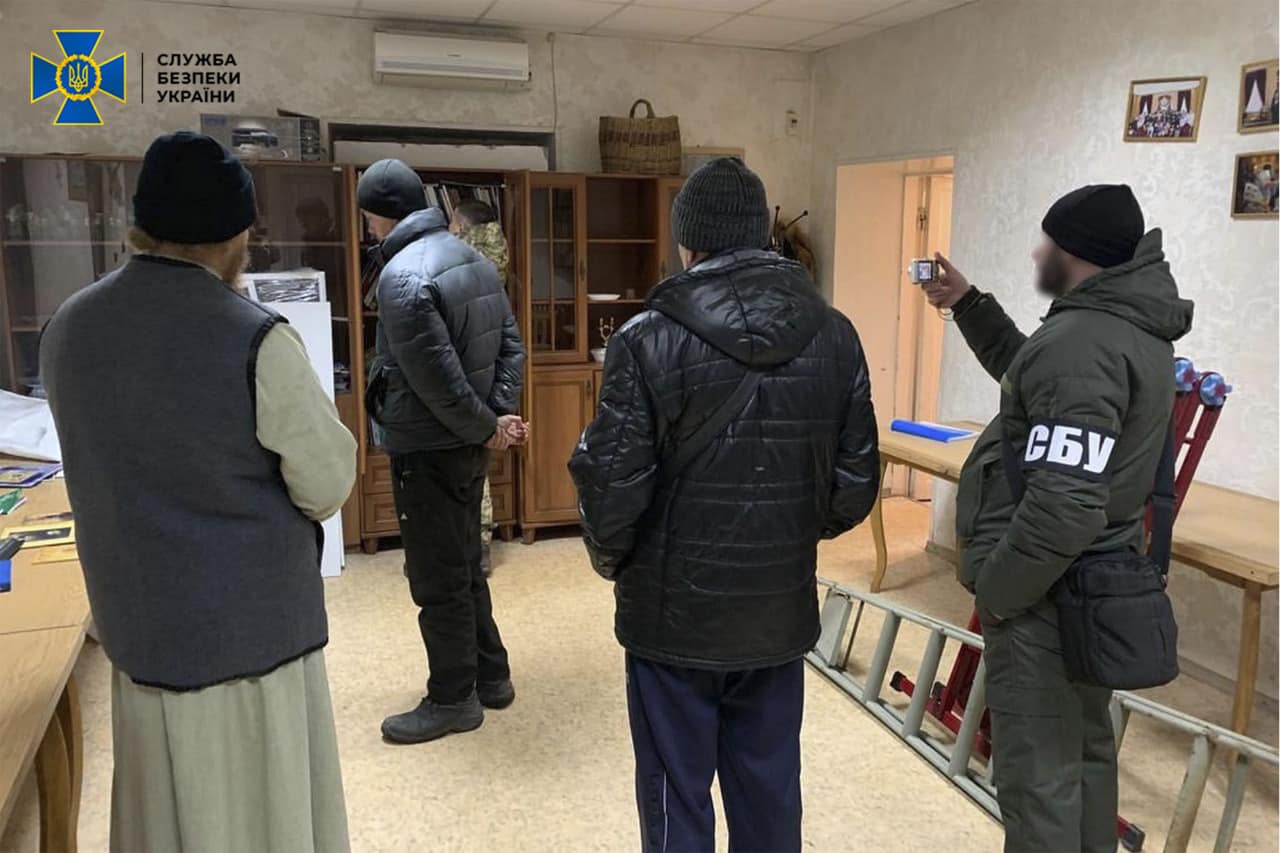 The Security Service of Ukraine inspecting the Russia-affiliated churches in Kharkiv Oblast / Photo: The Security Service of Ukraine
On Dec. 10, The Security Service of Ukraine (SBU) found hundreds of thousands in cash, pro-Kremlin literature, and occupiers` dry rations in the Moscow-linked churches in Kharkiv Oblast.
According to the spokesman of the SBU Regional Administration Vladyslav Abdula, one of the monks had a Russian passport.
"Libraries with pro-Kremlin literature, materials praising the aggressor country, and a large amount of cash in various currencies, including Russian rubles, were found on the territory of the eparchy. One of the churches even kept dry rations of the Russian occupation groups. A monk with a Russian passport was also exposed there," the message reads.
SBU is checking the possibility of the monk`s involvement "in intelligence and subversive activities of the special services of the aggressor country," Abdula said.
The seized materials were sent for examination.
More details
Since the morning of Dec. 10, SBU had been working in Kharkiv inspecting the facilities of the Ukrainian Orthodox Church of the Moscow Patriarchate, an affiliate of the Russian Orthodox Church. According to the Security Service, they aimed to counteract the subversive activities of the Russian special services in Ukraine. The Diocese of Kharkiv promised to give SBU free access to all church premises.
On Dec. 2, President Volodymyr Zelenskyy signed a decree to approve a proposal by the National Security and Defense Council to ban the Ukrainian Orthodox Church of the Moscow Patriarchate and to introduce sanctions against these organizations.
Earlier this month, SBU arrested the former head of the Kupiansk District State Administration and the Kupiansk District Council, who tried to leave Ukraine after the liberation of Kharkiv Oblast.
Follow us on Twitter and LinkedIn for more news, stories, and field reports by Kharkiv journalists.