On October 16, Russian forces maintained their offensive operations along the Kupyansk-Svatove-Kreminna line but did not secure verified advancements.
The main goal of Russia in this part of the frontline is to capture the rest of Luhansk region and advance to the east of Kharkiv and the north of Donetsk region.
The Institute quotes Russian sources claiming that Russian forces captured new positions near Krokhmalne (25km southeast of Kupyansk) and Stepova Novosilka (17km southeast of Kupyansk) but noted that the Russian troops had not achieved significant advances in the Kupyansk direction.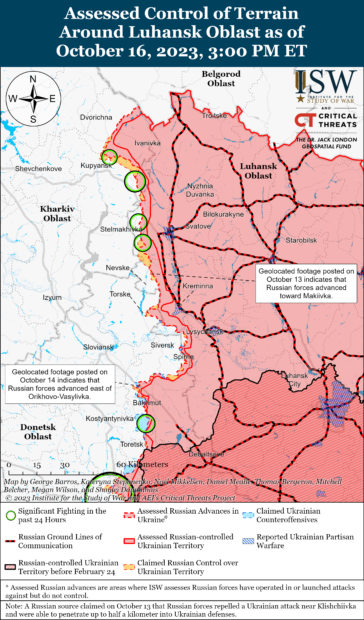 "Other Russian milbloggers reported continued Russian offensive operations near Synkivka (8km northeast of Kupyansk), Lyman Pershyi (12km northeast of Kupyansk), Makiivka (22km northwest of Kreminna), and in the Serebryanske forest area (11km south of Kreminna)," ISW added.
According to Ukrainian General Staff, Ukrainian forces repelled Russian attacks near Synkivka, Ivanivka (19km southeast of Kupyansk), Stelmakhivka (12km northwest of Svatove), and Nadiya (20km west of Svatove).
Ukrainian military analyst Petro Chermyk indicated that Russian forces amassing 100,000 troops in the Kupyansk-Lyman area to divert their attention from their ongoing offensive operations near Bakhmut. He suggested that while Russian forces might achieve some success in the Kupyansk-Lyman direction, capturing territory will require a substantial commitment of resources.
GWARA'S CHOICE
Russian army hit Pershotravneve and Pishchane of Kharkiv Oblast with airstrikes. The Russian army continued their offensive in the Kupiansk direction. So, during the past day, the Ukrainian military fought off nearly 15 Russian attacks around Synkivka and Ivanivka in Kharkiv Oblast.
Five days of Hroza. The village buries those who died in a Russian attack on October 5 — PHOTO. Around 13:25 on October 5, the Russian army shot a missile at a café in the Hroza village of Kupiansk district. People have gathered there for a funeral of a fallen soldier. Hroza has 330 residents, but around 100 of them lived there when the tragedy happened. That day, at least 52 people died, six were injured, and another five are now considered missing. An Iskander hit took the lives of almost every second villager.

If you have found an error, highlight the necessary fragment and press Shift + Enter.