Most Ukrainians Believe in Victory over Russia – Poll
08.05.2023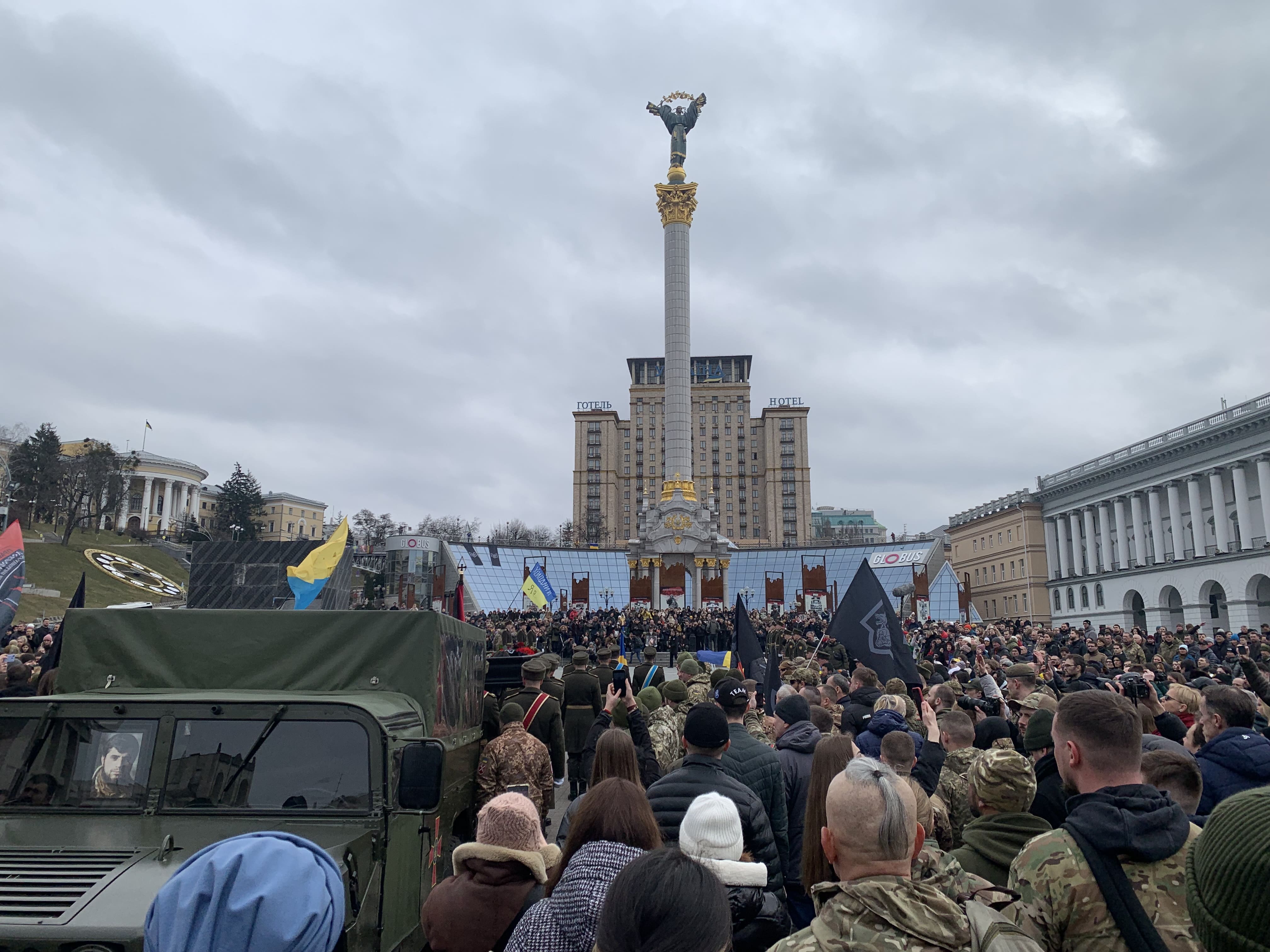 Ukraine Bids Farewell to Hero Dmytro Kotsiubaylo "Da Vinci". March 2023 / Photo: Denys Glushko for Gwara Media
92% of Ukrainians believe in the victory over the Russian army, said Taras Tarasyuk, an analyst at the Ilko Kucheriv Democratic Initiatives Foundation.
"Ukrainians have high morale – about 92% believe in victory. At the same time, we do not observe any particular differences by region. If we look at the regional breakdown, it is more than 50% in all macro-regions," Tarasyuk said.
At the same time, there are no significant regional differences – residents of all regions of Ukraine overwhelmingly believe that Ukraine will defeat the aggressor:
Western Ukraine: 78% of respondents believe in victory;
Central part of the country – 77%;
South of Ukraine- 52% of respondents;
Eastern Ukraine- 62% of respondents.
In an open-ended question about which events of the war Ukrainians personally associate with grief or despair, respondents mostly mentioned the consequences of war crimes committed by the terrorist state rather than specific events. 24% of Ukrainians named the death of people as the most traumatic event during the war. Another 22% also associate despair and grief with bombings and rocket attacks, and 16% mention massacres and mass murders of the population in the occupied territories of Ukraine.
The survey also showed that the most important things that support the morale and are associated with pride and victory are:
15% – liberation of Kherson;
11% – defense of Kharkiv;
10% – de-occupation of Kyiv region;
16% – liberation of the occupied territories in general;
10% – pride in the Ukrainian military;
9% – a sense of social cohesion.
Moreover, 94% of Ukrainians identify Vladimir Putin with the leader of Nazi Germany, Adolf Hitler.
The survey was conducted by the Razumkov Center sociological service in cooperation with the Ilko Kucheriv Democratic Initiatives Foundation on March 23-30, 2023, using the personal interview method. 2017 respondents aged 18 and older were surveyed. The theoretical sampling error does not exceed 2.3%.
See also
Ukraine to celebrate Europe Day on May 9 from now on. President Zelenskyy's office has published Decree #266/2023, according to which Europe Day will be a holiday annually on May 9.
Half of Ukrainians do not come back home due to danger. Safety is the main reason for not returning home among 50% of Ukrainians who left the country after 24 February 2022. And this was the primary reason for 58% of them to leave. 
Razumkov Centre poll: most Ukrainians believe the country is moving in the right direction. This divide fundamentally differs from before the full-scale Russian invasion of Ukraine.
Follow us on Twitter, Instagram and LinkedIn for more news, stories, and field reports by Kharkiv journalists.
Support Kharkiv independent journalism. We are here to show you the life of the front-line cities. Buy us a coffee, and we'll prepare another article on life in Ukraine.