Kharkiv Oblast Under Attack: Russian Troops Launched Air Strikes on Three Villages
18.05.2023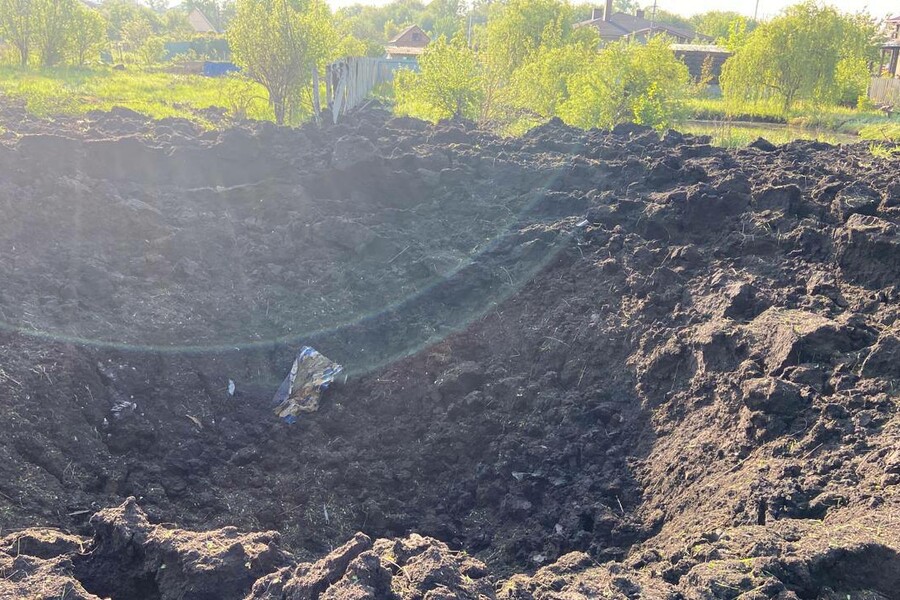 Aftermath of S-300 missile shelling on Tsyrkuny in Kharkiv Oblast / Photo: Kharkiv RMA
Day 448 of the full-scale Russian military aggression continues: a significant missile assault on Ukraine's civilian and critical infrastructure was carried out by the invaders once again.
Source: General Staff of the Armed Forces of Ukraine
The adversary continues to focus its main efforts on Lyman, Bakhmut, Avdiivka, and Maryinka axes, with 36x combat engagements occurring. Bakhmut, and Maryinka in Donetsk Oblast remain at the epicentre of the fighting.
Kharkiv RMA
Over the past day, the enemy fired at least 20 localities in Kharkiv, Kupiansk and Chuhuiv districts of the region. Occupants used combat aircraft in the areas of Masiutivka, Kyslivka and Pershotravneve.
Last night, the Russian amrmy launched a missile attack, preliminary from the S-300 air defence system, at Tsyrkuny village in Kharkiv district. The missile hit the ground. Preliminarily, there were no casualties or large-scale destruction. A private car was damaged.
As a result of two shelling incidents in Novoosynove village, Kupyansk district, forest fires broke out.
Slobozhanshchyna axis
Russians continue to maintain a military presence in the bordering areas. The invaders fired mortars and artillery at the settlements of Huryiv Kozachok, Udy, Okip, Kozacha Lopan, Hatyshche, Vovchansk, Budarky, Zybyne, Ustynivka, and Zarubynka in Kharkiv Oblast.
Kupyansk axis
The enemy conducted unsuccessful offensives in the vicinities of Masyutivka and Novoselivske. The invaders launched air strikes near Masyutivka, Kyslivka, and Pershotravneve. The adversary fired artillery and mortars at the settlements of Krasne Pershe, Fyholivka, Novomlynsk, Dvorichna, Zapadne, Masyutivka, Tabayivka, Berestove of Kharkiv region.
State Emergency Service
State Emergency Service's pyrotechnic units inspected more than 8 hectares of territory and defused 205 explosive devices.
See also
Russia against journalists: over 20 media workers are victims of war crimes. Reporters Without Borders (RSF) recorded over 50 cases of Russians directing artillery fire against journalists. In half of the cases, this was done purposely.
SSU to notify of suspicion oligarch with Russian roots Pavlo Fuks. With the help of the holding, Fuks and his accomplices bought out companies in the energy, machine-building and metallurgical sectors that had loans from bankrupt banks.