One of the leading Russian propaganda narratives is the discrediting of Ukraine and Ukrainians, in particular Ukrainian refugees. In Russian media, Ukrainians are painted as amoral, lazy people who use "benefits" provided by hosting countries and refuse to work. This time, Russian channels say the French media, Libération, accuses Ukrainians of causing bedbug infestation. So, let's take a look at this claim. 
What happened?
At the beginning of October, several pro-Russian telegram channels (Ukrainia.ru, PUTIN v Telegram, etc.) spread the news that the Ukrainian refugees caused a bedbug infestation in Paris. According to propagandists' posts, the French Libération media wrote about it. As evidence, they're providing a screenshot from the Libération website.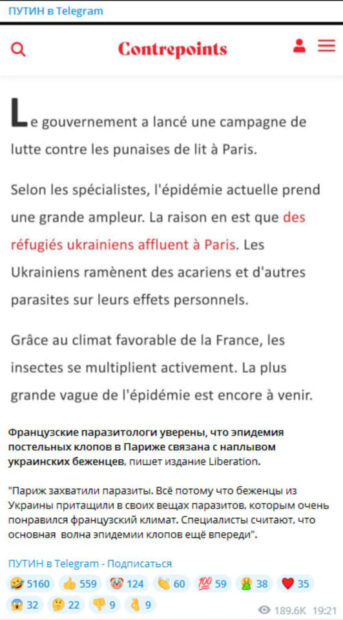 The posts about Ukrainian refugees bringing bedbugs to France spread to Russian media: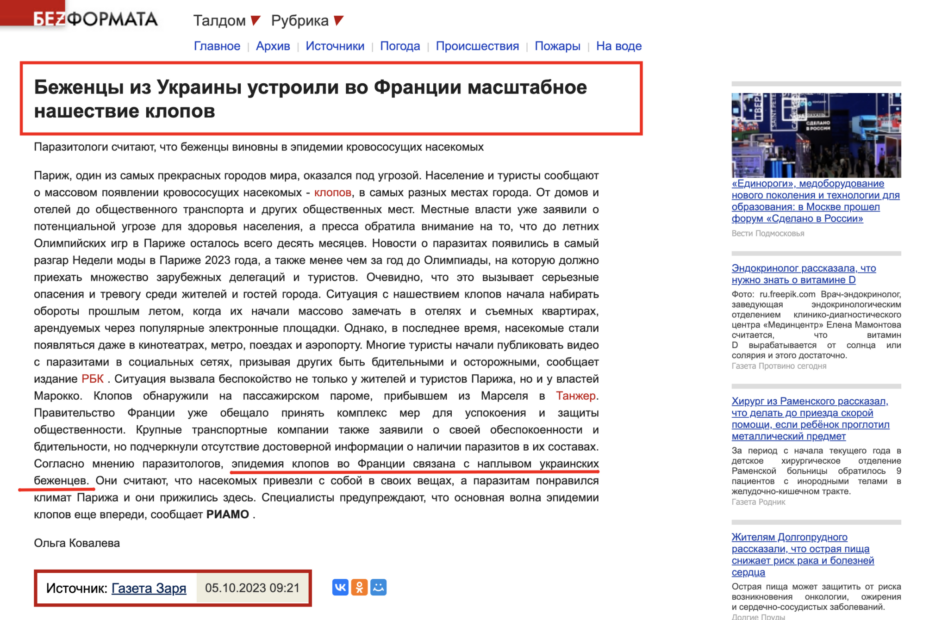 Some YouTube channels also picked up this "news." 
Analysis
On October 4, Libération published an installement debunking this fake. "No, Libération hasn't accused Ukrainian refugees of causing bedbug infestation." 
In the debunking article, French media pinpointed that one of the first sources of this fake is a Russian propagandist resource, Ukraine.ru, which belongs to the Russia Today media group. 

Libération's debunking references the installment of RE:BALTICA/RE:CHECK: "Ukrainians are bringing bugs to Paris," or how a Daugavpils politician spreads Russian lies." 
They write: "Journalist of Liberation Florian Gouthière confirmed to us that the screenshot is fabricated and the news is fake via email. "Such sentences have never been published in our magazine or on our website. It's a classic fake". 
Conclusion: Fake
Author: Vladyslav Herasymenko
Read more
Gwara Media has a fact-checking department and fact-checking bot Perevirka, which people use to send us news/posts for verification. We debunk fakes and manipulations spread by Russian propaganda — and expose how it's constructed and distributed. Buy us a coffee to support and cheer up our fact-checkers. 
If you have found an error, highlight the necessary fragment and press Shift + Enter.