On October 21, the Russian army commited a terrible act of terror, striking with missiles the Nova Poshta post service terminal.
A few moments after the missile attack, Russian propagandists started to generate "reasons" for why Russians did it. The video that seems to show Nova Poshta trucks transporting military equipment was spread online, and as such, it "proved" that the Russian strike was justified.
What happened?
On October 23, our fact-checking team in charge of the Perevirka bot received a lot of requests asking to analyze this same video.
We see two trunks with military equipment on the video. On one of the trucks, the one with a gray tent, we can see a square logo of Nova Posta.
"Here's what is being transported in a Nova Poshta's trailer… But Nova Poshta transporting military equipment isn't a secret from the beginning of the SMO [Russians call the war "special military operation", — ed.]. Some characters in Ukraine like to pretend that it's a "civilian object," though," the description of the video says.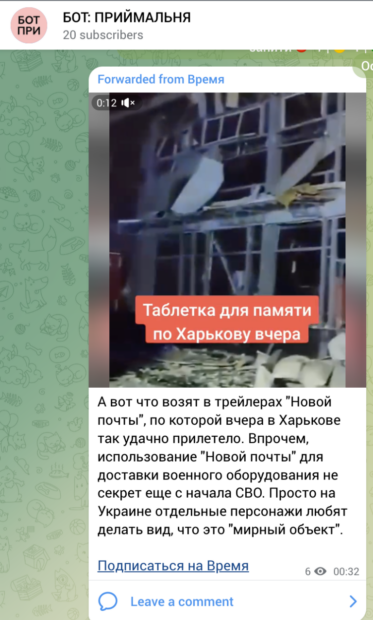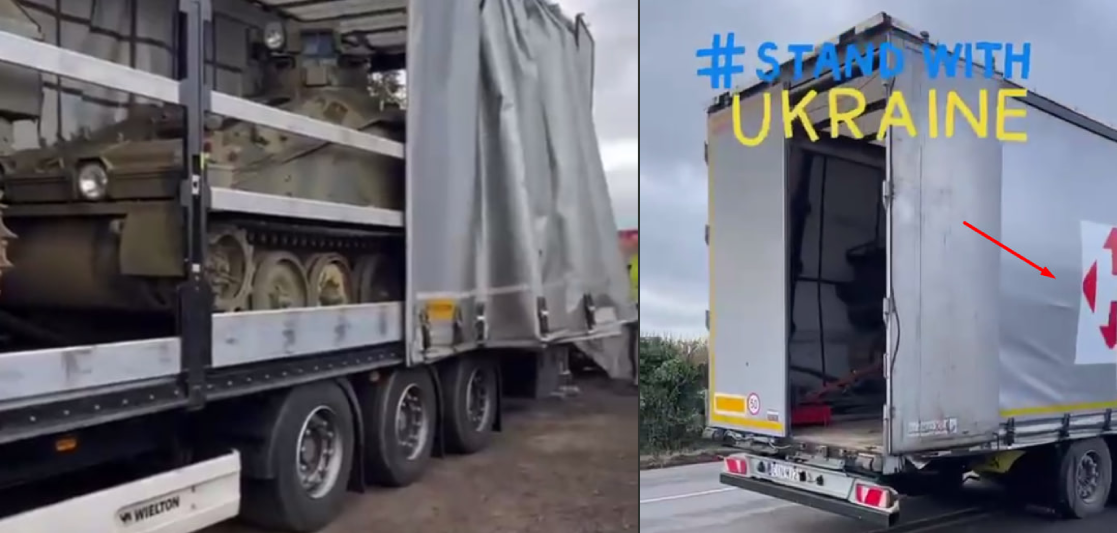 We also found this video on many propagandist telegram channels, such as Prydenstrovets, Kharkov narodnyi, First Kharkovskiy, and so on.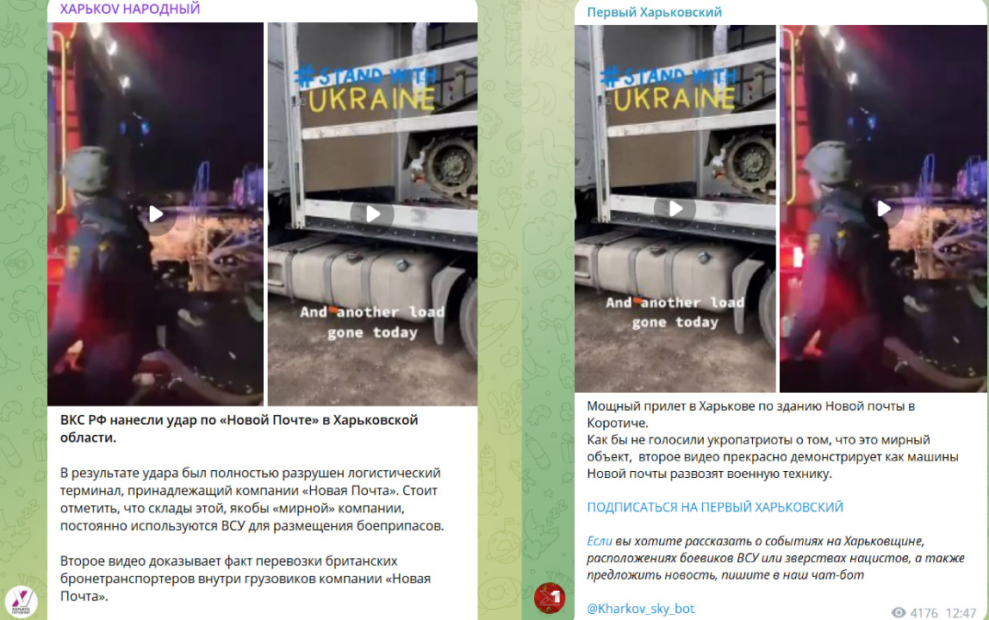 Analysis
Trucks
First, let's focus on the license plate of the truck that seems to have a logo of Nova Poshta.
We can affirm that the truck isn't registered in Ukraine. First, it doesn't have a Ukrainian flag (note that even though the video is of bad quality, still, if there was a Ukrainian flag, the yellow color wouldn't blend with blue; here's the example of a Ukrainian license plate.)
The regional code also isn't Ukrainian: the vehicle has a CIN code. That means this is a truck that's registered in the Inowrocław County of Kuyavian-Pomeranian Voivodeship in Poland.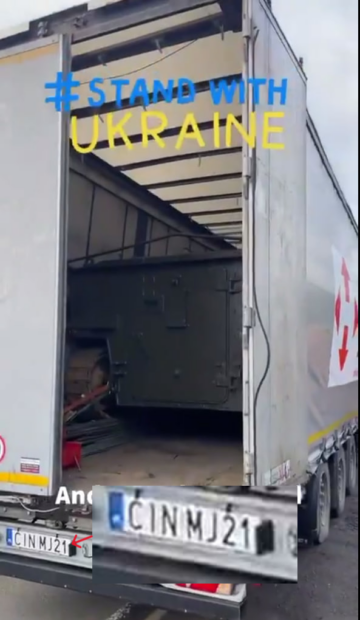 The truck's trailer belongs to a Poland company, Wielton.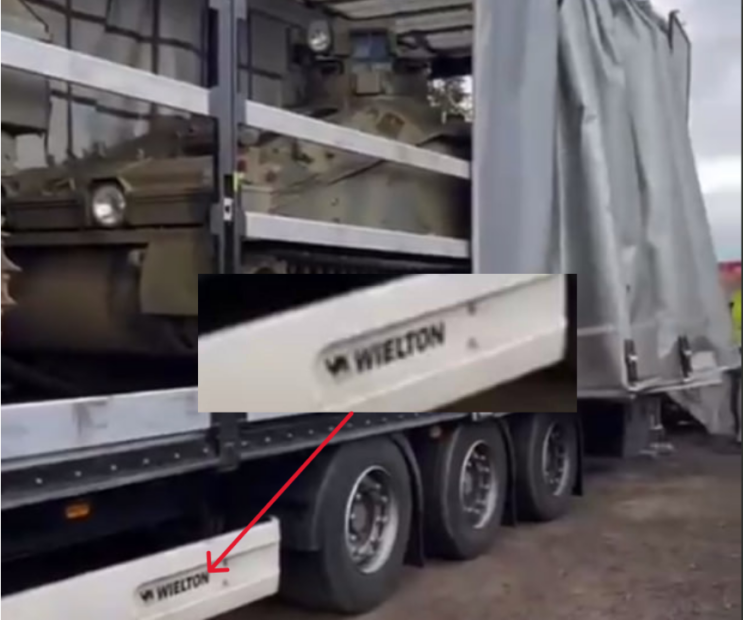 We've found a similar trailer on their website.
Nova Poshta logo
Zooming in, we can see that the logo isn't symmetrical. Some of its pixels are crossing over the borders of a white square.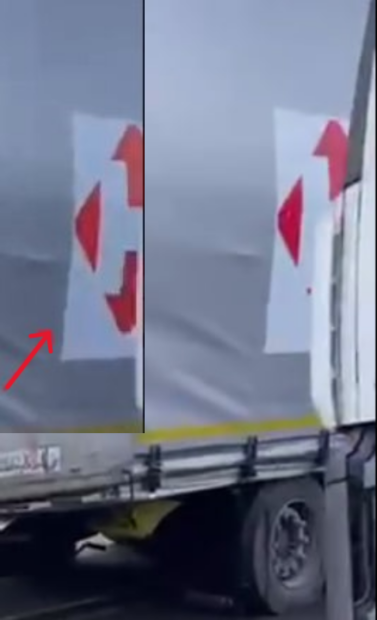 Moreover, when the angle of the video changes, we see another flaw: a logo seems to have a torn edge, although, by logic, it must narrow into perspective.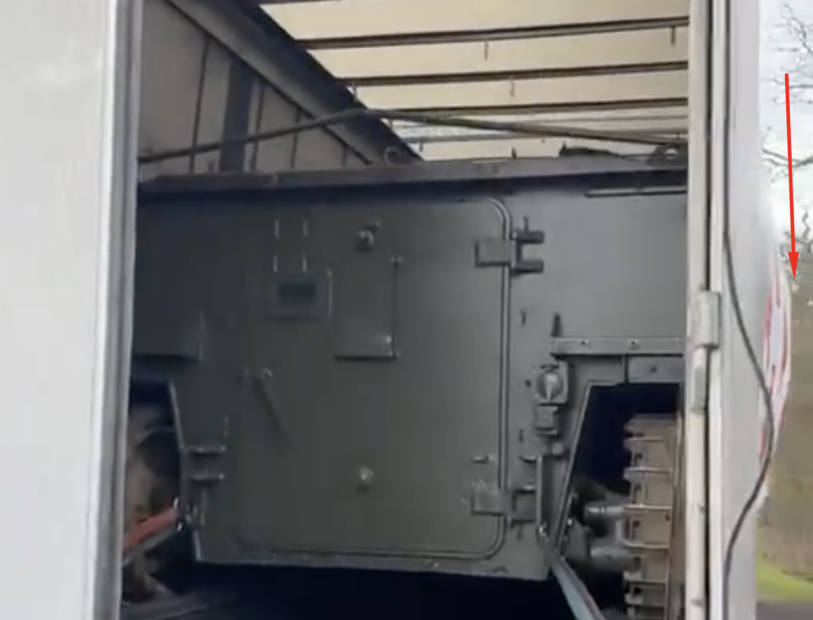 We assume that the Nova Poshta logo on the truck is artificially added to the video.
Nova Poshta's response
We asked Nova Poshta press office the following questions.
Does Nova Poshta rent vehicles with Polish license plates? If so, do these vehicles have special markings?
N.P.: We don't rent vehicles at all. We have our own fleet of vehicles from Ukrainian carriers and use them for making deliveries in Ukraine. Our fleet has 3, 10, and 20-ton trucks with a Nova Poshta sign. Apart from that, we never use tented semi-trucks.
We [also] don't have vehicles with a Rhombus Nova Poshta logo.
Do you use Poland trailers from Welton?
[No.] We're the only Ukrainian company that uses special BDF containers that can carry up to 10 tons. Our vehicles can carry one or two containers. They look bright, — and Ukrainians recognize them on the streets.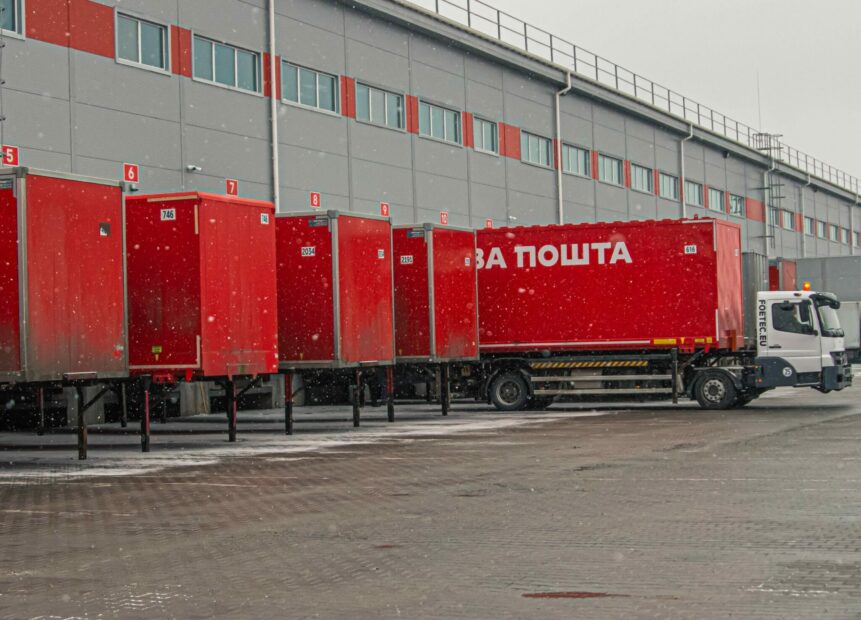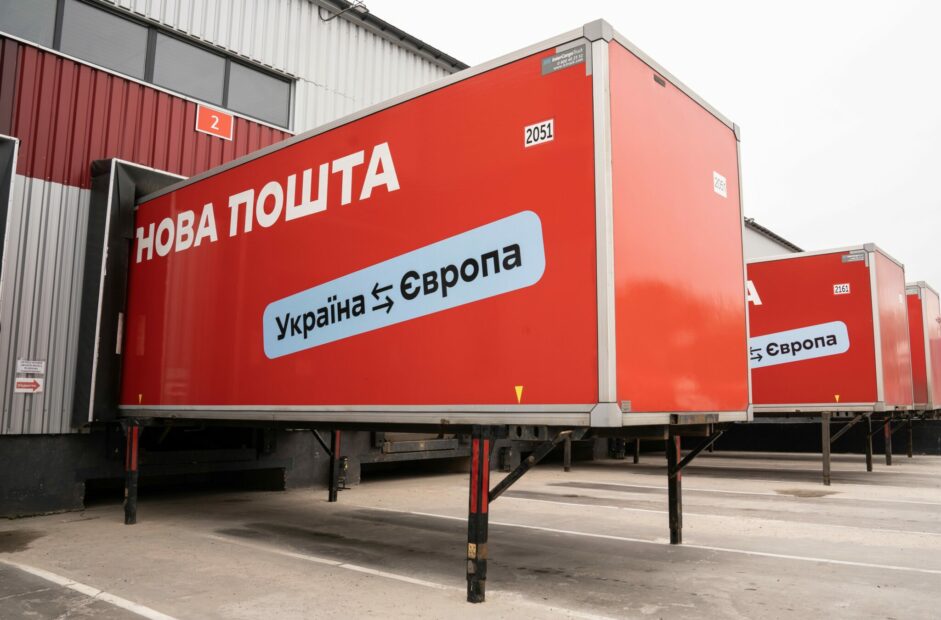 All these BDF containers have metal or plastic carcasses. They are painted in corporate red and have a white Nova Poshta sign. You can see them destroyed on photos of the terminal Russia attacked in Korotych, Kharkiv.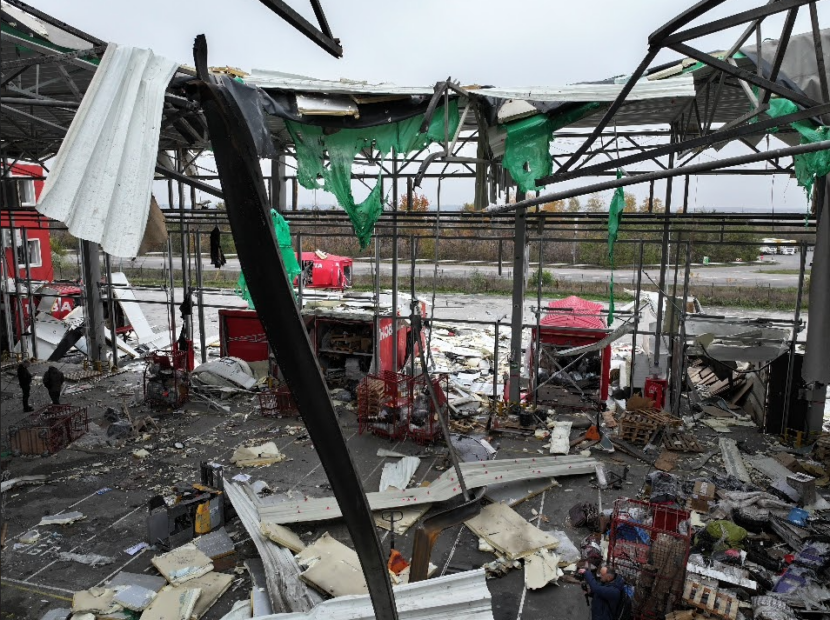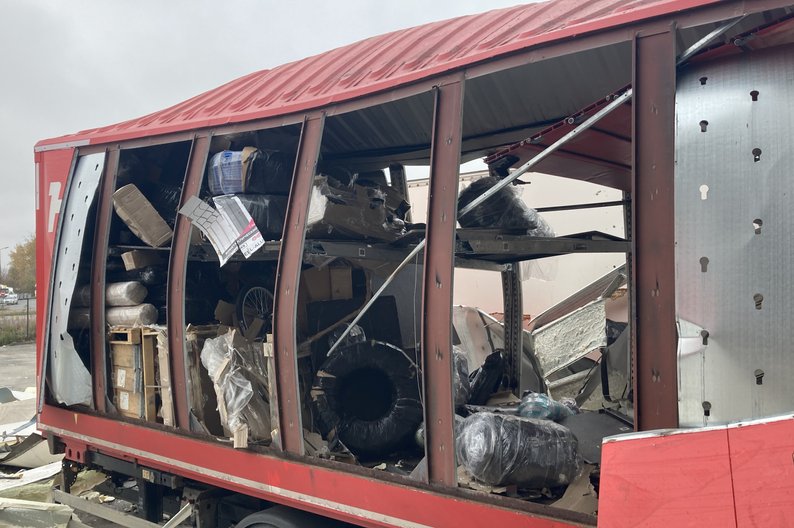 Also, Nova Poshta's press office noted that the video is fake.
"The sticker on the video can be printed anywhere. We don't use stickers. Logos on our vehicles are painted," noted Nova Poshta representative Olena Plahova.
Apart from that, they said:
"We've been transporting the deliveries and packages for Ukrainians for the last 22 years. We [help them transport] everything that connects people to a peaceful life, care of friends and family, [in other words], vital things. For instance, clothes, shoes, products, medicine, bicycles, appliances, tires, art pieces, etc. We're transporting all of those throughout the entire country, including de-occupied and territories close to the frontline.

We help many volunteer organizations and charities with deliveries, they are sending humanitarian aid throughout the country, including [humanitarian aid] to our soldiers. We became an integral part of every Ukrainian's life. But we have never transported weapons. Russian Federation tries to excuse its war crime against civilians and important social infrastructure — again."
Also, Nova Poshta's press office provided us with photos from the aftermath of the missile strike. In these photos, you can see what was in the trucks located in the Korotych postal terminal (or what was left of the trucks' contents.)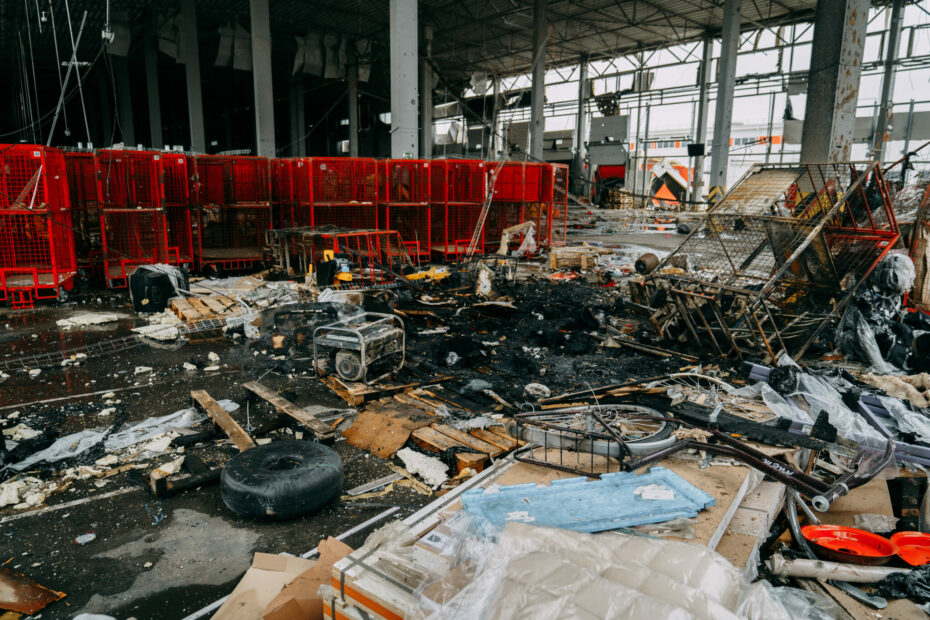 Russian Propaganda and Nova Poshta
This is not the first time Russian propaganda has defamed Nova Poshta.
We found the video that was shared after the missile strike on Korotych on one of the propagandists' websites. Its publication date is February 26, 2023.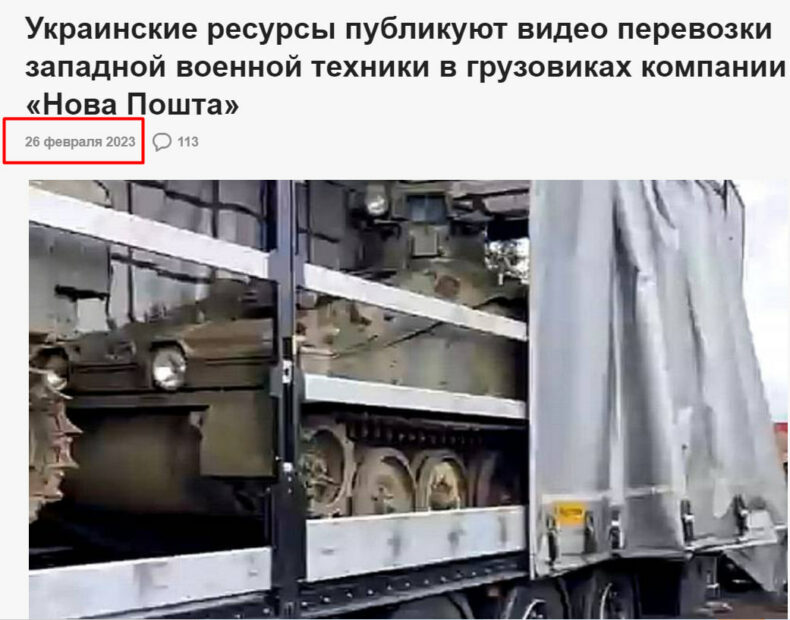 We've already debunked Nova Poshta-related fake in August of this year. Back then, propagandists claimed Nova Poshta employees were handling records of ammunition and military equipment transfers as a part of their job responsibilities.
Military equipment on the video
We assume that the video shows the FV103 Spartan, a British armored personnel carrier.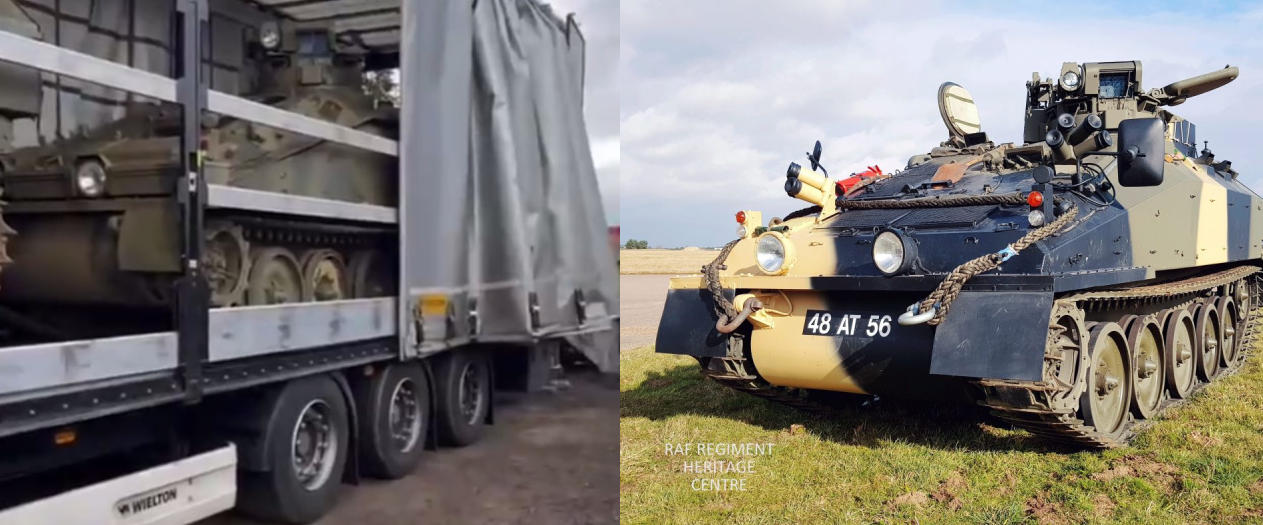 We've noted that the Serhii Prytula Charity Foundation purchased them this spring:
"First delivery — 24 vehicles — is already in Ukraine. Armored vehicles have passed all checkups in the U.K.; they are prepared for the installation of communication and weapons. We transfer all APCs to Ukrainian Ground Forces for future distribution [among the Forces, — ed.] The delivery has 101 military equipment units, including eight models: FV103 Spartan, Samaritan, Sultan, Stormer, Shielder, FV432, FV434, and Samson," Charity Foundation informs on Facebook.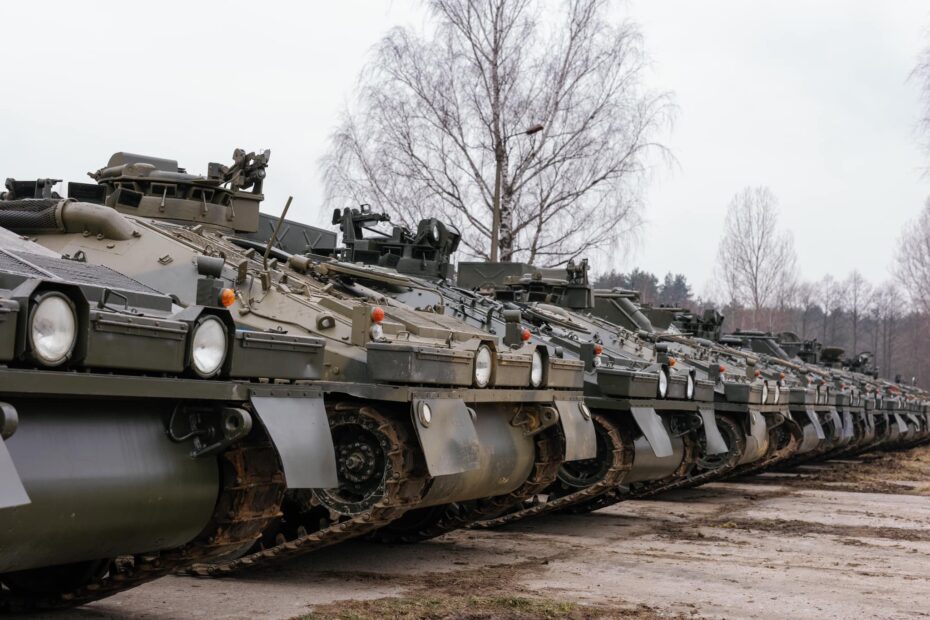 On March 4, 2023, Serhiy Prytula published a post in which he showed the offloading of two armored personnel carriers. There are no markings or stickers on these trucks.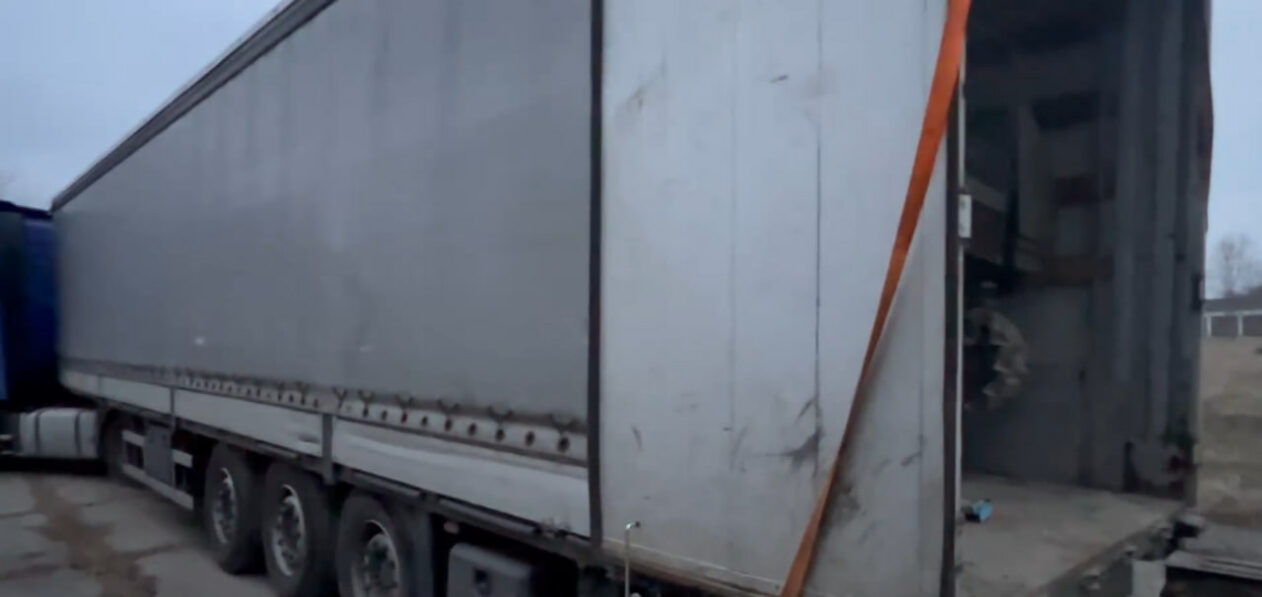 (Note, though, that the video with a supposedly military delivery handled by Nova Poshta appeared on propagandists' channels at the end of February.)
Still, it's pretty clear that Nova Poshta has nothing to do with APC transportation, and this is the case of Russia defaming the company to excuse their war crimes in Ukraine.
Conclusion: Fake
Authors: Nazar Hlamazda, Yuliana Topolnik
Read more
Gwara Media has a fact-checking department and fact-checking bot, Perevirka, which people use to send us news/posts for verification. We debunk fakes and manipulations spread by Russian propaganda — and expose how it's constructed and distributed. Buy us a coffee to support and cheer up our fact-checkers.
If you have found an error, highlight the necessary fragment and press Shift + Enter.