Prototype device designed to defuse PFM-1 anti-personnel mines.
Balakliia local specialists have developed an experimental device for checking the territory for explosive devices. It is designed to work in urban environments where specialized mechanized sapper equipment can't operate. Today, the first demining was done in the city using the device.
Source: Balakliia city military administration
"This is still a trial version, today we had the first deployment of the machine. It checked the area around the house for mines. We saw how everything works, what needs to be added and changed. Then we will deal with permits and other documents," Oleh Bludov, Head of the Civil Protection Department of Balakliia City Council, commented to Gwara Media.
Features of the device
The experimental device of the Balakliia utility company is a forklift with a roller section attached to it, which is designed to search for and defuse mines. The device is technically similar to a mine trawl, which sappers actively used to clear territories, but smaller.
The military administration stressed that the experimental machine has a pressurized principle of operation and is capable of defusing only small explosive devices, such as PFM-1 "Petal" anti-personnel mines, of which there is a large number left in the Balakliia community after the occupation.
According to the Kharkiv Prosecutor's Office, as of March 2023, 1818 people, including 74 children, were killed by mine explosions. 2751 people were injured, including 216 children.
Kharkiv Oblast is one of the most contaminated with explosive devices, with Kupiansk, Vovchansk, and Izium forestries being the most affected.
PFM-1 anti-personnel mine
PFM-1 is one of the most widespread anti-personnel mines that Russians leave in the occupied territories in forests, around roads, trails, parks, and even in the yards of private houses.
This land mine is a high-explosive anti-personnel landmine produced by the Soviet Union and Russia. It has several names, including the Green Parrot and the Butterfly Mine. These mines can be scattered from helicopters, combat aircrafts, and mortars. They glide to the ground without detonating and only explode upon contact at a later time.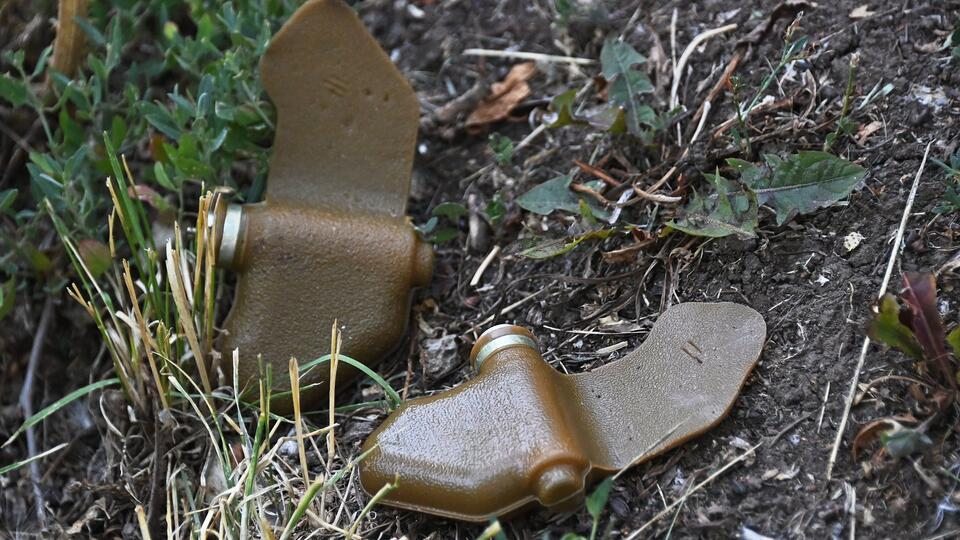 According to the International Committee of the Red Cross (ICRC), the international community adopted the 1997 Anti-Personnel Mine Ban Convention prohibiting the use, production, stockpiling and transferring these weapons and requiring action to prevent and address their long-lasting effects.
See also
Car exploded on an unidentified mine in Kharkiv Oblast: one dead. 37-year-old woman died on the spot. Two girls aged 12 and 15 and a 12-year-old boy were seriously injured. All the victims were hospitalized, and doctors were fighting for their lives.
Man hits mine while mowing grass at Nova Husarivka in Kharkiv Oblast. He was mowing the grass near his garden and accidentally tripped on an explosive device. Law enforcement is currently establishing the circumstances of the incident.
If you have found an error, highlight the necessary fragment and press Shift + Enter.