10,000 km of Power Lines in Kharkiv Oblast Remain Mined
26.05.2023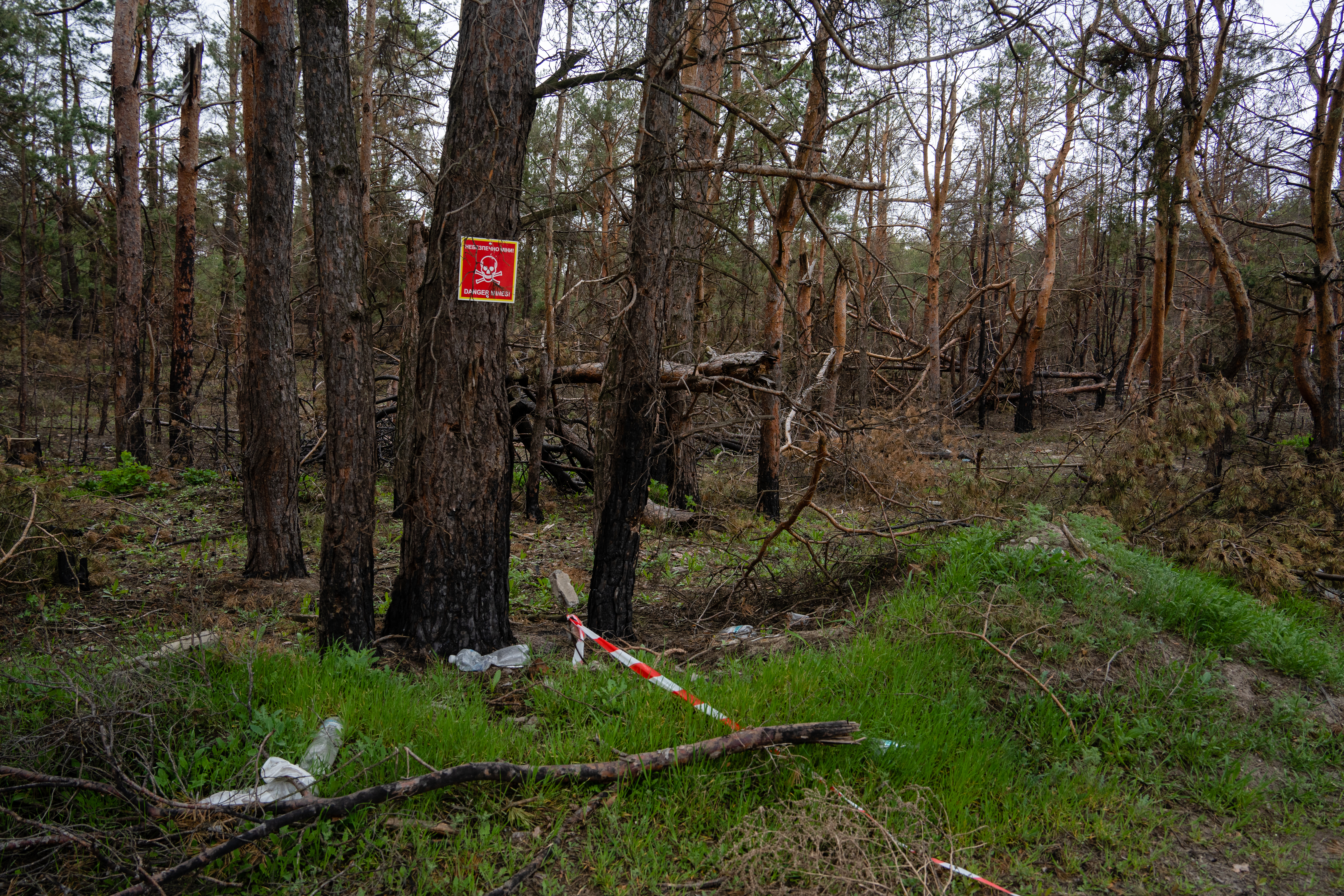 The sign "Dangerous! Mines!" on a tree in Kharkiv Oblast/ Photo: Oleksii Yeroshenko, Gwara Media
According to Ivan Sokol, director of the Regional Military Administration (RMA) Civil Protection Department, the situation with the mined territories in Kharkiv Oblast remains challenging, especially in the northern part of the region, Kupiansk, and Izium areas.
"Since the beginning of oblast liberation, 181 people have already been injured. Unfortunately, 32 of them died. Moreover, 14 children were injured by mines, and one child died. In the region, a demining order plan has been drawn up, and in each territorial community, responsible persons who must accept applications for demining were appointed," said Sokol.
From May 18 to 24, 2023, sappers demined more than 208 hectares of Kharkiv Oblast territory and neutralized 1,319 explosive objects. It includes 16,8 hectares of agricultural land, 20 km of roads, 1,3 km of gas pipelines, 900 m of water pipelines, 3,8 km of railway tracks, and 60 objects.
During the week, sappers also examined 87,8 km of power lines. The power supply was restored for 922 consumers.
"Only on May 24, the specialists demined 37,6 hectares of territory, 1,1 hectares of agricultural land, 3,4 km of highways, and 420 m of railway tracks in Kharkiv Oblast. They also inspected 12,4 km of power lines, 120 m of gas, and 600 m of water pipelines. Five facilities were inspected, and 182 explosive items were destroyed," Kharkiv RMA reported.
How the sappers work
Demining of contaminated territories in Kharkiv Oblast continues. First of all, sappers examine power lines and critical infrastructure objects.
Since the beginning of the liberation of Kharkiv Oblast communities, 17% of 12,000 km of mined power lines have been examined by sappers.
The power lines demining is required for electricity supply restoration. Next, the specialists work on demining water, gas supply lines, and other critical infrastructure objects.
Earlier Kharkiv Oblast Under Attack: Russian Army Attacked Merefa and Izium with Shahed Drones
We stay in Kharkiv to deliver you on-the-ground reports. Please, support our work and help us remain independent.
Follow us on Twitter, Instagram and LinkedIn for more news, stories, and field reports by Kharkiv journalists.