Why foreigners should (not) go to study in Ukraine. The story of Joseph from Nigeria
Reality
Kharkiv is a student metropolis, which is proud of this status. «Why exactly Ukraine?» –you think when you see foreigners near the university. It's the evident fact that we have cheaper education than in the West. Is it the one advantage, or do we have anything else?

How many international students there are in Ukraine, and what is the quality of education
Let's start with numbers. In 2010 The Ministry of Education and Science of Ukraine issued a decree allowing Ukrainian higher institutions to offer international students any courses or educational programs in English.
The goal was to increase the appeal of Ukrainian higher institutions and make it into the top twenty countries of the world in international education. And indeed, since 2011, the number of international students, who came to Ukrainian educational institutions for studying, began to increase dramatically.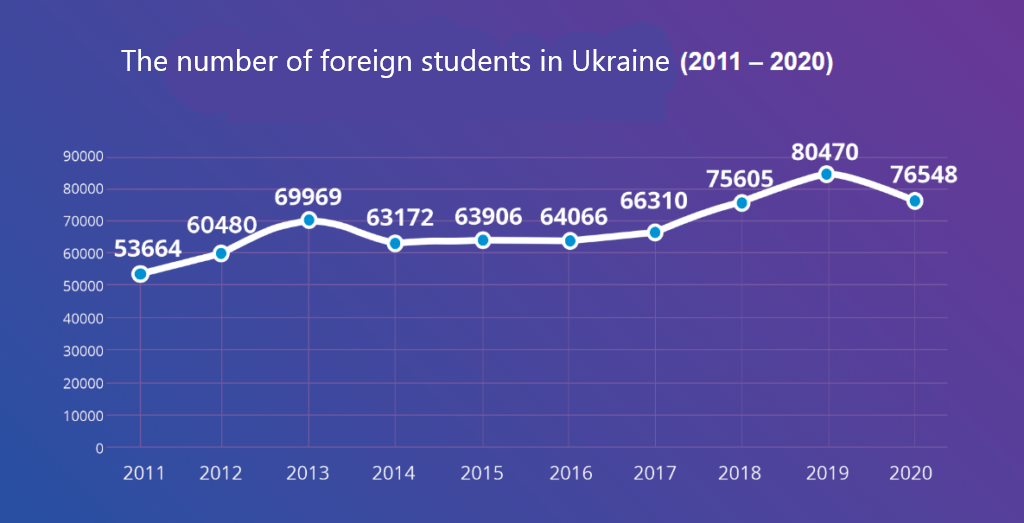 In 2020 76 thousand students from 155 countries came to study in Ukraine; almost half are medical students. Over many years  V. N. Karazin Kharkiv National University and Kharkiv National Medical University remain the two most popular universities among foreigners. In general, last year almost 8,5 thousand international students studied there.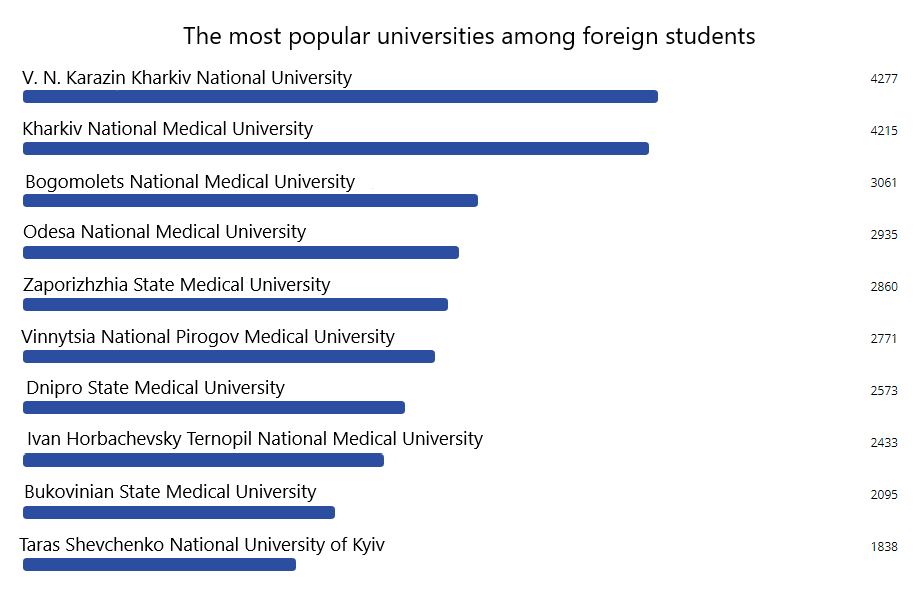 Foreigners studying in Ukrainian universities are almost half a billion dollars into the national budget every year, in addition to that – the country's image and development of international relations. Along with the number of students, there is an increasing amount of materials on the Internet about making money at them and detecting corrupt practices at universities.
Prime examples of that are incidents in Kharkiv and Kropyvnytskyi. The tendency of higher education institutions and intermediary bodies to use student exchange for their enrichment has led to the fact that quite a few countries have totally or partially stopped acknowledging Ukrainian diplomas due to the «massive problems in the quality of educational services(especially medical specialties)», which threatens the country's image (more details – in the annual report of National Agency for Higher Education Quality Assurance).
Committee on Education and Science of the Verkhovna Rada, in turn, states a bunch of other problems in this field:
international institutions (

ENQA, EQAR

) haven't accredited the quality of education in Ukraine;

the national system of higher education isn't transparent;

Ukraine isn't represented in the global market of educational services;

lack of coordinated consulting, informational, organizational, and logistic backup of international students.
So, apart from being representatives of national minorities, which can lead to higher risks of social alienation and discrimination, international students have to deal with the Ukrainian higher education system, which is worked out to make them face many other problems, which makes them more vulnerable. That's why international students need support from both society and the state.
To understand those who move to our country for studying we've talked with Joseph – the guy from Nigeria wh0 graduated from Kharkiv National Medical University 3 years ago. He is one of those who has decided to stay in Kharkiv after studying and continue on his journey here. 
During the interview with him, we understood that the situation of international students in Ukraine isn't only the issue of vulnerability of minorities, but the vulnerability of whole countries and nations, from which these students go in pursuit of opportunities. But doesn't this country come to strengthen the vulnerability? Is the Ukrainian system of higher education for foreigners the way it is portrayed to applicants? Why do they mostly choose medicine? And finally, how can media and globalization change the game?
WHY UKRAINE
Joseph's story is very remarkable. It doesn't resemble the stories of other people who come to study in Ukraine. He came from a country where people are in a desperate situation. The main hero of Joseph's life is his father, who was left alone without parents, lived and worked on a farm of his friend's family, and didn't have clothes and shoes to go to school. Despite this, he survived and became an example for his son. Because of these living conditions, Joseph's main thing that inspired him to move forward was his desire to show people from his country that success is possible.
View this post on Instagram
According to Joseph, the wealthiest people of Africa are politicians and pastors. Africa is a complicated region, and to understand why there is such a situation in many African countries, we need to consider different historical and political factors. At first glimpse, African youth, which strives for success, has two options: to start one's own church or become a politician.
Actually, there is also a third way – to become a doctor or a lawyer. «African society has this vision that if you aren't a doctor, lawyer, or engineer, you won't be successful. So kids grow up with a desire to become doctors. If you say that you want to become a fashion designer, for example, people will think that you're insane», – says Joseph. In Ukraine, it's much cheaper to get medical education than it is in America or Britain, for example; it's seven thousand against forty thousand dollars a year.
Social networks and media could change beliefs about successful professions, but until recently, the Internet was super expensive in Africa; accordingly, the information was almost inaccessible.
«COME TO UKRAINE – STUDY IN UKRAINE»
The other reason international students choose Ukraine for studying is well-advertised in countries of the Third World, where marketers of these very countries actively promote the idea that studying in Ukraine is a good variant. So, a lot of people wish to get a visa.
«No one can go to study in Ukraine on their own: everybody comes with the help of agencies or have somebody here who can help them come.  Many people in my country say:" Oh, if you want to study abroad, you should go because you can have scholarships there." This is the central part of the lie they spread; in addition to that, they present themselves as official partners of Ukrainian universities. Ukrainian universities never help in such situations, though almost eighty percent of their funding is because of international students. They need us, so they support all of this. If universities wanted to help us, they would publish their official partners on official websites. When I open the website and see that nobody from the university can help me officially, I'm unlikely to go. Universities should play a key role in resolving this situation, but they don't do this because they can lose a lot. This is all about money», – says Joseph.
Due to the lack of choice and desire to find a place to study medicine, future students do not always care about searching the reliable information about life in Ukraine and get into unpredictable situations as intermediary agencies want to make money on them. Joseph is convinced: "  They lie to students. A lot. Agencies say: " Don't worry, calm down, we will find you a job, we will do everything to help you, and you will be able to pay for tuition yourself.»
Before entering Kharkiv Medical University, Joseph had tried to study in Ukraine but was misled by an intermediary agent in Nigeria. There are many instances where students pay money, then come to Ukraine, and in five months have to go back and start everything from scratch.
"Corruption starts with my country. During the move, I had to book my visit to the consul to get a visa. I had to choose the day and time, but they do it so that it can't be done: there are always no free time windows on the website. That's why you have to constantly keep an eye on those time windows to get an appointment booked. When I entered university, people had to give a bribe of three thousand dollars to get a visa for sure. That was a lot of money for my family. Once I saw a man from the Ukrainian consulate collecting money from students from Nigeria to get a visa. My family spent about ten thousand dollars during the first year just to come to Ukraine. During my studies, I realized that the primary goal of universities is to make money, and we support it to have something. "
According to Joseph, universities should make the admission process more accessible, promote official sites more because they do not always get into the top three results for a request on the Internet.
ON A LANGUAGE
Another problem is English in Ukraine. Most Ukrainians do not speak English, and in administrative institutions, there is no information in English or at least an interpreter. Joseph says that his knowledge of Russian in Kharkiv helped him immensely. When he was finishing his university studies, there was a crisis in his country. Because of this, his father needed two or three months to collect the necessary money and send it to the university.
« I was told that I would be blocked, that I should stop attending classes, even though I was the best student in the group. As I could speak Russian, I went to the vice-rector, explained the situation and he understood me. But how many students can do this? I was the only student in my group who spoke Russian, so I was helping others to deal with any issues. So, to ask for help, one should speak Russian or know the right people».
ON SAFETY
«I came to Ukraine with some naivety that everything is fine here, and was "attacked "by people who took advantage of my naivety. Then, something inside of me said, "Be careful," but I told myself, "No, Ukrainians are good people." I think the Ukrainians felt my trust in them. One day I was walking down Kharkiv, and a man walking behind me with a bottle of beer stopped me, hit me, and I fell to the ground. In fact, at that time, I was close to death. It was 2016, two years since I came here. After that accident, I no longer trust people, especially at night. I have flashbacks, and if somebody drinks beer around me in the evening or at night, I just go away because I have a phobia after what happened to me before. Every time I remind myself that I'm not Ukrainian and this is not my country and that the citizens of this country have an advantage even when they are wrong. I believe that there are many nice people in Ukraine, but as anywhere in the world, there are others».
When we asked Joseph if he had any information about his rights and responsibilities as a student and a person who resides in Ukraine, he answered that he is in a foreign country, so it's not a matter of fighting for his rights.
ON OPPORTUNITIES
«When I came here, I saw that there is electricity all day long, that there is Wi-Fi everywhere, and you can do whatever you want indefinitely. There is no electricity in my country for a few days, and when it appears, people cry for joy in the street. So when Ukrainian say they do not have opportunities and want to go abroad, it's something strange to me».
Now all of Joseph's classmates work as doctors in America and Britain. While studying at the university, Joseph organized a talent show for international students at the university, then began to engage himself in charity: at first, he organized a fundraising campaign to help a sick girl from Nigeria, then arranged private meetings-interviews with interesting people in Kharkiv. Money from ticket sales for these events was also invested in charity projects. This way, he managed to interview the founder of the fast-food chain Freshline and then organize Free Shop – a place where people who needed clothes or food could come during the day, and get everything they need absolutely for free. Due to the pandemic, these events had to come to a halt. So the idea of creating a YouTube channel was born, the main purpose of which is to build ties with the Ukrainian community, search for like-minded people and partners to implement more complex ideas. 
«Ukraine is about desire. If you want something, you can make the most out of the opportunities you have. You can study at the best university in America. Still, if you don't desire to study, any other person from another country who has the desire but doesn't have too many opportunities will be better than you. It does not depend on the university, but first of all on the person. By my example, I wanted to show that you don't have to be an oligarch or a politician to do something in Ukraine. You just have to follow your dream».
You can also watch other videos about life in Ukraine and helping people on Joseph's YouTube channel.
Translated by Tania Kakapych in the scope of Gwara Media's volunteer program