Russians Launched Massive Missile Attack on Ukraine
10.10.2022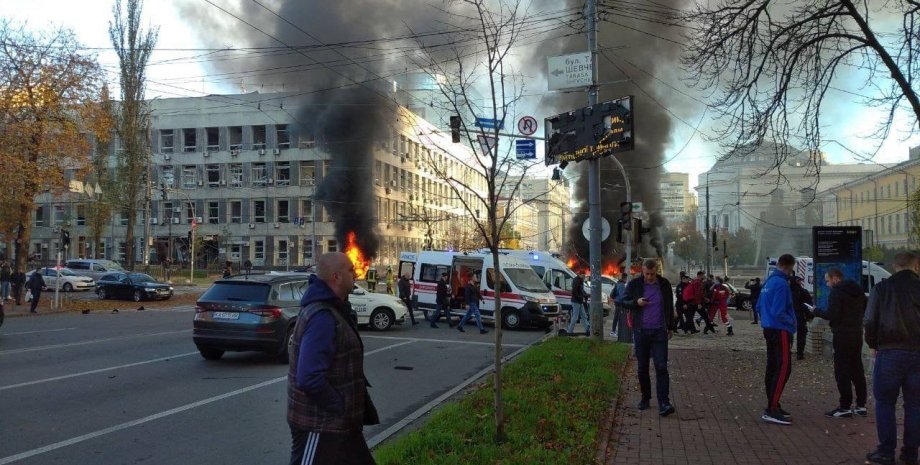 The consequences of the missile attacks on Kyiv
On Oct. 10, Russia fired more than 80 missiles over Ukrainian cities and regions as far west as Lviv.
"Russian missiles and kamikaze drones struck central Kyiv and other major cities in Ukraine in the largest-scale coordinated missile attack against Ukraine since the full-scale invasion began on Feb. 24. Dozens of other explosions were reported across Ukraine, including in Kharkiv, Kryvyi Rih, Lviv, Dnipro, Ternopil, Kremenchuk, Khmelnytskyi, and Zhytomyr," wrote The Kyiv Independent.
Air defence forces had shot down about 45 of the rockets, reported the Air Force of the Armed Forces of Ukraine.
According to the National Police of Ukraine, 11 people were killed, and 87 injured.
"They (Russians) have two targets. Energy facilities that are located all over the country. Kyiv and Khmelnytskyi Oblast, Lviv and Dnipro, Vinnytsia, Ivano-Frankivsk Oblast, Zaporizhzhia, Sumy Oblast, Kharkiv Oblast, Zhytomyr Oblast, Kirovohrad Oblast, the south of the country. They want to cause panic and chaos, they want to destroy our energy system. The second target is people. The time and the targets were chosen to cause as much damage as possible," wrote President Volodymyr Zelenskyy on his official Telegram.
According to the State Emergency Service of Ukraine, the critical infrastructure objects, mainly the energy supply facilities, were damaged in eight regions of Ukraine and the city of Kyiv. Four regions are currently cut off from electricity. In the rest of Ukraine, the electricity supply was partially disrupted.
According to Defence Intelligence of the Ministry of Defence of Ukraine, Missile attacks on the Ukrainian capital and infrastructure were planned by the Russians since the beginning of October.
"The Russian occupying forces received instructions from the Kremlin to prepare massive missile strikes on the civilian infrastructure of Ukraine on Oct. 2 and 3."
As a result of the morning attacks Kharkiv's critical infrastructure is damaged, and the emergency services are working to restore it as soon as possible.