Russian troops has been conducting localized offensives on the Kupyansk-Svatove-Kreminna frontline in recent days, according to the Institute for the Study of War (ISW).
In this direction Russians aimed to occupy the rest of Luhansk Oblast and advance into the eastern part of Kharkiv and northern Donetsk regions.
Ukraine's General Staff reported that Ukrainian troops repelled Russian attacks near Synkivka (9 km northeast of Kupyansk), Ivanivka (21 km southeast of Kupyansk), Berestove (20 km northwest of Svatove), Novoyehorivka (16 km southwest of Svatove), and in Serebryanske forestry (10 km south of Kreminna).
The institute cited a pro-Kremlin military blogger who said on November 7 that Russians were advancing west of Pershotravneve (20 km east of Kupyansk). However, US researchers found no visual evidence to support this claim. It was also claimed that the movement of Russian troops was strenuous due to dense minefields in the area.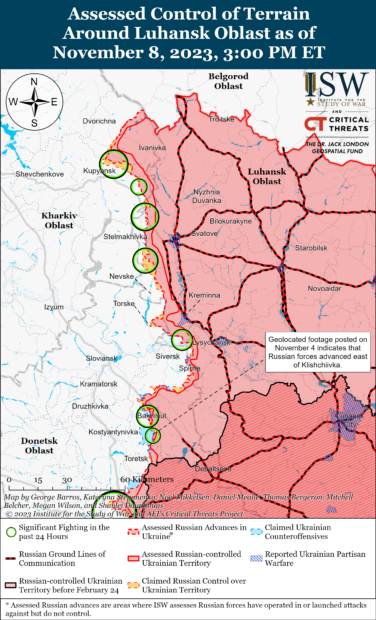 The spokesperson for the Land Forces Command of the Ukrainian Armed Forces, Lieutenant Colonel Volodymyr Fitio, said that Russian troops in the Kupyansk, Lyman and Bakhmut directions lost 1,826 personnel and 200 pieces of military equipment, including 22 tanks and 54 armored combat vehicles, from November 1 to 6.
ISW, citing the Russian Defense Ministry, notes that on November 8, units of the Western Group of Russian troops repelled two Ukrainian attacks southeast of Kupyansk near the village of Tymkivka (20 km southeast of Kupyansk).
More from Gwara
Constant missile attacks and empty streets: how Kupyansk lives on the front line. This city in Kharkiv Oblast is 10-15 km/ 6–9 miles from the front line and 40 km/ 25 miles from the border with Russia. The city was severely damaged at the beginning of the full-scale invasion and during the battle for its liberation in September 2022. Today, it is constantly under fire from Russian aviation, MLRS and S-300 systems.
Evacuation in Kharkiv Oblast: almost 3,000 residents left frontline Kupiansk District. 1,091 residents, including 226 children, were evacuated from Kupiansk district. 2,000 people also left on their own.
Kharkiv Oblast to prepare forced evacuation of families with children from 10 settlements — governor. The region's authorities are preparing a decision on the forced evacuation of frontline localities, the head of the regional military administration, Oleh Syniehubov, said on October 25.

If you have found an error, highlight the necessary fragment and press Shift + Enter.