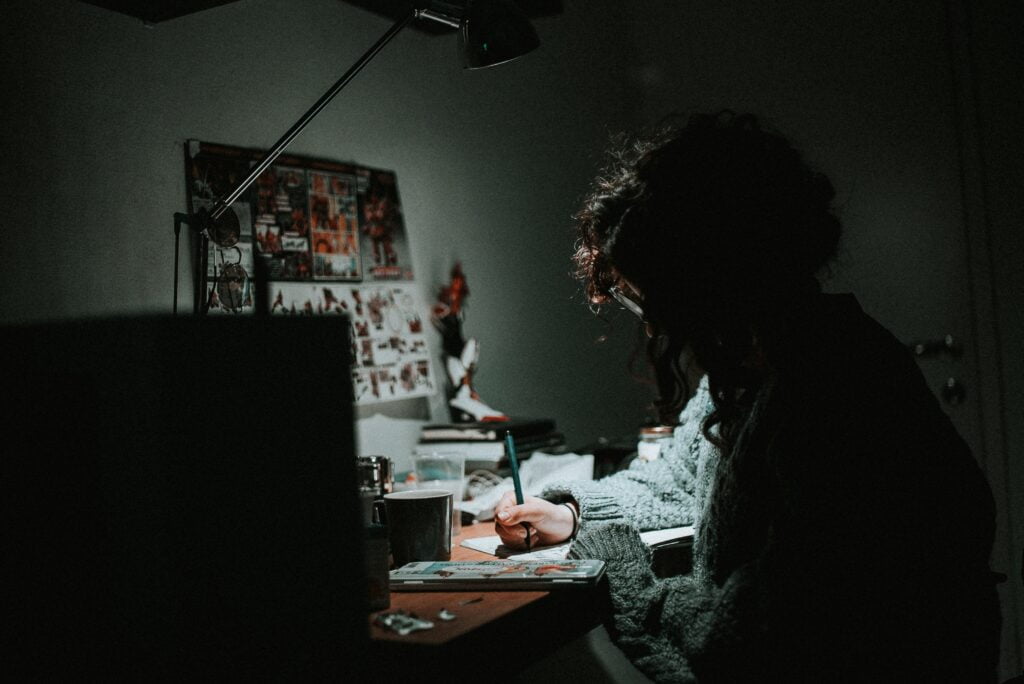 "Illustration is a forward-looking business in Ukraine nowadays" conversation with the illustrator Iryna Harkavets
Cultural Reality
How open is the world of art to children? How to deal with the fear of a new beginning and how to develop creativity? What are the chances for a young illustrator, especially in Ukraine? In this article you will read about the importance of a creative community, personal branding, art digitalization, overworking and the responsibility of forming people's taste, and a lot more.
Iryna Harkavets is a Kharkiv painter, who works with illustration and animation. She obtains a profession called "Multimedia design" at the Academy of Design and Fine Arts, where she also learns 3D, motion design, advertisement, VJ, AR, and VR. Iryna was a resident of the "Very Digital Residencies", took part in national Ukrainian projects: "art project Immunity" (Lutsk, "New borders" animation), "My Ukrainian Kharkiv" ("From 'recently' to 'long ago' " animation), "AR (Oleg's Tistol ART paintings), colored the piano for Music's day and many other.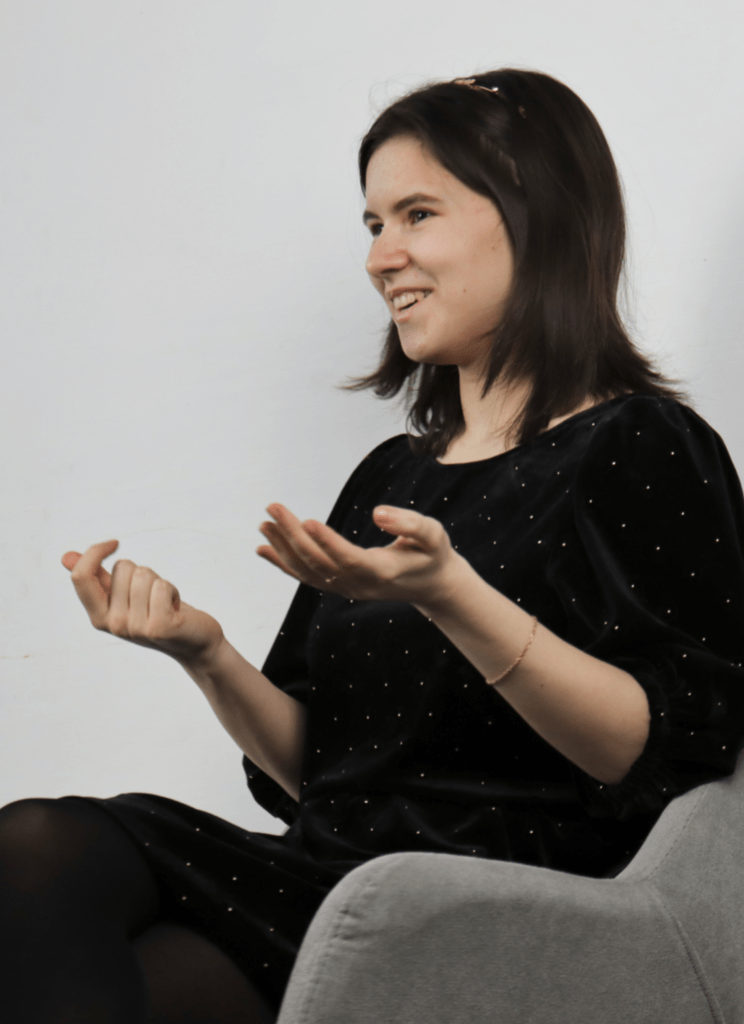 I draw since I can remember myself. I liked everything beautiful and wanted to put it in my album.
The first memory is when I saw a vase on the windowsill at my grandma's place, and it was gleaming with a diversity of colors. I tried to use all the pencils I had to reproduce those shades but it was in vain. Failed paintings I hid under the wardrobe. I had wonderfully illustrated books too, for example, Agnia Barto, which I tried to copy pictures from. Later I chose books without illustrations to create them myself. Now I can't even imagine my life without it.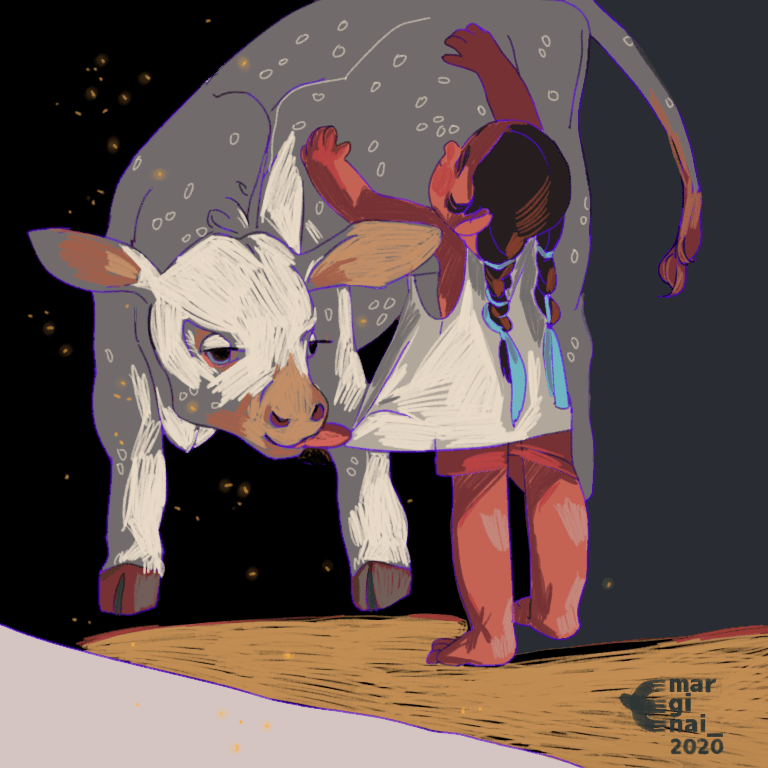 I suggest that teens and children don't have the access to this cultural and artistic world, city life, the connection between different groups of people, or the creation of any projects. So the place where parents take their kids for "painting" is elementally something old-fashioned and in lack of creativity. I would like to become a teacher myself to educate children as imaginative personalities. Because they really need this inspired community.
I discovered this art field after I enrolled in the Academy of design and Fine Arts. And I've been in love with this place and local people for three years now. We have gorgeous teachers who inspire us and by their lifestyle give us a great example to follow. We can cooperate and make projects together with students from other faculties, share our knowledge, and build something beyond college duties. Everyone works on his own project but we have representations so all of us are aware of what's going on. Without this part of my life, I'd probably be drawing a sun on the right corner of my sheet and would be freaking ordinary. Talking to all these people helped me to emerge my creativity.
I don't really think about the results of my work and where it will lead to. First of all I paint for my own satisfaction and enjoy the process. When I was 13 or 14, I followed a lot of online art blogs, where people showed their works and I wanted my sketches to be as beautiful and less time-consuming as. Fortunately, I achieved it and for the last two years I thought "well, maybe that's the endgame?"
My motivation is me in the past: memories and stories when I was spending time with my relatives. Finally, the picture appears in your mind but for me, it's something bigger than that, It's the way to unleash my emotions. I experience something, unleash my feelings and make my illustration out of it, furthermore people like it. Basically, the foundation for my works is my own life stories, memories, thoughts, and worries.
Sure thing I follow current Kharkiv painters, Ukrainian and international ones, but I am more into the usual people's emotions; the vibe they radiate while creating something. They don't give it another thought about what exactly they want to bring up. It is a real performance for me. I'd like to speak kind of from another perspective, like a random person with her own seeing of the world. Actually, I have such a plan in my mind. The idea is to tell the same story on behalf of two characters: we don't see them so we might even think it is two different stories. Consequently, everything depends on a person's view.
I can create my own world, with elves, or I can show a gray Sumska street. It's not literally "either…, or..", because I can mix those two worlds and receive my own perspective of reality- the way I see it. Here is where identity is born: my personal vision which is impossible to copy. Intimate style is like personality, if you have one, another is on the way. And basically, let's not forget about the practice.
When I get down to work I already have an idea or a plan. If not, it is probably better to run with smth else. If you're afraid to start, you may catch up with any interesting thought, express your opinion on smth, find enlightening facts about it or gaze at the good visuals. So Pinterest is kind of inevitable: you have to refine the good taste. They use cool techniques on their animations or illustrations, which you can borrow and therefore improve on your own.
For creativity development it's very important to do your routine automatically: if you stay aware, you notice the details which may inspire you, so that you can make a story out of this. For the last 4 months, I've been running out of motivation. In this case, I try to keep myself busy with something else. Now I do carpet embroidery. It's when you only have a big needle and a canvas but in the end, you see a beautiful carpet on your wall.
When I need to "reboot" drawing landscapes on the planners sort of keeps my mind off of digital illustration: reunification with nature is extremely inspiring. Digitalization of art is not explored enough: this sphere is too young and nobody knows how it will influence the artists and our future. Drawing on the tablet since childhood is not bad, because your skills grow, but it's necessary to feel the material, discover different shapes, textures and interact with it. That's where emotion and perception are born. Creating something tangible, applique for instance is a completely different experience. The result depends directly on this. And It'll turn out incredible. When you rub the chalk in the asphalt and it's suddenly coming to an end your finger is hurt. It hits different. 
I've already formed my self-awareness: living in the moment and always looking for something bigger in ordinary things. Abstract or just dive headlong into the context. When a person can adopt the usual things from everyday life, it begets unexpected decisions. And the way we find those things is fully about our unicity.
I remember one 3D animation. There were depicted prefabs in the midst of mountains. From first sight, it is the usual mountain landscape but in animation, they swam like sea waves, despite the fact that there still was the texture of snowy mountains. So that we can notice the author's train of thought: he found out the similarity between waves and ice peaks and combined them. In this way, you can catch up with different ideas and associations and make a story out of them. It's not always necessary to be a professional, use intricate techniques, tools or expensive programs – you just need to write down your ideas and experiment.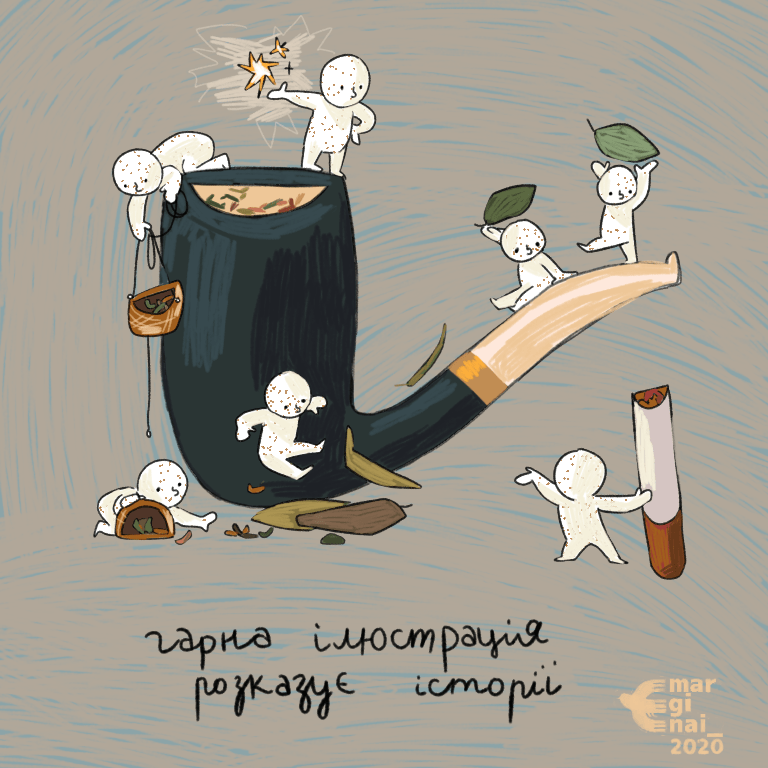 I would be glad to cooperate with other artists and to do different social projects. I suggest it is the essence of a modern creator. I really like young artists for their courage to stand against the system, academic standards or certain trends. They have their own views and it is off to a good start. 
Now I help my friends with  "giving birth" to the new center of drama experiments "Kurbalesia". There are very authoritative theatricals involved and I was invited to work on the art segment of the project. The essence of experiments lies in theatre and digital-industry combination. There will be sessions of theory and practice, ultimately groups will create performances themselves. I will teach them an augmented reality.
We researched western platforms and how Americans and Europeans use stage lighting in theatres. The action on the display during the performance reacts to the moves of an actor and interacts with him. We are taught it in the academy so I'm able to share my experience with the team and students. But anyway the easiest thing I can give them for two months of practice is the ability to cope with augmented reality. For example, using their phone cameras spectators can see interactive decorations in the augmented reality which aren't visible on the stage but are in your phone.
Also we're planning to make interactive billboards, it will allow you to see all information just pointing the camera at the black poster. I also want to push the idea of creating something like an interactive "desk of suggestions" which people could scan and leave their comments or paint smth in augmented reality. It reminds me of a project that happened in 2018 online: people were offered a big pixelated space where they could paint anything they wanted. It's fascinating because the space is not only yours, it belongs to everyone and so the pictures could overlap.
My pride and the favorite project is "Promise"- the first short animated film that I've made last year and it took me 2 weeks. It tells about the most emotional moments of my childhood when I've been waiting for my father to take me to an apple orchard on the outskirts of the city. I wanted to present it at the residence in Hungary. And when I eventually finished the movie, two hours before the deadline I noticed that I was supposed to write a long motivational letter in Hungarian… Then I registered my project on Filmfreeway and applied for 130 festivals at once. This movie was presented in many countries across the world, it took different awards: a few prize places went to the finals and semi-final. It is a bit weird how my own intimate project has become valuable for Koreans, let's say. I still can't fully understand why people like it.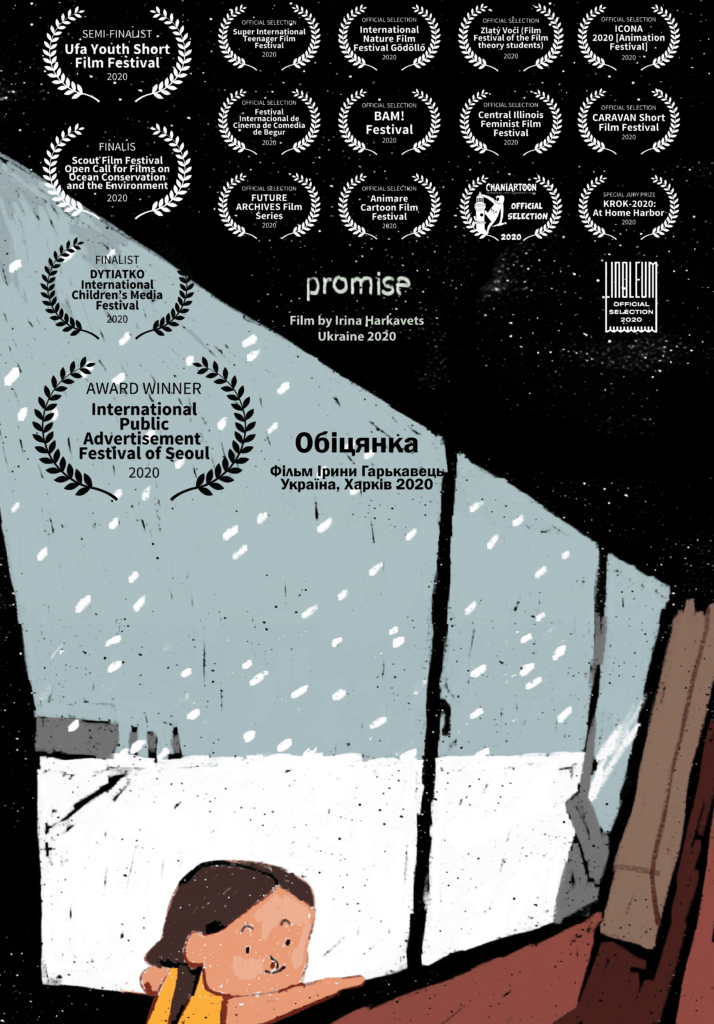 In general social media is extremely important for your art promotion. Now everyone can use this opportunity. Of course it will take time, but you should create a small personal brand and use it everywhere: design a logo, your own hashtag and apply it to all your works, so that people could find you on Google, Pinterest or Instagram etc. I got through it so I know what I'm talking about.Sometimes I look for clients myself, but on most occasions it is them who find me. Illustration, surprisingly, works well in Ukraine but we can work on the world's market too. It is necessary to think about the priorities which you choose when applying for the job or freelance. There is a lot of fun promoting or  looking for an order in the actual illustrators community. For example, in Lviv there are a great number of open-calls on social projects about outstanding people. Similar things exist in Kharkiv, Odessa and Kyiv. Overall illustration in Ukraine is quite a promising occupation now. A lot of new opportunities appear and the sphere swiftly upgrades.
Every city must have its own gallery or art platform: in Lviv, it is "Dzyga", in Kharkiv- "YermilovCentre". When you go there, you notice that there is always something happening, but what major are people who are visiting. As a rule, it is the most affected audience with which you can interact. Often it is painters who can ask you in their project, involve you somewhere and you are enabled to offer them your ideas. It is the opportunity to learn and discover new things.
Translated by Iryna Herasymchuk in the scope of Gwara Media's volunteer program