Fake: Ukraine Returns to Italy Defective Self-propelled Howitzers M109L
10.05.2023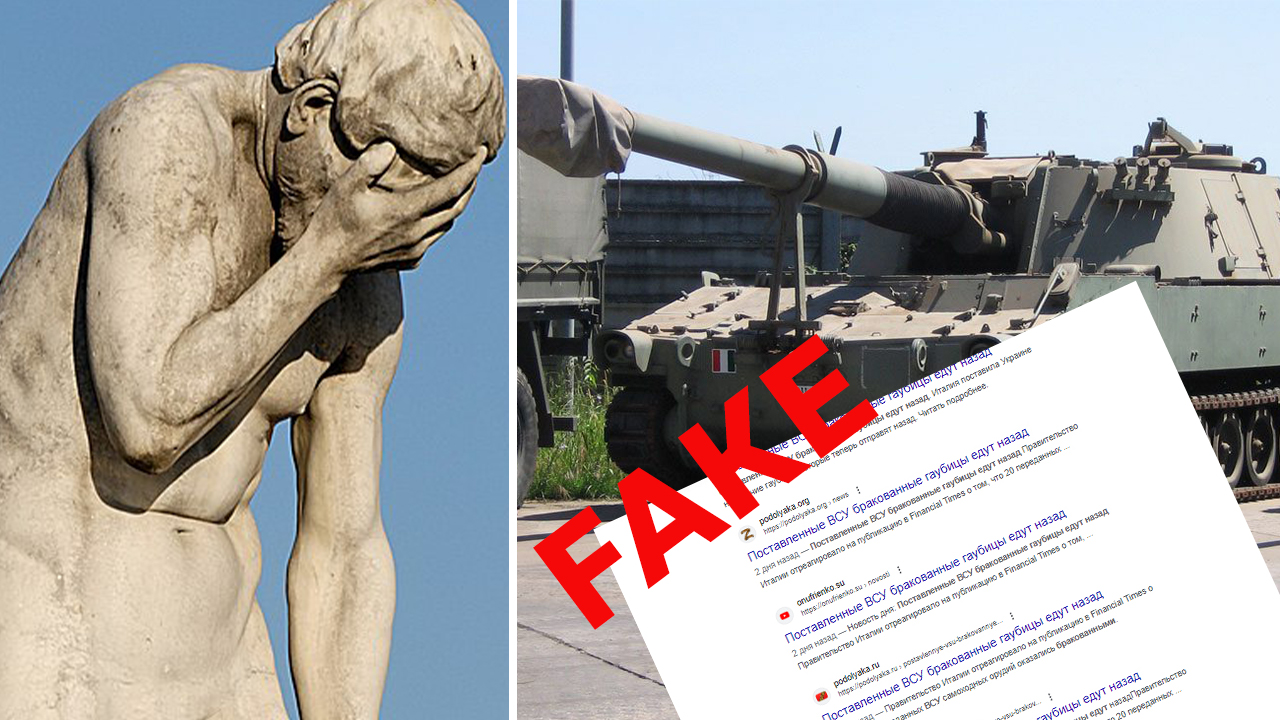 It is not the first time Russian propaganda used various news pieces to show that Western countries hardly help Ukraine. We came across information about supposed cardboard helmets, expired shells and weapons. This time, Ukraine is allegedly returning the howitzers it just received. Did this really happen? Read in our investigation.
What happened?
On the evening of May 3, we received requests to the PEREVIRKA bot to check whether the self-propelled artillery units that Italy handed over to the Ukrainian army were really defective, so Ukraine was forced to return them. The Ukrainian info space was silent about such "news," in contrast to numerous Russian mass media, Telegram channels, and the Italian publication Il Fatto Quotidiano to which the Russian newsmakers refer.
Russian publications claim that all received howitzers are going back. The Italian edition notes more discreetly,
"At least some [howitzers – ed.] will make the trip back to return to the workshop and complete the work in Italy or Belgium."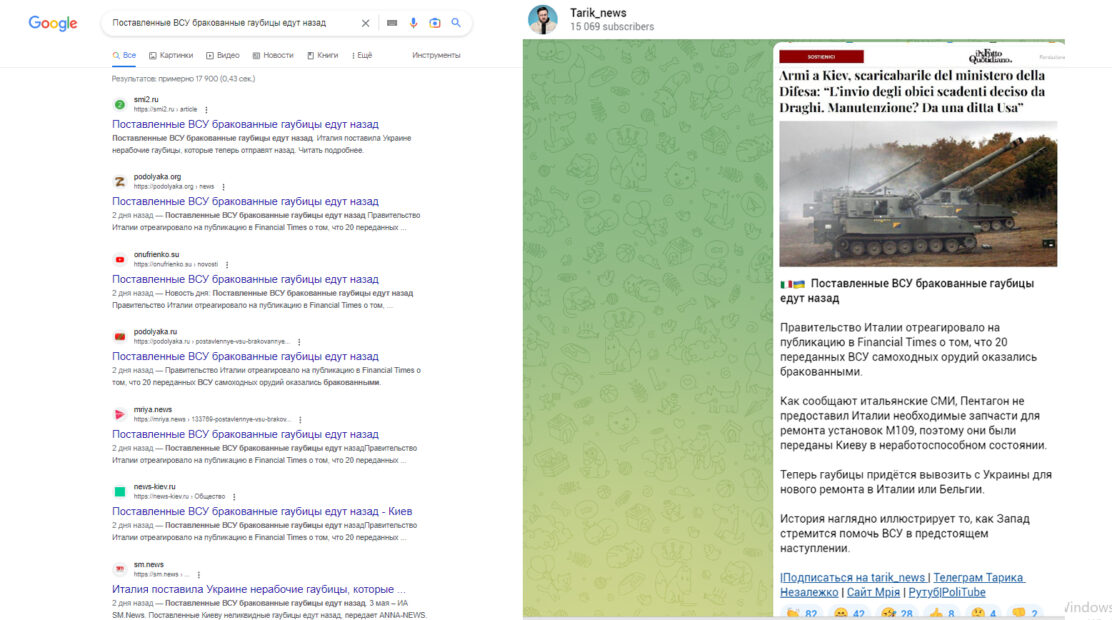 Notably, the Russians in their posts do not even hide the narrative for which they create and spread such "news," writing,
"This story clearly demonstrates how the West seeks to help the Armed Forces in the future counteroffensive."
We stay in Kharkiv to deliver you on-the-ground reports. Please, support our work and help us remain independent.
Analysis
Let's start the analysis by verifying that Ukraine received M109L self-propelled howitzers from Italy.
Information about the first M109L self-propelled artillery units transferred from Italy appeared at the end of October 2022. Shortly before that, on Oct. 18, the Minister of Defense of Ukraine, Oleksii Reznikov, announced that Italy had handed over the fifth defense aid package to Ukraine. It was not specified what exactly it included.
On March 10, 2023, photos of the Italian M109L self-propelled howitzers that arrived in Ukraine were published on social media.
On April 14, eyewitnesses noticed M109L self-propelled howitzers transported by rail at the Udine station in north-eastern Italy.
On April 15, 2023, the Minister of Parliamentary Relations, Luca Ciriani, reported to Rainews that M109 self-propelled artillery units at the Udine station were going to Ukraine. It is part of a military aid package "negotiated by the previous government."
On April 16, 2023, La Reppublica noted that Italy had transferred dozens of self-propelled artillery units to Ukraine.
"Dozens of M109 self-propelled guns have been repaired and delivered; some are already on the front line. Weapons donated by the Draghi government and overhauled with American funding."
On April 29, the international edition of the Financial Times published the article "Unknowns Shroud Ukraine's Counteroffensive," which, among other things, refers to self-propelled artillery units.


We have not been able to find any mention of similar statements from advisers of the Ministry of Defense of Ukraine in the mass media. However, we found an interview with the adviser to the head of the Office of the President, Mykhailo Podoliak, to the Italian publication Corriere della Sera on May 2, 2023, where he answered questions about the state of the Italian M109L self-propelled guns.
"Most importantly, we are grateful to the Italian government for the technical and military assistance provided to Ukraine.

Self-propelled guns have been lying in warehouses for a long time, and they clearly need operational modernization. It is standard practice to always discuss the logistics of the service with our partners. Given our desire to deliver weapons to the front shortly, one or another weapon is often being developed here in Ukraine. Of course, it would be ideal to receive weapons ready for use, but let's be realistic. We are always ready to repair and restore them."
That is, although the equipment will be repaired, there is obviously no question of returning the howitzers to Italy.
Conclusions
So, we once again encountered the implementation of the narrative "The West does not need Ukraine," but foreign partners prove the opposite, helping our country at an unprecedented level.
Read more: Fake. International Legion Recruitment for Ukraine Protection in New York Subway
It may be challenging to understand whether the information is trustworthy. That is why we created the Perevirka bot. Send any news in Ukrainian or English, and within 24 hours, you will find out whether you can trust the chosen publication.
by Yuliana Topolnik,
translated and edited by Tetiana Fram
We appreciate you being here. Thanks to you, we can focus on our work, continue in-field reporting and contribute to defending democracy in Ukraine. Please become our patron to develop Gwara Media together.
Follow us on Twitter, Instagram and LinkedIn for more news, stories, and field reports by Kharkiv journalists.