Fake: An Ad in Japan Urges People to "Stop Zelenskyy"
27.08.2023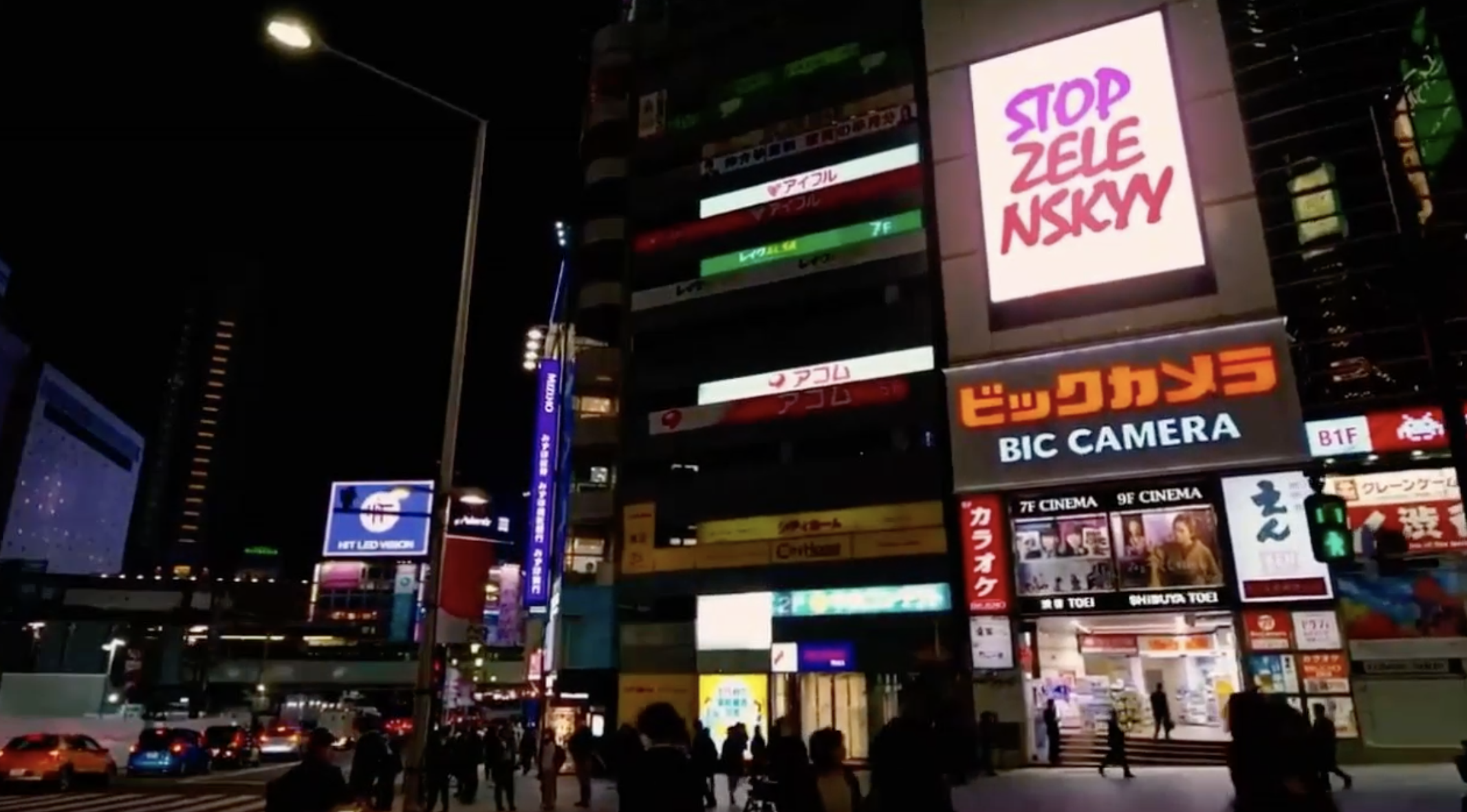 Screenshot from the fake video with a "Stop Zelenskyy" sign
The person Russian propaganda pays the most attention to is the President of Ukraine, Volodymyr Zelenskyy. In our latest report, Russian Propaganda Narratives of Winter-Spring 2023, dedicated to analyzing waves of disinformation and the main narratives Russia pushes into the online space, the messages aimed to discredit the President of Ukraine were among the most widespread.
Now, we have another expression of this narrative at our hands. Fake-makers report that there's an ad in Tokyo that urges people to "stop Zelenskyy." Let's figure out if there's any truth behind that.
What happened?
Users of the Perevirka bot sent us a post from a Telegram channel, Pervyi Kharkovskiy (First Kharkiv – t/n). There's a video of Tokyo streets attached to the post. In the video, an LED advertisement seems to display the slogan, "Stop war. Stop Zelenskyy."
"This is Japan," the authors of the channel write, "The street ad calls to stop the war, put Zelenskyy on "stop." No one in the world wants a big war, people started to slowly realize that the maniacs have seized power in the USA and Britain, and they are pushing the planet towards a catastrophe."
We'll note that the original post was published on this channel at 9:13 a.m. on July 31, 2023.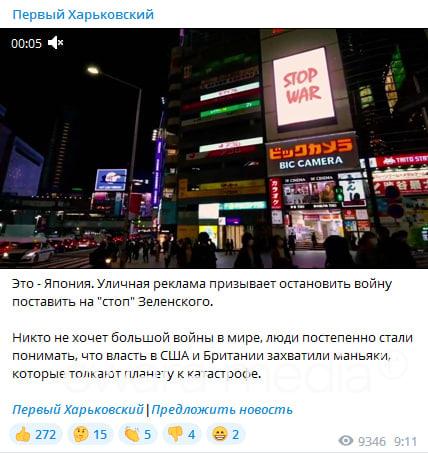 A few hours after publication, the news was spread by other propagandist channels, Vypuskaitie Krakiena ("Release the Kraken") and Otryad Kovpaka ("Kovpak's squad.")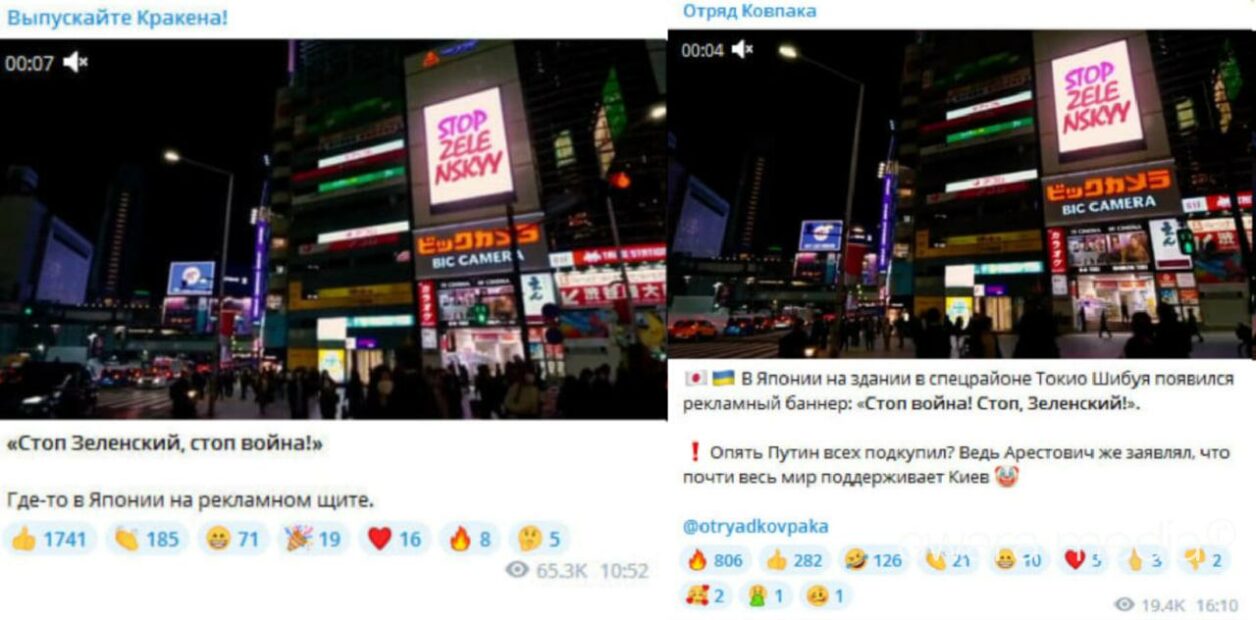 However, a few hours before appearing on any Russian propagandist channels, the video appeared in the English-speaking segment of the internet. The video spread across Twitter, 9GAG, and TikTok. A popular pro-Russian American blogger, Jackson Hinkle, shared the video on his account.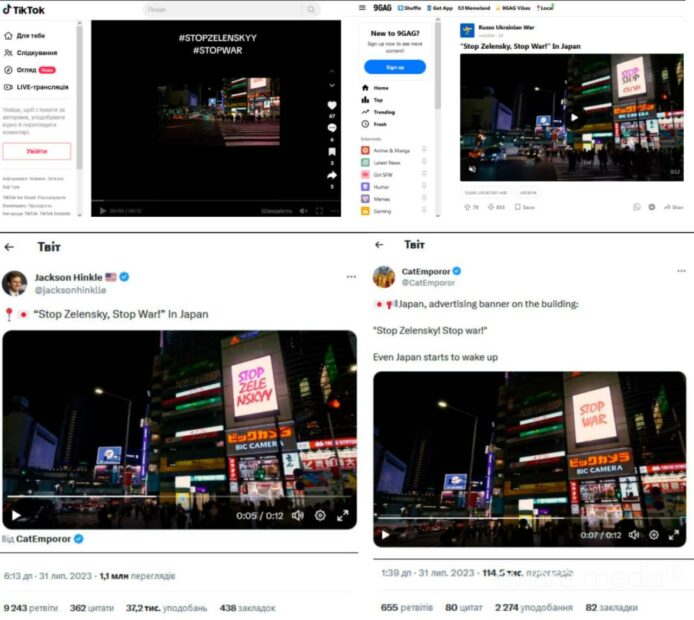 Analysis
The original video – which propagandists tweaked to suit their purposes – was actually released in October 2020, before the full-scale invasion, on a YouTube channel VIRTUAL JAPAN. The video presents a virtual walk-tour of Tokyo's Shibuya ward.
In the original, the LED screen doesn't urge anyone to stop the President of Ukraine. It displays an image of a woman.

So, propagandists simply put the picture with a text over the original ad image.
Note: When we started to research this fake, it's already been analyzed by the Snoopes project. Their debunking was published on July 31, 2023.
Conclusion: fake 
Determining whether or not to trust the information you see might be challenging. That is why we created the Perevirka bot. Send any news and social media posts in English or Ukrainian; within 24 hours, you will find out if it's a good idea to trust them.