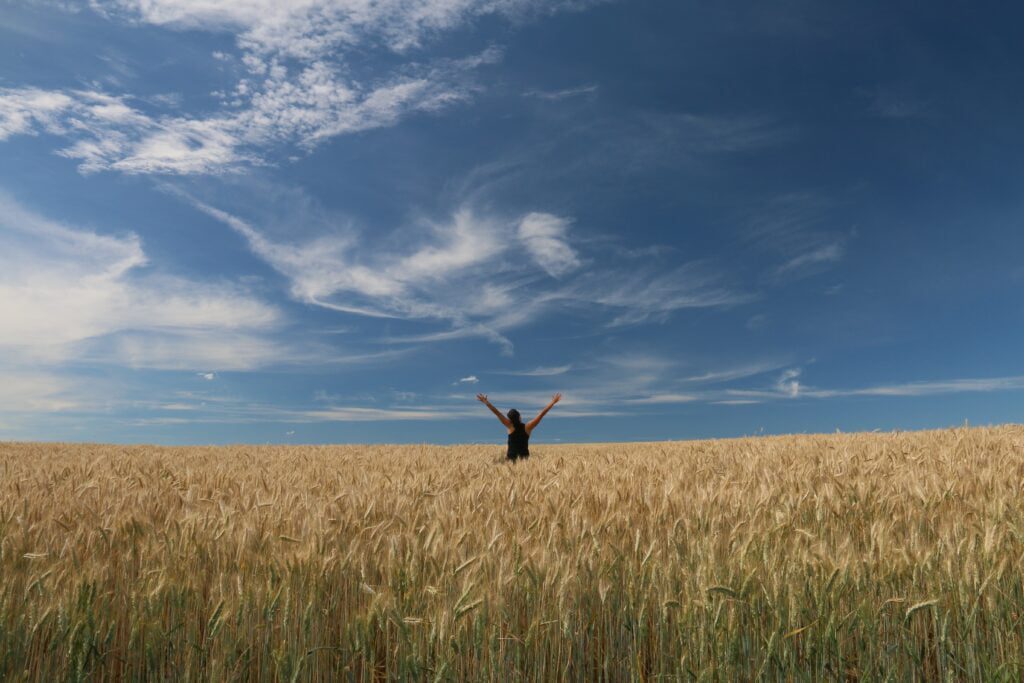 «We are calling Skovoroda's main behaviours ours»: what is downshifting and where you can find it in Ukraine
Reality
The word «downshifting» came to us from the world of cars. From English, it means «shifting the car to a lower gear», and in non-car areas, «weakening or slowing down any process». In psychology, downshifting is a social phenomenon that describes the behaviour of a person who abandons the values ​​popular in a certain society (such as conformism, career growth, enrichment), and instead
slows down
in his pace of life on the path of discovering oneself.
This kind of behaviour has always been existing.  For example, Gautama Siddhartha (known to us as Buddha) did not want to be king, but wanted to «find himself».  And the Roman emperor Diocletian relinquished power and moved to his own estate to grow cabbage.
Among the most popular modern downshifters is John Drake, founder of the recruitment company «Drake Beam Morin». For fifteen years he has been successfully leading business and then left it and wrote a book «How To Work Less And Enjoy Life More».
This year, the Old Lion Publishing House (Vydavnytstvo Staroho Leva) published a Ukrainian translation of the documentary book «Into the Wild» written by the modern American writer Jon Krakauer. Meanwhile, Tempora Publishing House published a book brought to us already from the XIXth century which is made of the observations by American writer and naturalist Henry David Thoreau and called «Walden, or Life in the Woods». It was inspired by Christopher McCandless – the protagonist of «Into the Wild ».
It is quite interesting that Christopher himself has lived alone in an uninhabited part of Alaska for four months: how he came to such a decision, who did it before him, and how it all ended – is described in detail in the book. Although, one of his encouragers, Henry David Thoreau, described his own experience of living on the shores of a pond near Concord Town.  «Contemplating nature, growing plants and building a hut has become an impetus for the author to crystallize his own worldview», – we are reading in the annotation.
In Ukraine, downshifting is sometimes called «skovorodynstvo».  In fact, Hryhoriy Skovoroda's philosophy largely echoes the ideas of downshifting, but is not limited to them, so skovorodynstvo is something much broader in its meaning to some extent.
We are telling further about modern Ukrainian downshifters and where to look for them.
Obyrok Art Island

Leonid Kanter founded Obyrok Art Island, a place he wanted to turn into a dreamland.  Leonid Kanter was a director, and for his film «Human with a Stool» he shot a video in which he and his friends hitchhiked almost without money and other things. They went on a journey through the Himalayas with stools on his shoulders. Leonid dreamed of setting up kitchen stools on the shores of the four oceans.  After his journey in 2007, the man with his friends founded Obyrok Art Island.
The people has conquered and defended its right to create some kind of such a unique wonderful country. Let's all together dream of some great thing and build it. – Leonid Canter
«Our main task is to create a new way of life based on the symbiosis of man and nature, freedom from the imposed values ​​of the consumption culture. It would be a place for creative people to live, be inspired, be creative, meet and discuss.  There are four basic rules by which the Obyrok Art Island lives: if it's dirty – clean it, if it's open – close it, if there is a hungry one – feed him, if somebody is sad – give him a hug», – is said on the Facebook page of Obyrok.  There is a day called «robyrky» on the weekends in Obyrok. Supposed to be a set of events, it allows people to join the creation of art objects and socialize, perform on stage or hold a master class or lecture.
Farmstead of Buryakivsky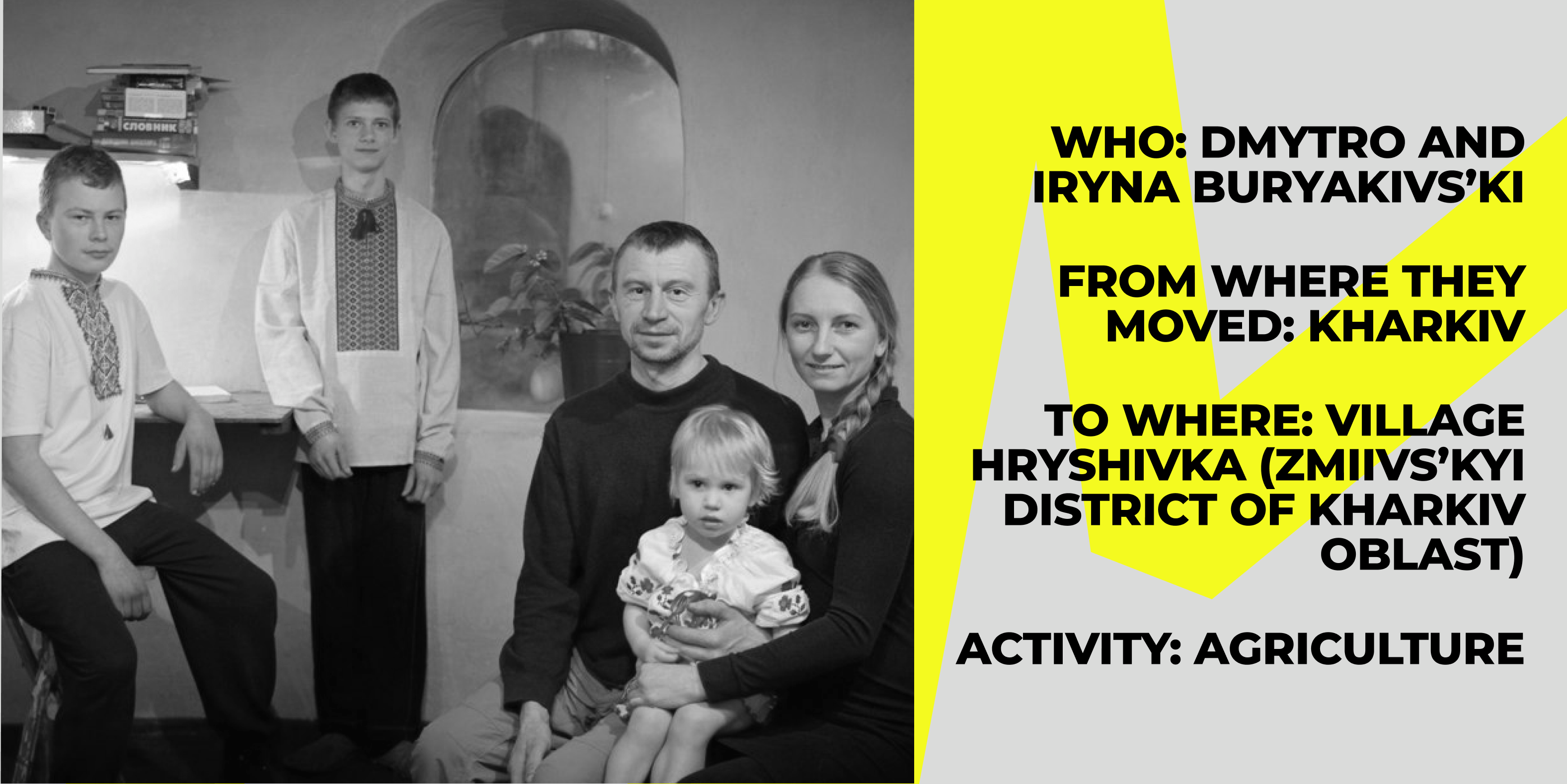 The Buryakivsky family estate, located in the village of Hryshivka in the Kharkiv region, is producing surplus products such as cheese, yogurt, kefir, fresh, dried and canned vegetables, mushrooms, berries, jams, meat and meat products, and eggs.  They are also giving thematic and general tours around their farmstead.  Here is a part of the family story: «In 2011, my wife and sons and I moved to our land to run a personal farm.  We have settled in an empty place in an extinct village.  Not being followers of any authority, we acted on our experience, common sense and own observations.  With the help of family and volunteers, we have built a house and farm buildings, have developed a garden, have started a farm, and have mastered the processing of various types of agricultural products.  Now the land feeds not only our family but also several dozen of our customers.  We are energy independent and have no desire to expand professing the philosophy "small is beautiful". Our family is open to guests, helpers, neighbours and good people ».
«Forest Farm»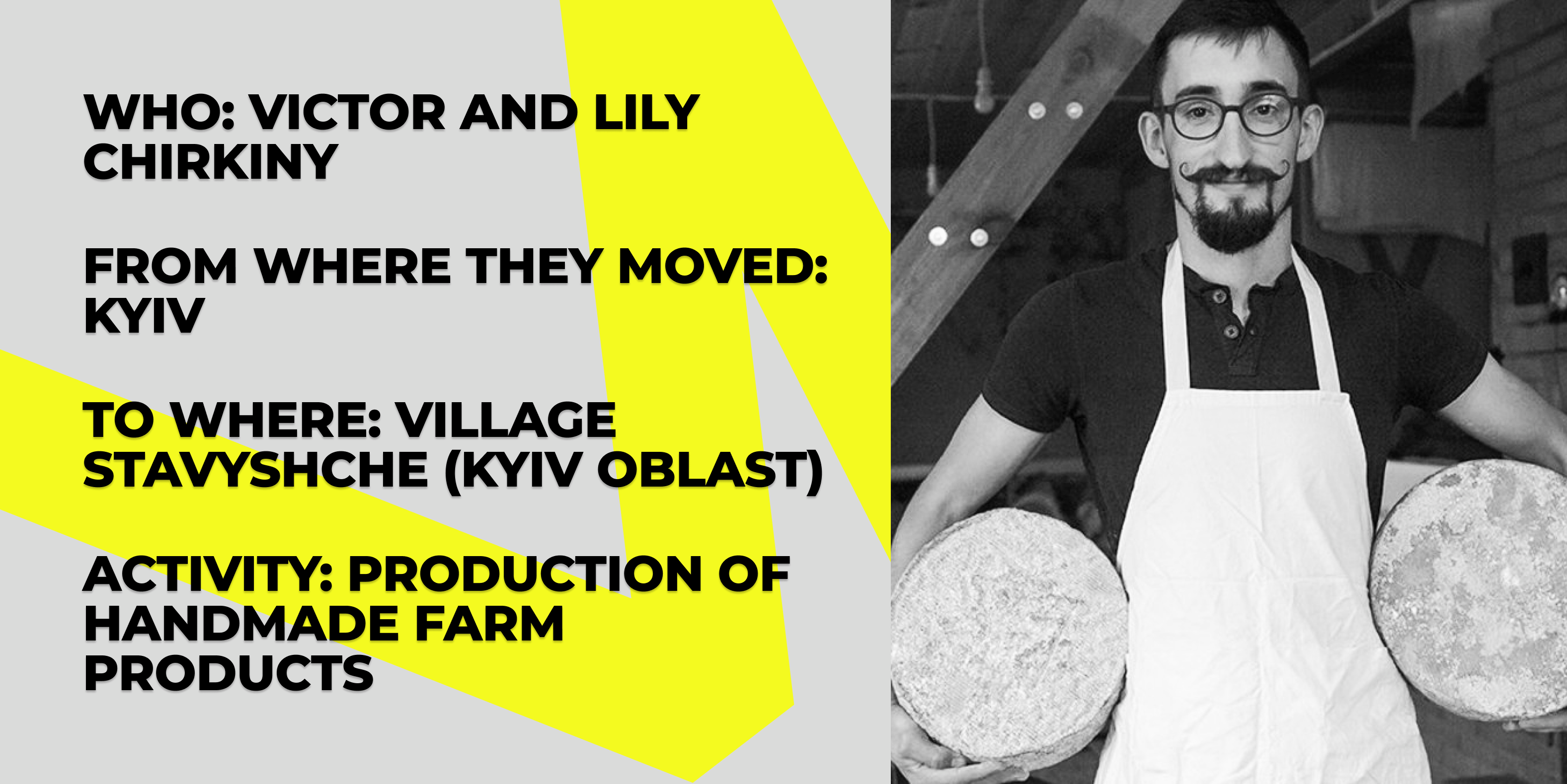 After graduating from university in America, Victor Chirkin moved with his wife from Kiev to the countryside, following the example of his parents. He has founded the Forest Farm there, a place where he and his team are making now handmade farm products for his family and the world.  On his Instagram page, Victor is talking about the peculiarities of work, and sharing experiences of life in the village.
https://www.instagram.com/p/B58UBd1J_Y4/
Victor does not recommend moving from the city to the village out of blue.  He also advises not to wait for the foolproof conditions to create something of your own (as in his example, it's cheese-making), but to start now.  You can order cheese products from the farm on the website of the Forest Farm.
Pidnebesna Hrystanivka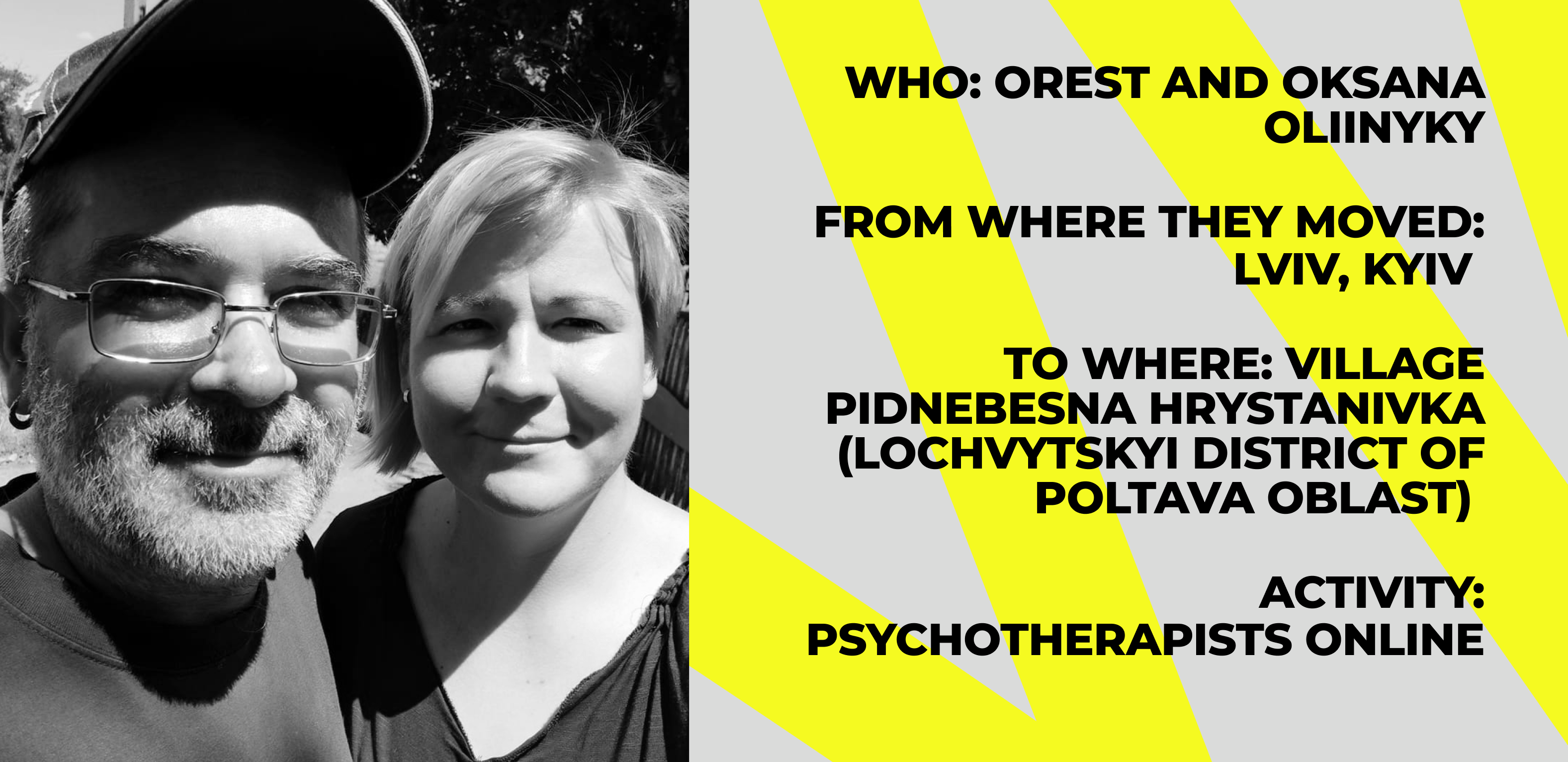 Orest gives practical advice about life in the village on his YouTube channel.  For example, this video is about some features of rural houses:
We asked Orest and Oksana to share their downshifting experience.
Have you ever heard that the practice of leaving the village for the city which is called «downshifting» or «skovorodynstvo»?
Of course, we know about downshifting, but we jokingly call our move «uplifting».  It's because we did not reduce the level of comfort in life, but on the contrary – increased it.  We have all the benefits of a city flat, but at the same time we have our own yard, which turns into a forest.  Clean air and horizon are what not everyone in the city has. As for Skovoroda, we have the most beautiful monument dedicated to him in Lokhvytsia by Kavaleridze, and he is light, playful, dancing there, unlike the monumental one in Kyiv.  We are calling Skovoroda's main behaviours ours. It concerns «congenial work» and the deeper connection between personal and public life, so we would like more people to enjoy it.
Do you think the practice of downshifting is popular?
I can't talk about the popularity or unpopularity of this practice, but there are more and more such families practising it every year. Some of them are creating art farms as Obyrok, others – eco-settlements as «Green cliff», there is still a movement of tribal settlements and permaculture centres. This year, my wife, Oksana, was a trainer at the Ecovillages Design Education Course, a monthly training for those who create and develop sustainable communities, and she wanted to invite more middle-aged people to our village to develop their space, not on their own, but in community. We invite families with children and people who would be interested in interacting and implementing their own and neighbours' ideas.
In the village we live in an atmosphere of unindifference, mutual support, in the place where people come to dedicate their time and work, what is very valuable. – Orest and Oksana Oliynyky.
Is downshifting more common in Ukraine or abroad?
This practice of moving closer to nature exists both in our country and abroad. More and more Ukrainian eco-migrants are joining the Global Ecovillages Network, and we have shared experiences with people who are implementing inspiring rural projects in Hungary, the Czech Republic, Romania, and Slovakia. This was facilitated by an annual training for community leaders from the Czech Foundation Via, which is involved in community development. I am convinced that with the development of modern technologies and even in the conditions of global quarantine, there will be an increasing number of such families because they will choose a comfortable community life in nature that values direct interaction and cooperation.
What changes have you seen in yourself, your life, your family, the people around you since you moved? Perhaps you have discovered life in a new way?
Many changes came out, however, if there was a community, even more of them would occur. During the seven years as we have lived in the village, Oksana made a career shift, and I restored mine, our sons grew up (one of them was born here) and went to school. We are not as fast, as we imagined, in the beginning, we would be, about arranging the house and yards. However, we have gained experience in inviting volunteers, including foreign ones (USA, Germany, Romania, France), have equipped a guest house and for some time have played around «green tourism» (but we realized with time that it is not to what we would like to dedicate our time). Now we accept only friends and volunteers – for mutual pleasure, without the internal requirement to «provide service». In fact, such an interaction is deeper and more enjoyable for everyone. We have also created a library with a unique collection, and it has been operating on the basis of a village store for four years. The idea of ​​restoring an architectural monument, a village school designed by Opanas Slastion (Ukrainian architectural modernism), and setting up a museum there, has struck us, and we've ended to act on it. However, the restoration doesn't happen quickly, the process itself gives lots of pleasure because so various people are joining to help. In the village, we live in an atmosphere of unindifference, mutual support, in a place where people come to dedicate their time and work, which is very valuable.