Russian forces carried on offensive operations on the Kupyansk-Svatove-Kreminna line on November 19 did not make any confirmed advances, Institute for the Study of War (ISW) reported.
The General Staff of the AFU reported that Russian forces conducted unsuccessful attacks in the Kupyansk direction near Synkivka (9km northeast of Kupyansk) and Ivanivka (20km southeast of Kupyansk) and east of Petropavlivka (7km east of Kupyansk); and in the Lyman direction near Torske (15km west of Kreminna).
ISW quotes a prominent Russian milblogger who claimed that Russian forces achieved unspecified tactical successes near Petropavlivka and Synkivka in the past week. The North Ossetian "Alania" and "Storm Ossetia" volunteer battalions claimed on November 18 that fighting is currently very intense near Kupyansk. A Russian milblogger declared on November 19 that there were also meeting engagements near the Serebryanske forest southwest last week.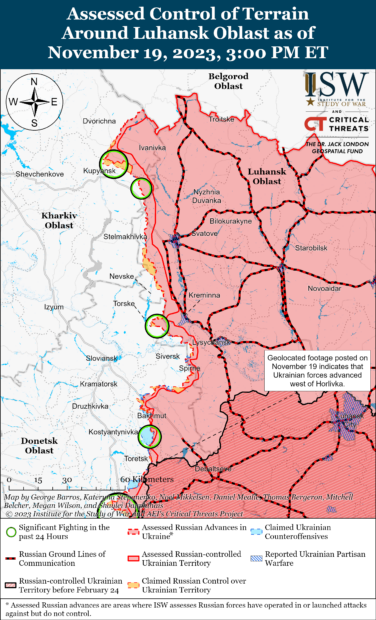 Ukrainian military observer Kostyantyn Mashovets stated that elements of the Russian 164th Motorized Rifle Brigade (part of Russia's newly formed 25th Combined Arms Army [CAA], reportedly under the Eastern Military District) unsuccessfully attacked near Dibrova (7km southwest of Kreminna) and elements of the 228th Motorized Rifle Regiment (90th Tank Division, 41st CAA, Central Military District) attacked near Torske.
He also stated that Russian forces are transferring elements of the Russian 7th Motorized Rifle Regiment (11th Army Corps [AC], Baltic Sea Fleet) and the 11th Tank Regiment (18th Motorized Rifle Division, 11th AC, Baltic Fleet) to positions near Pershotravneve in preparation for renewed offensive operations in the Kupyansk direction. Mashovets added that elements of the Russian 283rd Motorized Rifle Regiment (144th Motorized Rifle Division, 20th CAA, WMD) operate near Holykove (10km north of Kreminna).
Russian sources claimed that Russian forces repelled Ukrainian attacks and pushed Ukrainian forces out of positions northwest of Horlivka (25km south of Bakhmut) on November 19. Geolocated footage published on November 19 indicates that Ukrainian forces attacked and initially advanced south of Shumy (23km south of Bakhmut and 9km northwest of Horlivka).
More from Gwara
Russian army's activity increased on the Kupyansk axis, but the weather slows them down. Russian military became more active in the Kupiansk direction, but they had complications using their military equipment and vehicles because the weather got worse. The AFU Ground Forces Volodymyr Fito spokesman spoke on this in the telethon ether.
Communities of the Kupiansk district jointly purchase strike UAVs for the Armed Forces of Ukraine.

If you have found an error, highlight the necessary fragment and press Shift + Enter.