Russian army conducted offensive operations on the Kupyansk-Svatove-Kreminna line on November 2 and marginally advanced in the Kupyansk direction, ISW reported.
The main goal of Russia in this part of the frontline is to capture the rest of Luhansk region and advance to the east of Kharkiv and the north of Donetsk region.
Geolocated footage published on November 2 indicates that Russian forces advanced west of Orlyanka (22km east of Kupyansk).[34] A Kremlin-affiliated milblogger claimed that Russian forces seized new positions near Petropavlivka (7km east of Kupyansk) and Synkivka (9km northeast of Kupyansk), and are continuing to fight in the direction of Kupyansk.
The Ukrainian General Staff reported that Russian forces unsuccessfully attacked near Synkivka, Petropavlivka, and Ivanivka (20km southeast of Kupyansk) and did not conduct any assaults near Kreminna.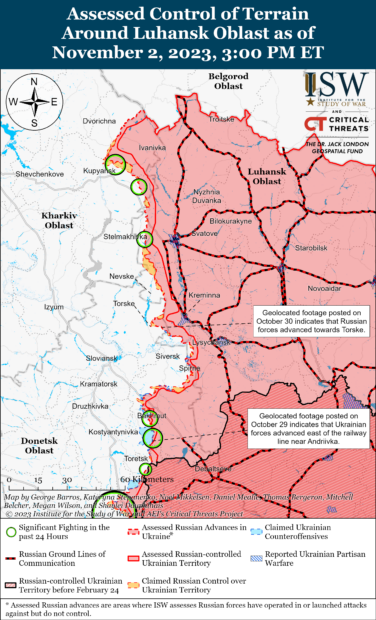 ISW quotes Russian milblogger claiming that Russian forces continue to attack west of Svatove near Makiivka (22km northwest of Kreminna) and northeast of Kupyansk and that there have not been any significant changes near Torske (14km west of Kreminna).
The Russian "Russkiy Legion" (BARS-13) formation claimed that combat activity remained low in the Kupyansk direction despite improvements in weather conditions.

According to Russian reports, on November 2, Ukrainian forces carried out localized attacks along the Kupyansk-Svatove-Kreminna line, but they did not make any significant advancements. The Russian Ministry of Defense stated that Russian forces successfully repelled Ukrainian assaults in the vicinity of Synkivka and Dibrova, which is located 5 kilometers southwest of Kreminna.
A Russian military blogger asserted that the clashes along the Kupyansk-Svatove line mainly involve positional warfare, with occasional Ukrainian counterattacks occurring on this front. Additionally, footage released on November 1 revealed that Russian forces had suffered the loss of seven tanks and infantry fighting vehicles in the Kupyansk direction.
More from Gwara
Ukrainian Armed Forces repel 8 Russian attacks on the frontier between Kharkiv and Luhansk regions. Russian army conducted unsuccessful assault operations in the Kupyansk sector near Synkivka, Ivanivka in Kharkiv region and Stelmakhivka in Luhansk region.
Russians use chemical weapons in Kupyansk direction — Ukrainian military. On October 29, the Russian army used chemical weapons, including gases, in Kharkiv Oblast. This was reported by Denys Yaroslavskyi, commander of the Ukrainian Armed Forces intelligence unit, during the United telethon.

If you have found an error, highlight the necessary fragment and press Shift + Enter.