One of the main pillars of Russian ideology is "preserving traditional Russian values." On November 9, 2022, Putin even signed a decree outlining the policy to preserve these values, and one point of it says, "The destruction of the traditional family through gay propaganda is attributed to a system of values that is destructive to society." Many European countries introduced sex education in schools; within the class, children are informed about safe sex, LGBTQ+, consent, STDs, etc., and Russian propaganda demonizes these topics. This time, according to the Russian propagandists, one of the schools in the Netherlands offers children to "choose their sex." Let's review this claim.
What happened?
On August 23, the Telegram channel VOBLYA shared the photo of a poster with different LGBTQ+ identities that reads, in Dutch, "Be who you are."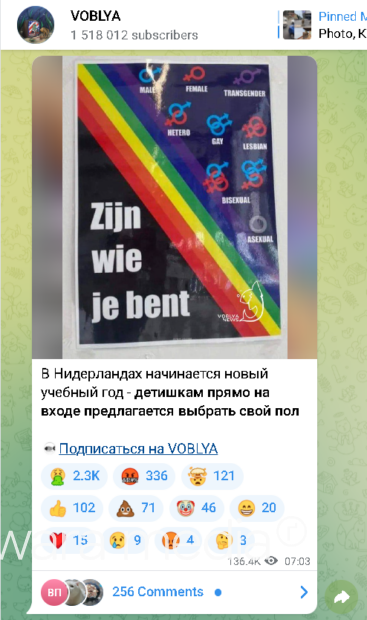 The authors of the VOBLYA Telegram channel added the following caption to the photo: "A new school year is starting in the Netherlands – right at the entrance [to the school], children are offered to choose their sex."
This post had 136 thousand views and 256 comments.
Analysis
We've found the poster from the VOBLYA post on the Dutch website with educational/instructional materials within the section dedicated to Purple Friday.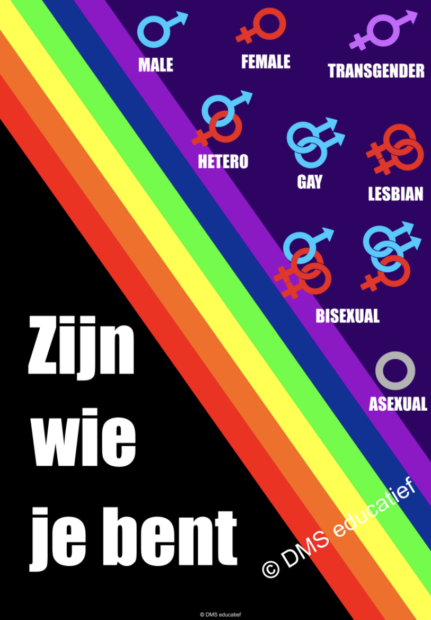 Purple Friday is a day when Netherlands schools show that everyone can be who they are and no one should be bullied or avoided for being who they are.
This day was established by a Dutch LGBTQ+ rights group COC Nederland in 2010. It's observed annually on the second Friday of December. Purple Friday website notes that schools, colleges, and universities can support the initiative.
Participation in Purple Friday is voluntary. According to the data from COC Nederland, on December 9, 2022, though, 80% of all secondary schools in the Netherlands supported the initiative.
So, the poster was really intended for Dutch schools. The slogan "Be who you are" encourages students to be themselves and respect others' choices.
Note that Purple Friday doesn't urge students to "choose their sex" or go through any kind of gender-affirming surgeries.
Conclusion: Manipulation
Read more
Determining whether or not to trust the information you see might be challenging. That is why we created the Perevirka bot. Send any news and social media posts in English or Ukrainian; within 24 hours, you will find out if it's a good idea to trust them.

If you have found an error, highlight the necessary fragment and press Shift + Enter.