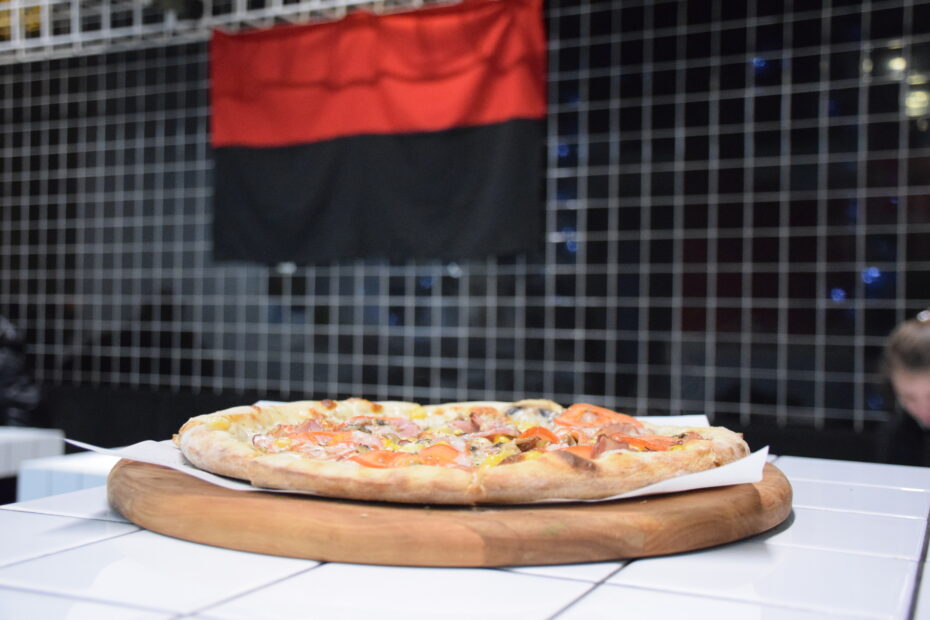 From Restaurateurs to Professional Volunteers: 24.02 Headquarters in Kharkiv
Featured
Since the beginning of the full-scale invasion, many private businesses have functioned more like social projects: today, entrepreneurs consider it an honor to initiate fundraising for the Armed Forces of Ukraine, donate part of their income to charity, and participate in urban reconstructions.
It also happened with the 24.02 volunteer headquarters, organized by the employees of the catering establishment. Last year, despite harsh warfare, the founders managed to open a pizzeria Biolaboratory in Kharkiv.
Olha Schneider shares her volunteering experience with Gwara Media.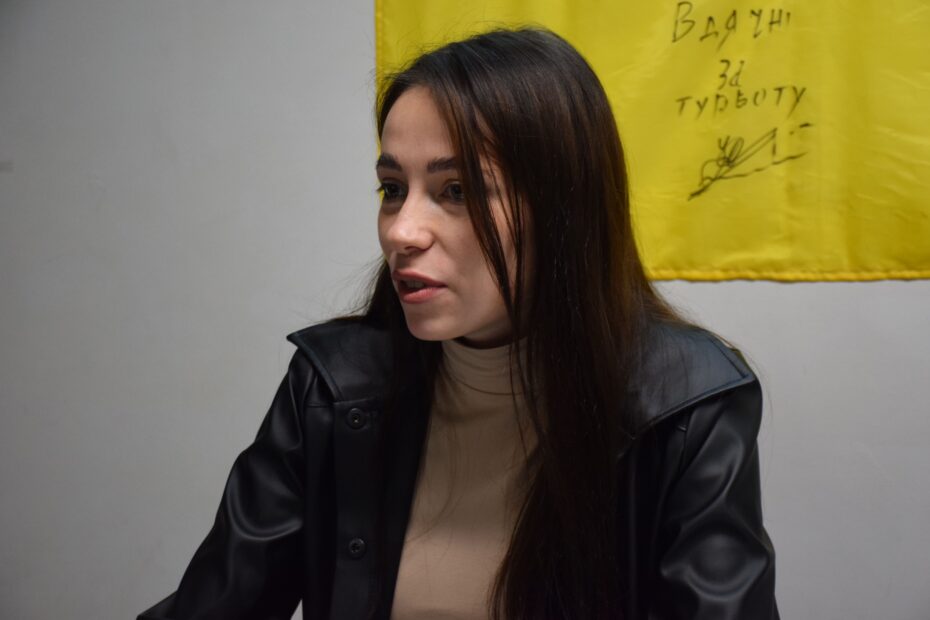 Some information about the headquarters 24.02. The team have already purchased 10 military vehicles, 80 NATO protective helmets, 80 portable transmitters, as well as tactical headphones, gloves, multi-channel bus stations, generators, chainsaws, and various equipment.
What is the story behind founding the headquarters?
"We tried considering all requests and to find whatever was needed. For example, we collected some mattresses for the people who hid in subway, helped the emergency services, the blood center, etc.," says Schneider.
Currently, more than one hundred employees work at the headquarters. It all started with people looking for shelter to hide from explosions and shelling.
"We were hiding in the basement for quite a long time. I saw how difficult it was: people breathing sand, children suffering, the elderly panicking, and everyone was confused. I could not stand it and decided to help. It didn't matter how; the main thing was to be useful," says Schneider.
Once, somebody invited Schneider to one of the basements of a catering establishment. She brought some friends around. Then some shelter-seekers also joined. Later they also started to help.
"We started with cooking, using the products from the restaurant supplies. Then colleagues from other cafes came around and brought theirs. No one knew what would happen next. They were ready to give everything as the real war started. Our friends with cars helped with delivering. We didn't have bulletproof vests or other protection then."
According to Olha, first, the team couldn't manage to prepare many portions per day. They began to collect equipment. Rice cookers saved the situation: it was easier and faster to work with them. At the end of spring, the headquarters started preparing about ten thousand portions every day.
"Since then, we've changed many premises. I particularly remember a large two-story basement, where we scattered bottled water to mark sections: the one to cook food, one to pack it, another to wash products."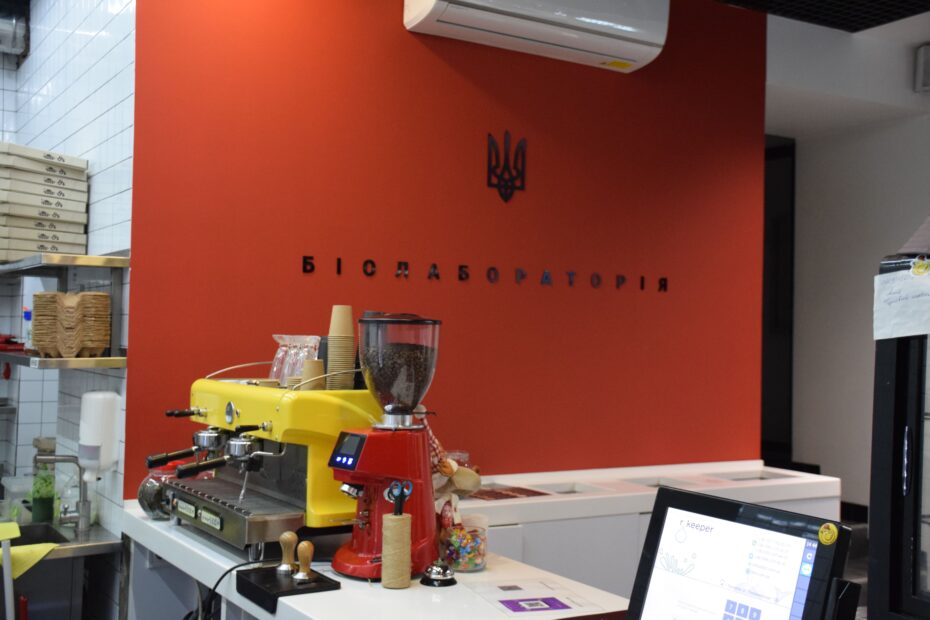 The headquarters was busy with the following:
main task of preparing and delivering food;
preparing pizza;
collecting grocery sets and address delivery;
providing food for the pets;
providing bottled water for the military;
producing staples for dugout;
providing potbelly stoves for 50 high-rise buildings.
"It was a crazy time with crazy ideas. I don't know how we managed it. We were very motivated for our victory, as we are now, too," says Schneider.
While delivering food across the Kharkiv oblast, the team noticed many homeless animals wandering the streets. Schneider says they were "skinny, bony, and we felt sorry for them." Then the volunteers started feeding stray cats and dogs with leftover food, collected bones, and cooked porridge and meat. Later, they organized a separate initiative and agreed with Nova Poshta to help deliver pet food.
"We prepared hot meals, food kits, dugout staples (which we used to make potbelly stoves), collected water from Sarzhyn Yar [a mineral water stream in Kharkiv], made gloves (war is war, but we must observe hygiene), transported equipment, cooperated with the Red Cross, bought medicine. Those were crazy times," Schneider comments on the activities of the volunteers.
If I am not mistaken, there used to be a pizzeria called ZBS EDA. How did you change its format?
We started making pizza according to the same recipe. We even used their boxes at the beginning. We also had some people who had worked for that restaurant before. At first, we made pizzas as small as ZBS EDA, then decided to do bigger ones and developed others altogether. We had 7 pizzas on the menu, then 10, and finally 15.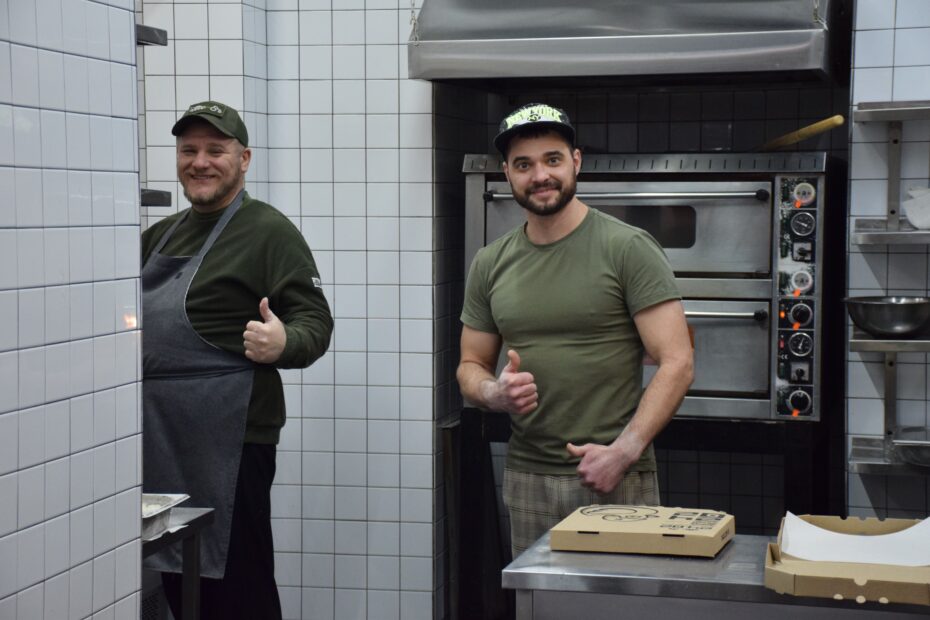 Regarding the names of the pizzas, did you intentionally choose, for example, Iziumska and Kupianska?
At that time Ukrainian Forces were liberating our oblast, including Izium and Kupiansk. We decided to go symbolic and thought, how could we not have Kharkiv, Saltiv, or Ukrainian pizzas?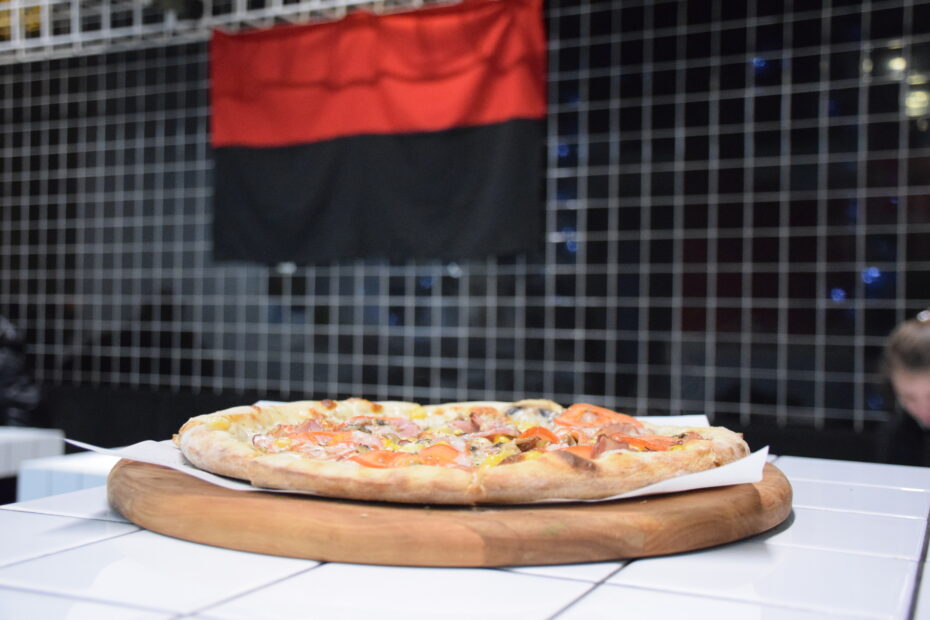 How did you turn from a restaurant business into a social project?
Gradually. At the beginning of the full-scale invasion in 2022, we prepared free food for the military, but we didn't have many resources. Then we decided it was time to get more profits. We had many volunteers and a place to organize something.
We saw people's first reaction to pizza: they were so surprised it still existed! Then it became clear we had to open a pizzeria.
Thanks to the profits, we can continue to supply the military with free food.
Guests can also donate pizzas for the Ukrainian soldiers. At Biolaboratory you can sign a pizza box to make the delivery more personal.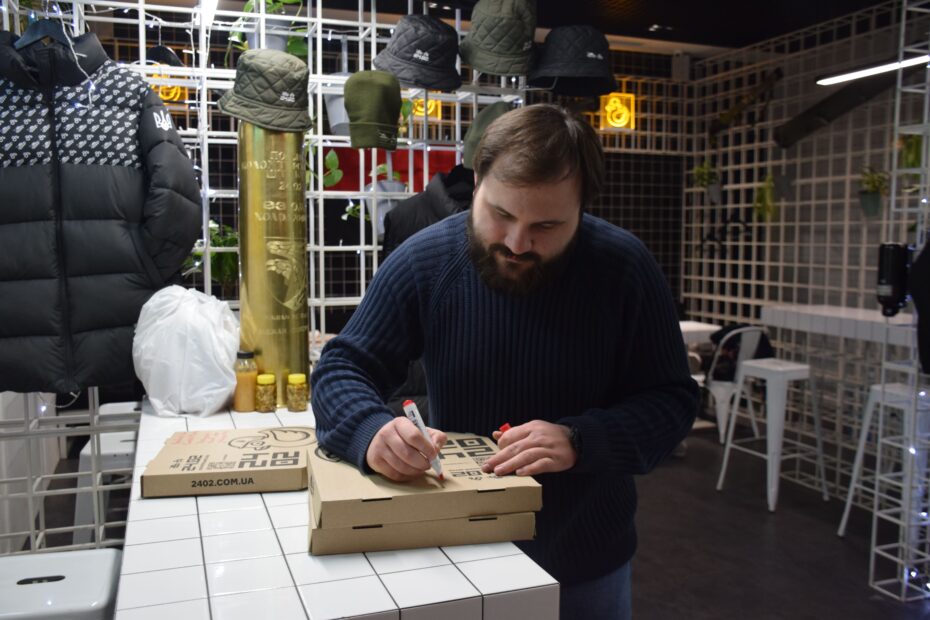 The profits from the pizzeria are used to pay out utility services and provide salaries for the employees.
However, Schneider states that the number of people who supported the initiative financially has decreased. In her opinion, people became more concerned with their lives and needs. The frontline moved away, and it seems the war is ending, though this is not true.
"Everyone seems to think the war is over, but it probably won't end soon. So, we must go on being motivated. Many have closed since the end of the summer, but we are trying to stay afloat," she adds.
Previously, the headquarters received funds from business owners and friends. It collaborated with two foundations: World Center Kitchen and Food Program. Some helped with food, some – with equipment.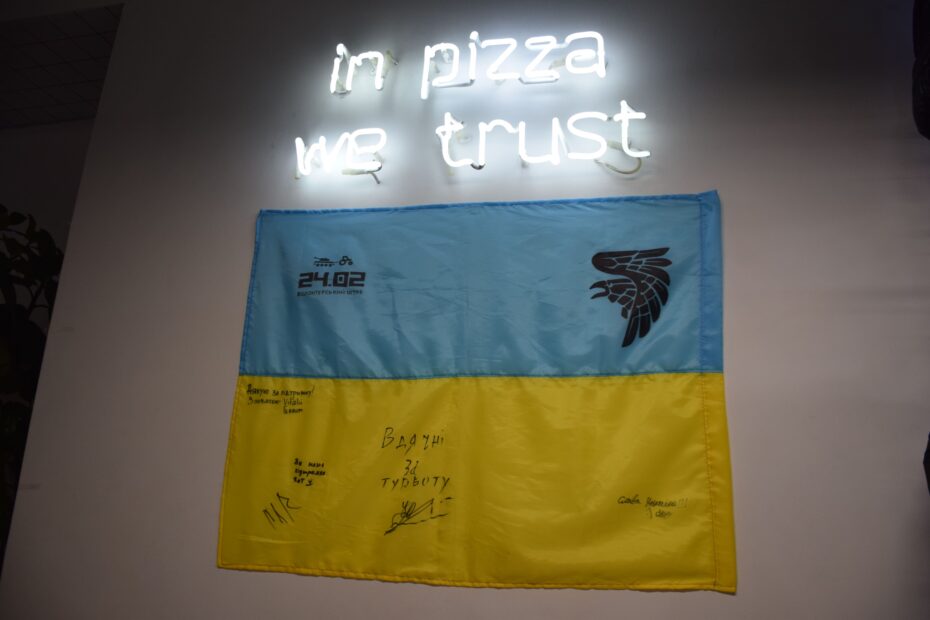 How do you manage to balance business and volunteering?
It's not about business at all. In general, entrepreneurs today have changed a lot. You can forget absolutely everything when your city is under bombardment. That's why everyone started helping. We worked and had no sleep, but we knew that something had to be done. It was hard, but those who defend our country work harder.
Did the local authorities invite you to join the main volunteer headquarters?
No. We met once at a wedding in the Botanical Garden subway. The mayor was there, so we gave him a branded T-shirt. That was it. The team worked independently and had no contact with the authorities.
Honestly, it would be great if all voluntary organizations came together and did one thing. Unfortunately, it did not happen. There was no unity in finances or supplies. The only thing shared was the funds. There are many reasons for such a situation. But the main thing is that we are on the run: it's cool there is help, no matter the troubles.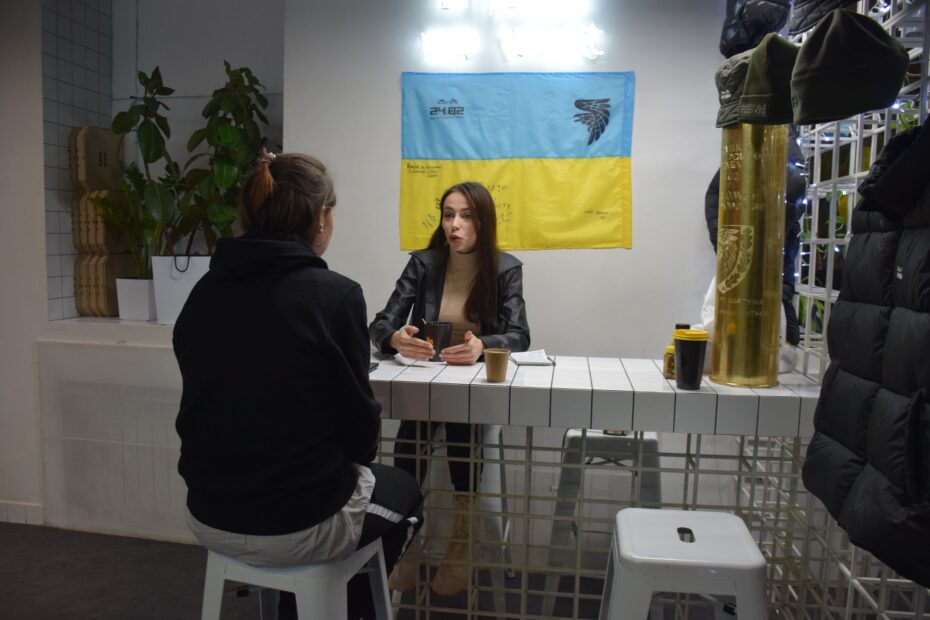 Anyway, we live in Kharkiv, which is often shelled. Do you have a plan B?
If you noticed, there are no windows here. There was a missile strike at Beketov street. It affected our restaurant, too: the windows broke, but we repaired them, covered them, insulated them, and can go on working.
In any case, we'll find a place to stay. We also have a separate headquarters where we prepare food kits. If the situation changes for the worse, it will feel as if at the beginning of the war in February when citizens helped us with food and accommodation. So, we are not worried about it. Also, many cafes have left town, so there are vacant places.
How do you work during blackouts?
We don't have a generator, so we close. It would be cool to have a wood stove, but we are just adjusting to the conditions. When we know there will be a power outage, we go to work earlier and prepare food so that everything is ready in the morning.
We thought to organize a Point of Invincibility here, as we know it's a must now, and we have a basement, a place to cook.
We once purchased multi-channel charging stations for the military. We could order such here, too. The advantage of these stations is that you can connect a regular plug, a telephone, or a power bank. The charge would last for about two days. There are still some problems with the Internet, but we are working on it.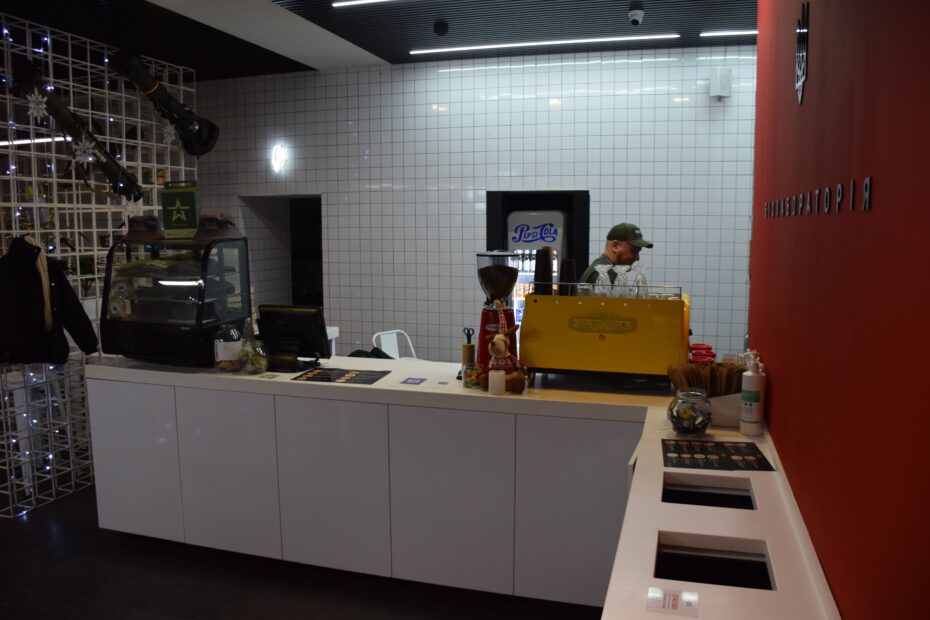 How will the pizzeria work when the war ends?
Of course, the end of the war is a victory, but it is also a long process of recovery and reconstruction of the country. There will be many people (they are now, too) who will help to restore our cities for free, out of personal motivation. They also need to be fed and supported. So, of course, we are waiting for the victory, but there will also be a lot of work after it!
Finally, Olha told us about the food kits for the military and showed us some.
Although we specialize in hot food, we haven't supplied the military with it since September: our soldiers went away to farther positions. That's why we started producing food kits. They consist of:
Borscht. One pack for three servings, a liter of water needed. Pour boiling water and leave for 5-10 minutes. You get delicious borscht! There's all you need: chicken, potatoes, beets, carrots;
Soup. We usually buy it;
Instant pasta;
Dry meat. You will get tired of chewing it (Olha laughs – ed.);
Pumpkin seeds in honey. Our recent invention;
Snickers. What can we do without sweets?
Condensed milk;
Ginger tea. Also, our recipe. Should be poured with hot water;
Packed tea and coffee.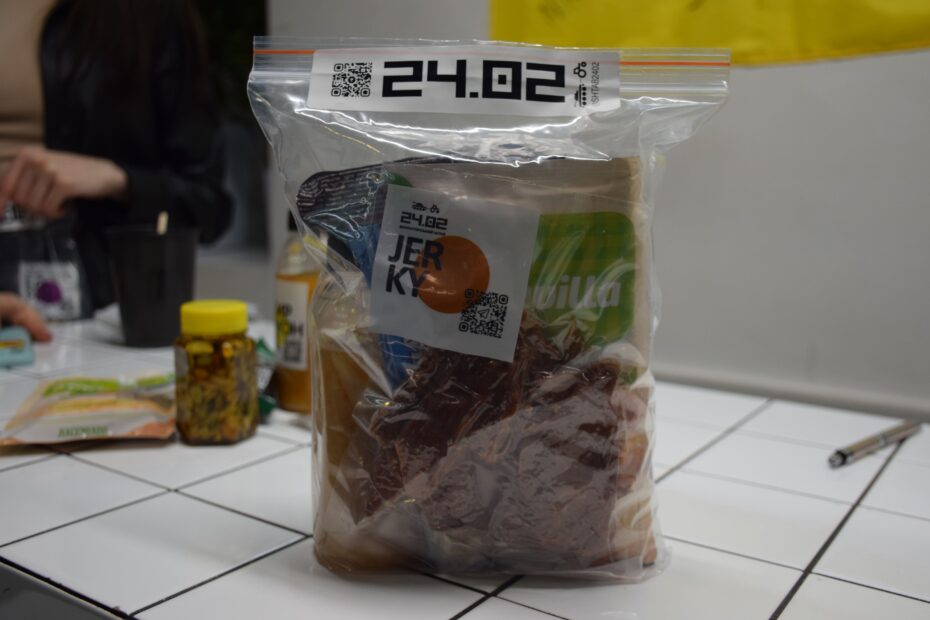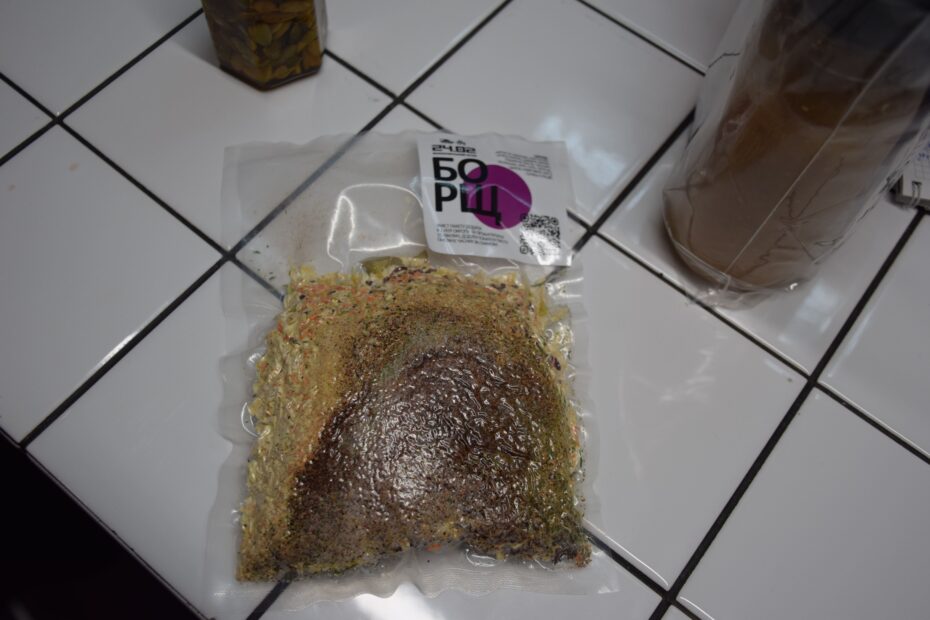 It is a daily portion of food for one person. Of course, there is plenty of food prepared for our military. But they also want something tasty: some candy or a snack to eat in a rush.
Since the beginning of the full-scale invasion, volunteers from the 24.02 headquarters have sent about 10,000 pizzas to the military.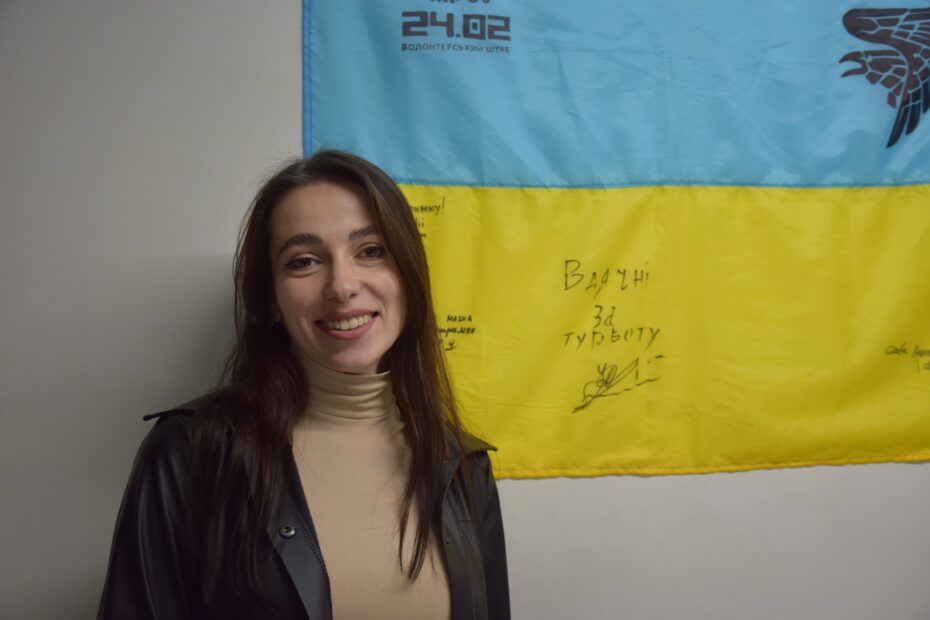 Translated by Yulia Kulish