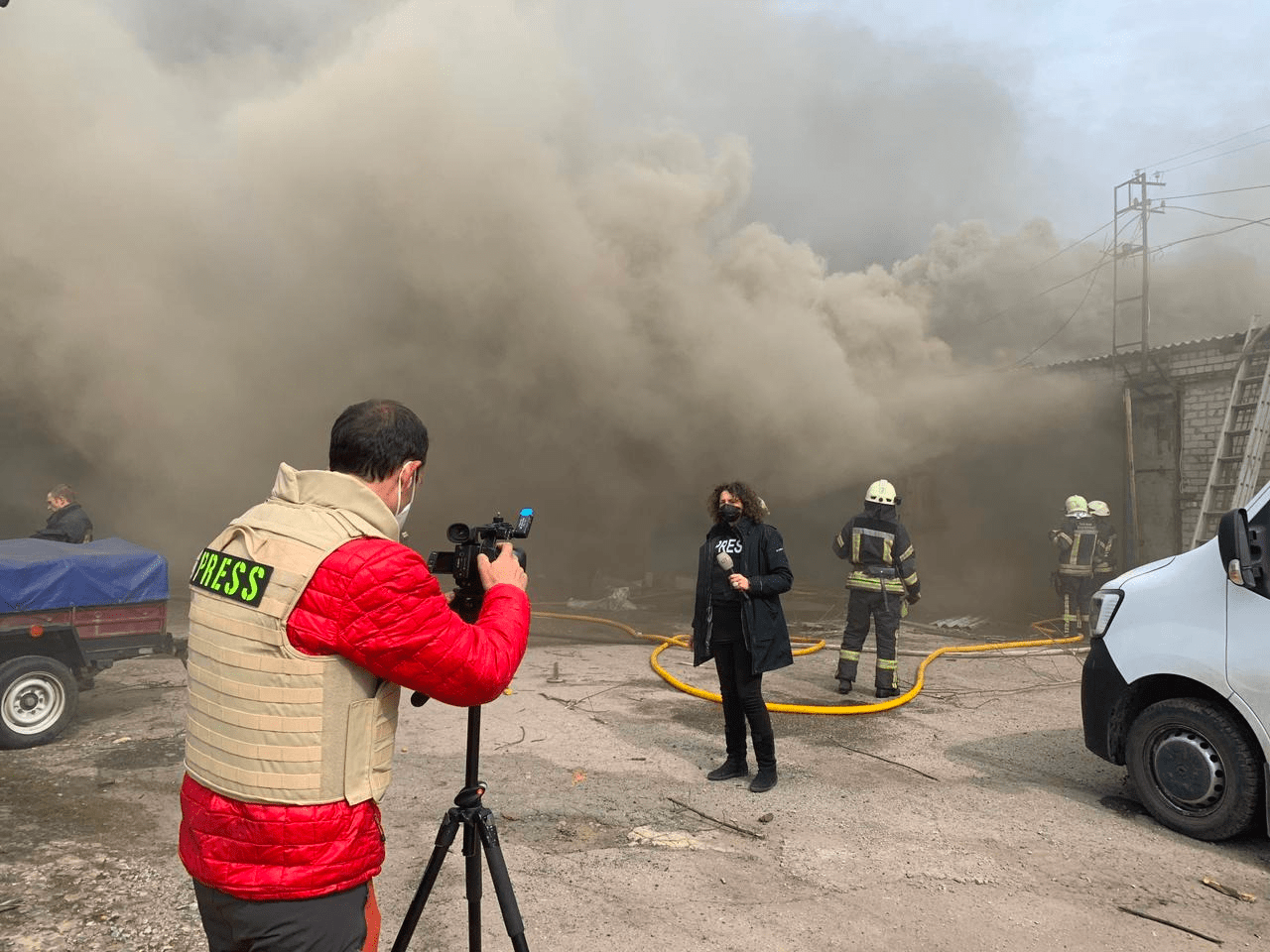 Working in Kharkiv as a Fixer. What Do I Do and Why it is Important
Featured
Fieldwork in Kharkiv during war by Serhii Prokopenko
With the beginning of the full-scale Russian war against Ukraine, I woke up to a new reality. A reality that is full of explosions and missiles hits.
During the first days of the all-out war, my native city of Kharkiv was constantly attacked by missiles amid Russian troops attempts to take the city. Watching this happen I was in shock. After a couple of days, the shock has been gone, and instead the understanding of the need to adapt right here and right now to the new circumstances has appeared.
Almost all members of our team have decided to keep on working in Ukraine.
At that moment our foreign colleagues started reaching out. Using different networks and channels they tried to keep in touch so they could understand what is going on informally or through remote interviews. Back then there were a few correspondents working on the ground in the city hence little information reached out to wider audiences. For this reason, foreign journalists were desperately looking for someone in Kharkiv to speak to. Eventually they found me. I was giving interviews to international media about the situation in Kharkiv while sitting in the basement during air raids as well as when I was out to find groceries in the city.
First days our team searched for the "positive impact" formula. We faced a choice: to tell about the shootings to 100,000 Kharkiv citizens, who knew all about that or to tell the same to the millions of Italians, Frenches, and Germans, who could push their governments to stop the funding of the bloody war.
That is how I discovered the work of a fixer and dedicated about a month of my time to volunteer as an aid to international journalists. In this column, I will elaborate on my experience as a local journalist.
Who are the Fixers?
Fixer is a local specialist who helps foreign journalists to work in a foreign country or context. These are the people who link the global world to the local context. Foreign correspondents, as I have mentioned, often do not know the language and environment, as well as some "unwritten rules." Also, they are not acquainted with local authorities and opinion leaders.
In universities, they do not teach you how to be a fixer. This job even does not exist in the curriculums. "Fixer" is more of a slang word. The following jobs can act as assistants for foreign teams:
l

ocal journalists who know the language;
editors, producers;
someone who knows the local and international contexts and can explain the situation, such as an activist or a volunteer;
translators able to build new contacts;
bloggers, public figures, or even politicians.
I prefer the term "production assistant," that is, a person working with the production of stories. The way to do it depends on the skills and talents of a person.
EVERY SITUATION AND TO-DO LIST IS UNIQUE BECAUSE THE TEAMS YOU WORK WITH ARE DIFFERENT.
For instance, you may come across two freelancers from different countries who previously worked in Iraq, now came to Ukraine in their car, and are filming reports in Kharkiv from the fifth day of the full-scale war.
It can either be a fully packed team of an international broadcaster having a security manager taking care of the accommodation for the team members; or a trained group of journalists in an armored car with ten years of experience working in hot spots. In each case, the list of responsibilities will be different.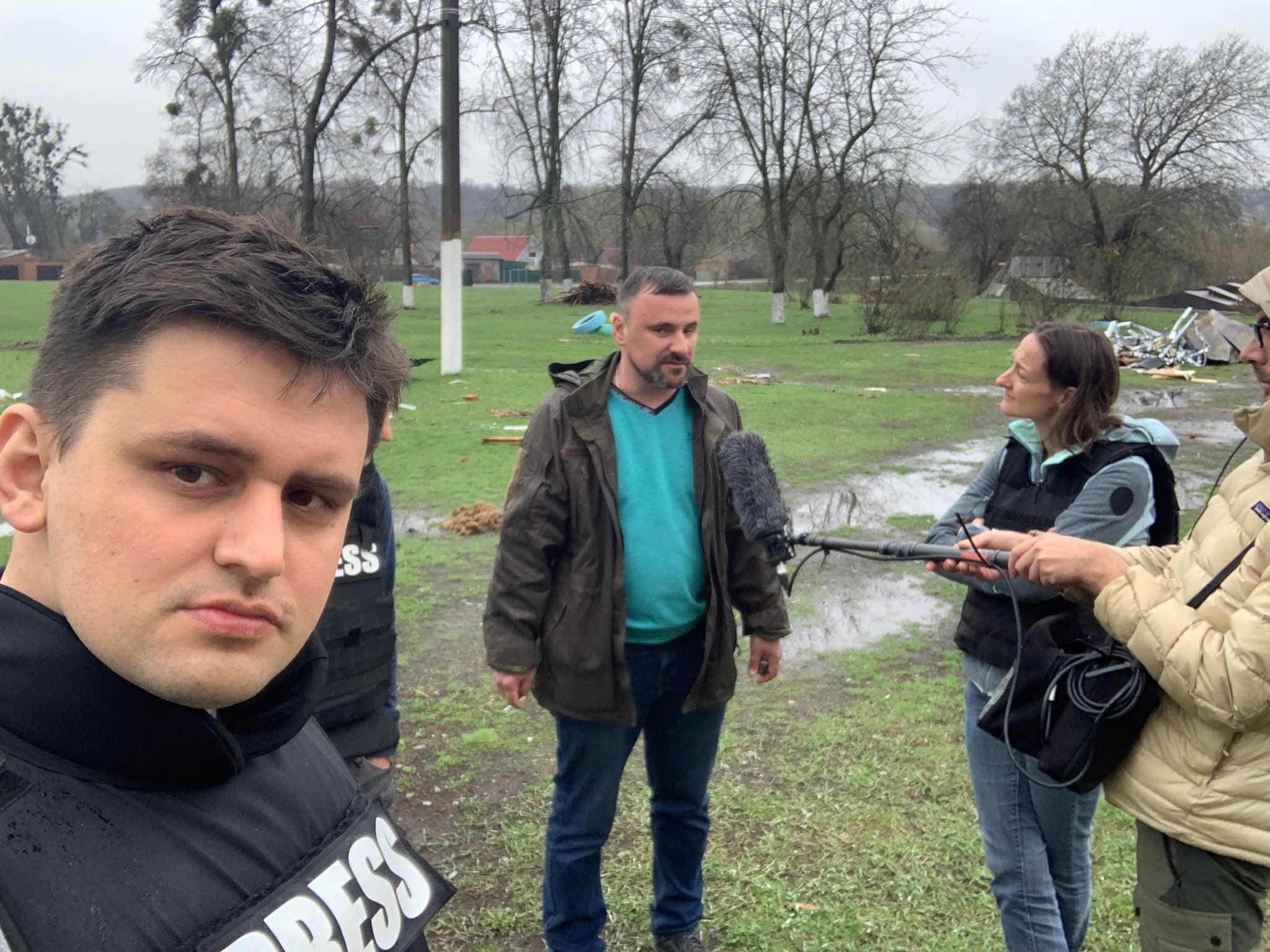 Here is the list of the fixer's responsibilities:
searching for and generating appropriate topics;
searching for interesting speakers;
helping with regional infrastructure and city rules (how firefighters work, how to get to a recently liberated village, how to get in touch with the mayor);
translating;
quick information research (finding a stroke house when it is not yet public);
optional: technical help;
optional: driving.
For example, I worked with teams of three journalists, one fixer, and a separate driver-interpreter. However, there are cases when you simultaneously perform the roles of driver, translator, and fixer. In such a situation, there are indeed much more risks, stress, and tasks. Most often, such combinations occur if you work with freelancers or correspondents who are not representatives of large media holdings.
Who Did I Work With?
"The conflict in Ukraine is different from the one in Syria because you have a serious war here: missiles, artillery, army against army. In Syria, there were many groups of up to five thousand people, and we were firstly afraid of cars that suicide bombers could explode. By the way, in Syria, we learned not to cross our legs when sitting in the car. When you don't cross them, and the car blows up on a mine, you have a better chance of leaving at least one leg intact," said one of my colleagues.
"I would recommend supplying with gasoline and monitoring the situation. Evacuating immediately if fighting starts in the city. I advise you to go 300-500 kilometers from here," said one of the fixers during a walk along Northern Saltivka on the 10th day of the war.
IN THE FIRST 10-20 DAYS, DOZENS OF REQUESTS FOR A COMMENT OR CONTACTS CAME ALMOST EVERY DAY.
In my opinion, the Ukrainian media market is less developed than in the West, so finding experienced fixers in Kharkiv was super problematic — we just did what we could.
As a local journalist, I posed a condition to have the right to shoot together with foreign partners on location. Everyone understood and agreed to this, but in practice, it was not so easy. You both shooting and "fixing" simultaneously: people ask you to translate or advise something, and the responsibility grows proportionally to your payment.
That changed when I bought a new GoPro camera. In the first days of the invasion, together with Patrick, I filmed the work of the Kharkiv Perinatal Center. At that time, I still had neither a bulletproof vest, nor transport, nor a full understanding of the situation.
I gave Patrick's team some valuable advice, together we drove around the city, filmed, and shared content. In the end, both of us produced unique material from the 11th day of the war.
Alfredo, his colleague, and I visited destroyed houses of Northern Saltivka. A terrible picture.
View this post on Instagram
Together with other Ukrainian journalists and a foreign team, we studied what remained from the city center after the Russian shelling. Sometimes it was hard for foreign journalists to find the metro entrance, where people were hiding. Later, such a report came out.
I worked also with the channel France24, which actively highlights the war in Ukraine. The world has seen a couple of reports with my help.
How to Create Added Value and Release a Powerful Story?
The thing I am already noticing in my attitude is "dust in the eyes." Over time, I really stopped reacting to people in basements or some heavy shelling. It no longer surprises me. I can even miss information about the next strike. However, for "fresh" colleagues, it is an impressive experience.
Also, sometimes I think about whether it makes sense to interview the same people I already know. I find it hard to get acquainted with new ones. Anyway, my #1 tip is to always search for new insights, new people, and new narratives.
Keep in contact with everyone you've worked with or reported on. Wherever – at the shooting location, in a cafe, at a gas station. Have small talk wherever you work. Do some additional research on the location, look for the details, and collect information. In such a way you can meet, for example, a local deputy who himself fixes electricity in the community, or you can find a new story that the whole world will see later.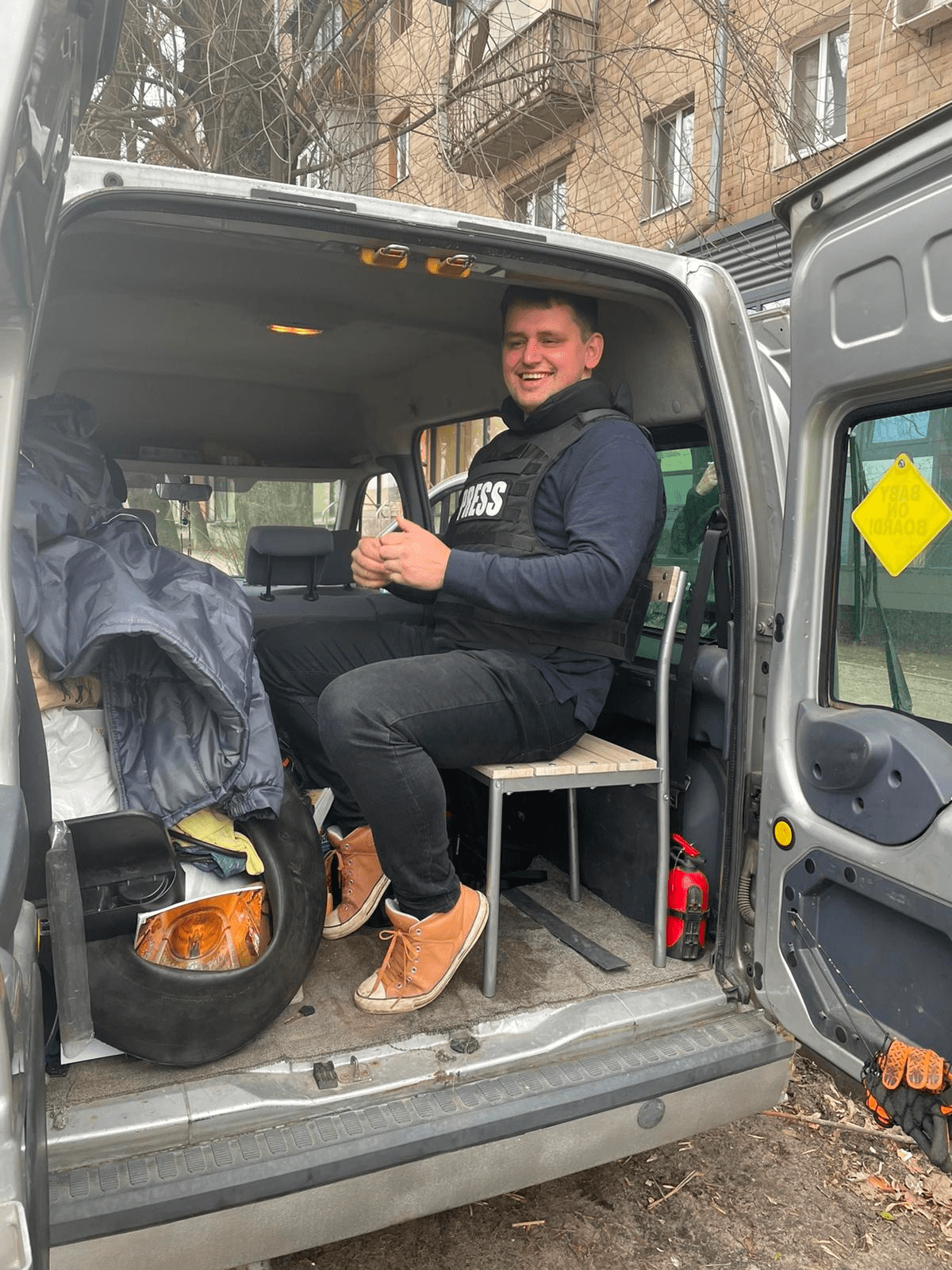 One of the most interesting people I met was Oleksandr from Northern Saltivka. He is an incredibly charismatic man. I took whole delegations to his house, and they disappeared with the hero for half a day. I met Oleksandr accidentally on the street.
The second valuable contact was a guy from territorial defense I met in a cafe. We are still in touch with him, and he helps journalists selflessly.
The second general piece of advice is to send reports to the heroes of your materials. Spend some extra 10 minutes on this. It inspires and ensures them that they are remembered, and everything will be fine. It is also a must to help with equipment and filming: hold the tripod or a camera, charge the battery in time, and help with the backpack or helmet.
I worked in the Kharkiv region for journalists who have spent 10 days in hot spots in Donbas. They find me helpful. Just like people from the occupied territories, they enjoy a hot dog at a gas station and simple products in stores.
Areas of Professional Growth for Fixers
As a local journalist, I had to edit materials and produce the stories on my own. Journalists often got things quite superficially, and just trusted me: they filmed according to my advice. It happened because their chief editor was abroad and did not know the details, so she/he could not correctly form the request. For me, it was a move towards the role of a local producer, while a fixer is sometimes just "the guy who solves all troubles."
UKRAINIAN FIXERS SHOULD WORK TO ENSURE THAT FOREIGN JOURNALISTS AT LEAST PUT A NAMETAG AND MENTION THEM IN THE MATERIALS.
Especially when it concerns the situations of fixer's significant contribution to material.
In my opinion, if you drive around Kharkiv all night under fire, coordinate the journalists, watch if they are safe, and run with a camera to potential secret subversive groups – then you make a significant contribution to appear in the credits. Or if you chase fire trucks all day in your own car to collect material.
Today, I am extremely interested in following the processes and working styles of various foreign teams. It's about sharing professional experience, building partnerships, and working together on stories that can change the world for the better.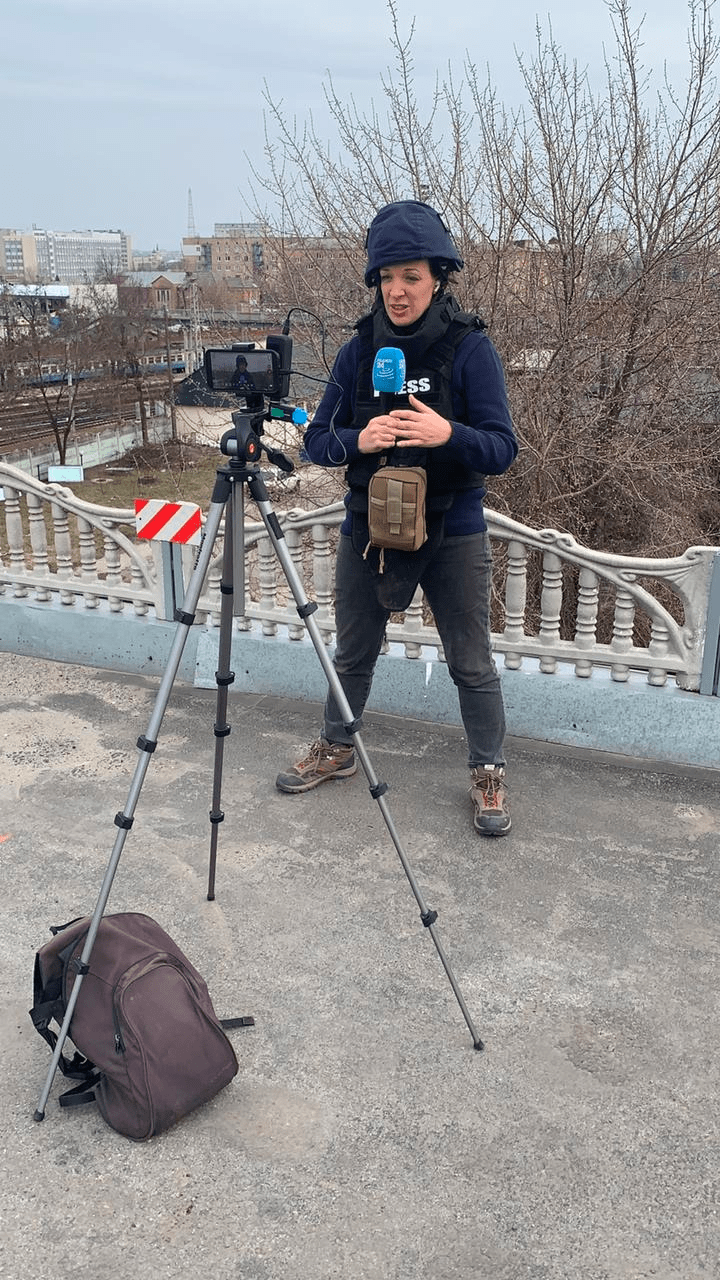 On the other hand, I realized that a fixer can be a real guide for journalists; she/he can do a fact check and ensure that foreign media do not spread superficial information about events in Ukraine. It surely depends on the journalists themselves, but for us it is an opportunity to really immerse foreigners in the local context.
There lies the distinction between fixers as dudes who just help journalists and producers who thoroughly work with teams to create big stories.
If you have any ideas for collaborations you can contact me via email.
Text by Serhii Prokopenko
Translated by Yulia Kalush