In addition, 35 kilometers of the power grid and almost half of the city's roads were damaged, said Kharkiv Mayor Igor Terekhov.
As a result of shelling by the Russian occupiers, Kharkiv transport infrastructure was heavily damaged, including 70% of municipal buses, 50% of trams, and more than 25% of trolleybuses.
"Despite the huge losses and damages, even in the worst of times, over the past year and a half, traffic in the city has not stopped – public transport has been running and broken roads have been repaired. We will gradually restore everything destroyed by the enemy," he added.
Demolition of a tram line in Kharkiv
On the other hand, local authorities destroyed the 26th tram route in Kharkiv during the war.
The widening of Vesnina Street is one of the most scandalous reconstructions in Kharkiv in recent years. Activists, experts, and local residents were against removing the tram from this street and Zhuravlivsky Descent.
While active hostilities occurred near the city, officials destroyed the tram route connecting the residential area with the city center. The war allowed the authorities to disregard public opinion, completely remove the tram from the street and widen the road, using legally questionable decisions.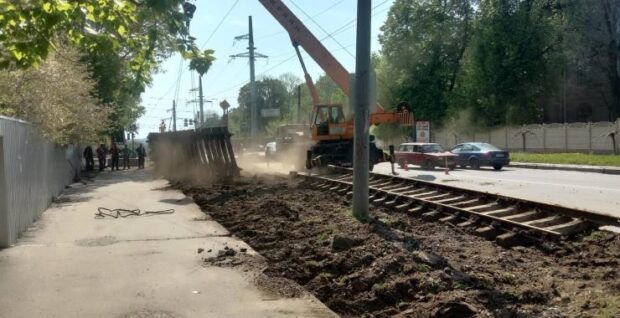 The fact is that during the war, the authorities spent more than UAH 200 million / $5.42 million on a project that was controversial in terms of feasibility through their favourite contractor without waiting for a new master plan to be created.
The tram line was removed in May 2022 during the reconstruction of Vesnina Street. The work, which cost the budget UAH 200 million, was carried out under fire. After removing the tram, the street was widened for cars. "If we want Kharkiv to be a successful and dynamically developing city, we need to build such highways," explained Mayor Ihor Terekhov.
At the same time, city officials did not announce their intention to dismantle the tram line completely.
GWARA'S CHOICE
Overall, Nuremberg plans to donate 40 MAN buses to Kharkiv, an essential humanitarian transport aid, as the city has lost 12 buses, 30 trams and more than 20 trolleybuses during the Russian full-scale invasion of Ukraine.
How Kharkiv metro became more than public transport. Since May 24, 2022, the Kharkiv metro has resumed operation as a public transport facility. Here, we provide practical information about Kharkiv metro stations, timings, prices, and the local stories from the underground.

If you have found an error, highlight the necessary fragment and press Shift + Enter.