Geolocated footage published on October 30 indicates that Russian forces made limited gains towards Torske (about 8km southwest of Kreminna), the Institute for the Study of War reported.
The main goal of Russia in this part of the frontline is to capture the rest of Luhansk region and advance to the east of Kharkiv and the north of Donetsk region.
The Institute quotes Ukrainian General Staff reported that Russian forces conducted unsuccessful ground attacks in the Kupyansk direction near Synkivka (7km northeast of Kupyansk) and Ivanivka (20km southwest of Kupyansk) and southeast of Terny (15km northwest of Kreminna).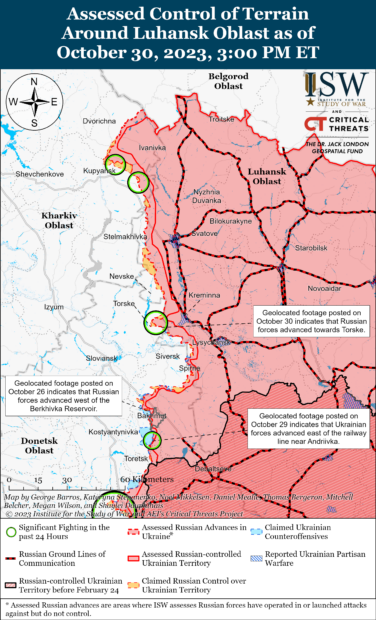 Ukrainian "Steel Cordon" border guard assault brigade spokesperson Ivan Shevstov reported that the most active part of the Kupyansk front is near Synkivka and Ivanivka, and that Russian forces are using groups of between 10 and 30 people in attacks towards Kupyansk. He also added that Russian forces continue efforts to occupy the left bank of the Oskil River.
ISW quotes Russian sources claiming Russian forces advanced towards Kupyansk and near Kreminna. Chechen Republic Head Ramzan Kadyrov posted footage purportedly of the "AMURA" group of Chechen "Akhmat" Spetsnaz striking Ukrainian positions in the Serebryanske forest area southwest of Kreminna.
According to Russian reports, Ukrainian forces launched counterattacks in the Kupyansk-Svatove-Kreminna region on October 30, resulting in minor territorial gains. A Russian military blogger asserted that Ukrainian forces successfully counterattacked and retook some positions in the vicinity of Raihorodka, situated 12km to the west of Svatove.
GWARA'S CHOICE
Constant missile attacks and empty streets: how Kupyansk lives on the front line. This city in Kharkiv Oblast is 10-15 km/ 6–9 miles from the front line and 40 km/ 25 miles from the border with Russia. The city was severely damaged at the beginning of the full-scale invasion and during the battle for its liberation in September 2022. Today, it is constantly under fire from Russian aviation, MLRS and S-300 systems.
Russians use chemical weapons in Kupyansk direction — Ukrainian military. On October 29, the Russian army used chemical weapons, including gases, in Kharkiv Oblast. This was reported by Denys Yaroslavskyi, commander of the Ukrainian Armed Forces intelligence unit, during the United telethon.
General Staff: UA armed forces repelled 13 Russian attacks in Kharkiv Oblast. However, in Siverskyi and Slobozhanskyi directions, Russians maintain their military presence, conduct diversions, and hold the Ukrainian army in the district, not allowing them to relocate to more threatening directions of the frontline. They also keep increasing mine-explosive barriers along the border in Belgorod Oblast. 

If you have found an error, highlight the necessary fragment and press Shift + Enter.