Geolocated footage published on October 12 indicates that Russian forces made limited gains southwest of Orlyanka (22km east of Kupyansk), the Institute for the Study of War reported.
The main goal of Russia in this part of the frontline is to capture the rest of Luhansk region and advance to the east of Kharkiv and the north of Donetsk region.
The Institute quotes Russian sources claiming that Russian forces advanced to Krokhmalne (25km southeast of Kupyansk), near Synkivka (8km northeast of Kupyansk), and captured several unspecified positions near Lyman Pershyi (12km northeast of Kupyansk). However, ISW has not observed evidence of these claims.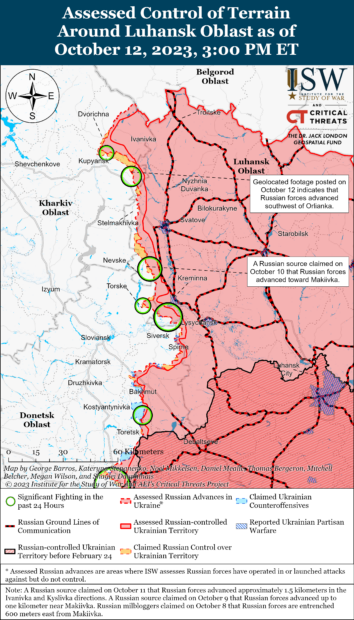 According to a Ukrainian military analyst, there have been reports of limited movements by units from the Russian 138th Motorized Rifle Brigade, which is part of the 6th Combined Arms Army within the Western Military District. These movements were noted in the direction of Synkivka from the Lyman Pershyi area. However, it's noteworthy that Ukrainian authorities have not officially verified this information.
The Ukrainian General Staff has confirmed that Ukrainian forces successfully defended against Russian assaults in the vicinity of Synkivka and Ivanivka, located approximately 20 kilometers southeast of Kupyansk. Furthermore, a Ukrainian military observer has reported that units from the Russian 26th Tank Regiment, part of the 47th Tank Division within the 1st Guards Tank Army, made an unsuccessful attempt to launch an attack along the Yahidne-Ivanivka line, situated 20 to 22 kilometers southeast of Kupyansk.
A Russian military blogger asserted that Russian troops initiated an attack near Kyslivka. Ukrainian Eastern Group of Forces Spokesperson Captain Ilya Yevlash has conveyed that Russian forces are currently intensifying their offensive activities in the Synkivka and Ivanivka sectors. Furthermore, they are deploying both artillery and personnel towards the Kupyansk-Lyman region.
MORE FROM GWARA
PACE to Recognize Putin's Regime as Dictatorship. Members of the Parliamentary Assembly of the Council of Europe have voted a resolution recognizing Russian President Vladimir Putin as illegitimate and the regime in Russia as a dictatorship. The document was supported unanimously.
Five days of Hroza. The village buries those who died in a Russian attack on October 5 — PHOTO. Around 13:25 on October 5, the Russian army shot a missile at a café in the Hroza village of Kupiansk district. People have gathered there for a funeral of a fallen soldier. Hroza has 330 residents, but around 100 of them lived there when the tragedy happened. That day, at least 52 people died, six were injured, and another five are now considered missing. An Iskander hit took the lives of almost every second villager. 

If you have found an error, highlight the necessary fragment and press Shift + Enter.